We had the best spontaneous Family Dinner on Tuesday night! I had planned to keep things simple and bring home some pizza, but after looking at the pictures of this particular recipe for Apple Cider Baked Chicken on Pinterest, I decided to go ahead and cook for everyone. It looked like a great Fall Dish, and I am completely feeling everything Fall right now.
I believe I have purchased anywhere from 1 – 5 pumpkins, every day, for the last five days……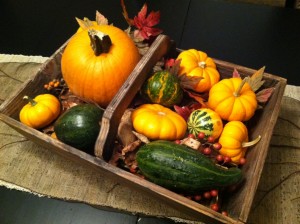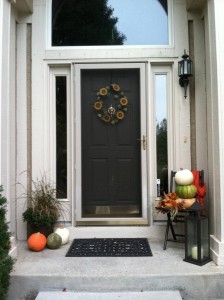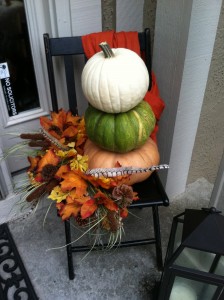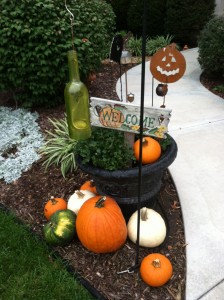 Two of our daughters and the three grandchildren were coming over for dinner, but once our son got word of food, he and our daughter-in-law came too! I'm just teasing of course. I had decided earlier in the day to double the recipe, and now I knew why. I was so happy to have the house full unexpectedly on a Tuesday night! The fact that they are all willing to eat my food, also makes this mama very happy. I do love to have the family over and cook for everyone. I'm sure the satisfaction that comes from that is some kinda "mom" thing. Everyone is always so appreciative and they all tell me how great everything is. Of course, that could be due to my constant questions while everyone is eating……"Do you like it? Is it good? Is everyone happy?" Maybe they're just being polite? I don't care. It makes me happy to feed them all!
Feeling all Fallish, I bought the grandkids Caramel and Nut Apples on a stick to eat after dinner. All three of them loved them! They spent some time with Papa Mike on the hammock while they ate them! I believe they all ended up being a sticky mess!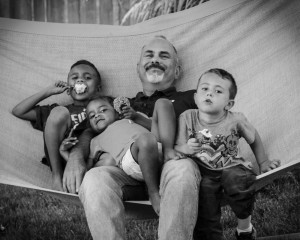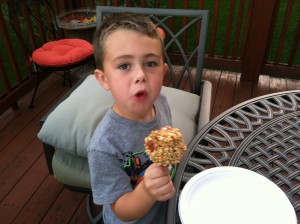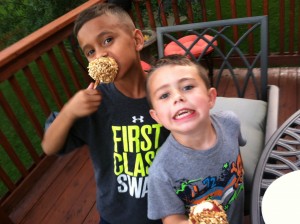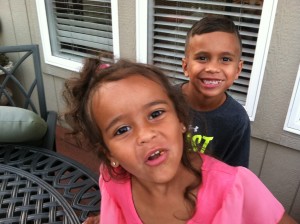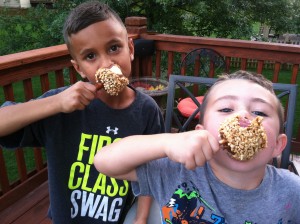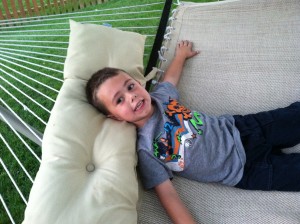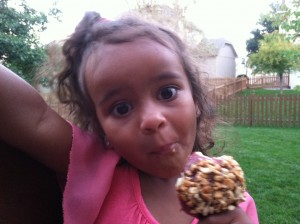 This recipe that I found for dinner looked and sounded delicious, and it included Chicken Legs, Chicken Thighs and potatoes, so I thought I might have a good chance of the grandkids enjoying it!
The recipe was fairly simple, but it did require a bit of planning. This dish really needs to marinate for a minimum of four hours, so first thing in the morning, I was preparing dinner. Once I mixed up the marinade and added the chicken, I put it in the fridge, and there was no need to even think about dinner until much later!
Marinade for a minimum of 4 hours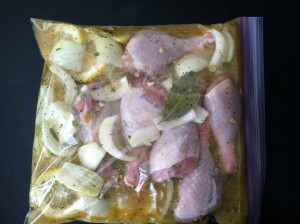 Place in a dish, top with apple slices and potatoes!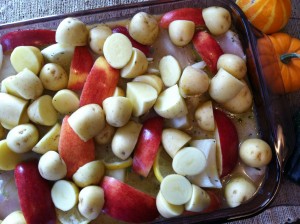 Bake for 90 minutes.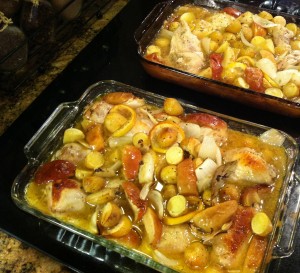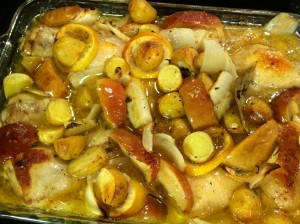 The original recipe calls for Chicken Thighs and Chicken Legs. I doubled the recipe and put boneless, skinless breast in the other pan. I cooked both of them for the same amount of time, and all of the chicken came out juicy and wonderful! The cooked apples were surprisingly delicious to me and everyone else seemed to think so too!
Click HERE for the Original Recipe for Apple Cider Baked Chicken!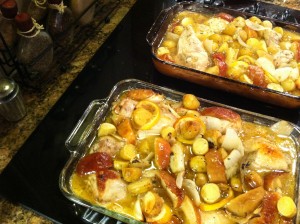 It's hard to be real specific about WW Points Plus Values on a recipe like this. The marinade includes 4 cups of Apple Cider and 1/4 Cup of Olive Oil, but when you serve up your plate, you can top it with as much or as little "juice" as you like, and your PPV are going to vary quite a bit based on whether you are eating a boneless, skinless chicken breast, or a chicken thigh with the skin, and of course how many potatoes you put on your plate.
You really need to be the judge on this one.
Breakfast

Lunch

Dinner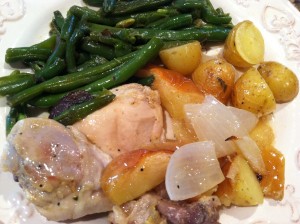 Refresh…I can eat 26 points a day.
I can earn Activity Points by doing exercise, and eat them if I choose.
I have an allowance of 49 points that I can dip into if I chose.
I should drink a minimum of 6 (8 oz) glasses of water each day.
The food I ate and it's PPV
Breakfast = 5 Egg Whites, Parmesan Cheese, Pear, Coffee with Skim Milk (5)
Lunch = Grilled Salmon Caesar Salad (9)
Dinner = 1 Chicken Thigh, Potatoes, Green Beans (12)
Total = 26
Today's Exercise = Trainer Session
How many glasses of water I drank today = 10
Activity Points Earned Today = 4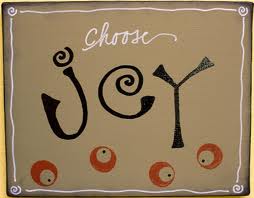 "love the life you live, live the life you love"