I'm Living in a Land of Pumpkin!!!! Literally!

I'm not even kidding. This happened to me last Fall as well, and I just went Pumpkin Cray Cray!! I want pumpkins all over the house, I want pumpkins in the yard, on the deck, in the kitchen, in my food and in my latte's!! I am dreaming Pumpkin!
It's just through early December people, then I'm all cinnamon, and I'm good until the following Fall……I think. I'll Pumpkin Ponder that.
Okay, let me go back to Thursday. Wait, really Wednesday. Wednesday when I stepped on the scale at home, it said 154. I bout fainted. Must be a fluke. 155 just knocked at my door LAST Friday, so I knew that it couldn't be real. Thursday morning, 154 at home again. I put on this pair of shorts that fits, but fits snug at 157. They felt really good and I had JUST washed them, so I knew it was true. Ahhhhhh. I felt awesome! I ate great throughout the day, drank lots of water, got my exercise in and followed all the rules. I was kicking ass and taking names. I was "ON".
Thursday night. On Thursday night I was getting together with a few of my girl friends from High School and really looking forward to it. We have been much better about getting together lately and I have really been enjoying it. There were five of us that night and we have all known each other since the 7th grade, some even before that! So you can imaging the story telling and the laughs and the memories we all share of "first" experiences and sneaking out and school sports and spring break trips and just so many good stories. We started at the kitchen table with awesome appetizers…..Honey Crisp Apples (I could eat them all day long), chips with homemade salsa, and an awesome cheese platter with sausage and grapes. I mostly stuck with the apples and grapes, and enjoyed a few bites of the salsa with a couple of chips. I drank tons of water as well. Then there was the cheese. Ah, glorious cheese. It's a trigger food. Damn the cheese. It was so creamy and rich.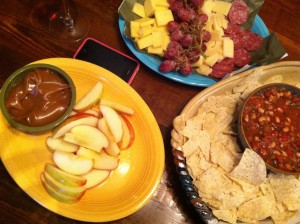 and you guys…..it paired well with the wine…..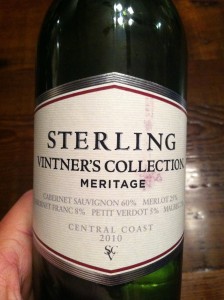 …….which I only had a glass and a half of, and I was completely satisfied with that, but I'm quite certain I overdid on the cheese, but gosh darn it, that was some really good cheese. Did I say I liked the cheese?
I brought Butternut Squash Chili for our entree. It seemed to be a hit. I found this recipe last year on Pinterest, and even Mike liked it when I made it last year, so I knew, even though there is no Pumpkin in this, it was keeper.
Then we all went outside and sat around the fire-pit. More stories. It was an awesome and perfect Fall night with good friends.
Friday I weighed in. 156. Damn that cheese!!! I think I can flush all the salt out by tomorrow. No worries.
Then……I spent the entire day on Friday cleaning. Fall cleaning? I guess. The windows opened and the stereo cranked up! I'm doing it again today. I can't believe I am spending two entire days of this beautiful Fall weather, cleaning, and not outside watching a Football game, or at a City Market, but it just feels good to be home and not have to be hurrying around going anywhere. (Mike's on a golf trip, and due home tonight)
While cleaning, I had to take a break. A Pumpkin Break, that is. Your surprised? I found this Sugar Free Pumpkin Pie Coffee Syrup last year at World Market, and you know we fell in love with one another. This week, I discovered they also have Pumpkin Pie flavored sauce! What?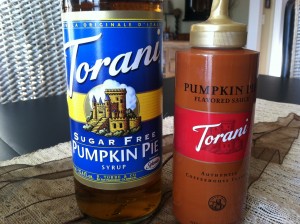 Here's my morning love for this Fall Season. Breakfast Blend coffee, just a tad of Pumpkin Coffee Syrup, frothy milk and a drizzle of Pumpkin sauce. It's heaven, for pumpkins. (well, and me.)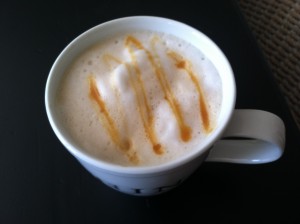 I may have been on Pinterest while sipping on my coffee, and came across this idea…..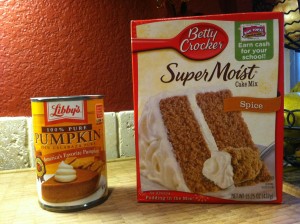 um, okay.
So, I did.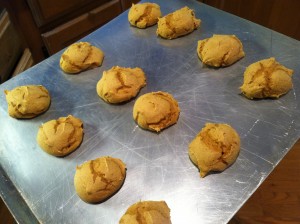 Yes, that is a pumpkin cookie made with those two items. Cake mix and canned pumpkin.
I melted 1 T. of butter and lightly brushed the tops while they were warm. I made 50 (1″ size) cookies, and used the 1 Tablespoon of butter for all of the 50 cookies.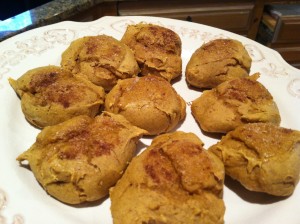 Then I mixed 2 packets of Truvia with a little bit of cinnamon.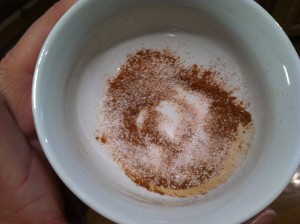 I sprinkled that on top, then added a dusting of powdered sugar.
1 Cookie = 1 PPV
Then I immediately put some on a few paper plates and distributed them to other homes!!!!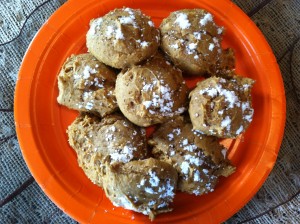 All while smelling my Pumpkin Candle. I said PUMPKIN PANDEMONIUM, didn't I???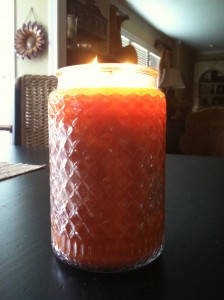 Here are Friday's eats….
Breakfast – FREE SAMPLES at the WW Meeting!!!!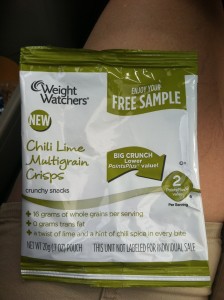 Snack – Grande Nonfat Latte with 1 Splenda and 1 Pump of Pumpkin Spice
3 PPV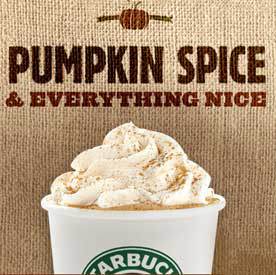 Snack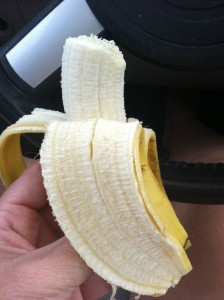 Lunch Butternut Squash Chili, in a "Pumpkin" colored Bowl! I can't stop myself!!!!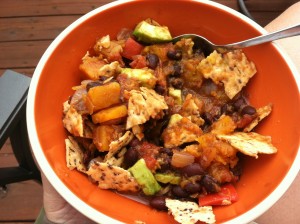 Refresh…I can eat 26 points a day.
I can earn Activity Points by doing exercise, and eat them if I choose.
I have an allowance of 49 points that I can dip into if I chose.
I should drink a minimum of 6 (8 oz) glasses of water each day.
The food I ate and it's PPV
Breakfast = WW Crackers (2)
Snack = Latte, Banana (3)
Lunch = Chili with avocado and chips (8)
Snack = Pumpkin Cake Cookies (6)
Dinner = Chili with avocado (5)
Total = 24
Today's Exercise = Friday's are my day off.
How many glasses of water I drank today = 12
Activity Points Earned Today = 0
Activity Points Earned This Week = 0
Remaining points from my 49 Points Allowance = 49
Alcohol consumption = none, and the entire time I was baking, I was wanting to sip on wine. Do they make Pumpkin Wine??????
Hey look! Pumpkin Beer!!!!!
It's from Last Year. You think I should toss it? How long is beer good? It's never been in my fridge for that long…….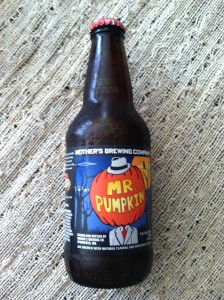 Saturday morning, I made Pumpkin Oatmeal for breakfast! I'll tell you all about it Monday morning!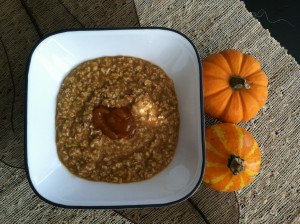 Have a PamPumpkinPastic Day!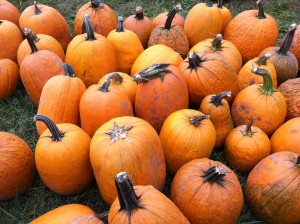 "love the life you live, live the life you love"