It's supposed to be a lucky day!
Yesterday was a great day! I hope today is just as great! I am going to the "Pink" concert tonight with about 20 other women and we are taking a "Party Bus", so I am going to assume that today isn't going to suck.
Yesterday, a very crafty friend of mine invited a few girlfriends over to decorate wine bottles with Christmas themes on them! She did a few wine bottles and beer bottles of her own over Halloween and they were a big hit with all of us! We all had her doing bottles for us. She decided to have us over to decorate our own wine bottles! She was prepared too! She had bottles prepped for us, she had paint, paint brushes, ribbon, lights to go inside of them, cut outs….the whole shebang!!! We had so much fun!
Look at all of these bottles she had ready!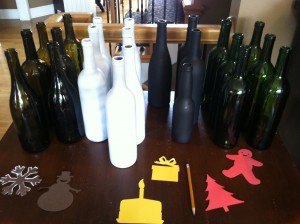 Here are a few that she had already completed.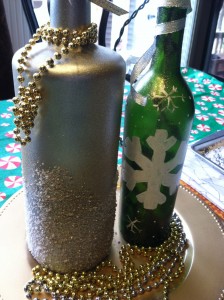 So stinkin' cute!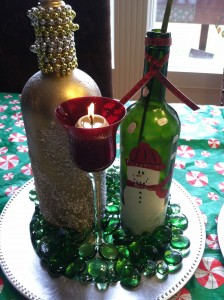 I'm the Happiest Christmas Tree! Ho Ho Ho! He He He!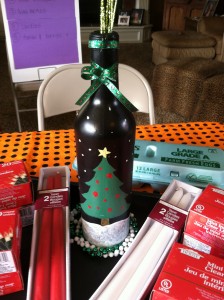 We all brought food and drinks, but she had plenty already there!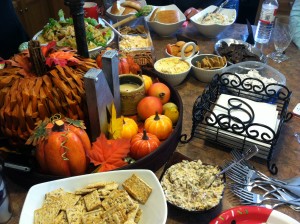 I made a Pumpkin Dip and brought Reduced Fat Nilla Wafers, Cinnamon Graham Crackers and Apple Slices to go along with it.
1 (3.5) oz box of Vanilla Instant Pudding Mix
1/2 Can of Canned Pumpkin
1 tsp Pumpkin Pie Spice
1 Container Cool Whip
Mix first three ingredients, then fold in Cool Whip. Yum.
I THINK that 3 T. of dip = 1 PPV??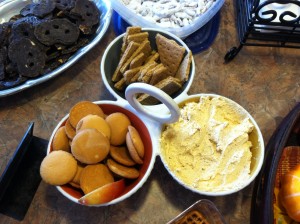 She had lots of beverages to chose from!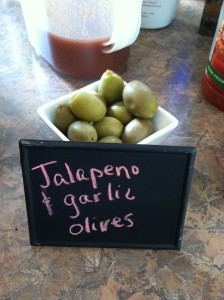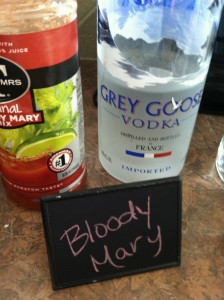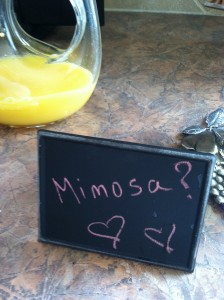 I drank a whole pot of coffee, with a little Rum Chata added to it!
Here's my bottle I made. I think it turned out pretty darn cute!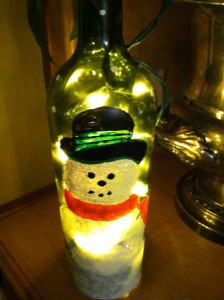 I want to make more!!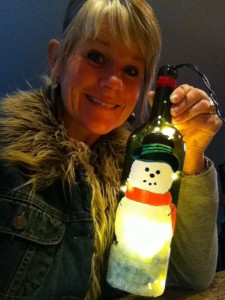 Simple Breakfast Idea No. 3
Apple Raisin Oatmeal
5 PPV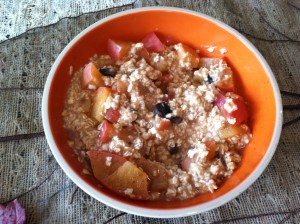 Ingredients
1/2 Cup Quick Cooking Oats (4 PPV)
2 Packet's Sweetener (0 PPV)
Two separate 1/4 tsp's of Cinnamon (0 PPV)
3/4 Cup Boiling Water (0 PPV)
1 Chopped Apple (0 PPV)
1 T. Raisins (1 PPV)
1 T. Water (0 PPV)
Directions
Put dry oats, 1 packet of sweetener and 1/4 tsp of cinnamon in a bowl.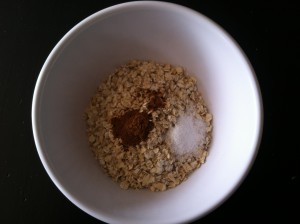 Add boiling water and raisins and stir. Let sit for 2 minutes to thicken and let the raisins plump!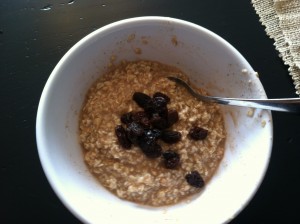 Put chopped apple, 1 Tablespoon of water, 1 packet of sweetener and 1/4 tsp of cinnamon in a baggy. Seal the baggy and shake to coat the apples well.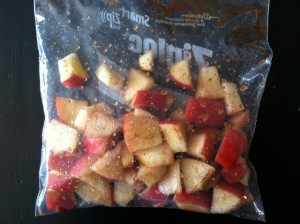 Vent the bag about 1 inch, place on a microwave safe plate and microwave for 2 minutes. This recipe is adapted from the original recipe, Apples In a Bag.
When you take the apples out of the bag, they will look like this!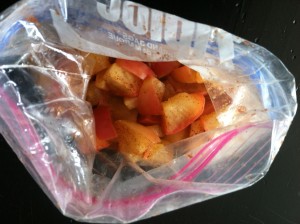 Add it to the bowl of oats and raisins and stir.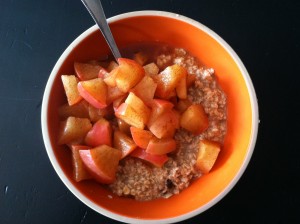 Enjoy!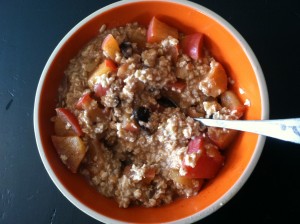 Lunch at the Bottle Decorating Party!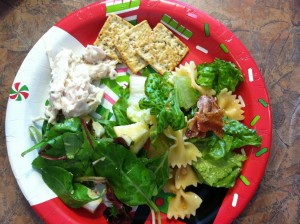 Dinner
I'm not a HUGE Meatloaf fan, but Mike loves it, so I made this for him. I got the recipe from SkinnyTaste. Holy Cow! This was delicious! Mike said he want's it as a staple menu item. I would totally make this once a week. AND…..it was so easy. The recipe makes 4 servings at 7 PPV, but I sliced this into 8 slices and was satisfied with my slice. I tracked my slice as 4 PPV.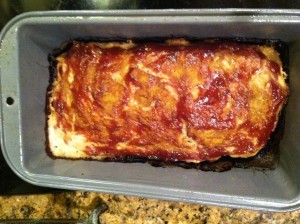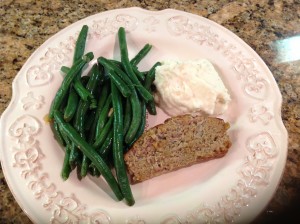 Refresh…I can eat 26 points a day.
I can earn Activity Points by doing exercise, and eat them if I choose.
I have an allowance of 49 points that I can dip into if I chose.
I should drink a minimum of 6 (8 oz) glasses of water each day.
The food I ate and it's PPV
Breakfast = Apple Raisin Oatmeal (5)
Lunch = Salads, Pretzels, Pumpkin Dip, Apple slices, Graham Crackers (18?)
Dinner = Meatloaf, 1/2 C. Mashed Potatoes, Green Beans (8)
Total = 31
Exercise = None. Damn. The only disappointing part of my day. That's two days in a row that I have missed.
Water Consumed = 12
Activity Points Earned for the Day = 0
Activity Points Earned This Week = 7
Remaining points from my 49 Points Allowance = 41
Alcohol consumption = a little Rum Chata with my coffee.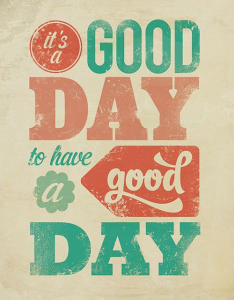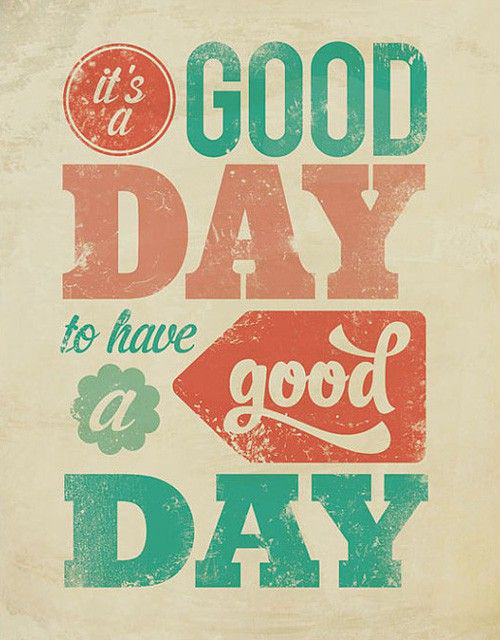 "love the life you live, live the life you love"