This is maybe the easiest and tastiest way to have shredded chicken on hand for Taco's, Quesadilla's, Enchilada's, Nacho's, Taco Pizza, Taco Salad, Omelets or just to eat out of the bowl! Top a bowl of this with a bit of cheese and light sour cream and I am good to go!
I can't remember who first told me about this recipe? I know a lot of my friends make it, and everyone loves the fact that it IS so easy and you can use the chicken for so many different meal ideas.
Ingredients
4-6 Frozen Chicken Breast
1 (24 oz) Jar of Salsa
1 Packet of Taco Seasoning (I like to use Homemade Taco Seasoning)
Directions
Put the frozen chicken breast in the crockpot. Add the salsa and taco seasoning and cover.
Cook on low 6-8 hours.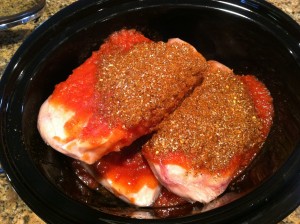 Remove the cooked chicken breast from the juices and shred them using a couple of fork's.
They pretty much fall apart anyhow. I told you it was easy!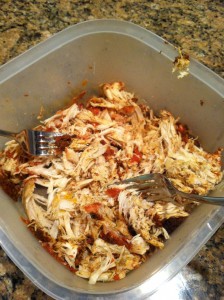 Put all of the shredded chicken back in the crockpot with all of the juices and give it all a good stir.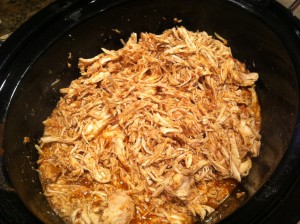 1 oz. of cooked Shredded Chicken = 1 PPV.
Your Welcome!
"love the life you live, live the life you love"