Have I mentioned in the last two post how I feel in control? Oh good. The mind really can be such a powerful thing!
We had plans to go to the dinner theatre on Sunday afternoon, and aside from being a little nervous about the food choices, I was really looking forward to the show!
Norm!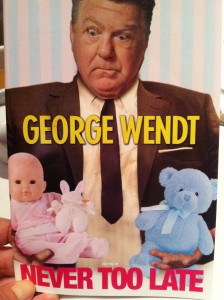 This was a great play, and his co-star was his real life wife of 35 years! The show was a cute little comedy and it was a great way to spend a December Sunday afternoon relaxing after spending the week in the hustle and bustle of the Christmas shopping crowd.
I was worried there would be nothing point friendly on the buffet. I had coffee and a banana in the morning, then ate some protein before we left the house around 11:00. While seated at the dinner theatre, we were served our salad with dressing on the side. I chose the Vinaigrette over the Ranch, and used maybe 1 tsp of dressing? I basically ate a dry salad. When it was time for the buffet, I passed on the pasta and something else that looked creamy and delicious. I passed on the fried cauliflower, which smelled yummy, I passed on the fried fish, (which Mike said was the best tasting thing on his plate!) I passed on the beef, I passed on the dinner rolls, I had a small portion of polenta, some chicken and veggies and about 3 tablespoons of mashed potatoes on my plate. The vegetables were really good, but did taste pretty buttery. We all skipped dessert, and I literally drank a pot of coffee all by myself. I do love my coffee, and it was nice to have an entire pot on the table to myself!
I never made it to the treadmill in the morning, so I decided while watching the Chiefs game, I would get on the treadmill and the time would fly by! Well, that didn't happen either. I sat and watched the game a little, but mostly I was all over the house getting more Christmas things done and preparting for a houseful on Tuesday evening. Mike and some of his co-workers are having a Chili cook off on Thursday at work, and Mike's "Team" is coming over here Tueday night to cook their team's chili together. They are bring spouses and we are making a night of it! Since I decorated so much for Chiristmas, I'm looking forward to entertaining. 🙂
All that being said, at 9:30, I was tired and I really just wanted to crawl into bed. You know what i did instead? I can't believe it either, but i couldn't let myself go to bed before getting on that damn treadmill. I ran/walked for just over 30 minutes, then did about 10 minutes of stretching! Of course, then I was wide awake, but it didn't matter. I had a plan, I followed through, and it felt great. My mind was made up.
The Mind is a Powerful Thing
Breakfast
Not your typical breakfast food, huh?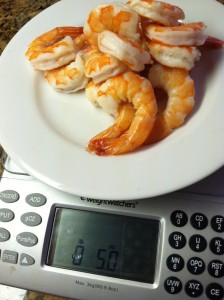 Lunch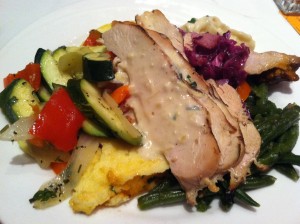 Dinner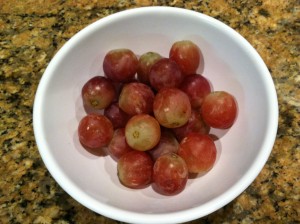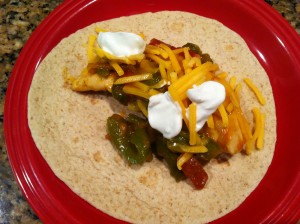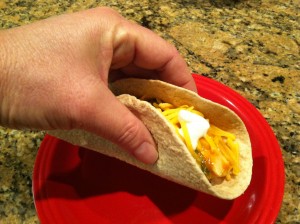 Refresh…I can eat 26 points a day.
I can earn Activity Points by doing exercise, and eat them if I choose.
I have an allowance of 49 points that I can dip into if I chose.
I should drink a minimum of 6 (8 oz) glasses of water each day.
The food I ate and it's PPV
Breakfast = un-pictured Banana, Shrimp (5)
Lunch = Chicken, Polenta, Veggies at the Dinner Theatre (20?)
Dinner = Grapes, Chicken Fajita in a 1 PPV Tortilla (5)
Total = 30
Exercise = 30 minute Walk/Run on treadmill, stretching
How many glasses of water I drank = 15
Activity Points Earned for the Day = 2
Activity Points Earned This Week = 4
Remaining points from my 49 Points Allowance = 31
Alcohol consumption = none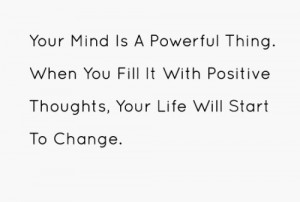 "love the life you live, live the life you love"