If you have been reading my blog, you know that I am trying Weight Watcher's new Simple Start Plan to get off the 10 pounds that I have put on through the months of November and December. I think Simple Start was designed as a 2 Week Plan for New Members so they are not overwhelmed with calculating points. Now, I'm not certain that is why WW created Simple Start, but it makes sense to me to make things as simple as possible for those just starting out on a weight loss journey. Change can be hard, and why not make it as easy as possible. (Any Weight Watcher member can do Simple Start.) I like Simple Start because I like having the list of food's that they give you that you can eat and not have to count or write them down. It's Simple!
I am enjoying pushing my food journal to the side. I already feel better and I am shedding some of those holiday pounds. I have been stepping on the scale every morning (since the BAD weigh in day) and I am seeing results! Obviously, because of my blog, I still keep a photo journal of what I eat, and I must admit, I do like to see that at the end of the day.
Here's my Photo Food Journal for yesterday!
Breakfast
We met some friends for breakfast!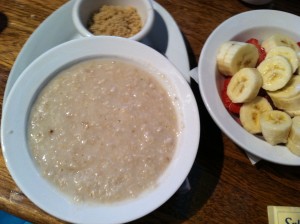 Lunch
Date Day at Season's 52!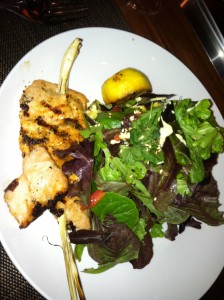 Dinner
On the Couch and in for the evening….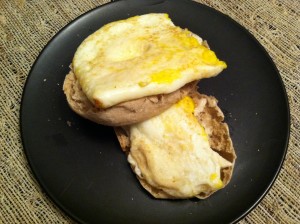 Snack
Football, fireplace and snacks….
Simple Start
I can eat anything I want from the approved list of foods.
I can earn Activity Points by doing exercise, and eat them if I choose.
I have an allowance of 49 points that I can dip into for foods and beverages that are NOT on the approved list.
I should drink a minimum of 6 (8 oz) glasses of water each day.
Breakfast = Oatmeal, Bananas and Strawberries, Coffee with Skim Milk
Lunch = Salmon, Greens, Balsamic Dressing
Dinner = Eggs, 1 Wedge Laughing Cow Cheese, Light English Muffin
Snack = Light Microwave Popcorn, Apple
Foods NOT on the Simple Start Approved List = Balsamic Dressing, Laughing Cow Cheese Wedge (4)
Exercise = none
How many glasses of water I drank = 12
Activity Points Earned for the Day = 0
Activity Points Earned This Week = 11
Remaining points from my 49 Points Allowance = 23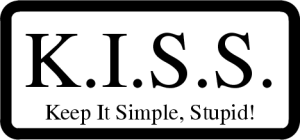 "love the life you live, live the life you love"