It's been a busy few days! Let me jump right in!
Friday morning at Weight Watchers was brutal due to my ridiculously painful headache! I then left to meet my coach for lunch. I was super close to canceling due to the headache I was on day three of, but I just kept driving, and apparently, due to a stupid auto correct typo and a misunderstanding of where we were having lunch, I was driving in the wrong direction, and I was already running late. When I reached the assumed destination, it was established that we were just not meant to meet that day. So we're rescheduling……
The WW meeting on Friday morning was all about Simple Start, but I don't think I learned anything that I haven't already blogged about it. I was curious though what my Leader thought about it, and she said she loves it and has been successfully doing it! You know, they DO have to keep the weight off, so they are right there with us WW members when it comes to what they are putting in their mouths!
I'm making a New Tab "Simple Start, Simply Filling", so I'll be posting recipes there!
I did get in my treadmill workout later in the afternoon on Friday!
After doing Simple Start for the last two weeks, I am down 2 pounds!
We didn't do any socializing this weekend, so I had no challenges that involved alcohol. I do have to say, I am feeing "In The Zone", so I think I would have handled any situation without difficulty.
These two adorable kids spent the night with us on Saturday!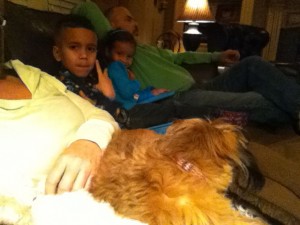 We played XBox like there was no tomorrow. We colored.
We played Jenga (my personal favorite!).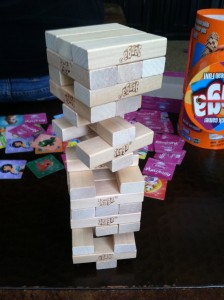 We chased the dogs. We cuddled.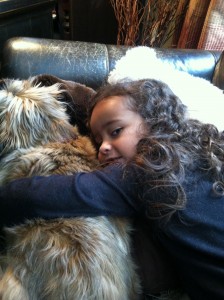 These two are awesome eaters, so no complaints at all about Gigi's Cheeseburgers. I didn't even call them Turkey Burgers, just Cheeseburgers. They even wanted some of my edamame!!!
Sunday was cozy on the couch with more coloring and games and playing with the dogs. The plans for the day included breakfast and a bubble bath. Because I am a grandma (Sometimes that hurts to say…..Grandma, which is why I prefer Gigi. At one point, Amiyah accidentally called me Aunt Gigi…..I really wanted to encourage that, but I didn't) I made cinnamon rolls for Sunday morning breakfast, along with eggs and lots of fresh fruit. Malik wasn't even interested in the gooey yumminess the cinnamon rolls had to offer, and Amiyah ate half of one. This, I do NOT understand. I still can't believe I did this, but I didn't even take a bite of these……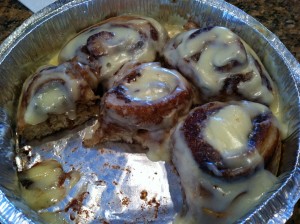 And this is like one of my favorite all time things that likely sent me to WW in the first place! What wasn't consumed, (Mike really liked them.) I threw away! That was HUGE for me, and it felt great! I felt in complete control. Yes, patting myself on the back. 🙂
Here are the activities that followed breakfast….
They think this tub is the BOMB!!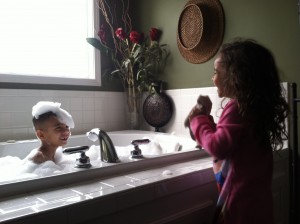 I have no idea how long he was actually in there!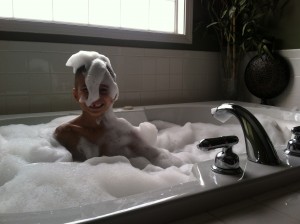 She finally got her own turn.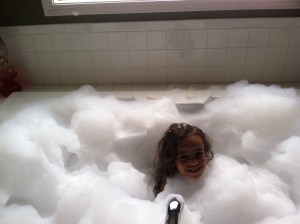 The water had to be getting a little cool.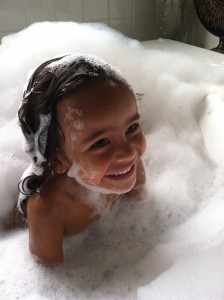 As long as there's enough bubbles, nobody cares…..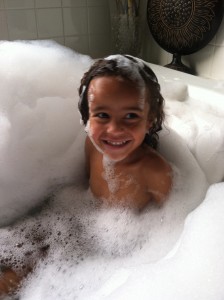 This went on and on and on and on………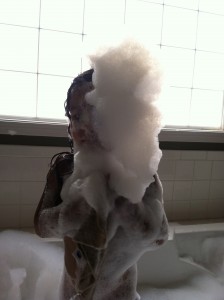 I finally got her out. Tiny tablet time……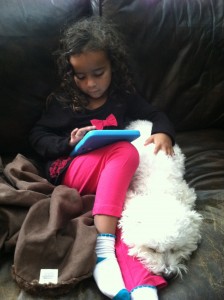 Then someone had the bright idea to play Truth or Dare! All I could think about is adult Truth or Dare, so I'm like uhhhhh, okay……?????? I forgot this is actually likely just a kids game. Duh. Adults are more about Truth, the kids were more about Dare. We discovered after playing for a while that we would just call the game….Dare.
Malik dared me to go outside and put my face in the snow! It was freezing outside!! I did it!!
Then it was his turn.
I dared him (and Amiyah, they were playing as a team after I dared him to go into the basement alone and count to 10) to go outside and walk…..slowly…..to the end of the driveway and then come back. No running. AND…….Malik had to do it with NO SHIRT on!! His parents were on their way, and the whole time I am watching them outside with no hats….or gloves…..or coats…..and it is FREEZING, and they are playing the game just as they were dared, walking VERY slowly, I am thinking….."Please don't let their parents show up now!"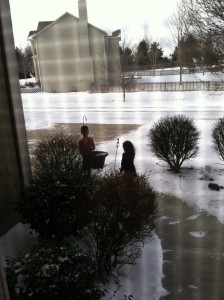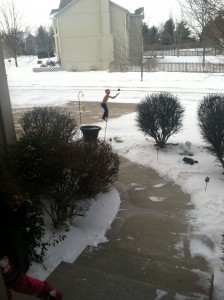 Then I dared them to put THEIR face in the snow!!!
Free Entertainment for Gigi!!
It was an awesome Sunday!!
Friday's Eats…..
Breakfast
Egg White Omelet with….
Potatoes, Onions, Tomatoes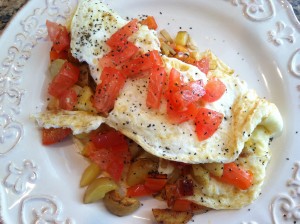 Lunch
Almond Milk Smoothie
1 C Almond Milk, 1 C Frozen Berries, 1 T. Chia Seeds, 1 Truvia, Ice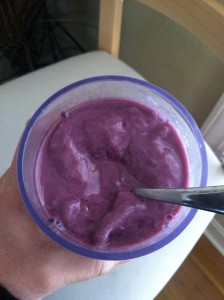 Dinner
Turkey, Veggie, Salsa, Quinoa Skillet
Onions, Carrots and Chopped Cooked Sweet Potato Sautéed in Olive Oil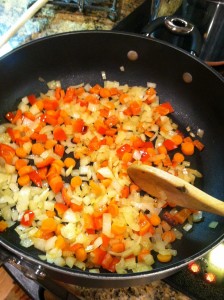 Add 1 lb. of Ground Turkey and brown.

Add 1 can of rinsed and drained beans. I used Pinto Beans.

Add 1 C. of cooked Quinoa, (I cooked mine in chicken broth) and 1 C. of Salsa.
Give it all a good stir and let it simmer.
You could eat this in a wrap, or over a bed of lettuce like a taco salad.
We simply ate ours in a big bowl. Mike topped his with cheese!
It was hearty, warm and tasty!
Everything in here is on the Simple Start Plan!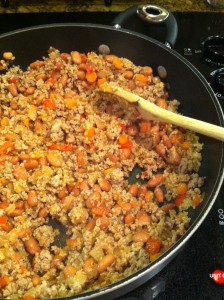 I added a side of raw carrots.

Saturday's Eats…..
Breakfast
Egg White Omelet made with onions
Clementine and Banana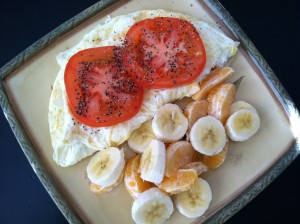 Lunch
5 oz. Tuna, Mixed Greens, Cherry Tomatoes, Olive Oil, Balsamic Vinegar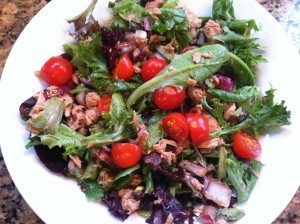 Snack
Almond Milk Smoothie
1 C. Almond Milk, Ice, 1 C. Frozen Fruit, 1 T. Chia Seeds, 1 Truvia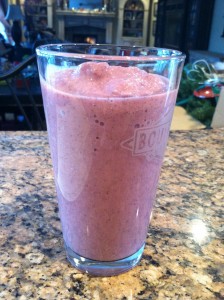 Dinner
Turkey Burger, Edamame, Sweet Potato
(I baked my sweet potato, sliced it, cooked it in Olive oil in a skillet. More like a french fry!)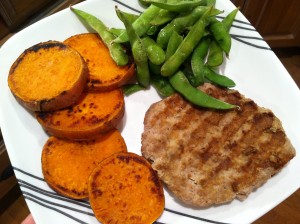 Sunday's Eats….
Breakfast
Turkey Burger topped with an Egg, Fruit

Lunch
Quinoa, Turkey Burger chopped up, Cherry tomatoes
I added a little Olive Oil and Sea Salt

Dinner
(I don't believe in assigning certain foods to certain meals)
A friend suggested this, and the suggestion came at dinner time!
Cinnamon Quinoa and Banana
Ingredients
1/2 C. Quinoa
1 C. Almond Milk
1 tsp Cinnamon
1/2 tsp vanilla
2 packets Truvia (I like mine sweet)
1 banana
Directions
Cook 1/2 C. Quinoa in 1 C. Almond Milk
Stir into cooked quinoa 2 Packets of Truvia, 1 tsp Cinnamon, 1/2 tsp vanilla. Top with sliced banana.

Simple Start
I can eat anything I want from the approved list of foods.
I can earn Activity Points by doing exercise, and eat them if I choose.
I have an allowance of 49 points that I can dip into for foods and beverages that are NOT on the approved list.
I should drink a minimum of 6 (8 oz) glasses of water each day.
Foods I ate that are NOT on the Simple Start Approved List = Chia Seeds, Almond Milk
Exercise = Friday, walk 30 minutes. Saturday, walk 70 minutes. Sunday, chase grandchildren through the house?
How many glasses of water I drank = a lot. All weekend I drank water or hot tea.
Activity Points Earned This Week = 7
Remaining points from my 49 Points Allowance = 44
That's What's Working for Me!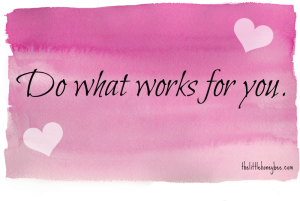 "love the life you live, live the life you love"