This is how I ended yesterday's post when I wrote it. I needed it to be a good day. I planned for it to be a good. You know what?
It was a really good day!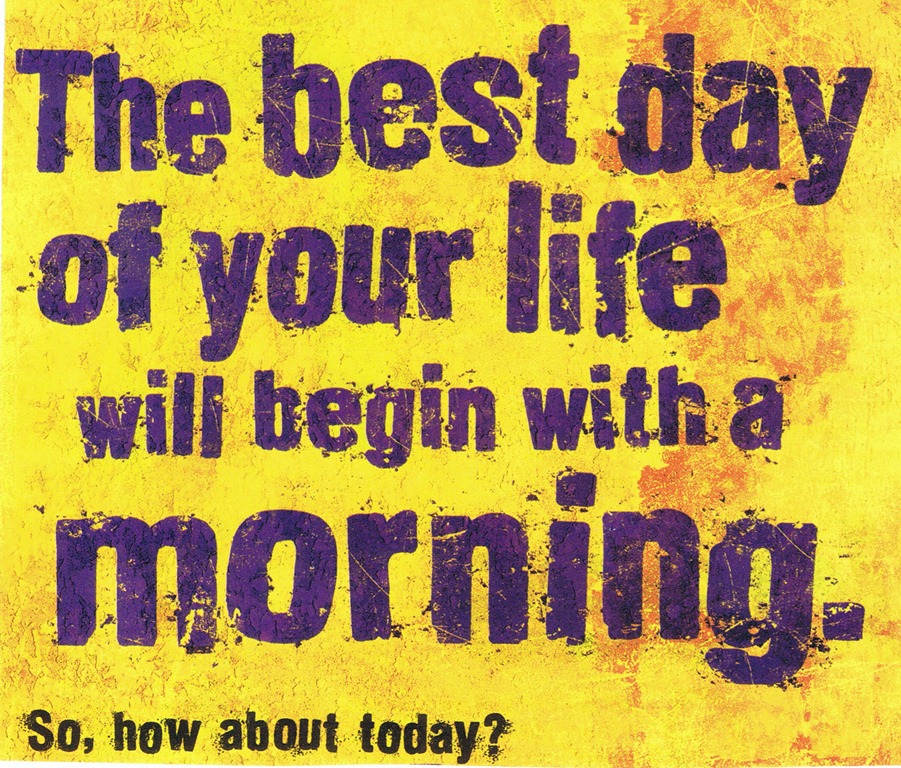 I had coffee with a couple of girl friends and got caught up. I got a few errands in. I had lunch with my mom. Ran a few more errands.
Then the best part of the day happened. The Part that made it a really Great Day!! I planned to run for 25 minutes. One minute longer than the last time. I didn't get a run in since Friday, so I wasn't sure how it would go. I ran for 30 minutes!! Yep. At 25, I decided to go for another minute, then I just kept adding them. I had figured that if I ran for 30 minutes at the pace I was going (5 mph) I would get in 2.5 miles!! So I did! I felt great. I could have probably just ran the three miles, which is kind of freaking me out. I was on the treadmill, so hopefully the weather will cooperate so I can get a chance to run three miles outside before our 5K on April 12th in Dallas!!
Super Excited!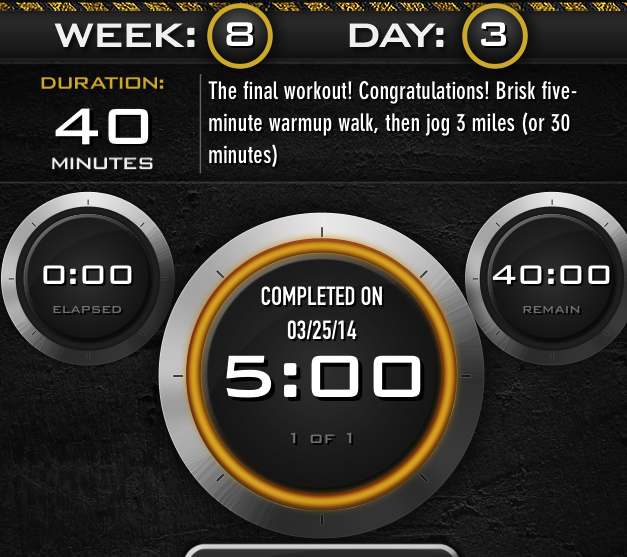 Day 2's eats…….
Breakfast
Coffee at home with Skim Milk and Cinnamon
1 PPV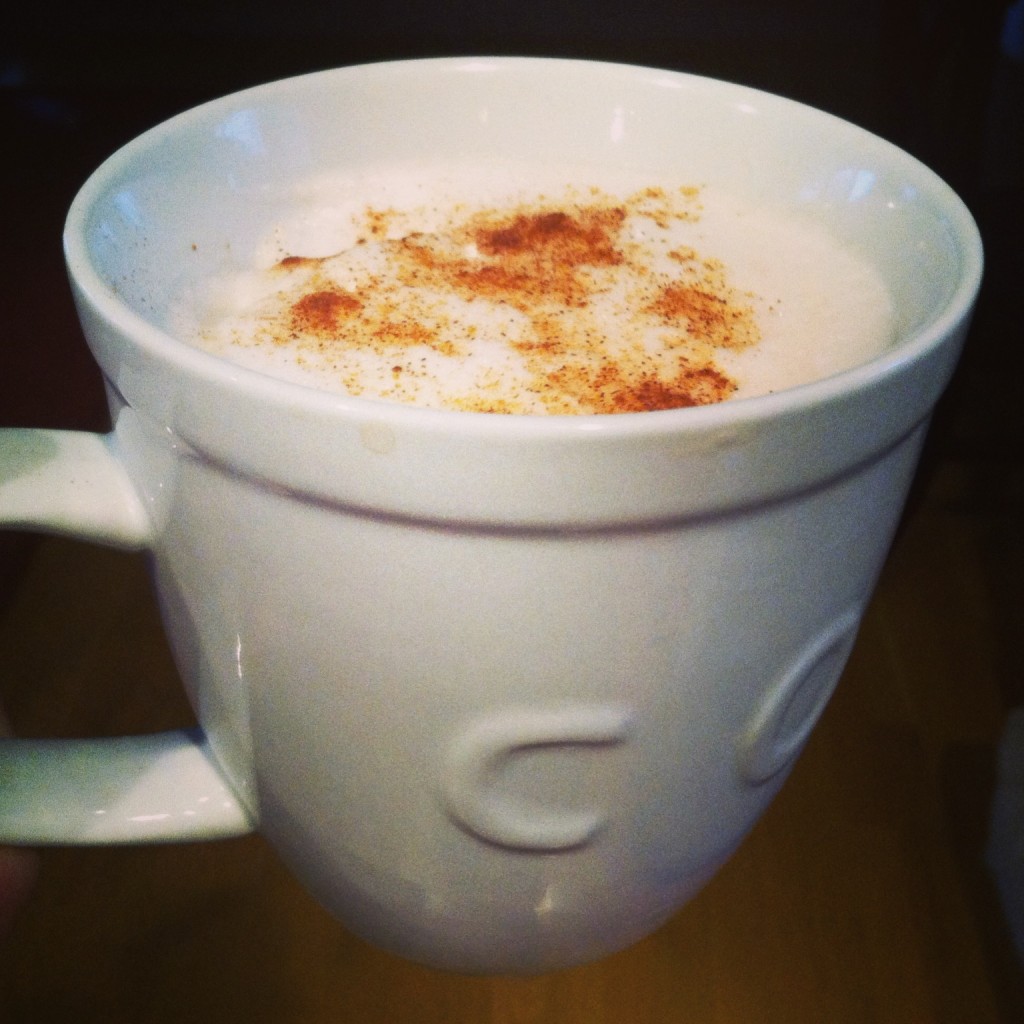 First Watch with Friends
Steel Cut Oats with 2 T. PB2 Powder from home
Fruit
5 PPV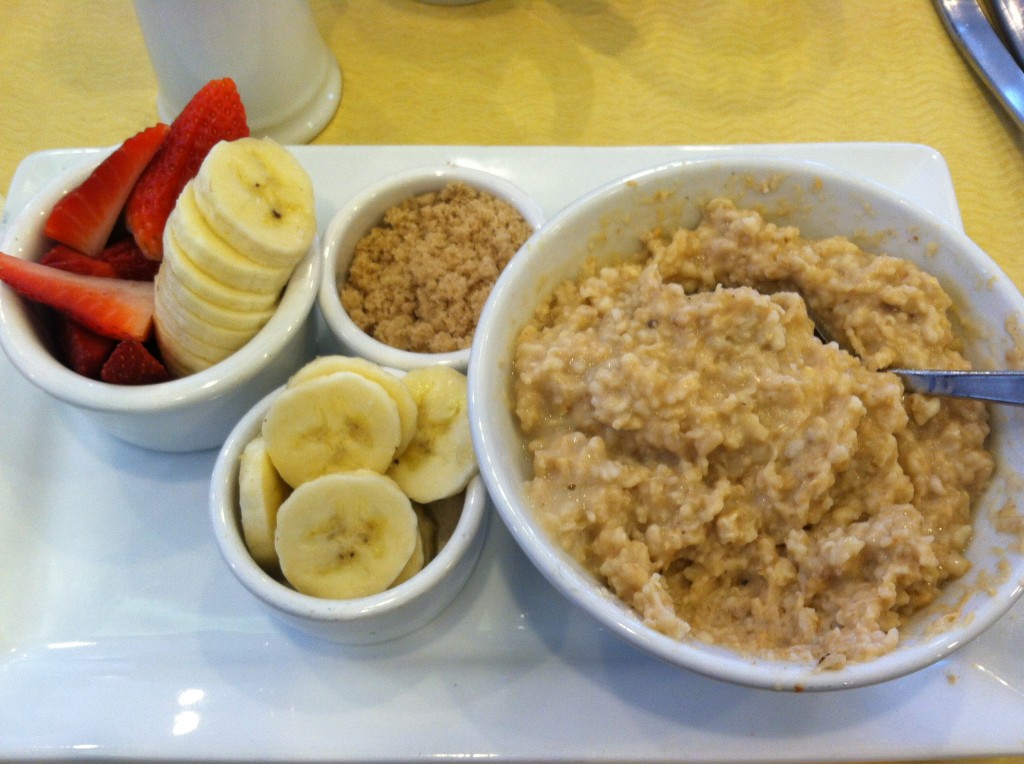 Lunch at Le Peep Restaurant with Mom
Egg White Omelet with Chicken, Cheese
(I asked for HALF the cheese)
Veggies and Avocado, Fruit
(It came with Toast. I did not eat it.)
Nonfat Latte
10 PPV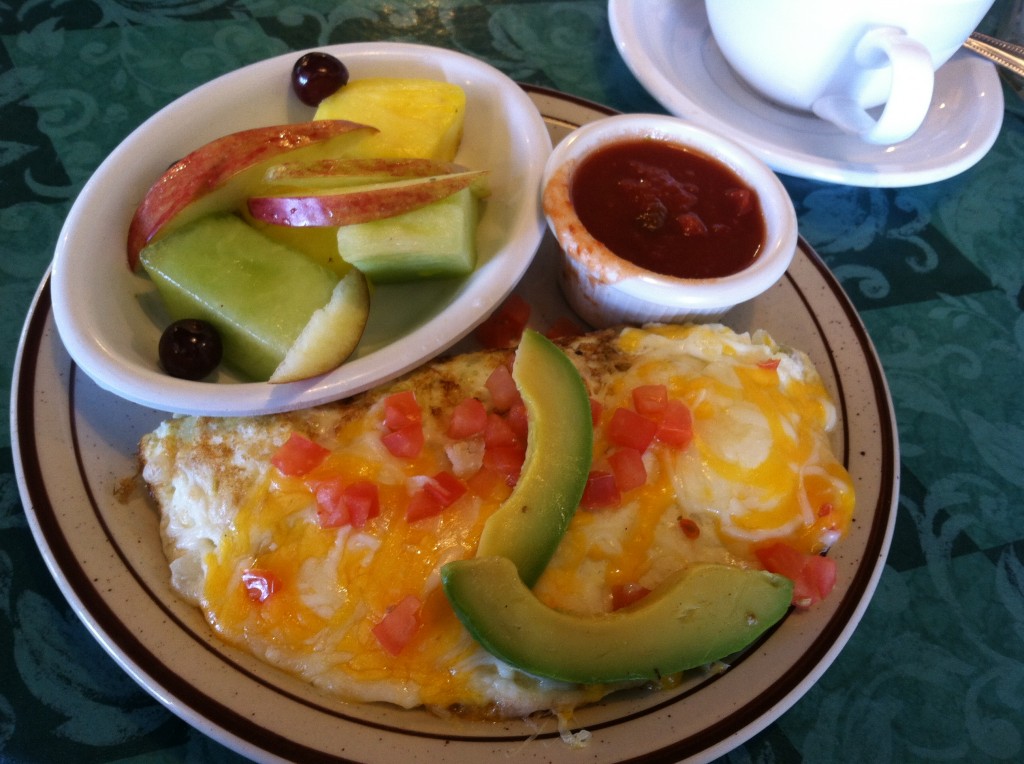 Snack
Fruit Bowl
0 PPV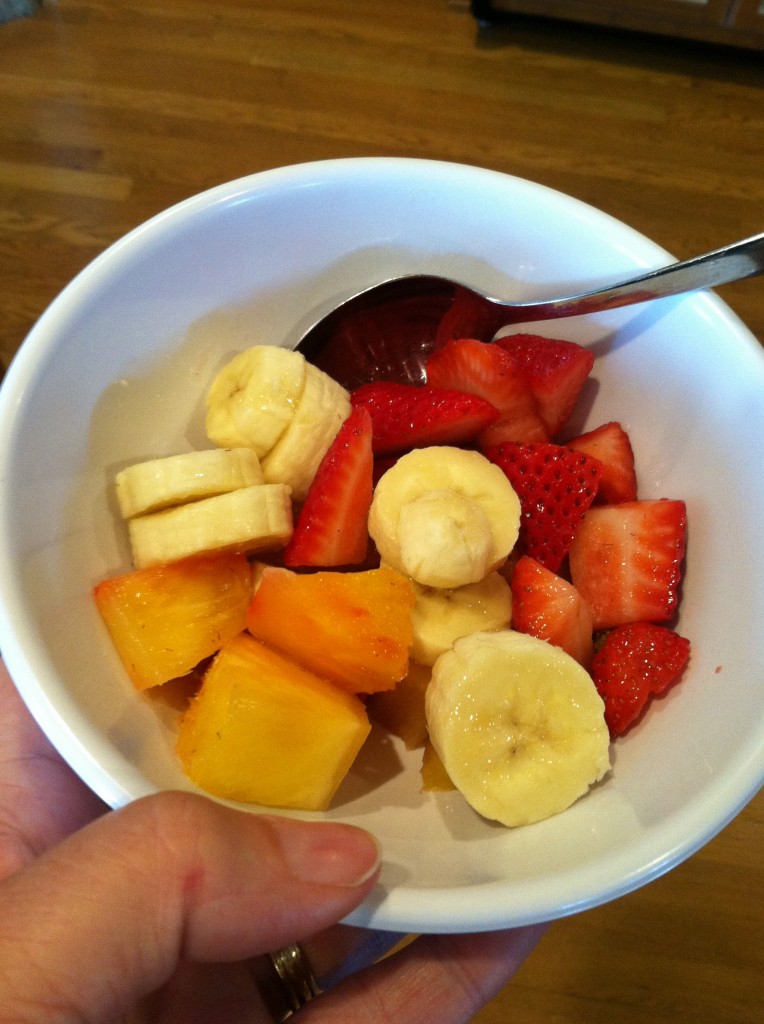 Dinner at home
4 oz. Turkey Burger
with 1/2 oz. Goat Cheese and Caramelized Red Onions
2 oz. Sweet Potato Fries, Chopped Salad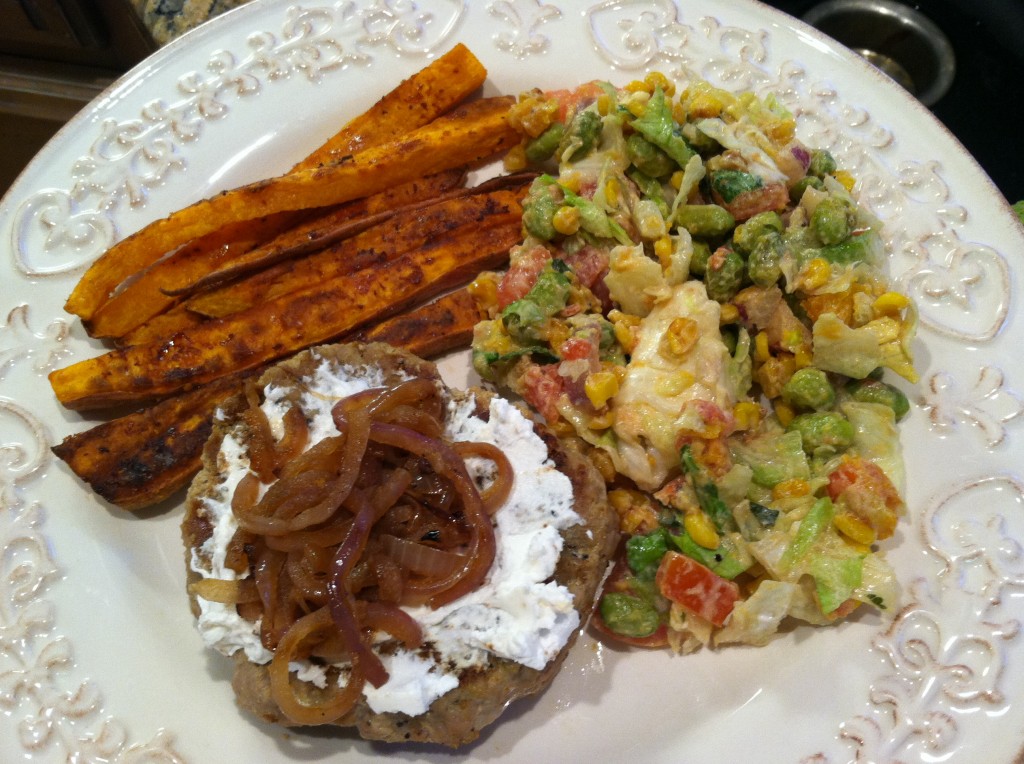 For the salad, I roasted 1 C. of edamame, 1 C. of corn, chopped red onions, chopped butternut squash, 1 minced garlic clove, sea salt and 1 T. of Olive Oil at 400 for about 20 minutes.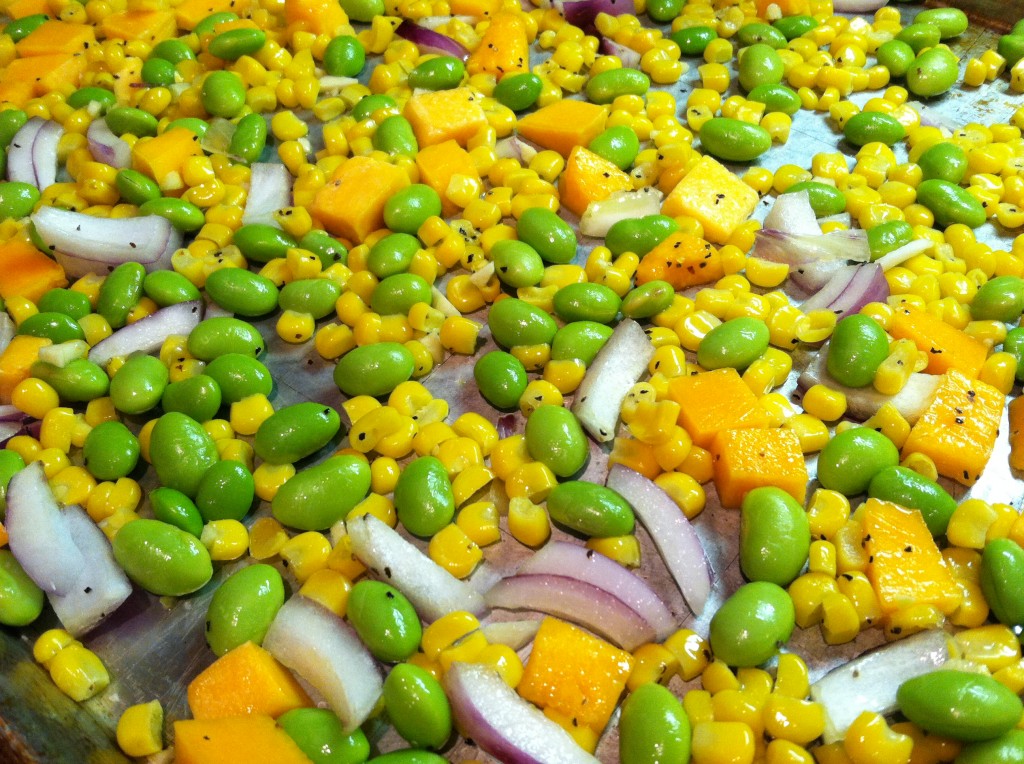 I let that cool, then put it in a bowl.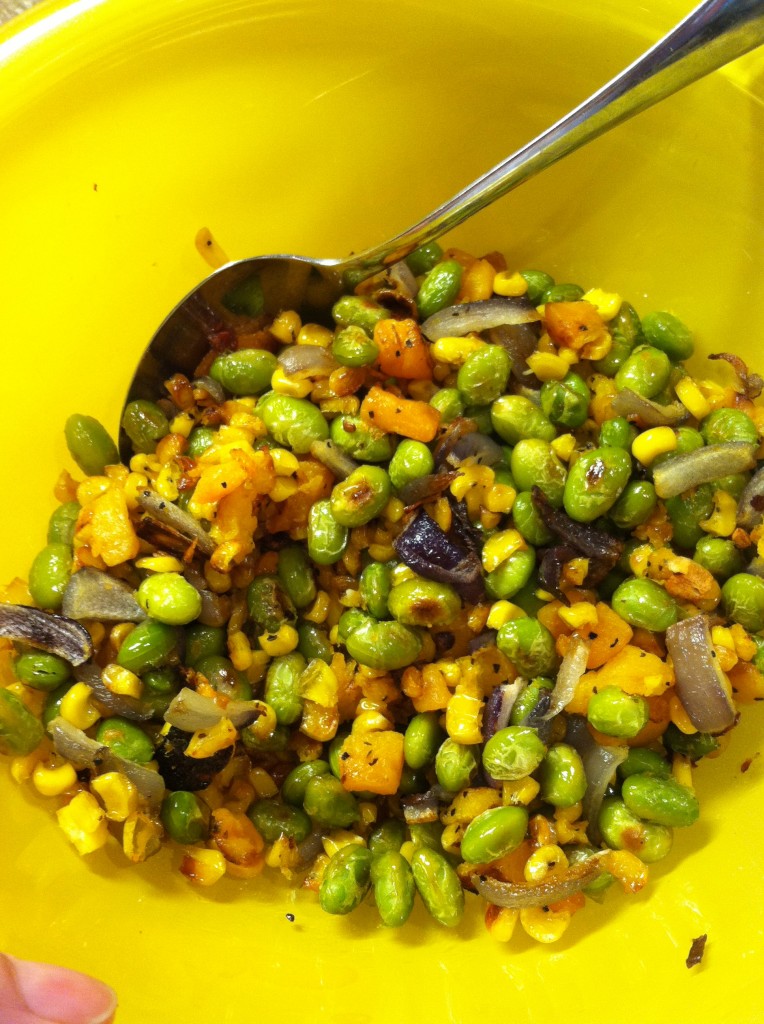 Then I added a chopped tomato and a little lime juice and a little more Sea Salt. I chopped up Romaine lettuce, added the roasted veggies, topped that with Salsa and 2 T. of Light Sour Cream, then chopped it all up. The roasted veggies would have made a great side dish alone, but I was trying to bulk it up and get a few more veggies in!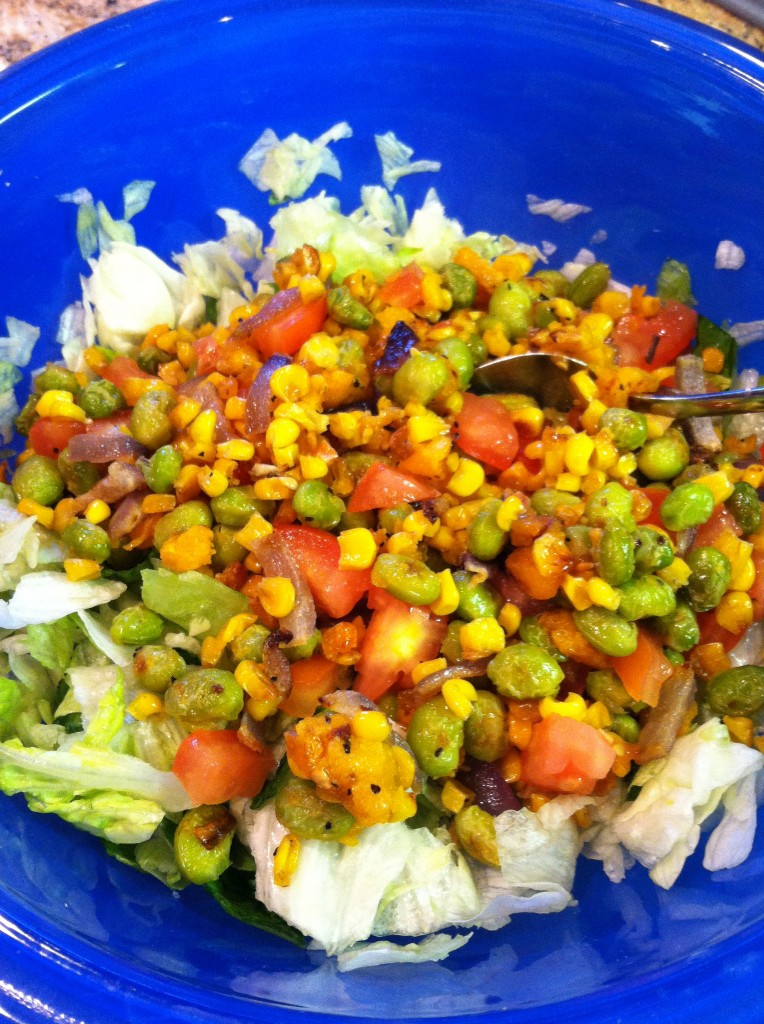 The Salad made 4 servings.
One Serving = 3 PPV
Sweet Potato Fries
I cut my potatoes, drizzle with Olive Oil and sprinkle with Parmesan Cheese. Spray a baking sheet with Cooking Spray and Bake the fries at 400 for 35 minutes, turning over fries half way through cooking time. I like to weigh my fries for an accurate PPV. I ate about half of a medium size potato.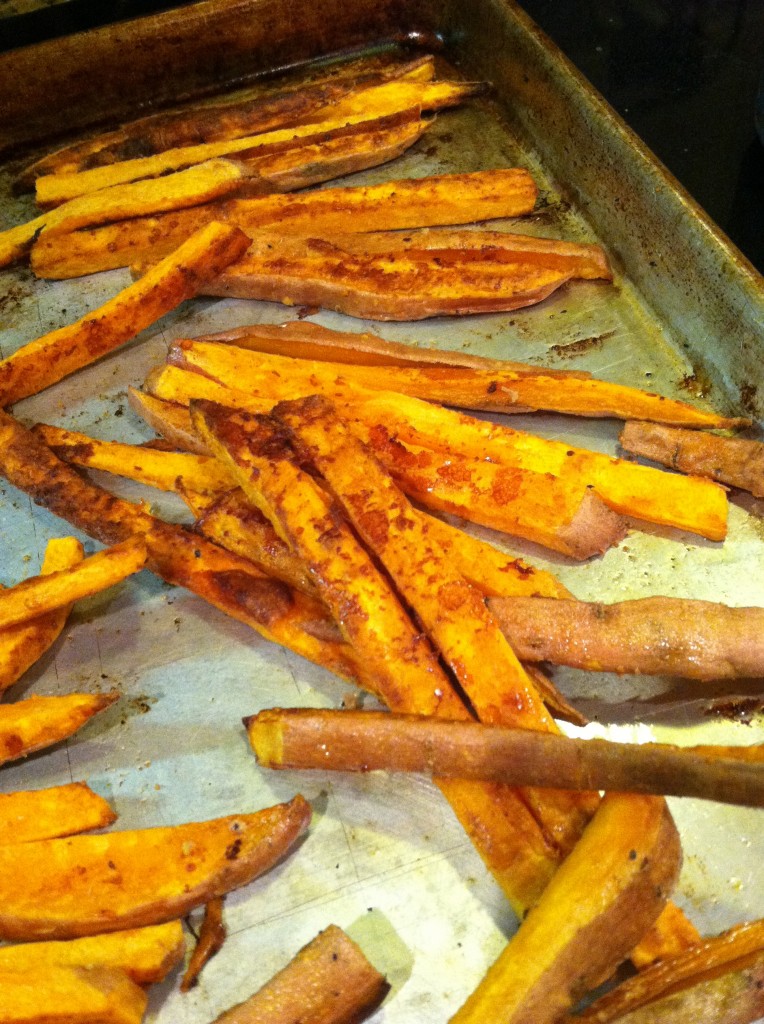 Dinner Total = 10 PPV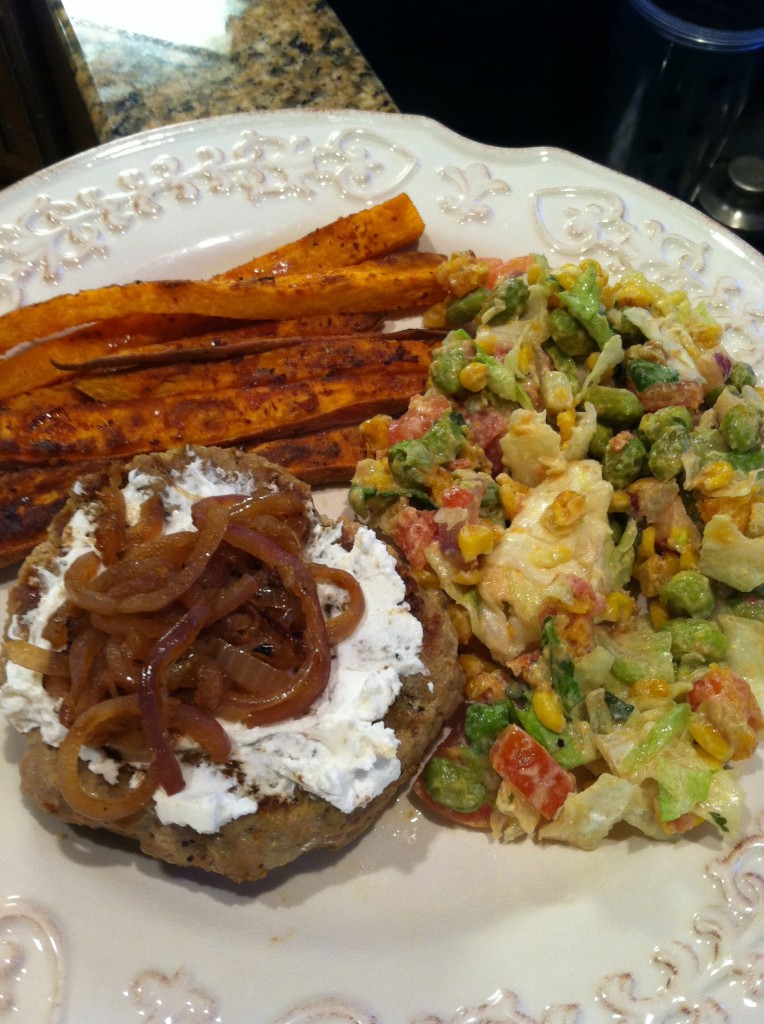 Weight Watcher's Points Plus
I can eat 26 PPV a day.
I can earn Activity Points by doing exercise, and eat them if I choose.
I have an allowance of 49 extra points that I can dip into throughout the week if I choose.
I should drink a minimum of 6 (8 oz) glasses of water each day.
My Weight Watcher Week Begins on Friday's
Breakfast = Coffee with Skim Milk at home, Steel Cut Oats with PB2 (6)
Lunch = Omelet, Nonfat latte, Fruit (10)
Snack = Fruit (0)
Dinner = Turkey Burger, Fries, Salad (10)
Total = 26
Exercise = RAN for 30 minutes, Walked for 10 minutes
How many glasses of water I drank = 10
Activity Points Earned for the Day = 6
Activity Points Earned This Week = 11
Remaining points from my 49 Points Allowance = 0
Alcohol Consumption = none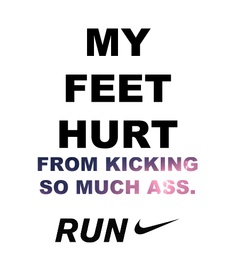 "love the life you live, live the life you love"