(This post also has a link to Chicken Kabob's and Salmon Kabob's closer to the bottom of the post. This is a long post and I had lot's to say!)
Before I talk about these delicious Cinnamon Sugar Sweet Potato Fries, let me tell you that I DID get out and run TWO miles without stopping on Sunday afternoon! Yay! I asked a friend to go with me for support, and she was all in! I knew I wouldn't run two miles without stopping if I was by myself. Her legs are twice as long as mine, so I'm sure my slow pace was killing her, but she never complained and it made me go just a tad faster. That was my best time for a mile so far. We actually finished the first mile in 11:17! Here is our time for two miles. We walked before and after the run. We got in just over 4 miles total!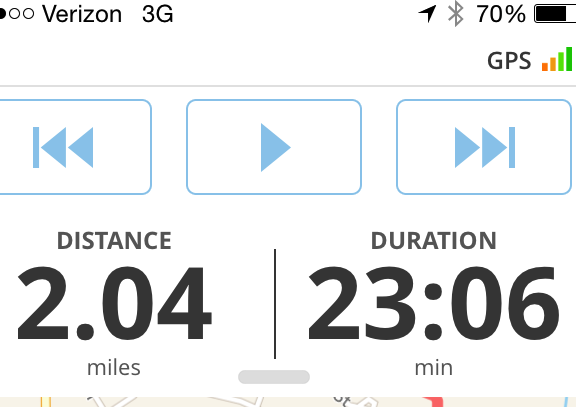 Now, for those fries….
I had some serious food cravings on Saturday afternoon and Saturday night! Maybe it was the wine and the taste of Limoncello cake that I had for an early lunch? I'm not sure. When I found this recipe for Cinnamon Sugar Sweet Potato Fries on Pinterest on Saturday night, I knew I would be making a version of it for breakfast on Sunday morning!
Click HERE for the original recipe over at Sally's Baking Addiction! The only thing I really did different, is use stevia in place of sugar, and I made much smaller portions. You have GOT to go to her website though and look at her pictures! Heck, make it her way if you'd like! They look amazing! She makes this for dessert!
This recipe makes TWO small servings, and I was completely satisfied!
Ingredients
4 oz. Raw Sweet Potato (I used half of a large sweet potato)
Cornstarch
2 tsp of coconut oil, melted (or use Olive Oil)
2 packets of stevia
1-2 tsp. of cinnamon (or to taste)
Directions
Cut potato into traditional size fries. Put the potatoes in a baggie and sprinkle with corn starch. Close the baggie and give them a good shake making sure to cover the potatoes evenly and lightly with the cornstarch. Remove the potatoes from the bag, discarding the extra cornstarch. Place potatoes in a bowl and add melted coconut oil. Stir to cover potatoes evenly with the melted oil. Combine stevia, and as much cinnamon as you like, in a separate small bowl. After mixing those to make a nice cinnamon sugar, add to the oil coated potatoes in the bowl and stir until evenly distributed. Place fries on a baking sheet coated with cooking spray. Make sure potatoes do not overlap and have plenty of space between them. They bake more evenly this way.
Bake at 400 for 15 minutes. Flip, and bake another 10-15 minutes.
Icing Ingredients
1/2 C. Powdered Sugar
1 T. Skim Milk
1/8 tsp Vanilla
Directions for Icing
Mix all three ingredients in a small bowl and whisk with a fork. This made a lot of icing, but I wasn't sure how to make less and make it taste good. I dipped the fork in the icing two times and LIGHTLY drizzled the icing over the cooked potatoes. I sadly tossed the rest.
I counted ONE SERVING as 3 PointsPlus.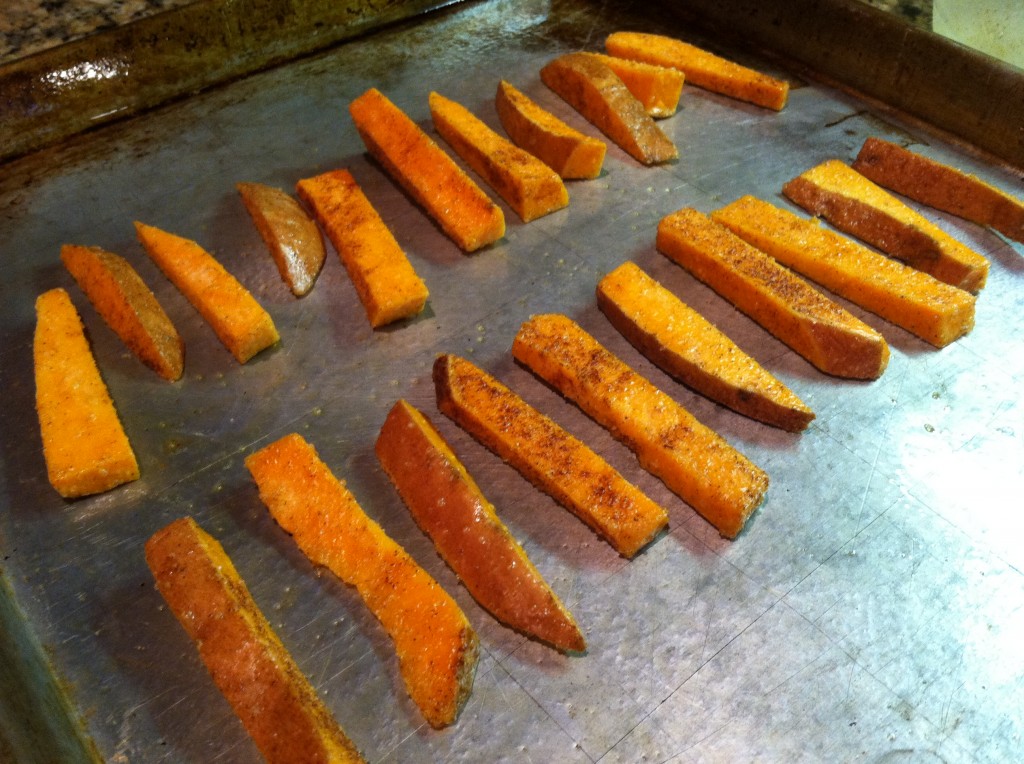 It was a small serving, but they were really good and satisfied my craving!

I spent most of the afternoon playing in the kitchen. I said I would try Two New Produce items each week. Last week, I made a steamed Artichoke and it just wasn't good. I might try that again. I think I had a bad artichoke.
Then I was going to make Whipped Parsnips? As they were boiling, they smelled awful, so I tossed them.
Sunday, I cooked Radicchio. It is purple and is found in most bags of Salad mix where there is a mix of veggies. I forgot to take a picture of it in it's raw form, but to me it looked like a small head of red cabbage. I found a recipe that sounded really good, so I gave it a go. I baked it with Olive Oil, goat cheese and salt and pepper. It looked so good, and it smelled so good, but for me, it was bitter. 🙁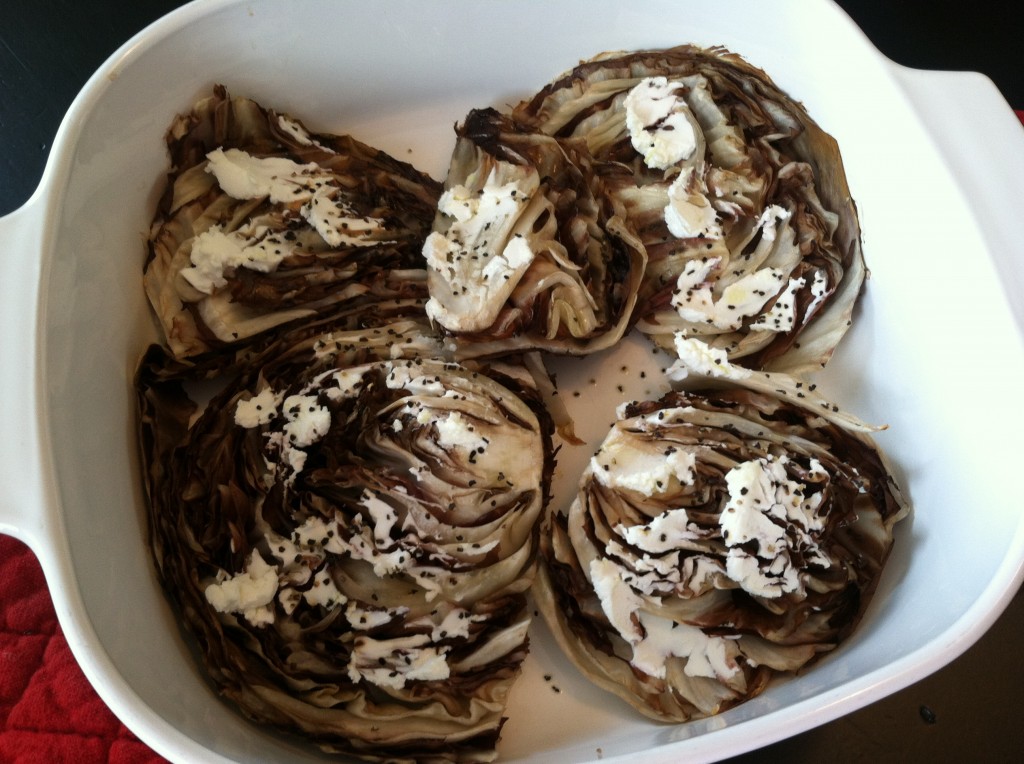 My next Sunday afternoon experiment was Kohlrabi.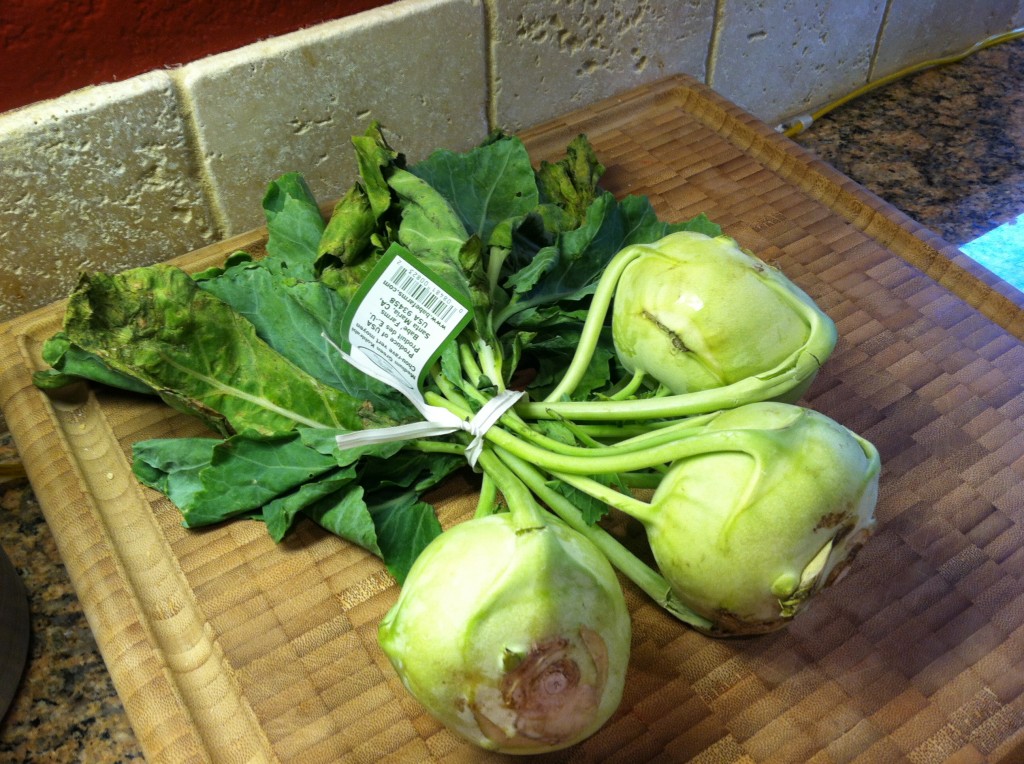 I'd never heard of it or seen it before. After googling a few recipes, it was described as having a similar taste to a radish? So I sliced it thin, as suggested, and gave it a taste. I'm not a big radish fan, but it wasn't bad.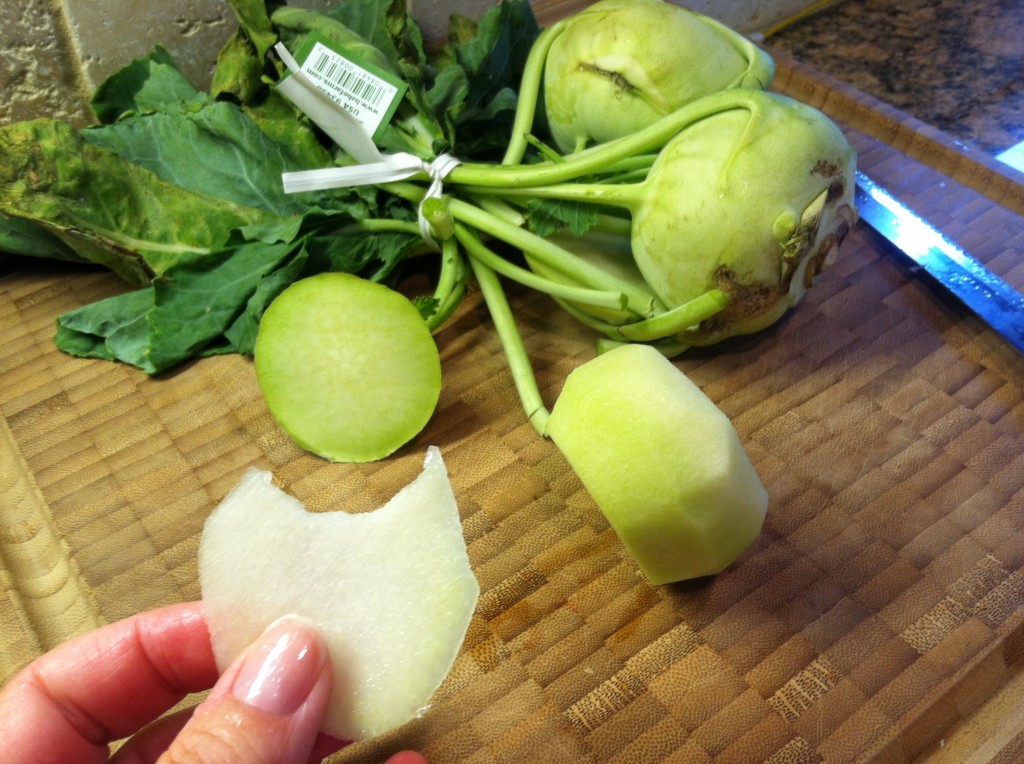 It actually tasted good dipped in my smashed avocado that I was snacking on!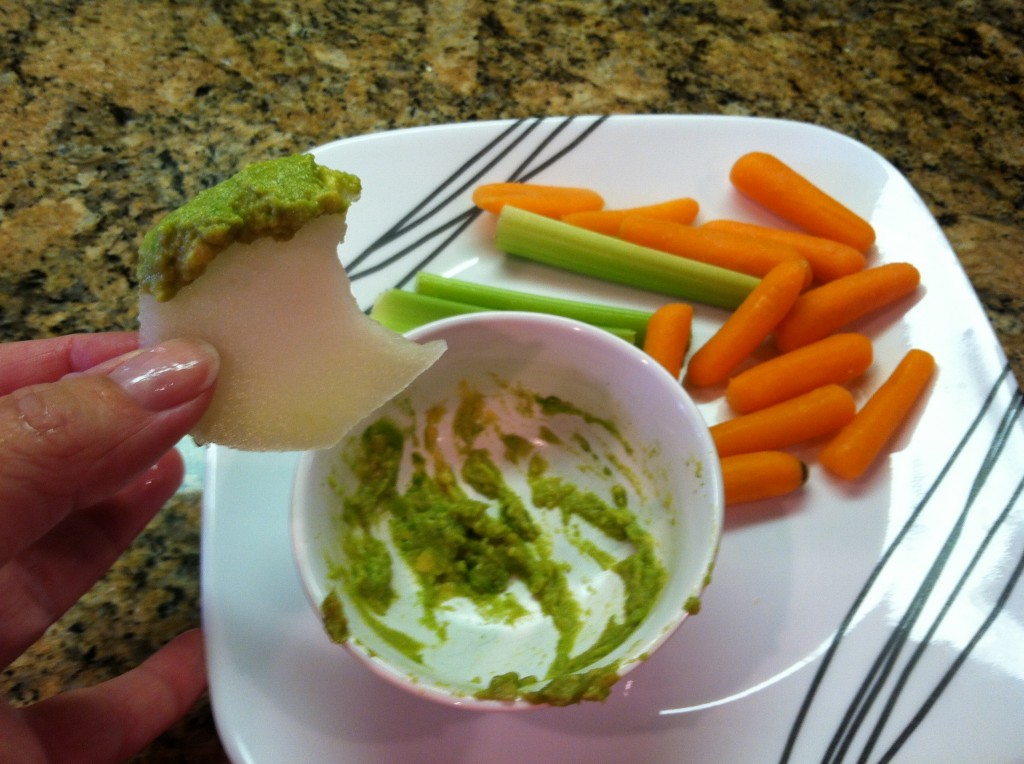 After looking at a few recipes, and reading some suggestions for eating Kohlrabi raw, in thin slices, with thinly sliced apples, in Vinegar and Oil, I decided that's how I would eat it. I sliced an apple, added a little flavored Vinegar and plain Olive Oil, and ate it raw. It made a great snack while I cooked dinner! I'm 1 for 4 in the new produce experiment!
Apple and Kohlrabi slices!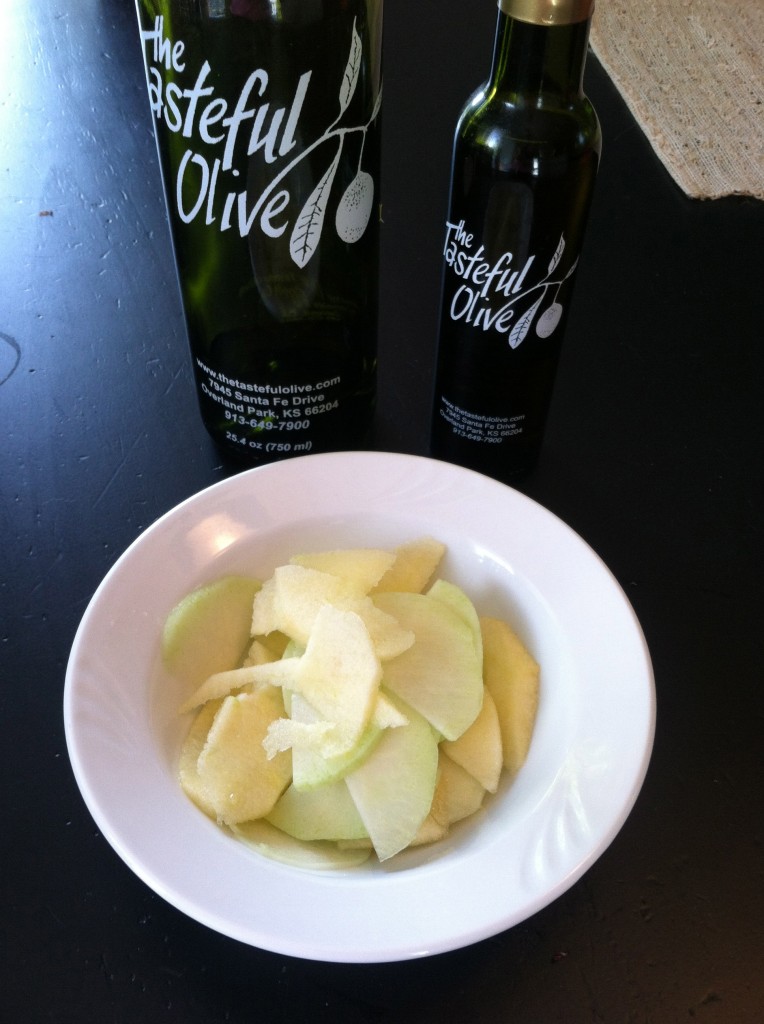 This Cara-Cara Orange Vanilla Balsamic Vinegar mixed with Olive Oil made them both taste delicious together!

After all of the experimenting, I cooked dinner and tried two new recipes. I found two Kabob recipes that I wanted to try. I love Salmon, and Mike is not a fan, so I found a Salmon recipe for me, and a Chicken recipe for him. He had fries, I had a sweet potato. I am loving sweet potatoes right now!
F.Y.I. After pondering whether to spell it….Kabob or Kebab….I Googled it. Here is what I found.
In Turkish, kebab means " roasted meat. When the meat is roasted on a skewer, or shish, it is a shis kebab. But shish kabob is a Western dish featuring uniformly sliced hunks of meat interspersed with vegetables on a wooden skewer, cooked over an open flame.
Salmon Kabob Recipe
Click HERE for the awesome recipe for Salmon Kabob's from SkinnyTaste.com!
Marinated Chicken Kabob Recipe
Click HERE for the equally awesome recipe for the marinated Chicken Kabobs from ahintofhoney.com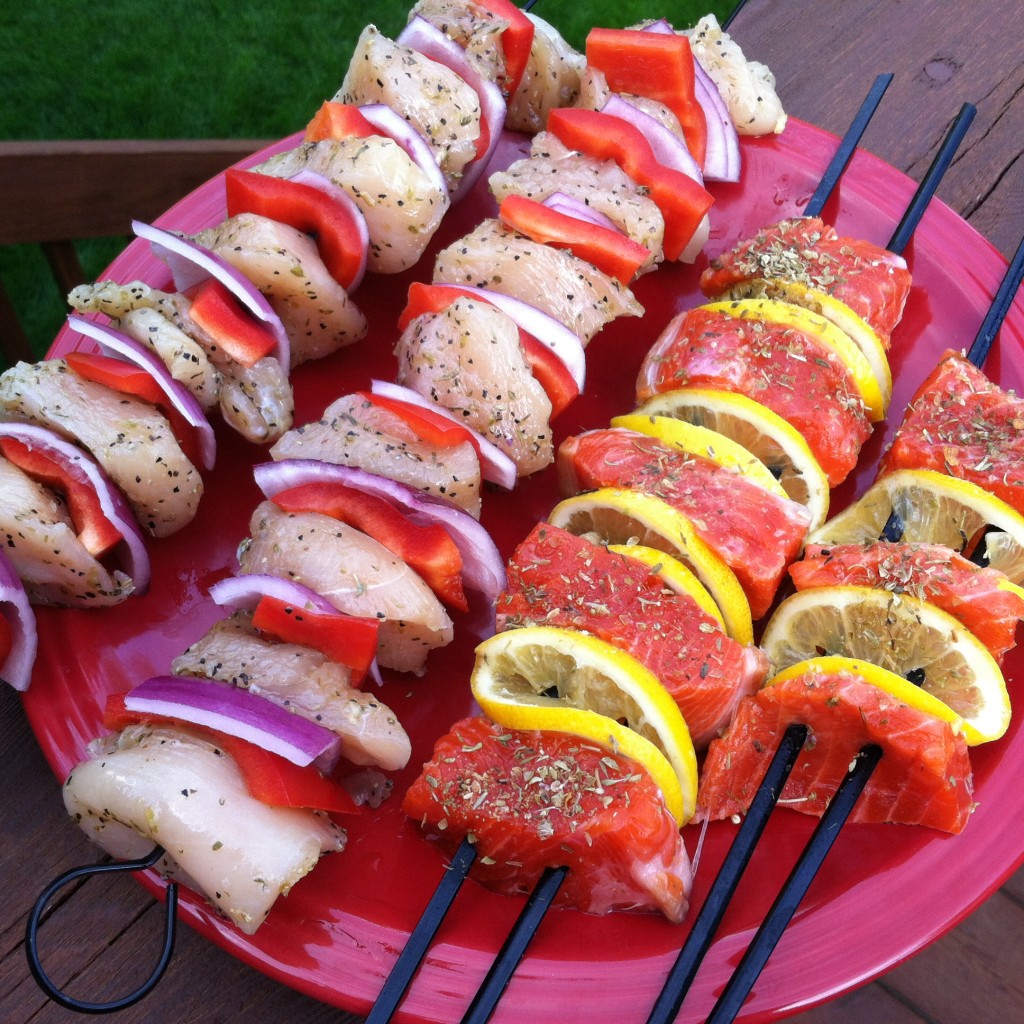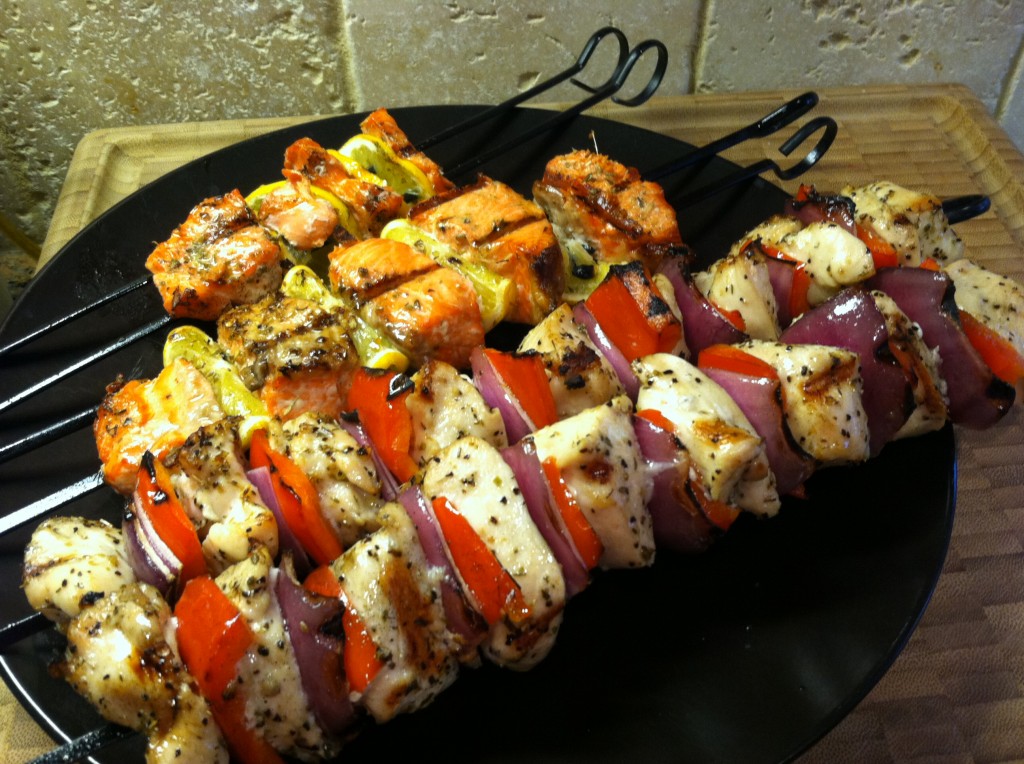 Here are the day's eats!
Breakfast
Cinnamon Sugar Sweet Potato Fries
4 Scrambled Egg Whites with 2% Cheese
Strawberries
Coffee with Frothy Skim Milk
6 PPV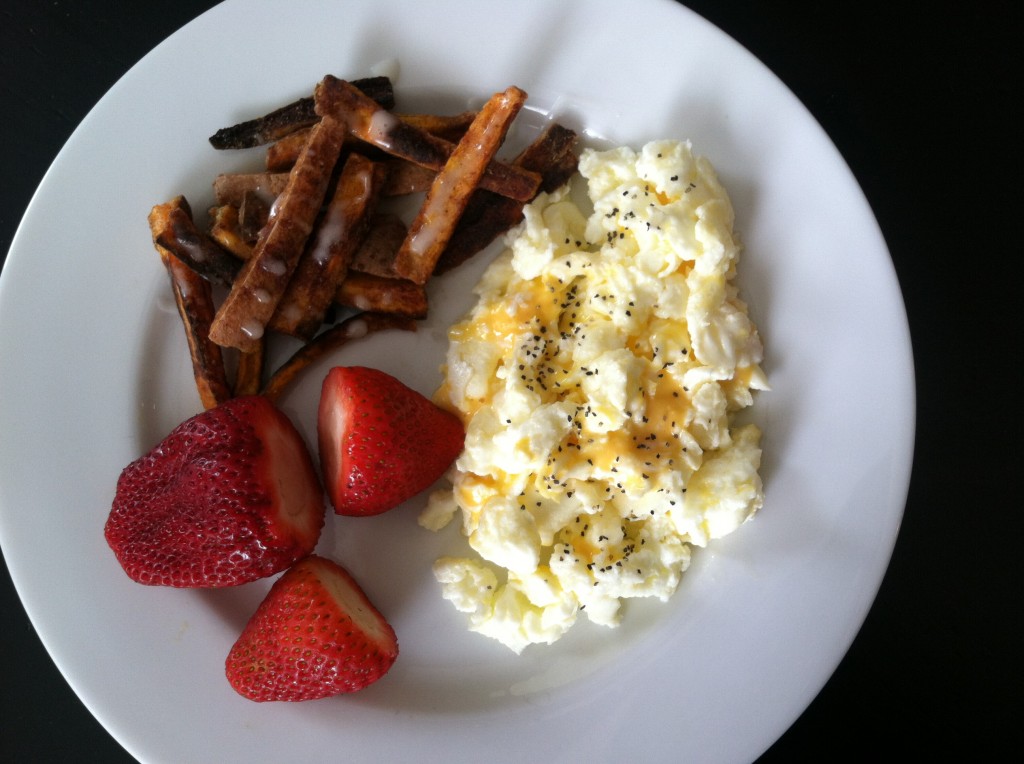 Lunch
Would you believe that lunchtime came and went and I guess I wasn't hungry?
That never happens!
Snack
1/4 Smashed Avocado with Sea Salt and Lime Juice
Celery and Carrots
My picture makes it looks kinda gross in color, but I make this all the time to eat on top off eggs, burgers, sandwiches or quesadilla's, but it's also a great veggie dip!
2 PPV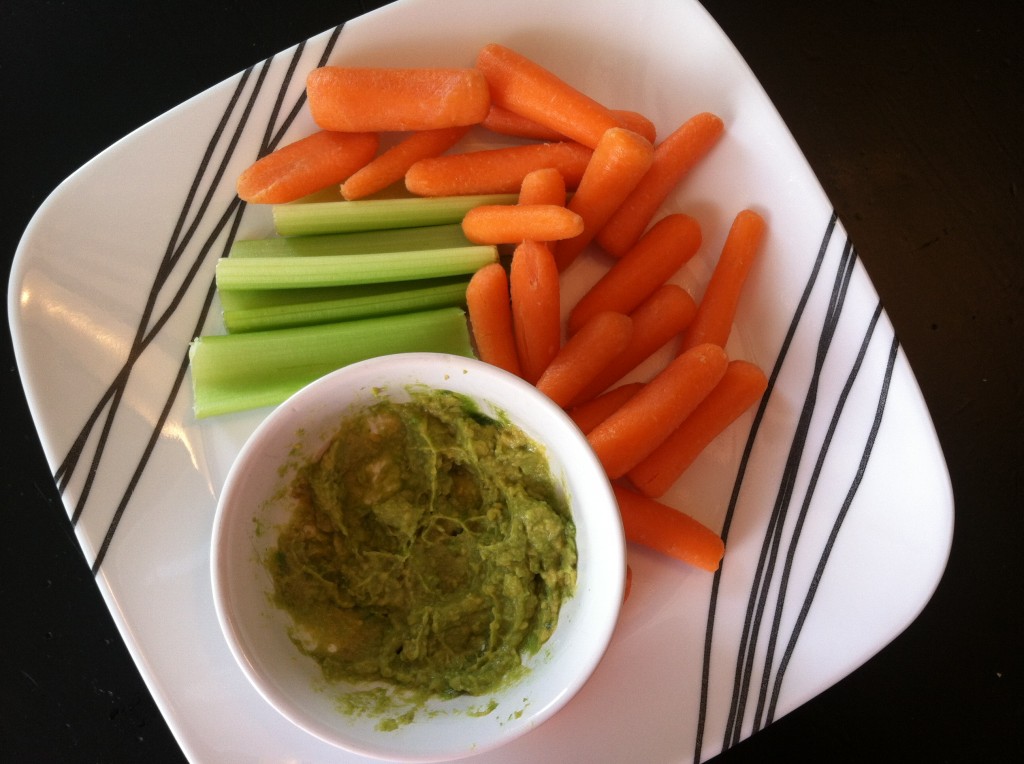 Dinner
Salmon Kabob's, Baked Sweet Potato, Cucumber Salad
I used the Veggetti to make Cucumber Noodles, I cut up a few cherry tomatoes and I shredded one carrot with my potato peeler. I took a friends advice and mixed equal parts of Olive Oil and Vinegar, and a little Dijon Mustard and Sea Salt and Black Pepper for a dressing. Thank's Becky! Mike loved that!
I am loving sweet potatoes lately! I bake them in the microwave, and smash them. They are so moist and full of flavor! I loved my breakfast Cinnamon Fries, but for dinner, I didn't add any butter or salt to this guy.
11 PPV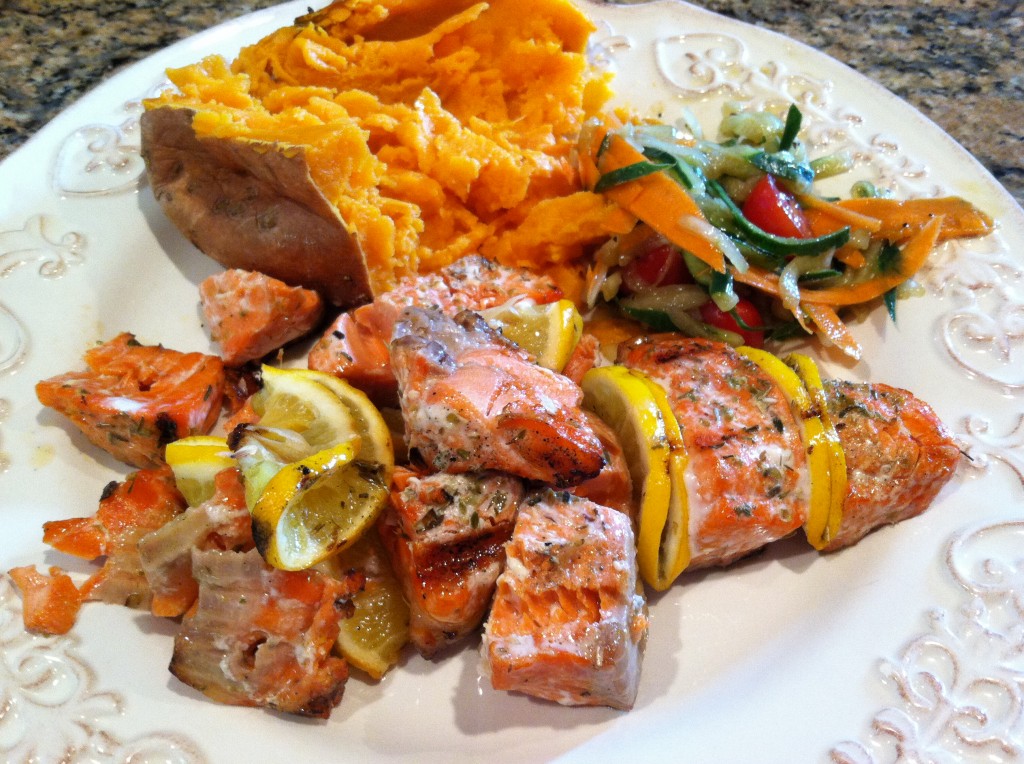 Weight Watcher's Points Plus
I can eat 26 PPV a day.
I can earn Activity Points by doing exercise, and eat them if I choose.
I have an allowance of 49 extra points that I can dip into throughout the week if I choose.
I should drink a minimum of 6 (8 oz) glasses of water each day.
My Weight Watcher Week Begins on Friday's
Breakfast = Fries, Egg Whites, Fruit, Coffee with Skim Milk (6)
Snack = Celery, Carrots, Avocado (2)
Dinner = Salmon, Sweet Potato, Cucumber Salad (11)
Red Wine = (7)
Total = 26
Exercise = Ran TWO miles, Walked two miles
How many glasses of water I drank = 8
Activity Points Earned for the Day = 6
Activity Points Earned This Week = 13
Remaining points from my 49 Points Allowance = 27
Alcohol Consumption = 8 oz. Red Wine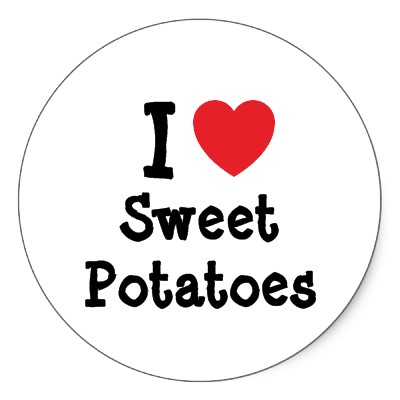 "love the life you live, live the life you love"