(Updated July 15th, 2014. I left out a step in the Eggplant Parmesan. It is important to get the extra water out of the Eggplant. I've now added that step.)
Farmer's Market
I spent Saturday morning at the Overland Park Farmer's Market. I grew up in that part of town, and it feels so good to see it thriving like it is. There was a time not too long ago that it had become a quiet little part of town that seemed to have been forgotten. Now there is so much going on there on a Saturday morning! I love it!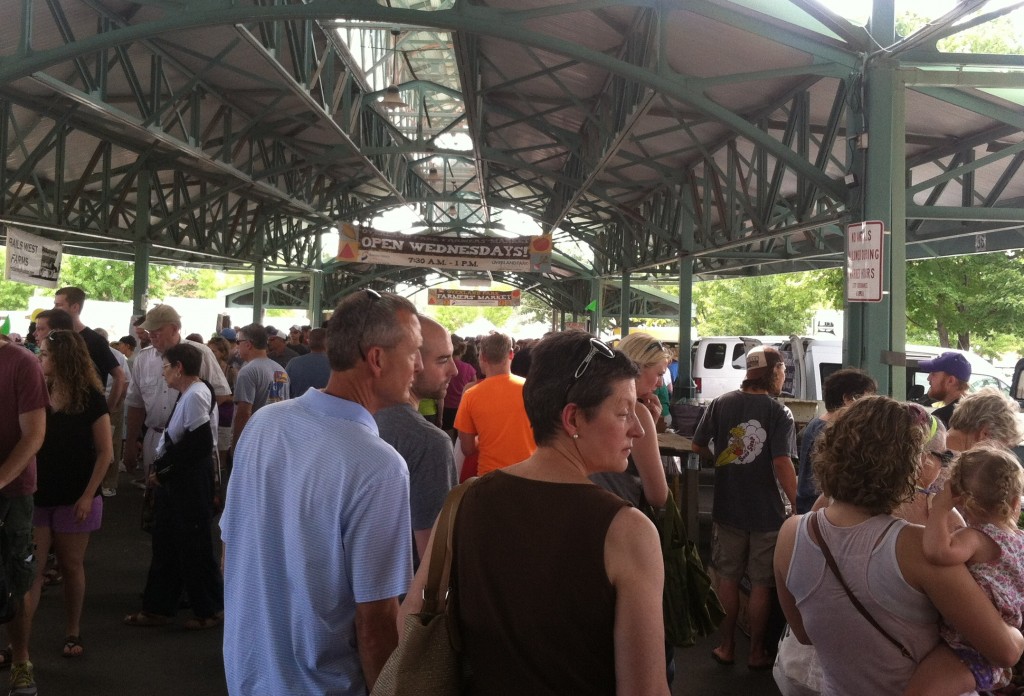 I met my mom and we sat outside at one of the coffee shop's and listened to the live music….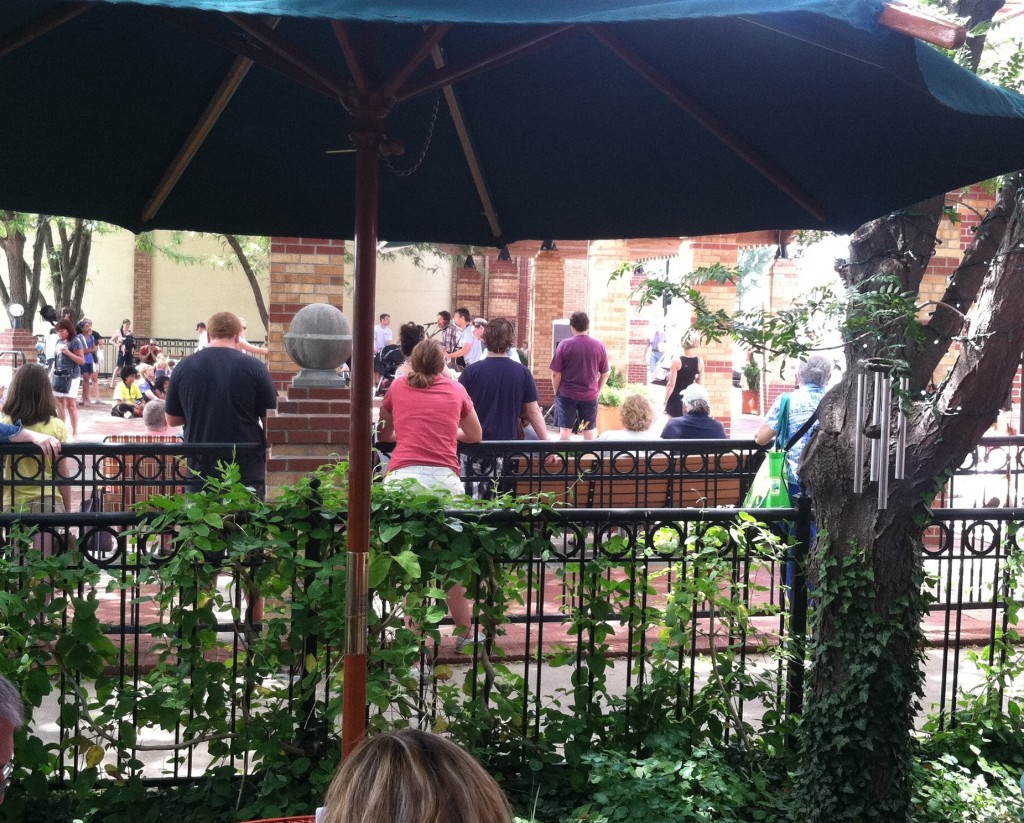 It was the perfect Saturday morning!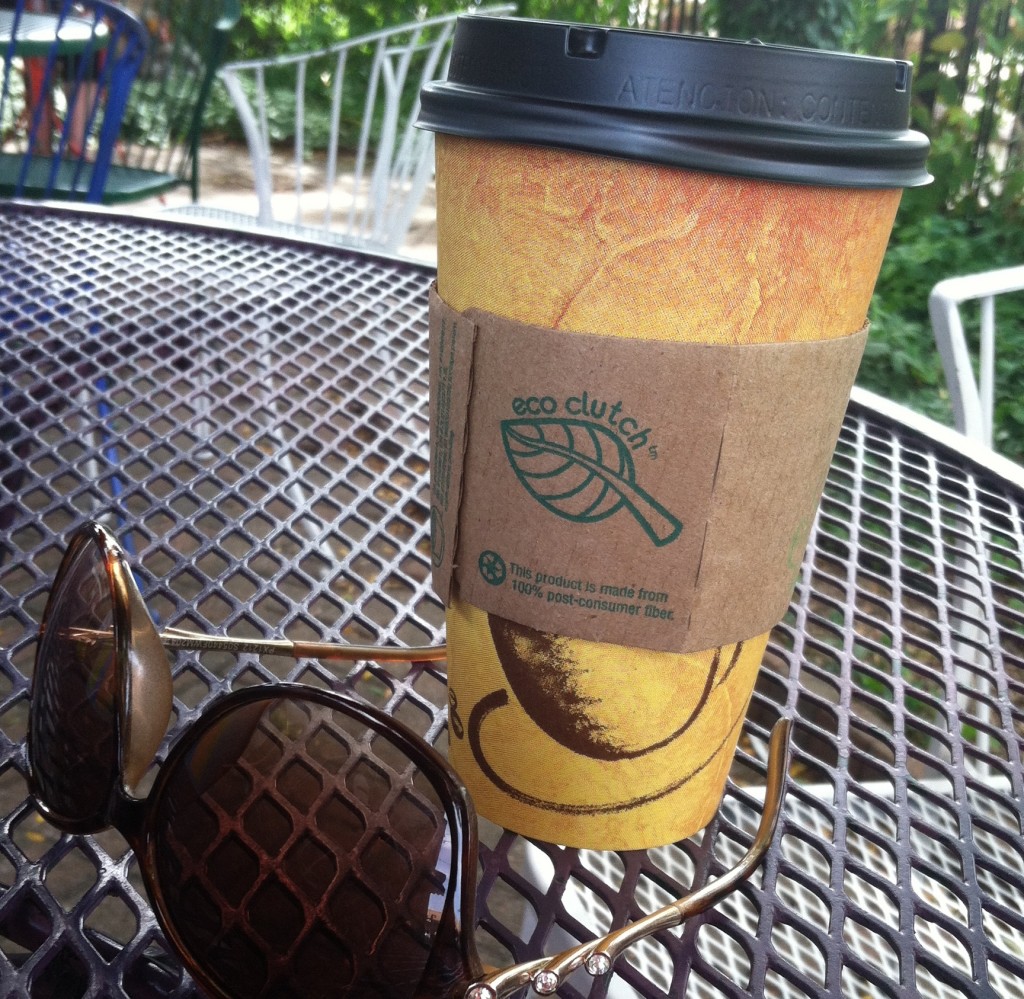 Here's what I bought at the Market! Those Green Beans are CRAZY long! I'll cook those one night this week with the tiny purple potatoes in the top right. The peaches will taste great just as they are, but I plan to eat them in my oatmeal one morning too!
I'm making Eggplant Parmesan for the first time for dinner, and I'm using the tomatoes for a Caprese Salad….yum…..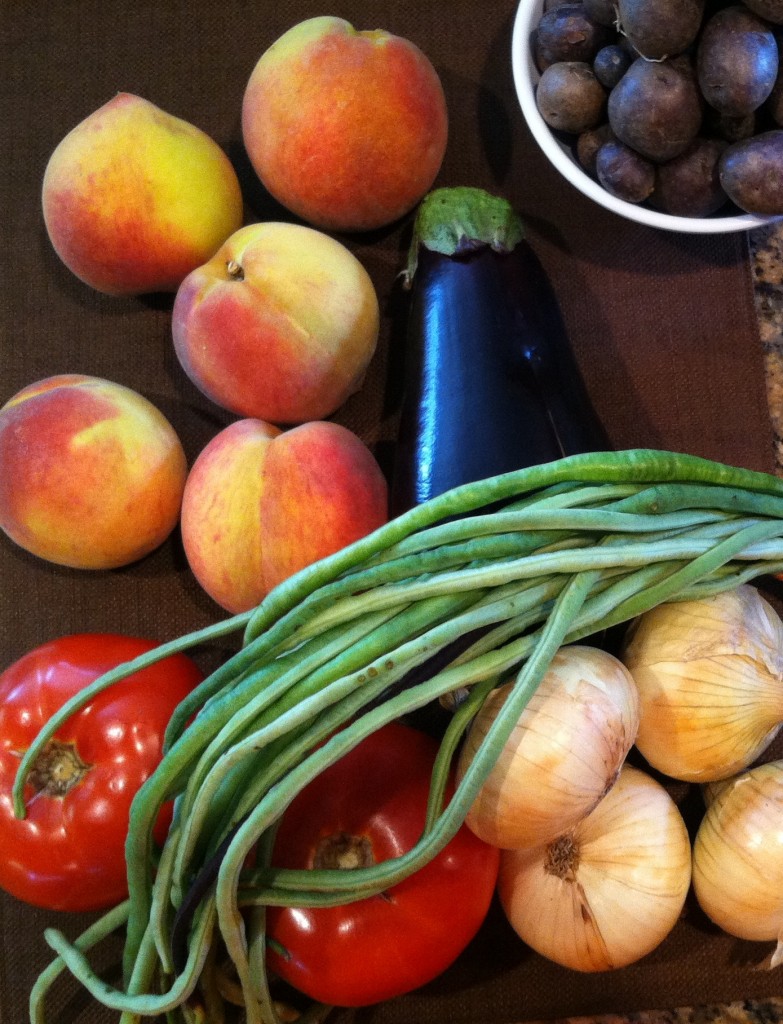 After the Farmer's Market, I stopped in Whole Foods for some Doggie therapy?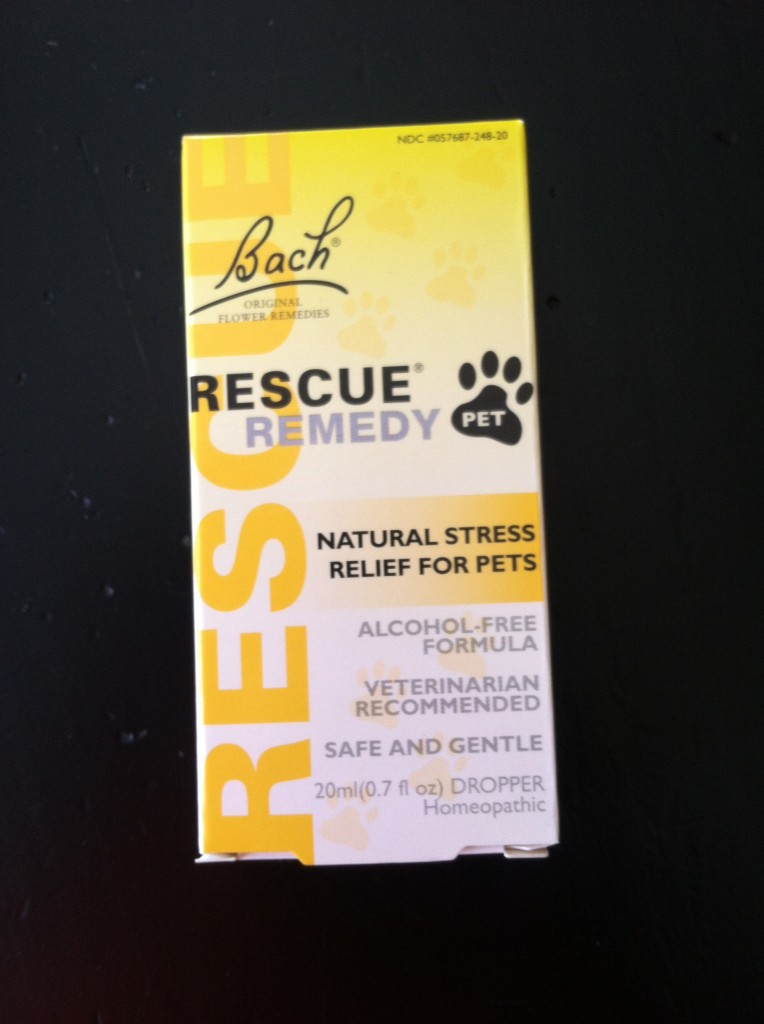 The dog trainer will be here tomorrow for week six of training. Tucker is still pooping in the house, and now he is having anxiety from being locked in the kitchen with the gate that Mike made. He now either escapes the gate (I don't know HOW!), or breaks into the treat/dog food cabinet that is in the kitchen. He is driving me nutzo!!!!
Anybody want a dog????
Here are yesterday's eats!
Breakfast
Nutri Grain Waffle with 1 Wedge Cinnamon Laughing Cow Cheese
4 Scrambled Egg Whites, Salsa, Banana
Coffee with Frothy Skim Milk
5 PPV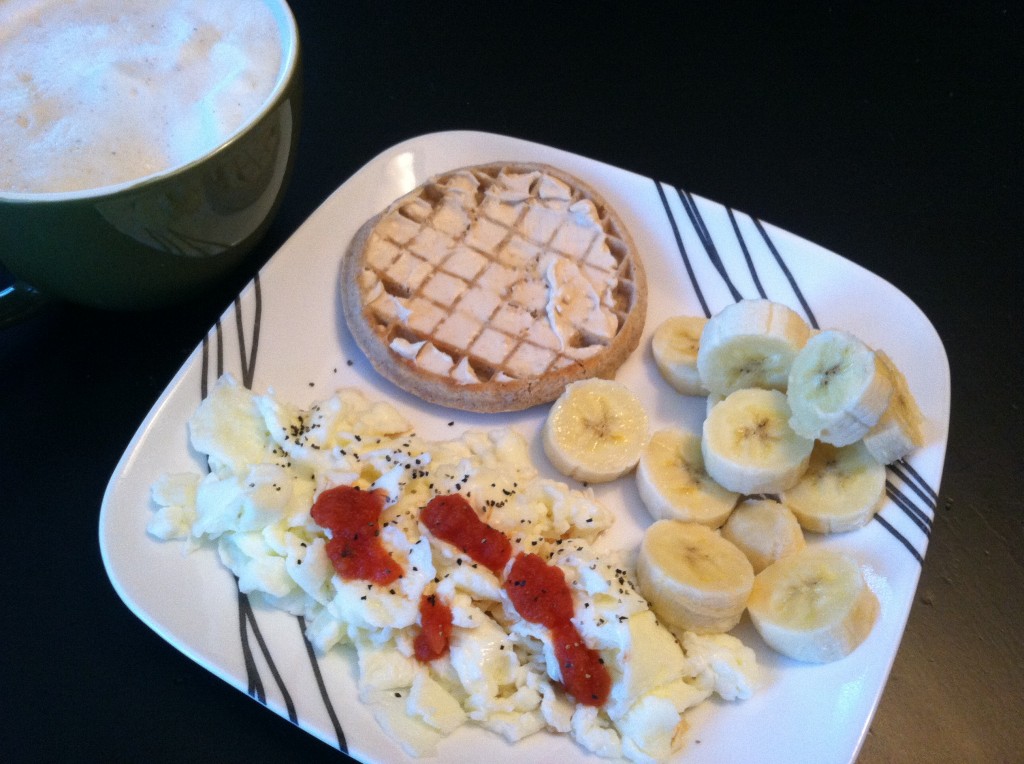 Snack
Latte with Mom at the Market
2 PPV
Lunch
Salmon, Roasted Sweet Potato Salad, Edamame
Mixed Greens, Vinegar and Olive Oil
Dark Chocolate Square
10 PPV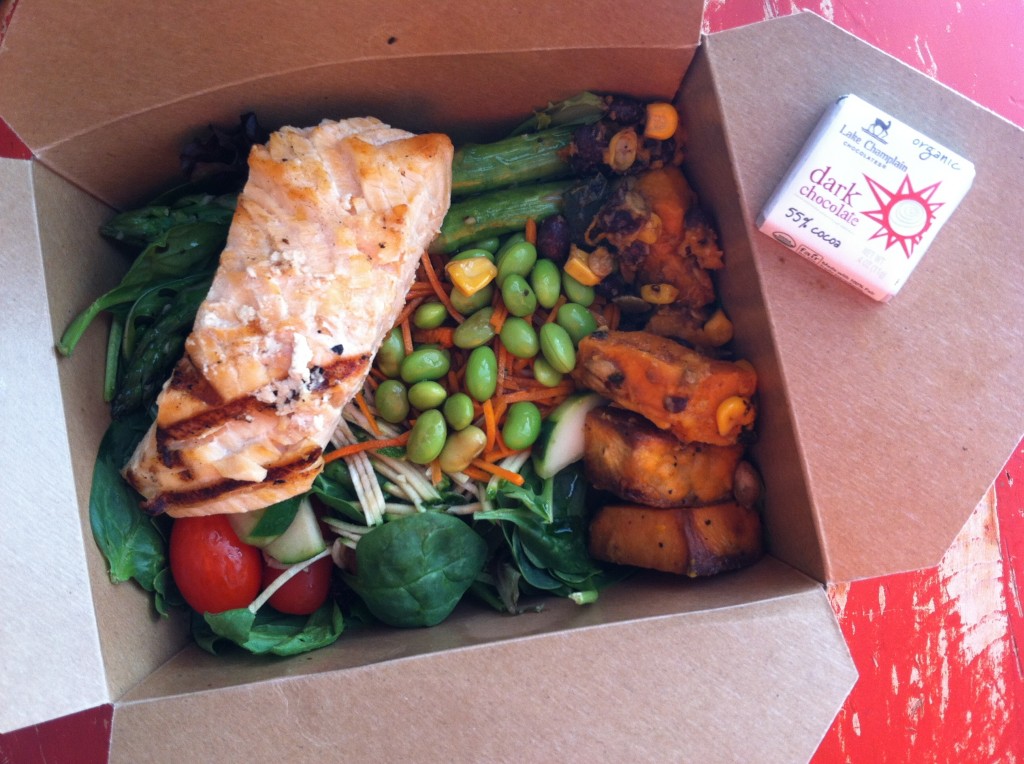 Dinner
Eggplant Parmesan Over Zucchini Noodles
Caesar Salad
Caprese Salad
10 PPV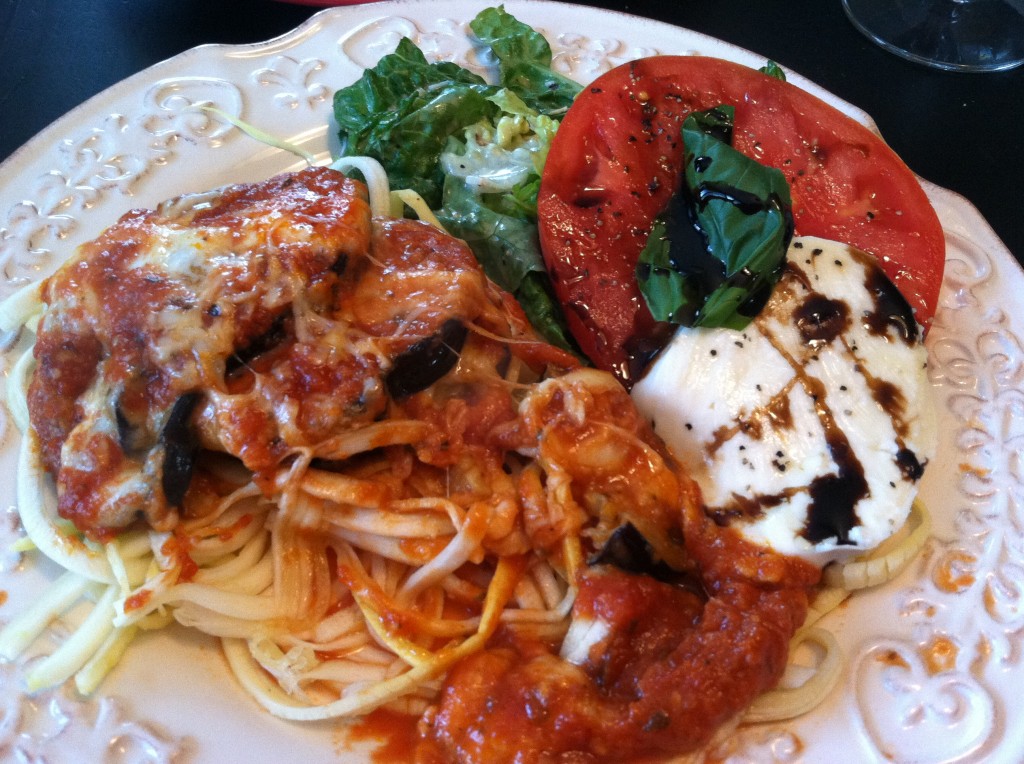 I made Mike Baked Chicken Parmesan using THIS recipe from Skinnytaste.com
I made Eggplant Parmesan by changing up THIS recipe over at Skinnytaste.com just a little bit. She uses a filling of ricotta, egg and parsley, and since I didn't have any ricotta or parsley, I only used fresh mozzarella for this step. I added a step by dipping the eggplant into the bread crumb and parmesan mixture from her Chicken Parmesan recipe. I served my Eggplant Parmesan over raw zucchini noodles. (Zoodles!) It was DELICIOUS!!
Ingredients
One Eggplant, sliced into about eight 1/4″ slices
Olive Oil (I used Garlic Infused….so good!)
1/2 C. of grated parmesan cheese, divided in two
3/4 C. of Italian Style Bread Crumbs (plain is fine too)
8 slices of fresh mozzarella
3 Cups of Marinara
Pasta or Zucchini Noodles…whichever you prefer!
Directions
Before starting, lightly salt the slices of eggplant and put them in a colander to release excess moisture for about 1/2 hour. Then lay the slices on paper towels to soak up any extra moisture. You will be surprised at just how much moisture comes out of these slices!
Step One…. I took this step directly from Skinnytaste.com
Preheat oven to 450°. Brush eggplant lightly with olive oil on both sides and place on cookie sheets. Bake for 20-25 minutes, turning half way through until eggplant is golden brown.
Step Two:
After browning the eggplant, I dipped each side of the eggplant in a combination of 1/4 C. Parmesan Cheese and 3/4 C. Italian Bread Crumbs.
Step Three:
In a small baking dish, put a little sauce on the bottom of the dish and put 4 eggplant slices on the sauce. Top each slice of eggplant with one slice of mozzarella cheese and sauce. Add another layer of eggplant and repeat the mozzarella and sauce. You may have sauce left over. Top with the remaining grated cheese.
Step Four: I took this step directly from Skinnytaste.com
Cover with foil and bake until cheese is melted and everything is bubbling, about 30 minutes at 400°. Remove foil and bake an additional 8-10 minutes. Take it out of the oven and let it sit about 10 minutes before cutting. Enjoy!
When I took it out of the oven, it was bubbling like crazy! This dish looked like a mess, but this tasted so darned good! I had no idea that Eggplant Parmesan would taste SO good!!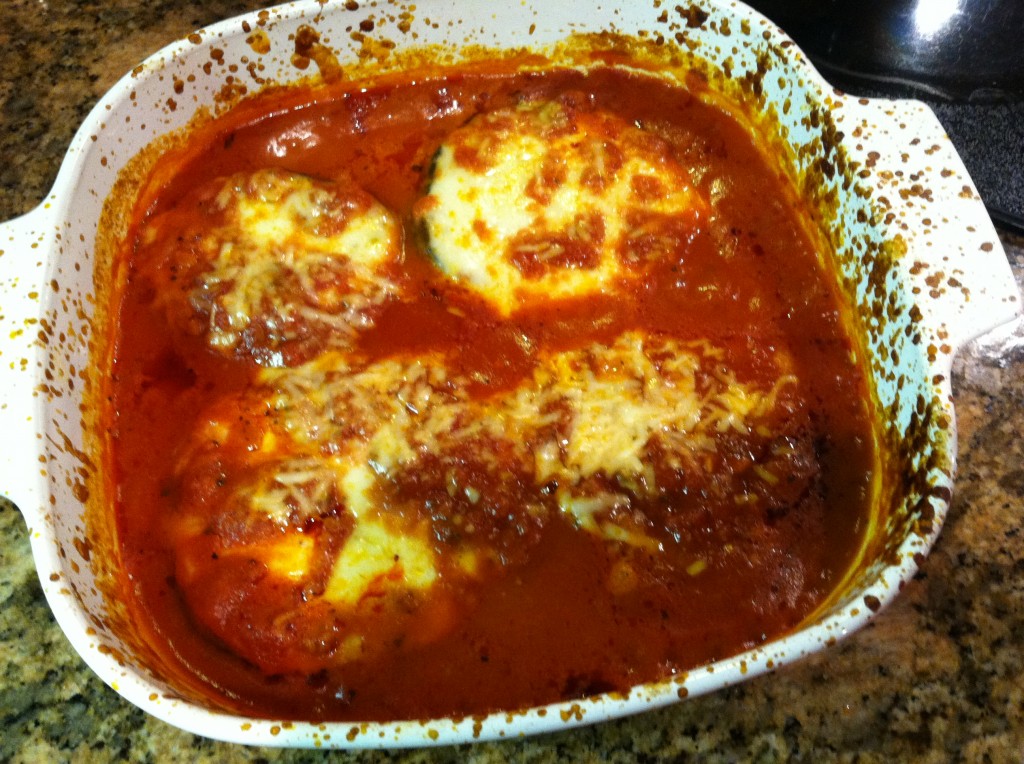 The only points in this dish are the mozzarella, the breadcrumb/parmesan mixture, and the olive oil.
I'm calling One Serving, 6 PointsPlus Values.
As always…Please measure and weigh your ingredients for the most accurate PointsPlus Values.
It's going to be a socially quiet week, and I have no drinking planned, so we opened a nice bottle of wine to have with this AWESOME Dinner.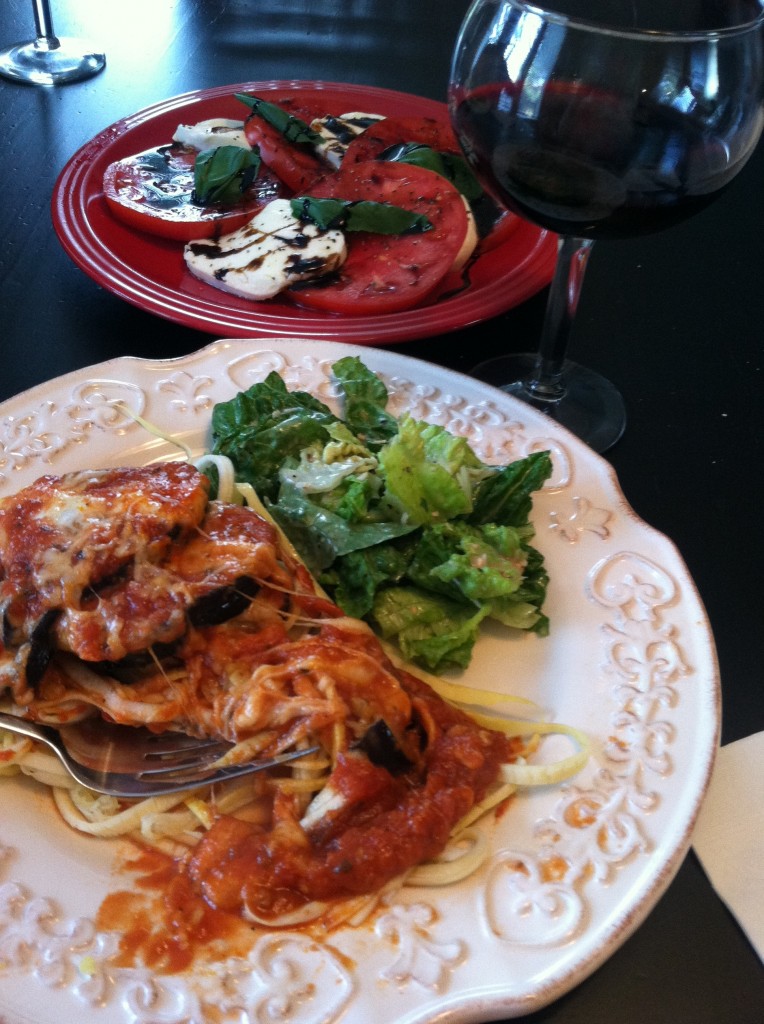 Weight Watcher's Points Plus
I can eat 26 PPV a day.
I can earn Activity Points by doing exercise, and eat them if I choose.
I have an allowance of 49 extra points that I can dip into throughout the week if I choose.
I should drink a minimum of 6 (8 oz) glasses of water each day.
My Weight Watcher Week Begins on Friday's
Breakfast = Waffle, Egg Whites, Coffee with skim milk (5)
Snack = Latte (2)
Lunch = Salad and Chocolate (10)
Dinner = Eggplant Parmesan, Caprese Salad, Caesar Salad (10)
Wine = 8 oz (7)
Total = 34
Exercise = Walked one Mile, RAN One Mile
How many glasses of water I drank = 9
Activity Points Earned for the Day = 4
Activity Points Earned This Week = 4
Remaining points from my 49 Points Allowance = 33
(I didn't get a post written for Friday's eats, but I ate 34 Points)
Alcohol Consumption = One Glass of Red Wine
(My Goal is Alcohol only one time per week, so that's IT for the week!)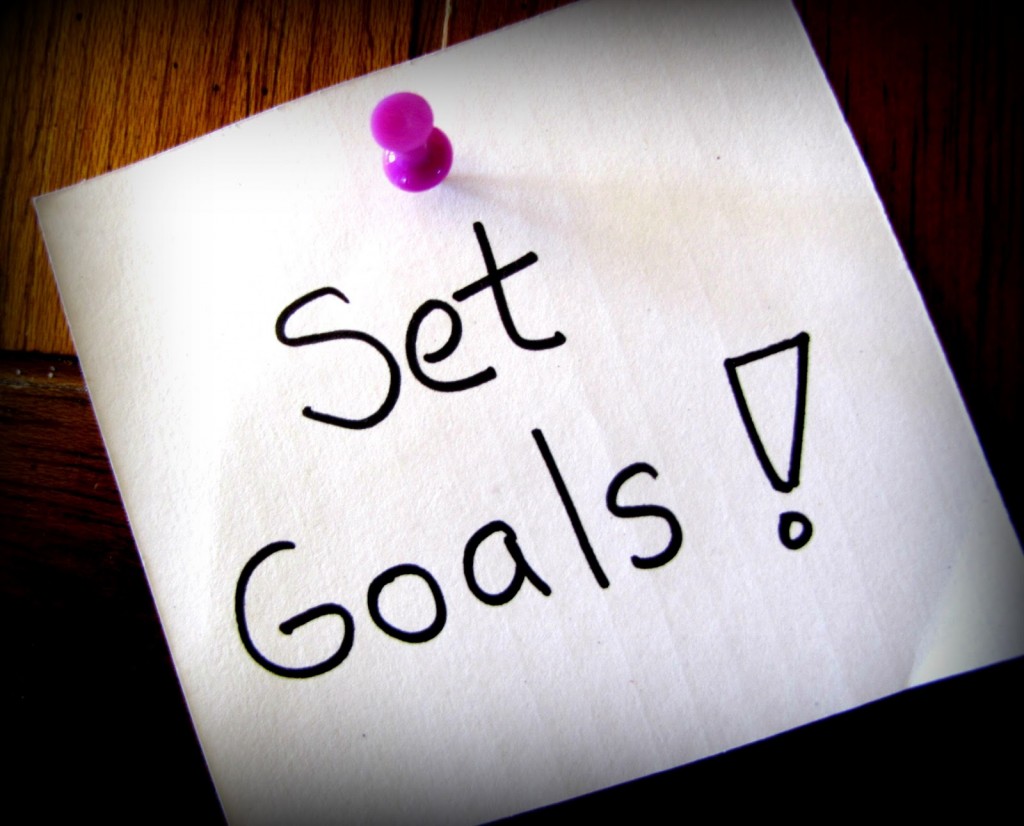 "love the life you live, live the life you love"