Roasted Chicken and Vegetables
I have no idea when I made this last, nor do I know why I've waited so long to make it again. I think I got into such a habit of only eating skinless, boneless chicken breast, that I forgot that I could make a whole darn chicken! The PointsPlus values of a chicken thigh and a chicken leg are more than they are for a chicken breast, but sometimes, it's just worth it to indulge a little bit, and really…..we're talking about chicken, people. Not to be confused with Chicken People. Ha!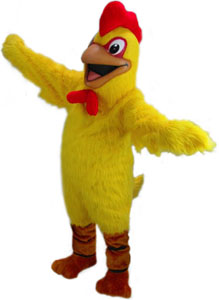 Oh come on. That was funny, right?
Moving on……I adapted this recipe just a tiny bit from Ina Garten's Food Network recipe. For the most part, the recipe's that I looked at for Roasted Chicken and Vegetables were very similar. With lots of advice from the recipes of others, this is how I make Roasted Chicken and Vegetables.
There are TWO main reasons that I love making Roasted Chicken and Vegetables.
One….It is delicious.
Two….It is so easy!
Everything is cut into big chunks, and you just toss it in the oven. Within minutes, your house will begin to smell like your grandmother's house, or your mother's house, or your aunt's house, or Ina Garten's house…..and if you never experienced those smells at your grandmother's, or your mother's, or your aunt's, or at Ina Garten's (I'd love to know if you have actually had THAT experience!) then PLEASE, by all means…..start your own tradition and let someone in your family smell this in your house!! If you don't have family living with you, then invite the neighbors over! You will NOT regret it! 🙂
This….is what's for dinner!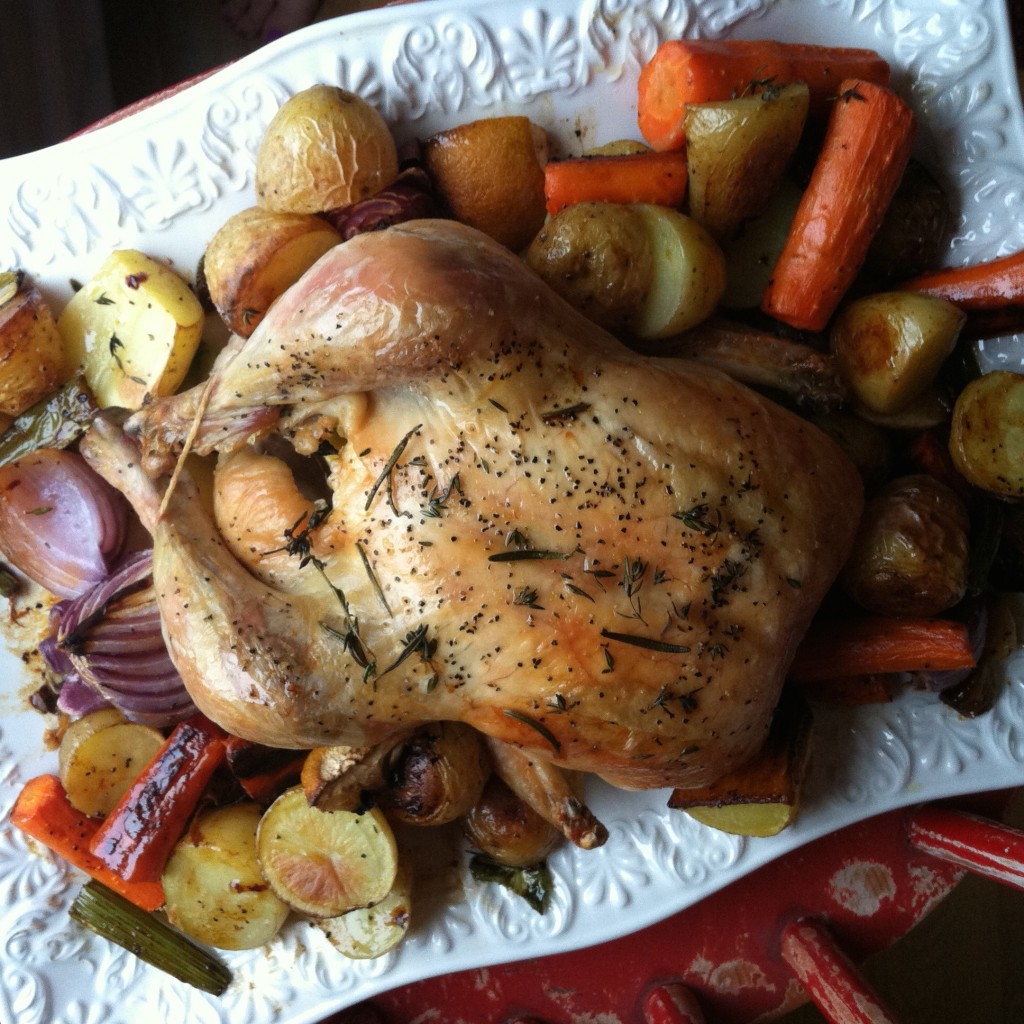 Ingredients
1 Whole Chicken
1 Red Onion, Quartered
4 Celery Stalks, cut into large pieces
4 or more carrots, cut into thirds
4-5 Potatoes, Quartered
2 lemon's, quartered
4-6 garlic cloves
Fresh Thyme
Fresh Rosemary (optional)
Melted Butter Or Olive Oil
Sea Salt and Black Pepper
non-stick cooking spray
Directions
Place Onions, Celery, Carrots, Potatoes and garlic cloves on a large baking sheet coated with cooking spray. Drizzle the vegetables with 2 Tablespoons of Olive Oil or melted butter, and season with Sea Salt and Black Pepper.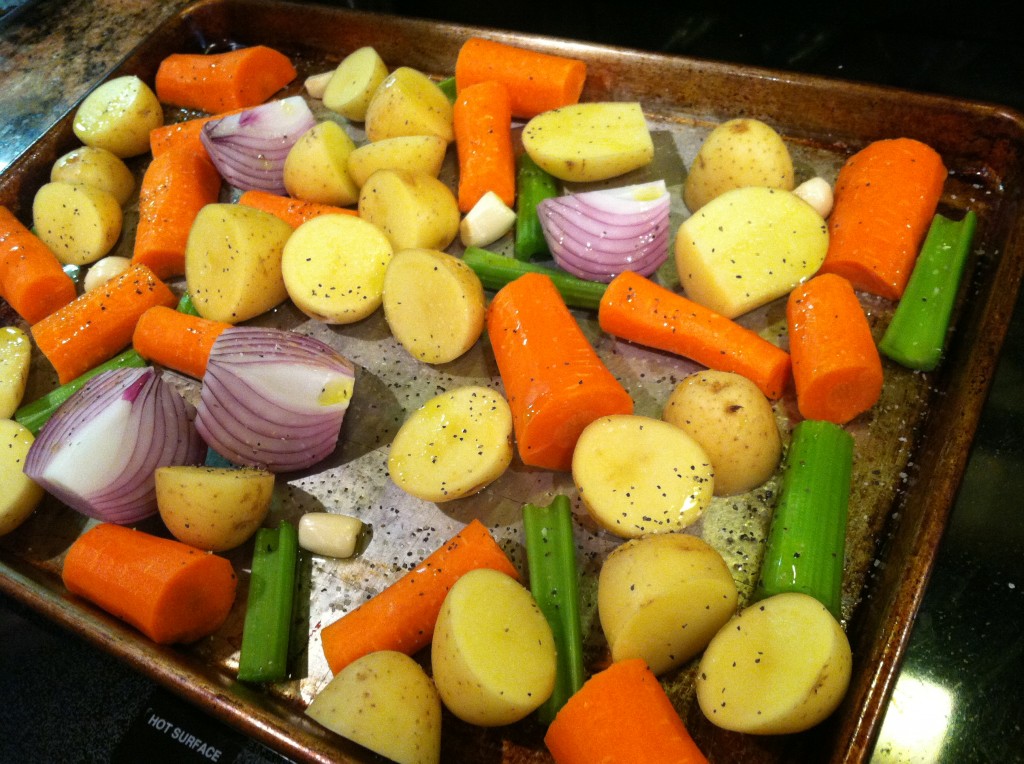 Place quartered lemon (or half of the lemon, depending on how much will fit into the cavity) and a few sprigs of thyme and a little rosemary into the chicken. Tie the legs together to keep all of that yummy stuff from falling out. I've skipped this step before, and it really wasn't that big of a deal. Place the chicken on top of the vegetables. Rub a little Olive Oil over the skin of the chicken, then add Salt and Pepper to the skin of the chicken. Squeeze a little lemon juice over the chicken. Add a few sprigs of thyme and rosemary. Place remaining lemon on the baking sheet with the other vegetables.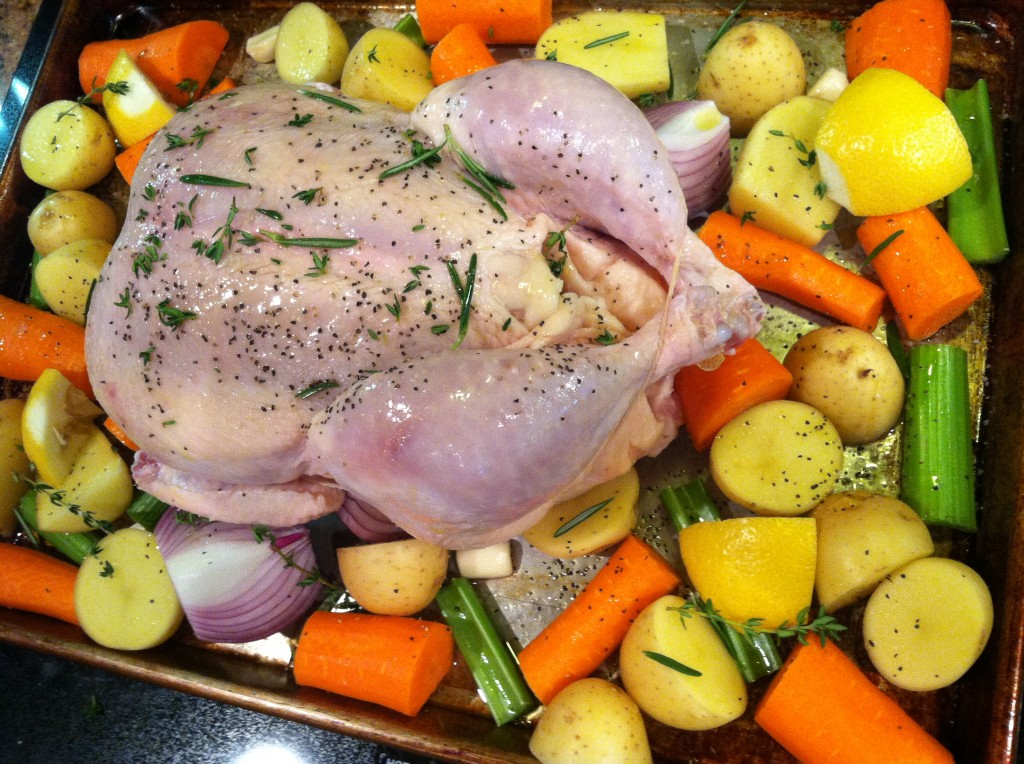 Bake in the oven at 450 for 15 minutes. Then turn the oven temperature down to 375, and continue to bake the chicken and vegetables for about an hour and 1/2, or until the chicken reaches a temperature of 170.
Remove from the oven and let sit for for 15 minutes before serving.
Isn't it gorgeous??
"love the life you live, live the life you love"