First, let me say thank you to my friend, Ashli. Thank you for thinking to ask me to join you on your business trip. Thank you for remembering that my daughter has this kick ass job that allows her mom to fly for free. Thank you for sharing your hotel room with me. Thank you for being so sweet, and thank you for having a business conference at the Omni Hotel and Spa in Scottsdale, Arizona!
Thank You, Thank You, Thank You!
I knew that yesterday would be a great day, but I didn't realize that it would be one of the best day's ever!
I like the saying….."Stop and Smell the Roses". I like to think that I do that often. Yesterday…..I did it all day long.
I really don't even know where to start, so I guess I'll start with waking up at 6:00 am in the morning!
I was a little nervous, yet excited about the day I had planned for myself. Nervous about my hike, excited about my spa day. Ashli had a full day ahead of her, and she was awake too, so we made coffee, then each of us climbed back into ours beds with our coffee. I was mentally preparing for my hike up Camelback mountain, while Ashli was preparing for her work day, but possibly pondering how she could get out of work and spend the morning hiking with me! While Ashli got ready for her work day, I decided I should have a good breakfast so I would have the energy to climb Camelback! I decided that breakfast in bed was the best idea ever! So I ordered myself an Egg White Frittata and fruit, and soon, room service delivered!
Ashli was off to meetings while I had coffee and breakfast in bed and thought about my day. I was soaking up the beautiful hotel room, the bed, and the view of the courtyard from our patio. I was just beginning to smell the roses.
At 8:30, I met my new BFF, Heather. She had two bottles of water for me, and a kick ass fanny pack that would hold my water bottles!
We had a 1 mile walk to the mountain, so as we walked, we started getting to know each other. Seriously, this girl is a doll. My day was completely meant to be, and I could just feel it.
We arrived at the mountain and got busy….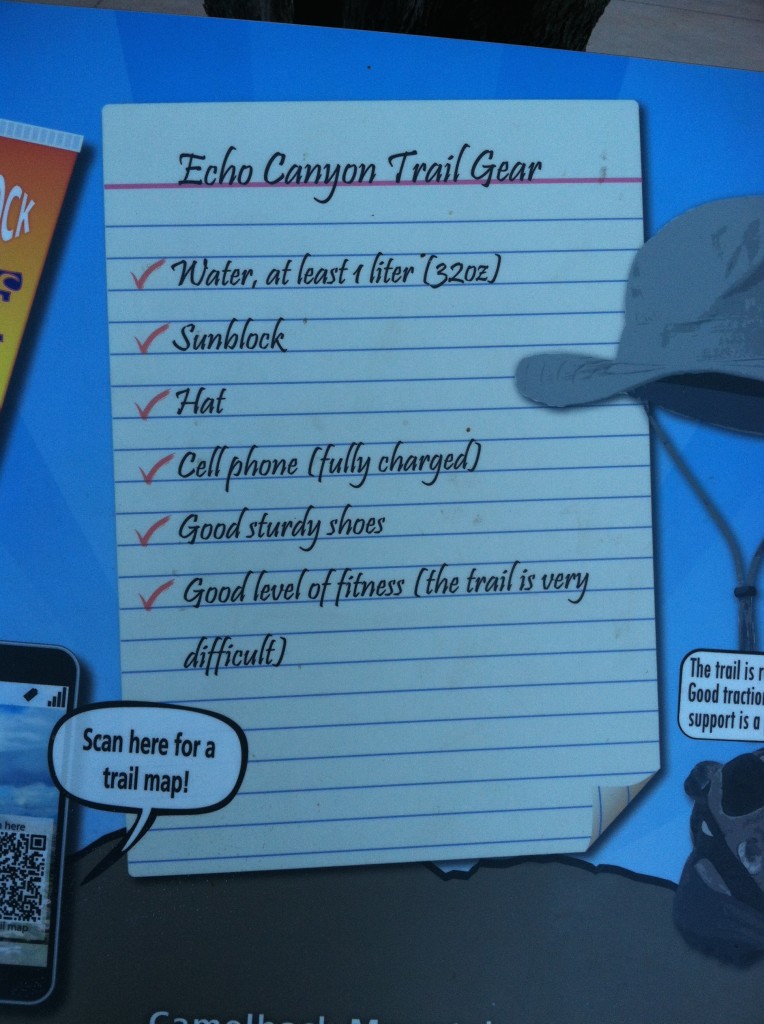 Now, this wasn't really a hike you guys. This was a real mountain climb! I had no idea what I was in for. This was some serious stuff. There were hand rails to hold on to on a portion of the climb, then after that, you were on your own! Pick a boulder, step on it, climb! I guess I had pictured a dirt or gravel trail that we would basically walk up at a steep incline, and that it would be tough. Nooooo. It was a bunch of big ass boulders! At some areas of the mountain, I was actually on all fours grabbing and climbing! It was awesome!
This was close to the beginning….where we had a railing!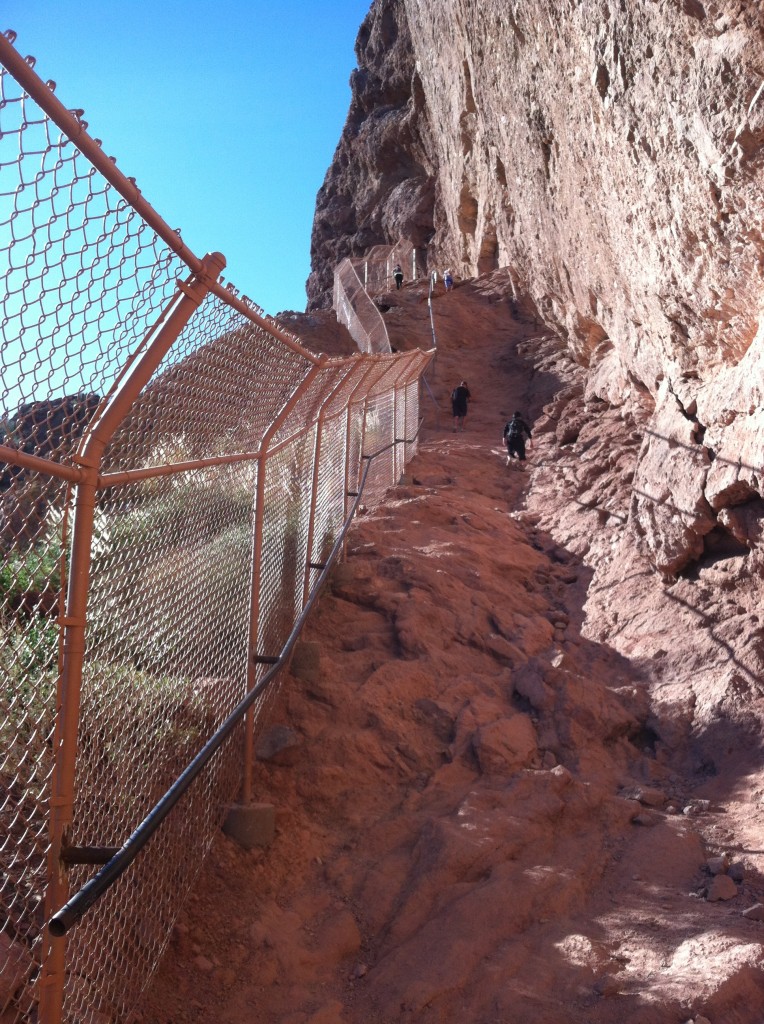 This was fairly close to the beginning too….before I knew what I was in for.
I introduce you to…..Boulders.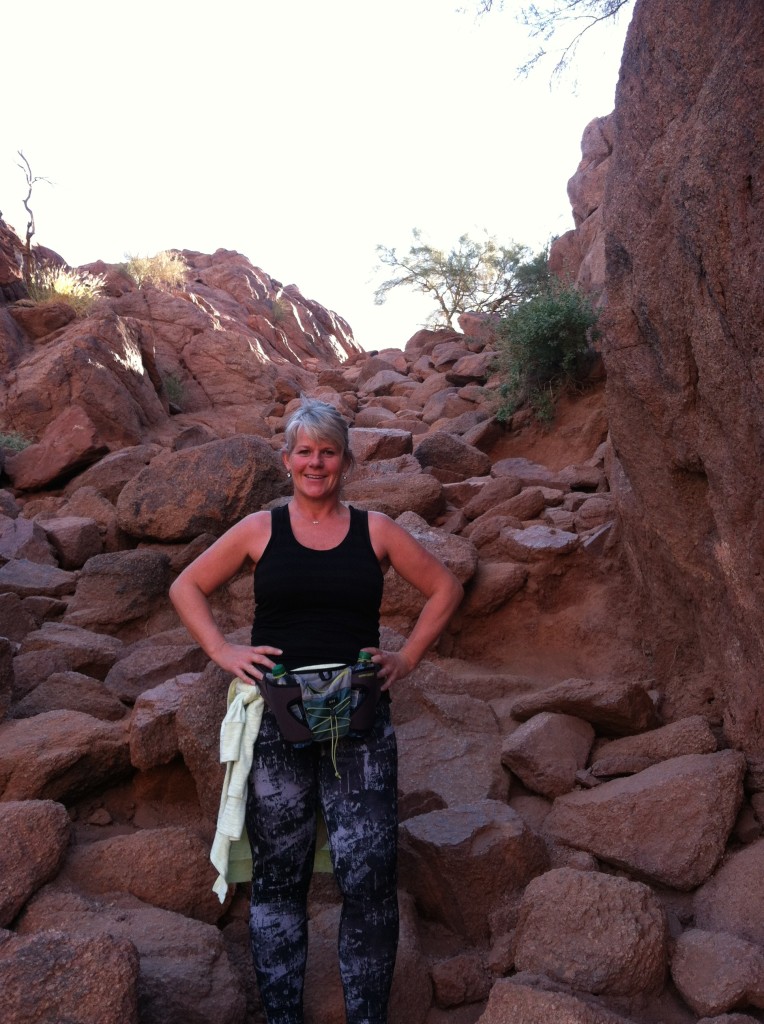 The views were unbelievable.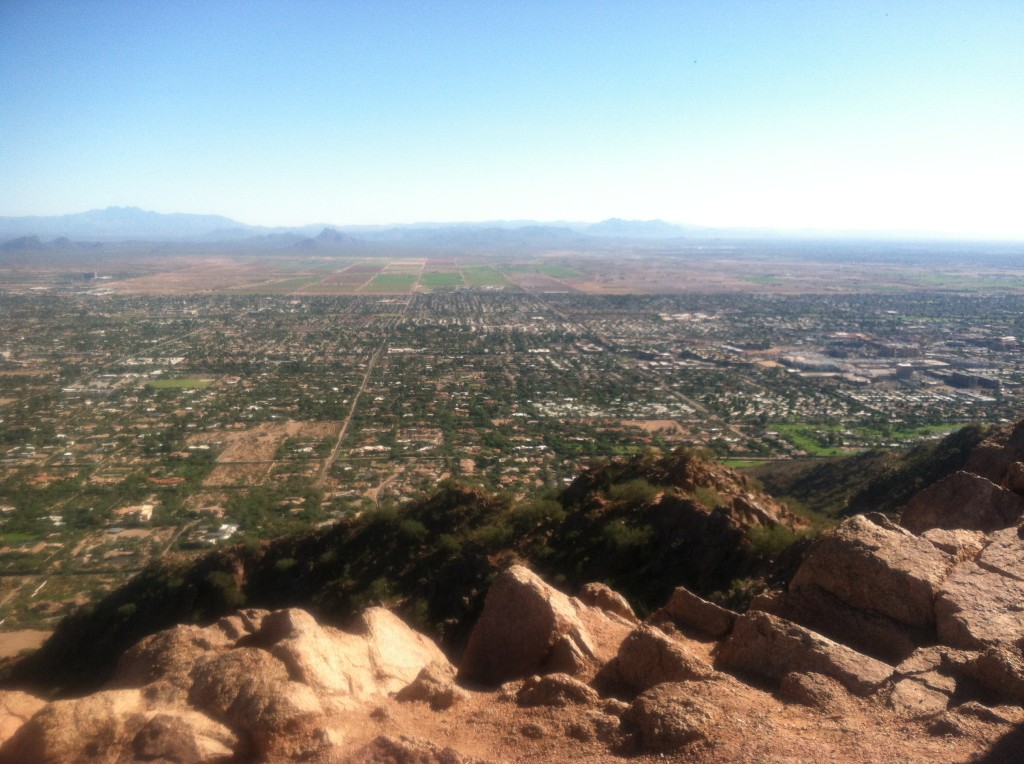 They took my breath away….wait, that was all of the climbing.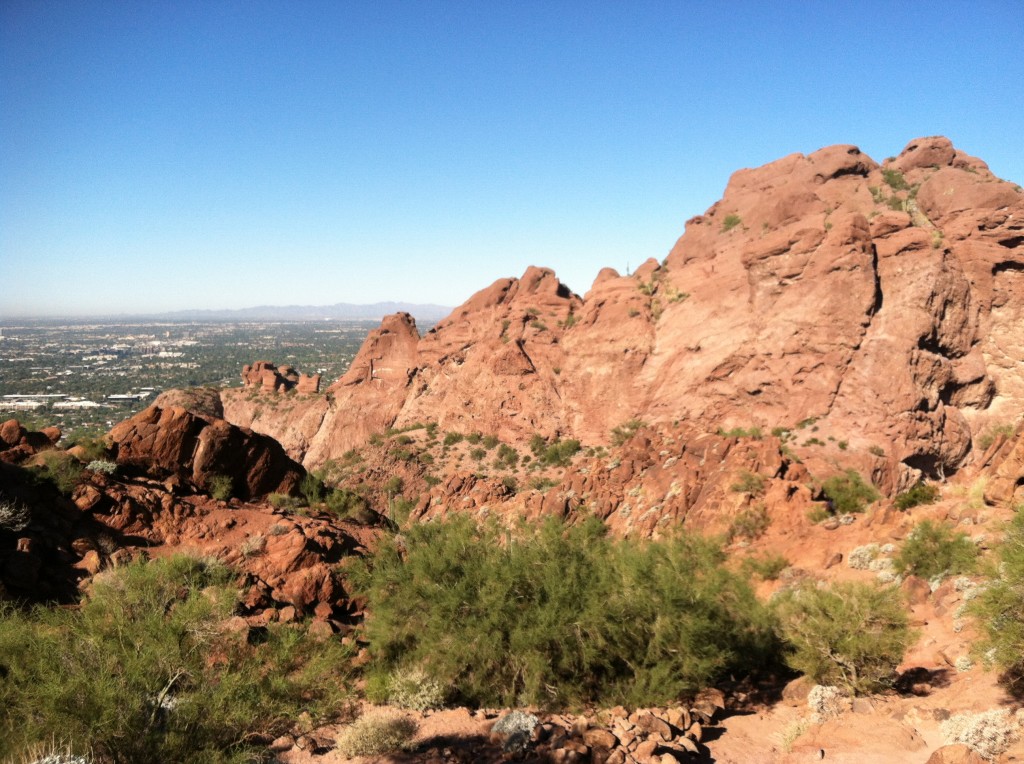 It was pretty amazing….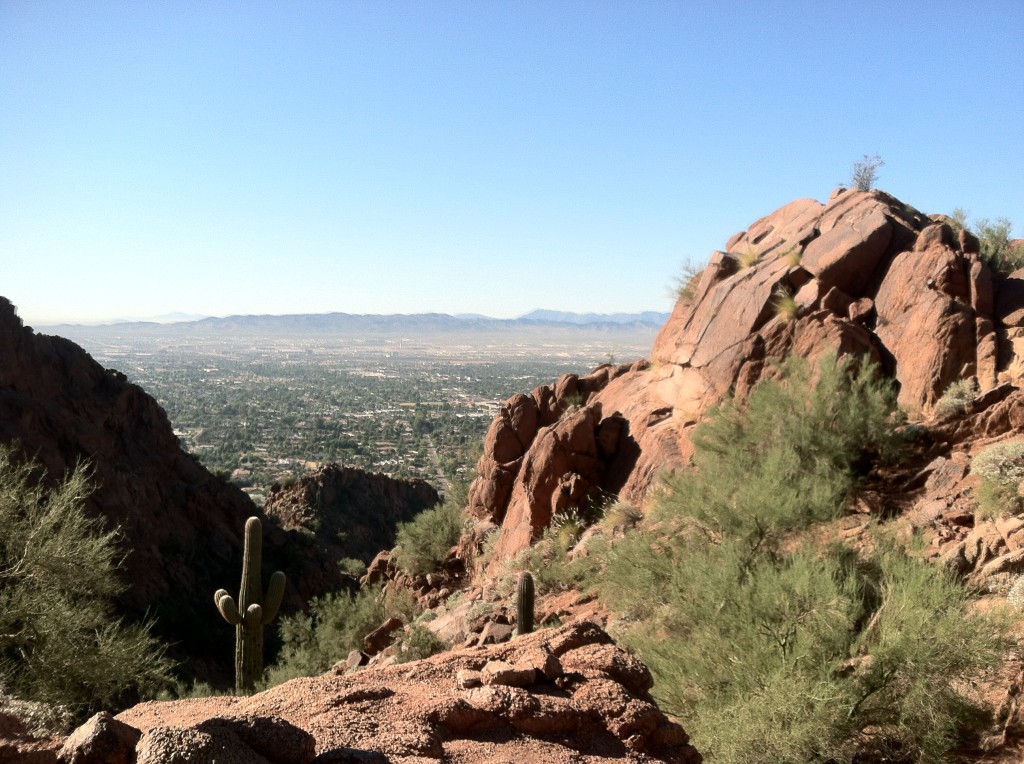 I did have to stop a few times just to catch my breath. It felt pretty good to stop and look down at what we had climbed. I was soaking up the view and I was smelling the roses!
It felt great to get to the top! I felt proud. It felt good to take on a challenge and not question myself as to if I would be able to make it to the top or not. I knew that I would be able to make it!
Heather was doing an awesome job of leading the way and encouraging me! We were also really getting to know each other and having some great girly therapy chat! We talked moms, we talked marriage, we talked kids, we talked exercise, we talked food, we talked, talked, talked, We were a great match!
We are now Facebook Friends Forever!!
Thank you for getting me to the Summit, Heather!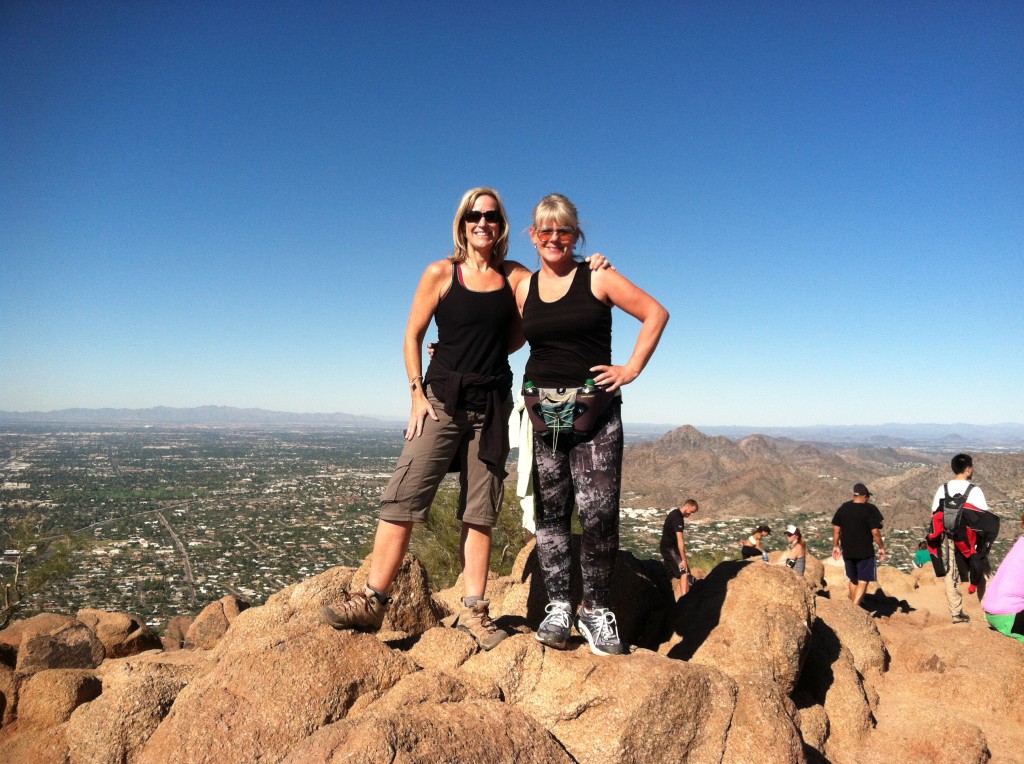 Selfie at the top!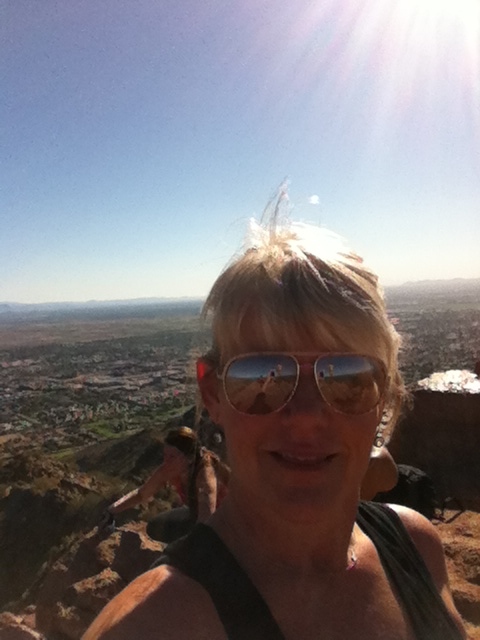 Me and Heather….BFF's!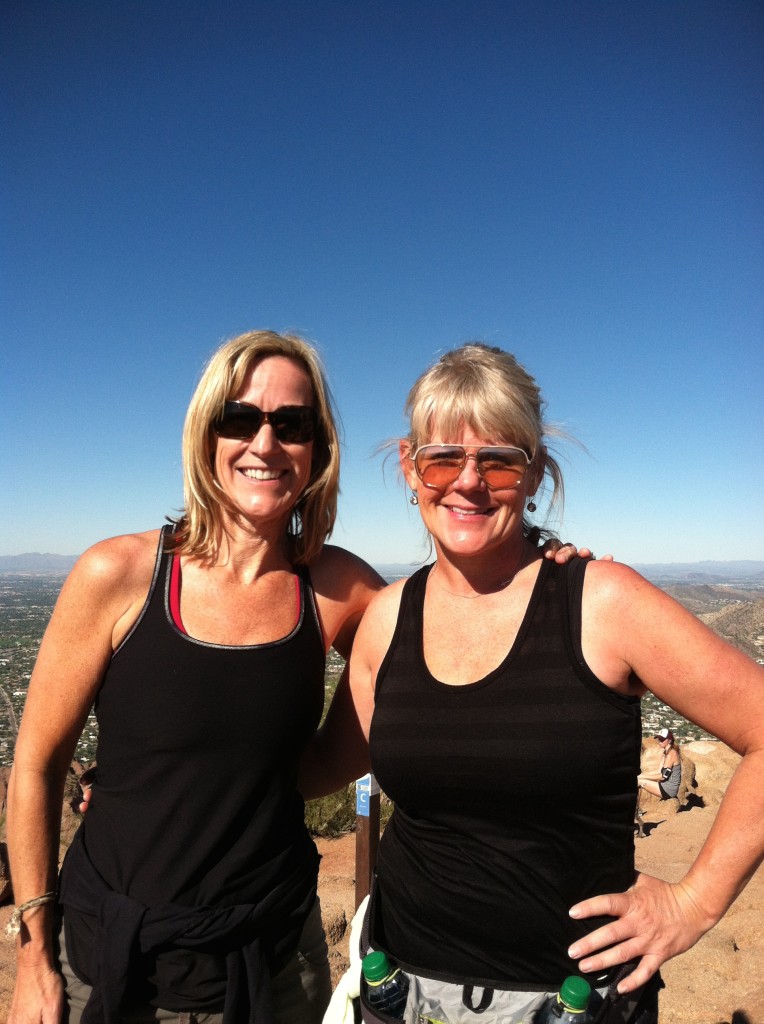 Coming down was quicker, but a whole different challenge. I had to remind myself to not go to fast, and to really look at where I was stepping. I slipped a couple of times, but just enough to make me pay attention.
When we got back to the hotel, we checked Heather's Fitness App on her phone. Not a bad day's workout, huh??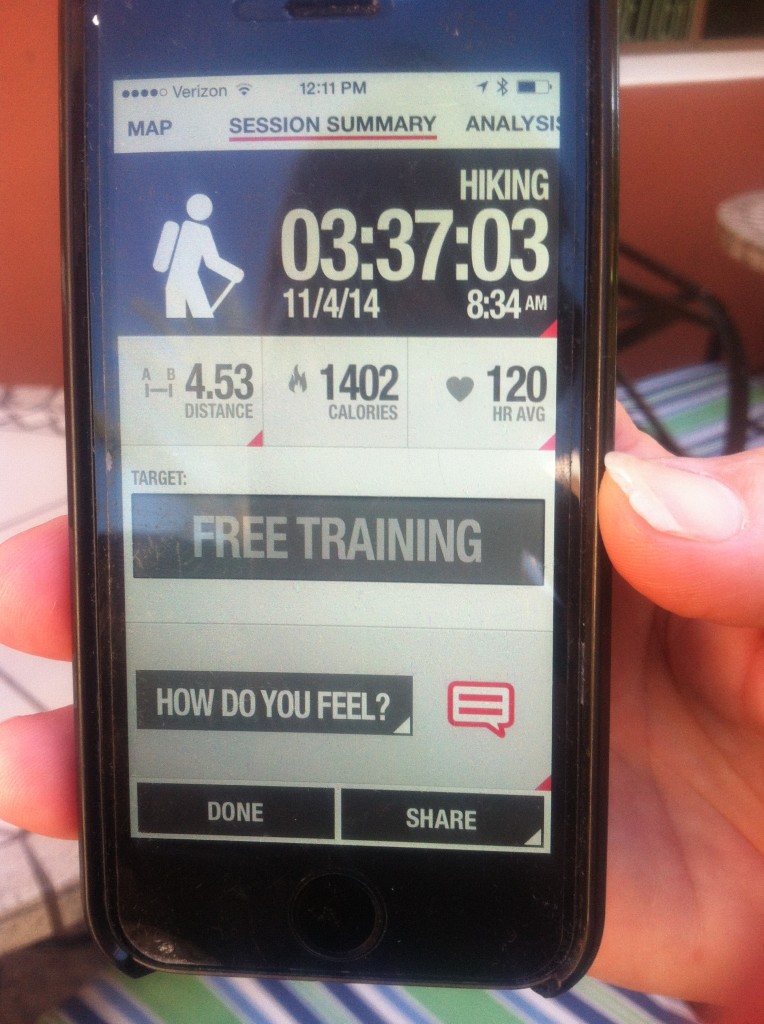 I added 4.5 miles to my November 100 Mile Challenge!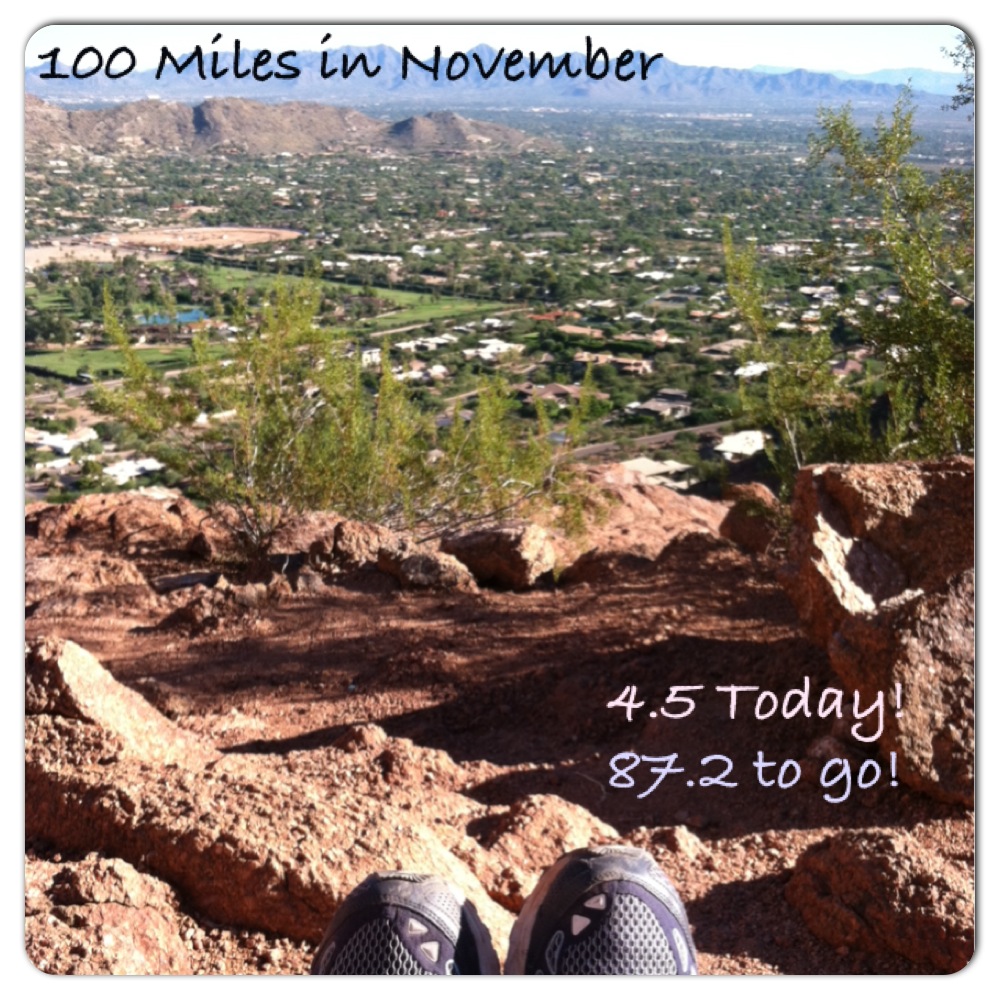 I entered the actual mountain climbing time info into my Weight Watcher's app. We walked 15 minutes to the mountain, then 15 back, so I gave myself 2 activity points for that 30 minute walk.
I wasn't really sure if to call it "hiking" or "mountain climbing", so I checked the points on both. Mountain climbing gave me 36 points, but hiking only gave me 14 points. I decided to take an average of the two, and credit myself with 25 activity points!
Mountain Climbing…..

Hiking…..

When I came back to the room, all I could think about was how happy I was that I had scheduled a massage and facial package! I couldn't think of anything that I'd rather do, well, except for maybe a nap!
I headed to the spa where I met Donna. Donna gave me an awesome massage and we barely spoke. It was perfect. Then, I went to the top of the hotel to a private pool for Spa Guest. There, I had lunch while sitting beside the pool in my robe. As I was taking my first bite of my Quinoa and Zucchini Cake…..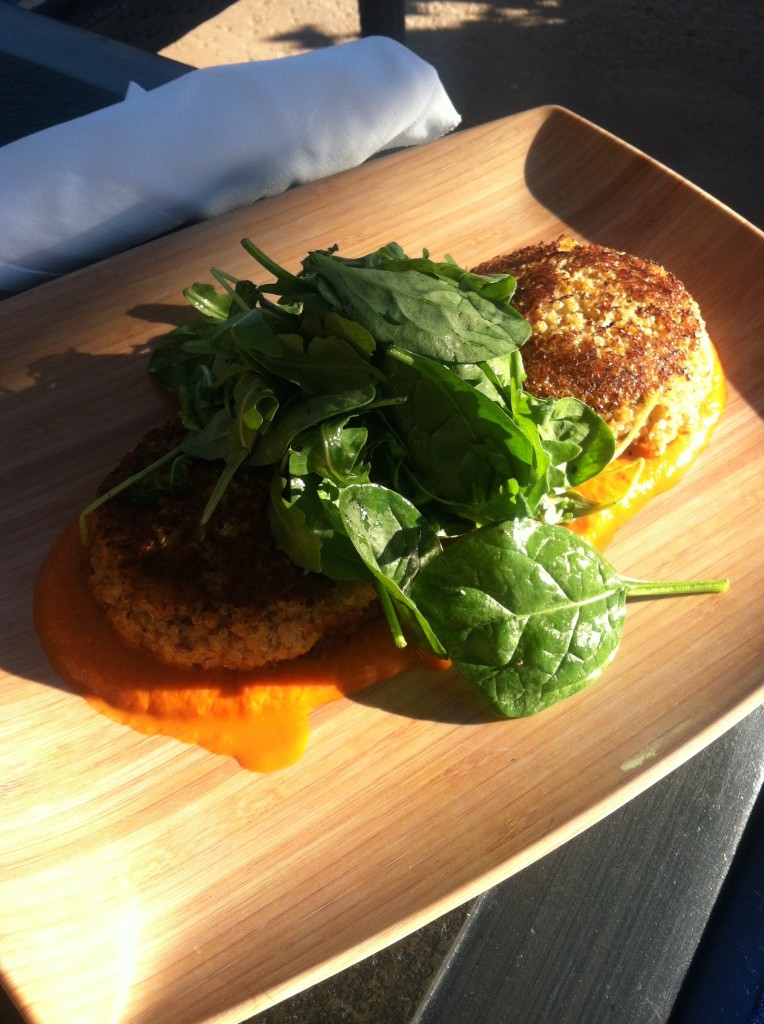 …….the waitress brought me a glass of champagne and told me that Heather had sent it up, and it was to congratulate me for making it to the top of the mountain! I also mentioned to the waitress how much I liked the Quinoa Cake and wished I could make it at home!
She brought me this from the Chef! Can I live here, please??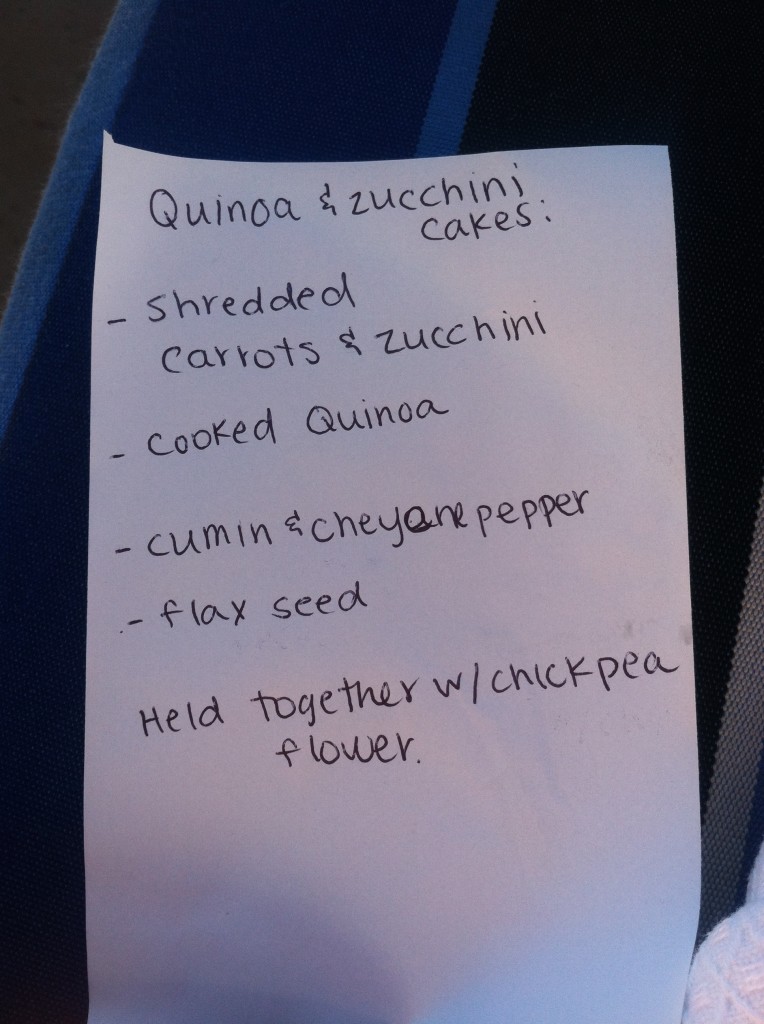 I was in heaven, and my day wasn't over.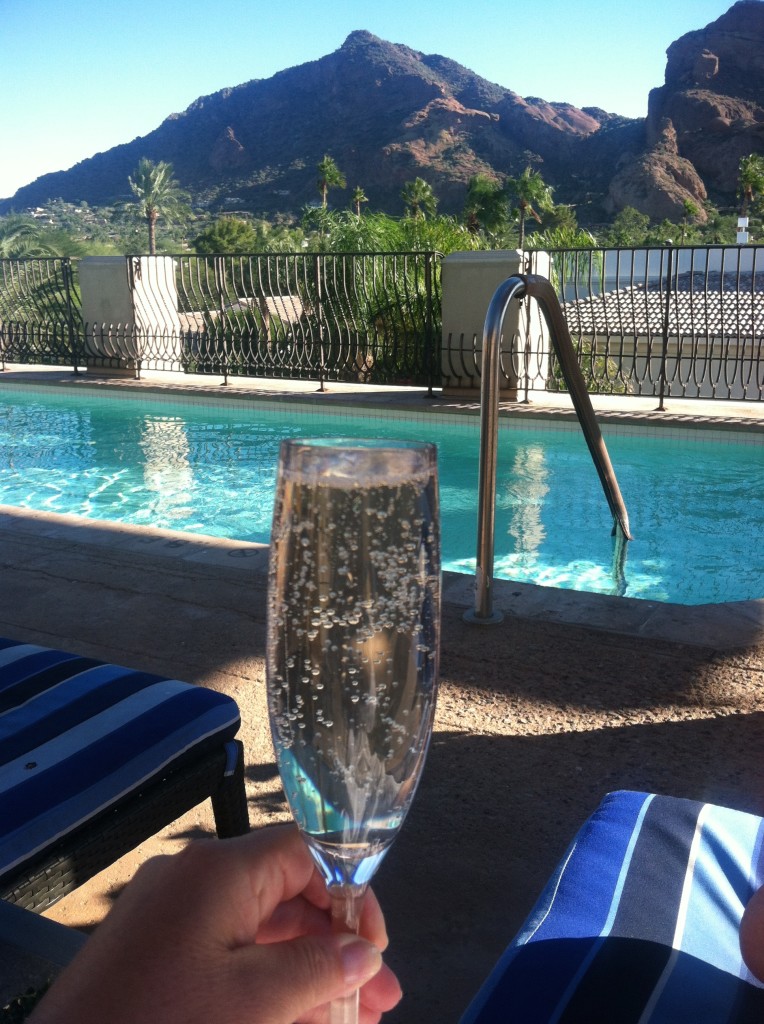 After lunch, I had a facial. I've only had one other facial before. Hannah gave me an awesome facial, and not only did she exfoliate and moisturize my face and neck, she massaged my arms and neck all over again! I think I actually moaned a couple of times.
After my facial, I went into the women's Whisper Room! There, I took a spot on one of the beautiful beds, and pulled the curtains closed around me. Hannah told me to wait at least 10 minutes before showering, so I took a nap in the Whisper Room.
I took complete advantage of all that the spa had to offer. After my nap, I took a shower. Was it the best shower ever? Yes! Everything about the entire day was the best ever!
After my shower, I walked back to my room, in my robe, naked underneath. I was feeling so happy and energetic and healthy, I may have entertained the idea of joining a nudist camp. But then I came back to reality, and hurried on to my room.
I was able to join Ashli both nights with all of the women at the conference. Everyone that I have met over the last two days has been super sweet and I've had some great conversations. The Omni did an awesome job of taking care of these ladies. Last night there was a champagne bar at dinner.! Dinner was outside in a beautiful courtyard with several different stations of food. Seafood, Taco's, Salads, Crab Cakes, a full bar, and a dessert table.
For dinner, I had lots of small bites of a variety of foods. I had a half of a beer, and one glass of wine. I felt so great about my morning workout, I was fine with not drinking much. I took three bites of dessert, and had 1/4 cup of gelato.
When we got back to the room, I tracked everything as best as I could.
I drank water ALL day long.
I have so much more that I could say about this day, but I've got to get packed up.
I'll remember every detail of this day for a really long time.
It truly was One of the Best Day's Ever and I am so glad that I had the opportunity to come!
Breakfast and Snack's
Egg White Frittata
Asparagus, Mushrooms, Spinach
Side of Fruit
Apple
Banana
6 PPV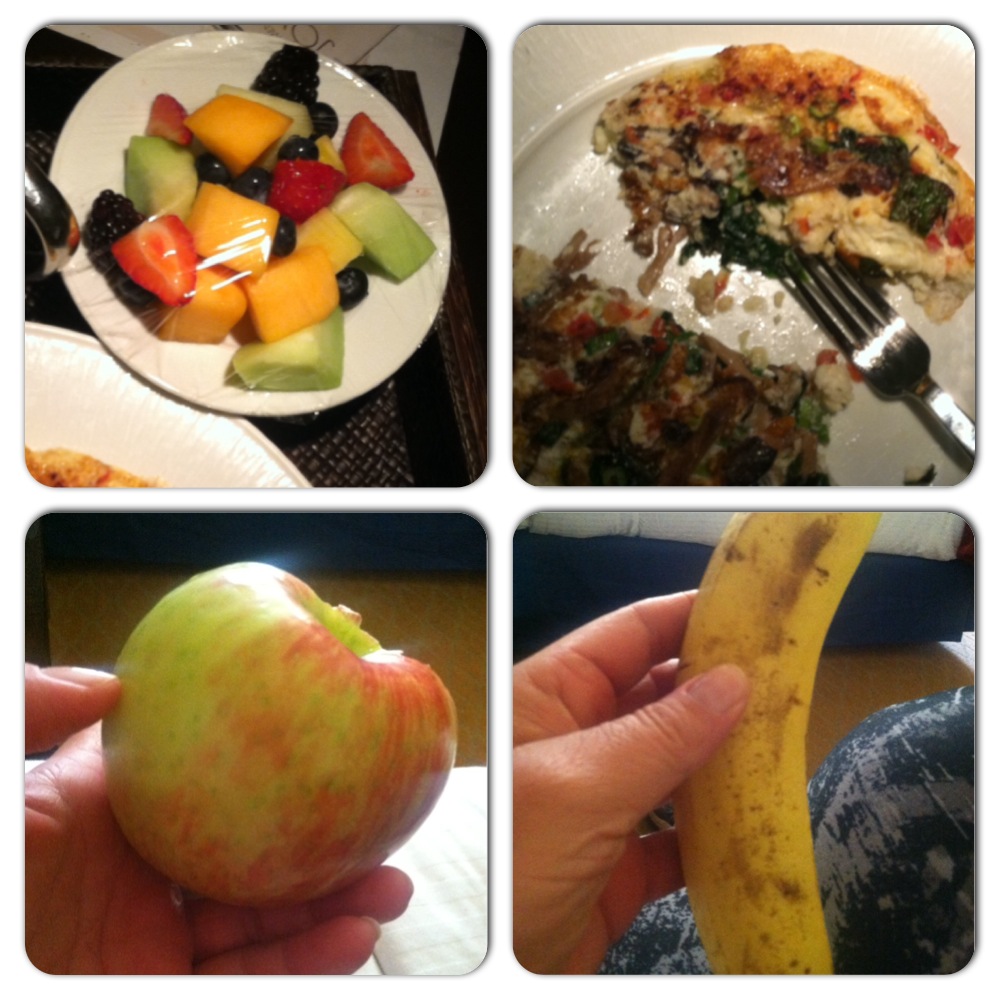 Lunch
Quinoa and Zucchini Cakes with Spinach
Kale Salad
Champagne
9 PPV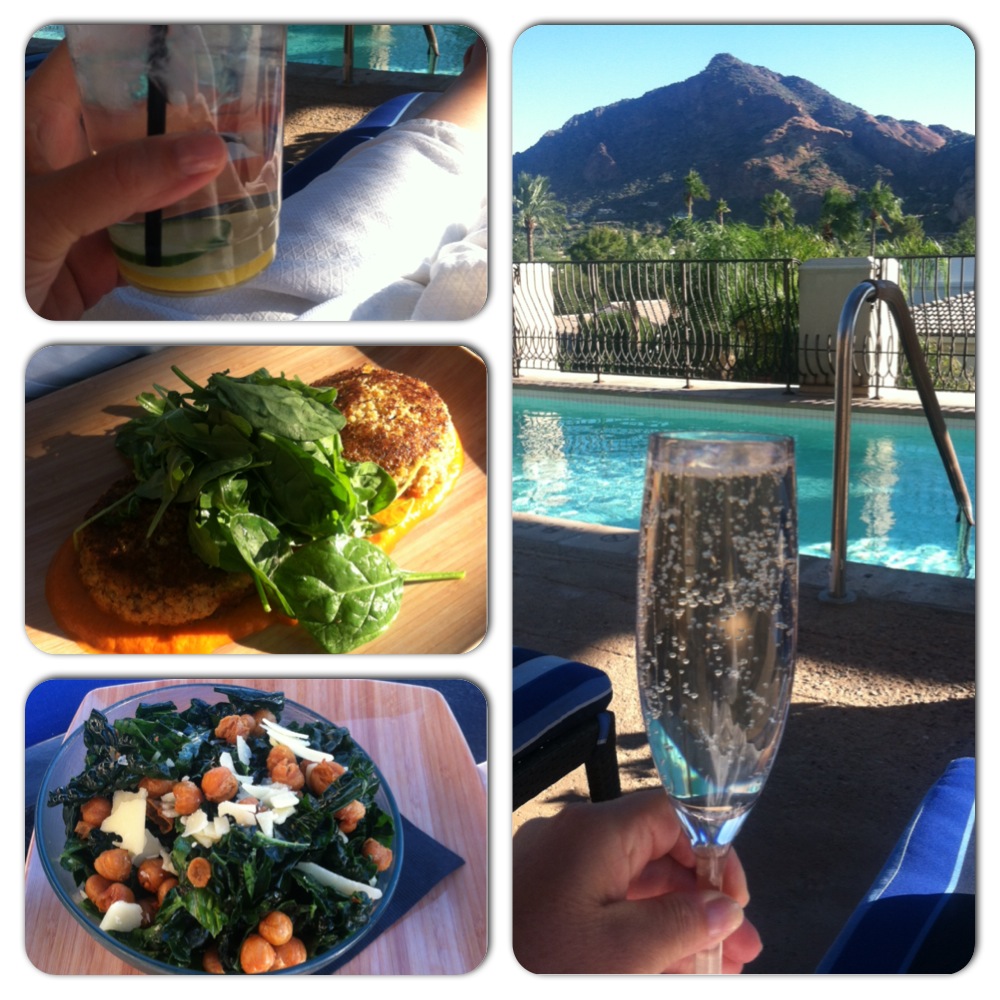 Dinner and Drinks
Un-pictured 8 oz Red Wine, 6 oz Light Beer
9 PPV
Seafood Plate, Rice
Un-pictured Mahi Mahi Taco with Guacomole
Coffee with Dessert Bites
Banana Gelato
17 PPV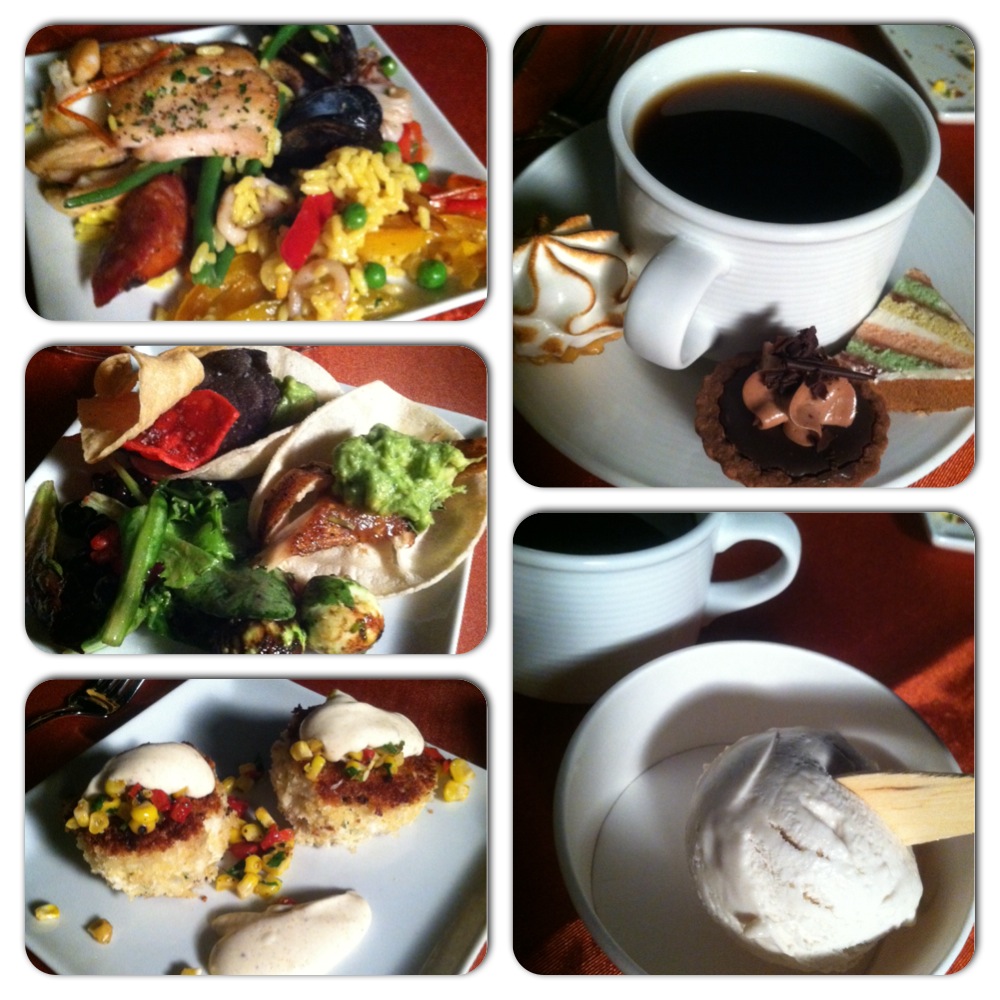 Weight Watcher's Points Plus
I can eat 26 PPV a day.
I can earn Activity Points by doing exercise, and eat them if I choose.
I have an allowance of 49 extra points that I can dip into throughout the week if I choose.
I should drink a minimum of 6 (8 oz) glasses of water each day.
My Weight Watcher Week Begins on Friday's
Breakfast = Frittata, Fruit, Coffee (6)
Lunch = Quinoa Cakes, Kale Salad, Champagne (9)
Dinner and Drinks = Small Plates, Dessert Bites, Beer, Wine (26)
Total = 41
Exercise = Just Climbed a Mountain
Activity Points Earned for the Day = 27
Activity Points Earned This Week = 43
Activity Points Remaining This Week = 37
How many glasses of water I drank for the day = 15
Remaining points from my 49 Points Allowance = 0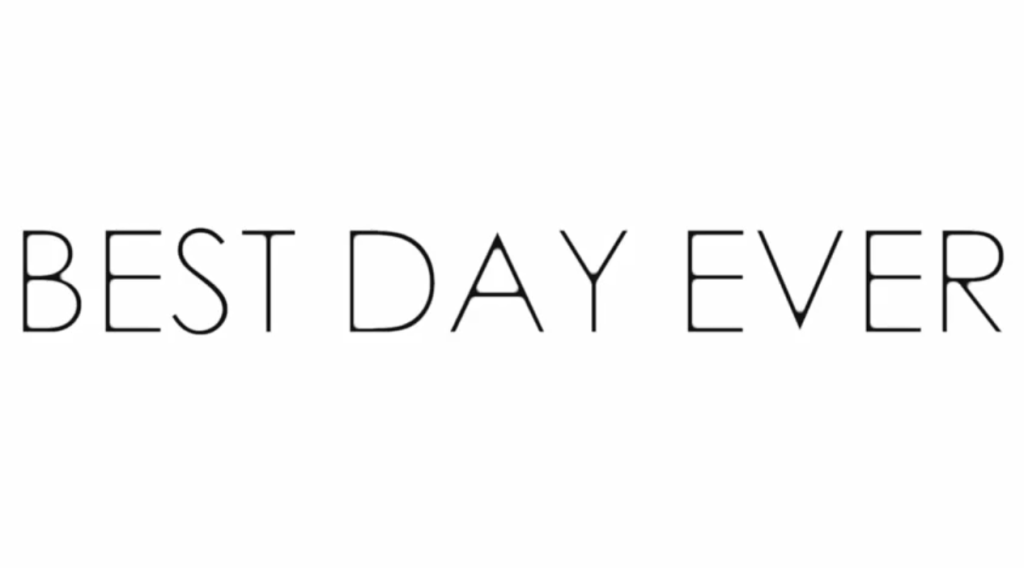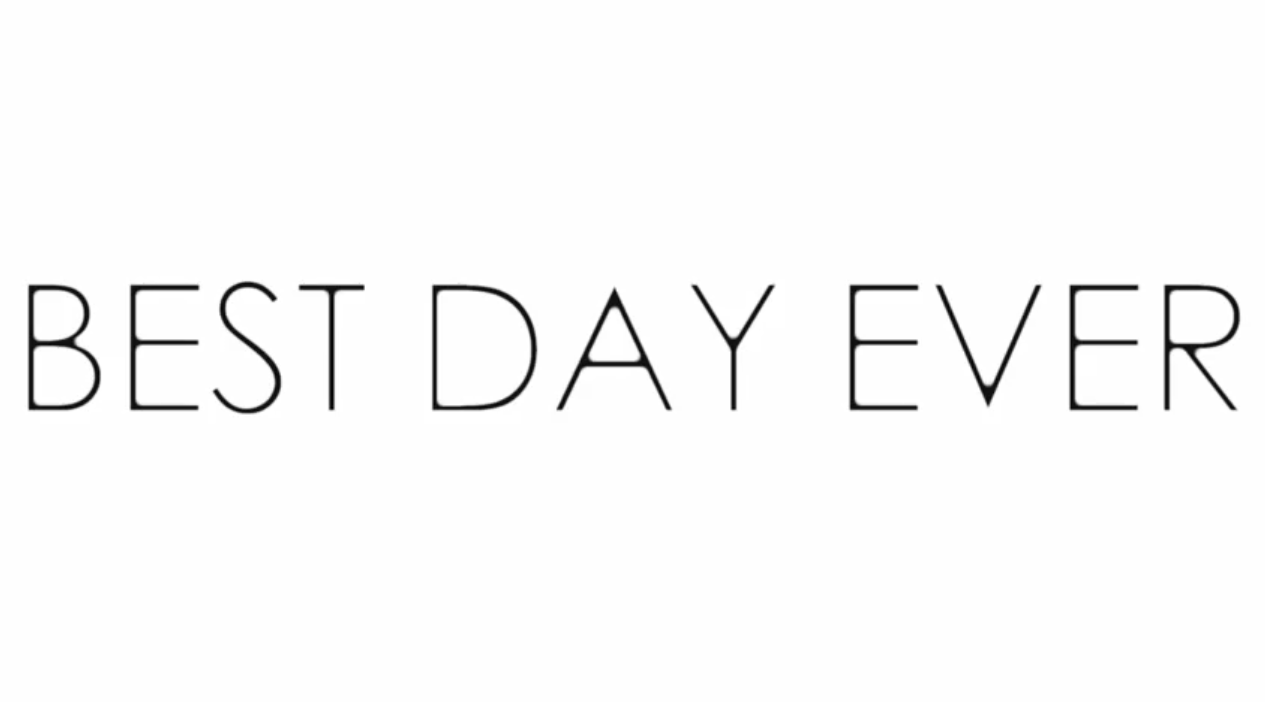 "love the life you live, live the life you love"