Staycation ended yesterday with a great Sunday spent with my husband.
Saturday morning, I was pondering treating myself to a breakfast out, when a friend invited me to an early lunch with her and another girlfriend! Perfect!
We found a great little spot to sit outside in the sun. It was still just a tad cool outside, so I ordered a coffee and enjoyed the conversation and the sun on my face. While the girls sipped on beautiful sangria's I sipped on coffee. When my shrimp salad came to the table, I ordered a beer.
Lunch was delicious and the three of us spent the rest of the day on my deck, sharing wine and enjoying my staycation!
I grilled up some Chicken Sausages and Asparagus for dinner, and went to bed happy.
Saturday's Eats…
Smashed Avocado with Lime Juice and Salt over Gluten Free Toast, Soft Egg, Fruit – 5 Points+
Shrimp Salad with Vinaigrette, Beer – 13 Points+
Wine on the Deck – 10 Points+
Chicken Sausage, Asparagus – 5 Points+
Total = 33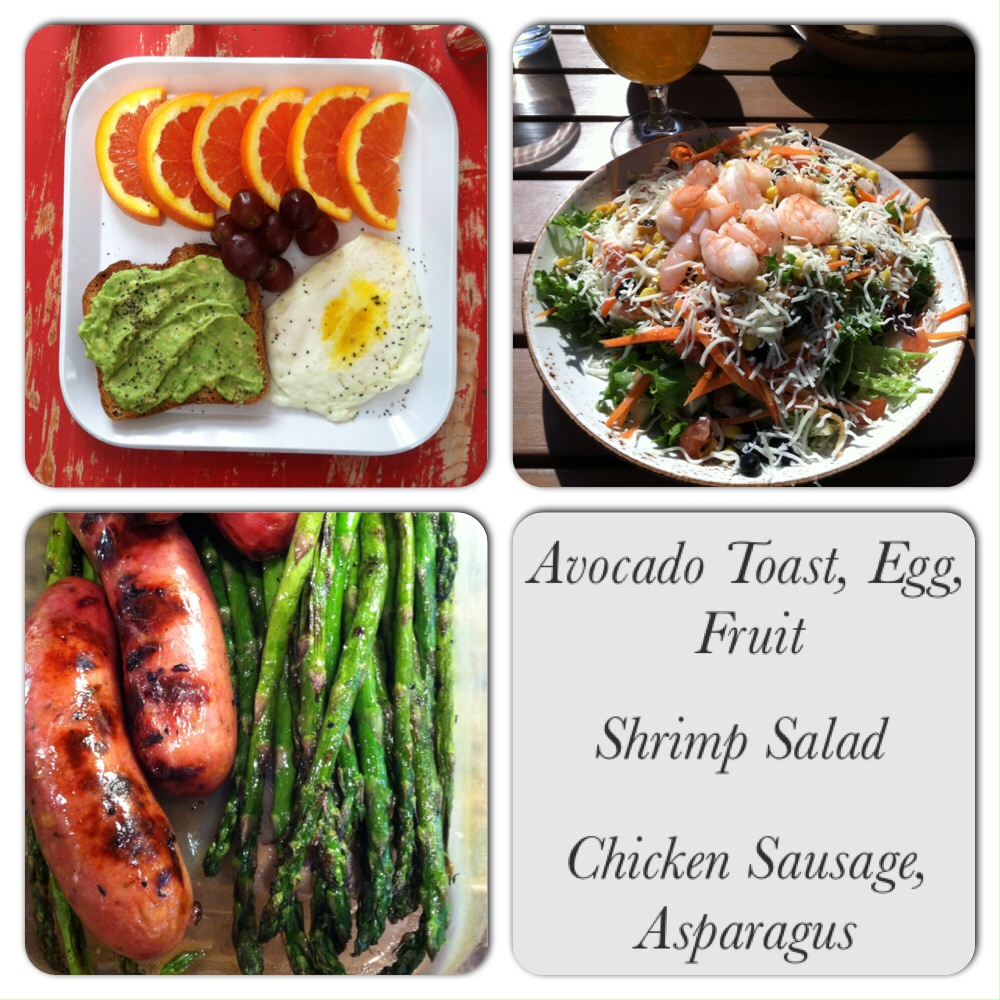 Sunday, Mike was working a booth at the Home Show (Mike design's Custom Cabinetry) in Downtown Kansas City, and I decided to tag along. I was having a great time checking out all of the booths, enjoying the massage chair's, the massage pillows, the cooking demonstrations, chatting with the landscape people about my dream yard, and some really good people watching. While at the home show, I discovered a little beer garden with the Basketball tournament on, so……I ordered a beer and watched then end of a game……with a bunch of men…..while the wives shopped…..and my husband worked. 🙂
After the home show, we went to Taco Republic. I love this place! They started out as a Food Truck, and they also are now opened in an old Gas Station, and it's just the cutest! The Blackened Tilapia Taco is my favorite so far! The sun was out, I was with the hub's, and we were in vacay mood. We ordered a beer.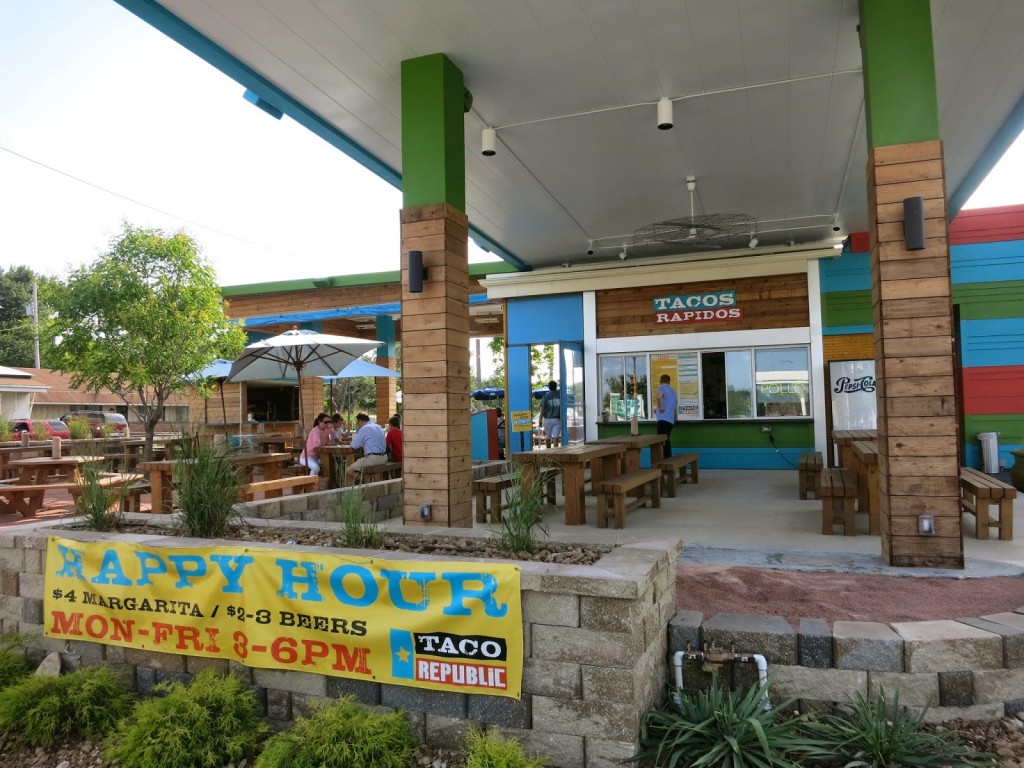 We ended our day at a friends house watching the Wichita State/KU game outside on their deck where I had one more beer.
Sunday's Eats….
Egg Whites, Turkey Sausage, Reduced Fat Cheddar, Toast with Jam – 7 Points+
Beer at the Home Show – 5 Points+
Blackened Tilapia Taco's, Beer (I ordered three taco's and gave Mike one of them) – 15 Points+
Un-Pictured Snacks and a beer while watching Basketball – 10 Points+
Total = 37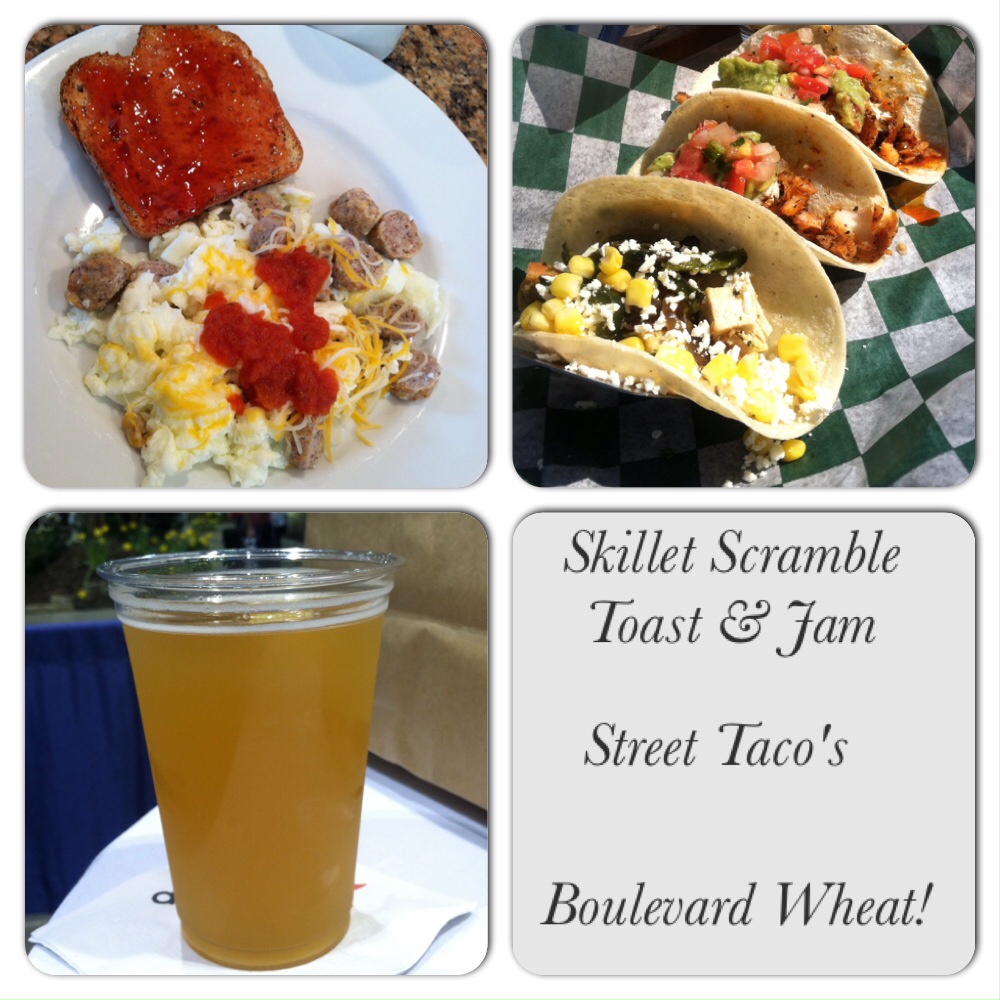 I mention the beer's like I do because I really wanted to limit the adult beverages this year, and although I am drinking less, I still am having more than I would like to, which means more calories in my diet, which means a much slower weight loss.
When I go over my daily 26 points, and I dip into those extra 49, I really need to be exercising pretty good to lose weight, otherwise, I'm not losing, just maintaining.
While I'm not beating myself up about the beers and wine these last few days, I did blog about drinking only once a month, and I'm struggling in that department.
Staycation has been great, and I am so happy that we've had such great weather!
I'm out the door to get in a walk, AND I'm going to Jazzercise today!! Yippee!!!!!!
Weight Watcher's Points Plus
I can eat 26 PPV a day.
I can earn Activity Points by doing exercise, and eat them if I choose.
I have an allowance of 49 extra points that I can dip into throughout the week if I choose.
I should drink a minimum of 6 (8 oz) glasses of water each day.
My Weight Watcher Week Begins on Friday's
Activity Points Earned This Week = 3
Activity Points Remaining This Week = 3
Remaining points from my 49 Points Allowance = 17
This is What I Will Accomplish in 2015
I will choose one occasion per month for Social Drinking (um…this is a work in progress)
I will go no more than two days in a row without exercise.
I will track every single day for the entire year. No matter what. I'll track if I eat 26 points, I'll track if I eat 76 points.
I will RUN in a minimum of six 5K's

"love the life you live, live the life you love"