My oldest dog, Mishka, despises car rides and always has. Tucker, my younger pup loves car rides, but has terrible anxiety when it comes to dog crates, so between the two of them and their fears, taking them to the groomer in the car, and having them hang out all day in a crate, is traumatic to say the least. I found a mobile groomer that I love and it's been an answer to both of their fears. Erin is great with the dogs and they always smell like they've just left the spa when she's done with them.
While I was in Dallas this weekend, Tucker spent the weekend at Doggie Day care where there are no crates and the dogs are free to come and go inside and outside as they please. Mishka prefers to stay at home while I arrange for friends to stop by and say "hi" to her and let her out. These two pups are like night and day.
Each time I would check in on Tucker, I would get a text back with a picture and a short story of how he believes he is one of the "big" dogs and will only play with the "big" dogs.
When he gets home from there, he is one tired and dirty dog!
Guess who got a spa day yesterday?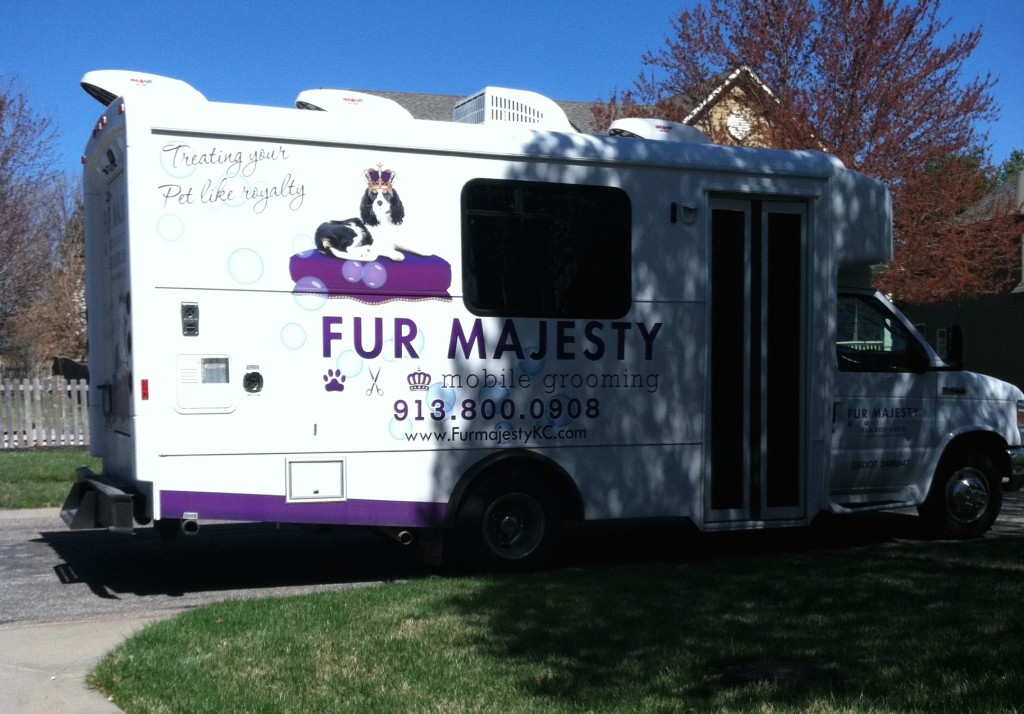 Check out the before and after……can you smell him?? Ahhhhhhh………
Now, if I could just get into the habit of combing him daily. Nahhhh, I like him scruffy!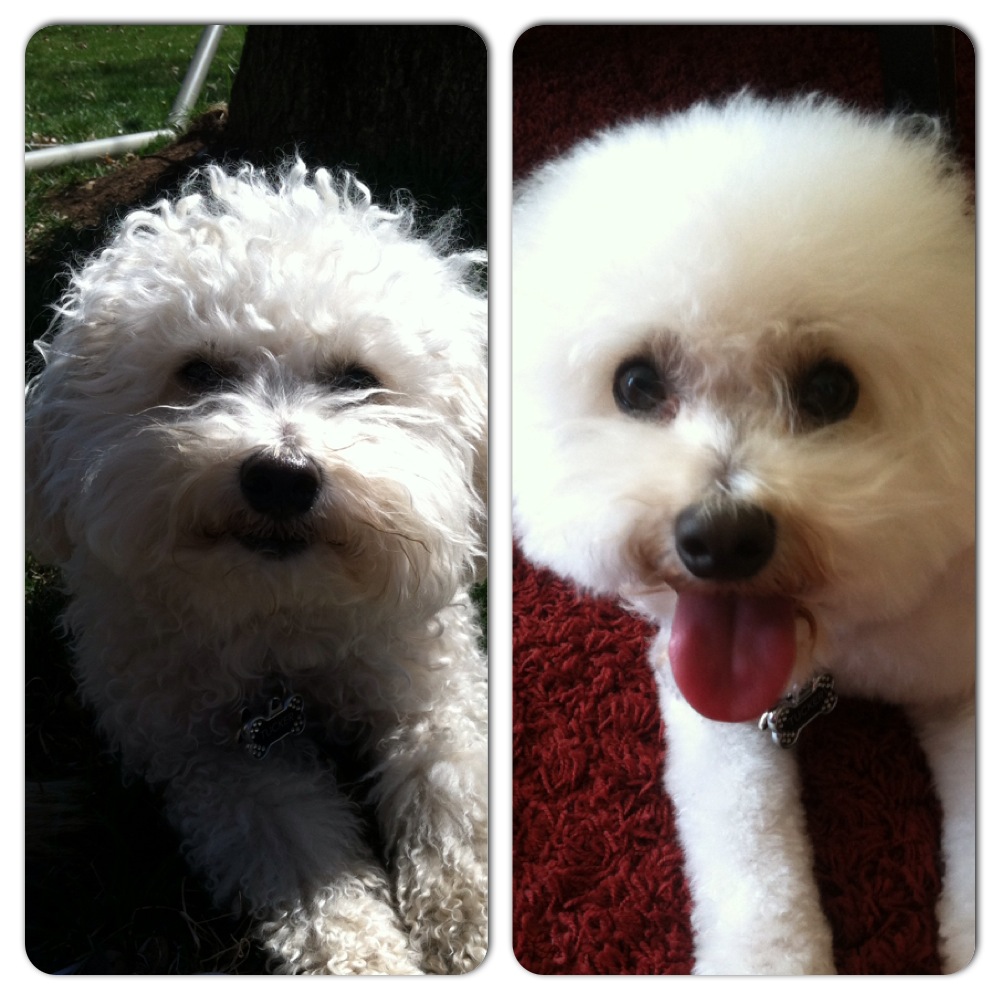 After Tucker got a little spoiled from the groomer, a friend of mine had me over for lunch to check out her new toy! Okay, I may have invited myself! I'm not sure….but it's possible. Either way, now I was feeling spoiled.
Check out the Vitamix! My first Green Smoothie! Now I can't remember everything that was in it? Pineapple, grapes, apples, mixed greens…….yumminess! I might have to add the Vitamin to my Wish List!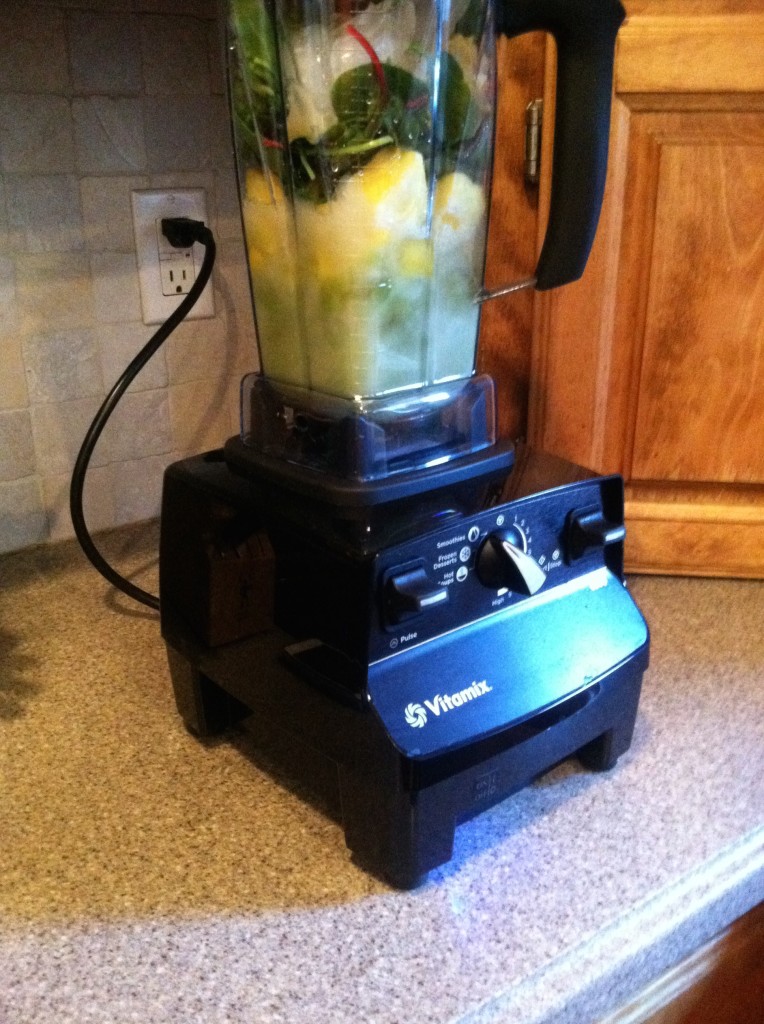 I'm certain the Green Smoothie gave me just what I needed to do this! I am so ready to get back to my long walks outside!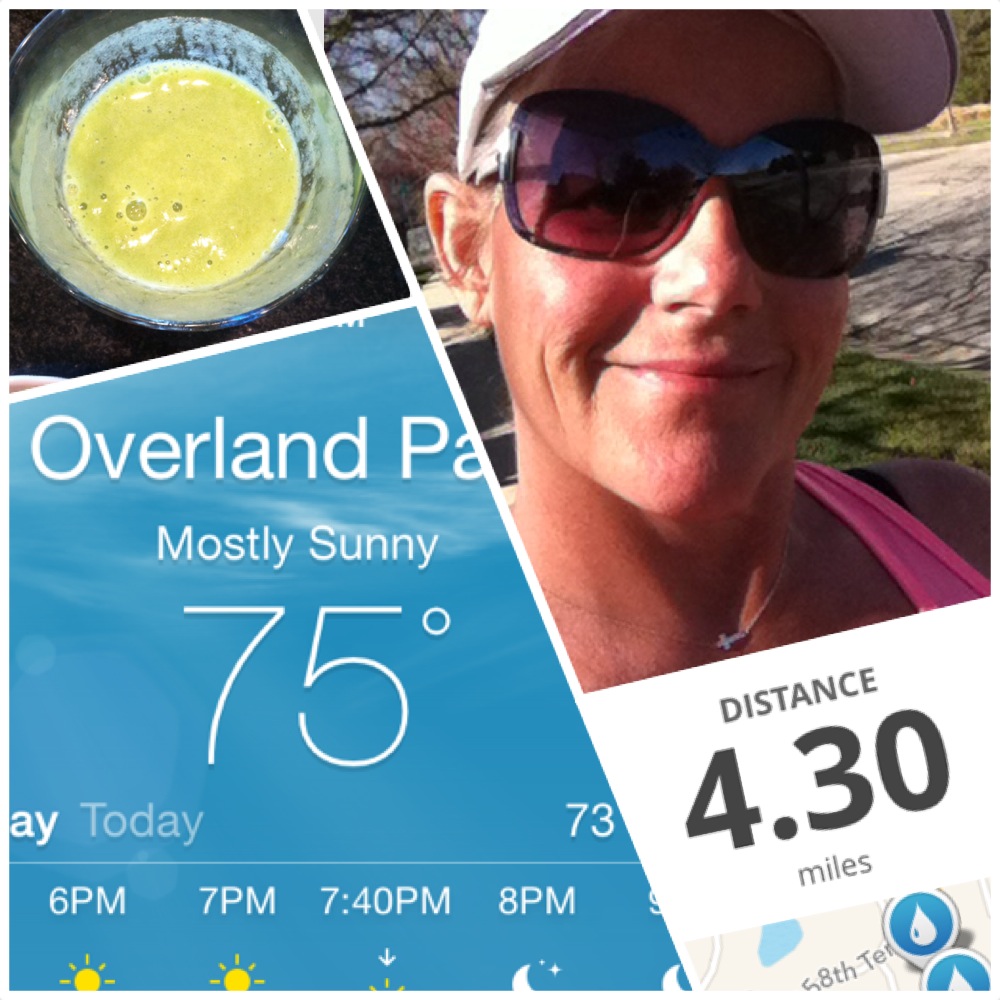 Except for the fact that my husband was home sick all day (that NEVER happens….) it was an awesome day!
Here are yesterday's eats….
Breakfast
Berry Oatmeal
4 PointsPlus
Ingredients
1/2 C Quick Cooking Oats
1/4 tsp Cinnamon
1/4 tsp Vanilla
1 packet of sweetener (optional)
3/4 C Boiling Water
1 Cup frozen Blueberries
1/2 C frozen Raspberries
Directions
Combine Oats, cinnamon, vanilla and sweetener (if using any) in a bowl while boiling water in a pan on the stove.
Put the frozen berries in a bowl in the microwave for about 2 minutes, stirring halfway through the cooking time.
When water comes to a boil, pour 3/4 Cup of boiling water over oatmeal mixture and stir well. Top with warm berries. Let sit for 60-90 seconds. I had a few fresh blackberries, so I added a few of those too!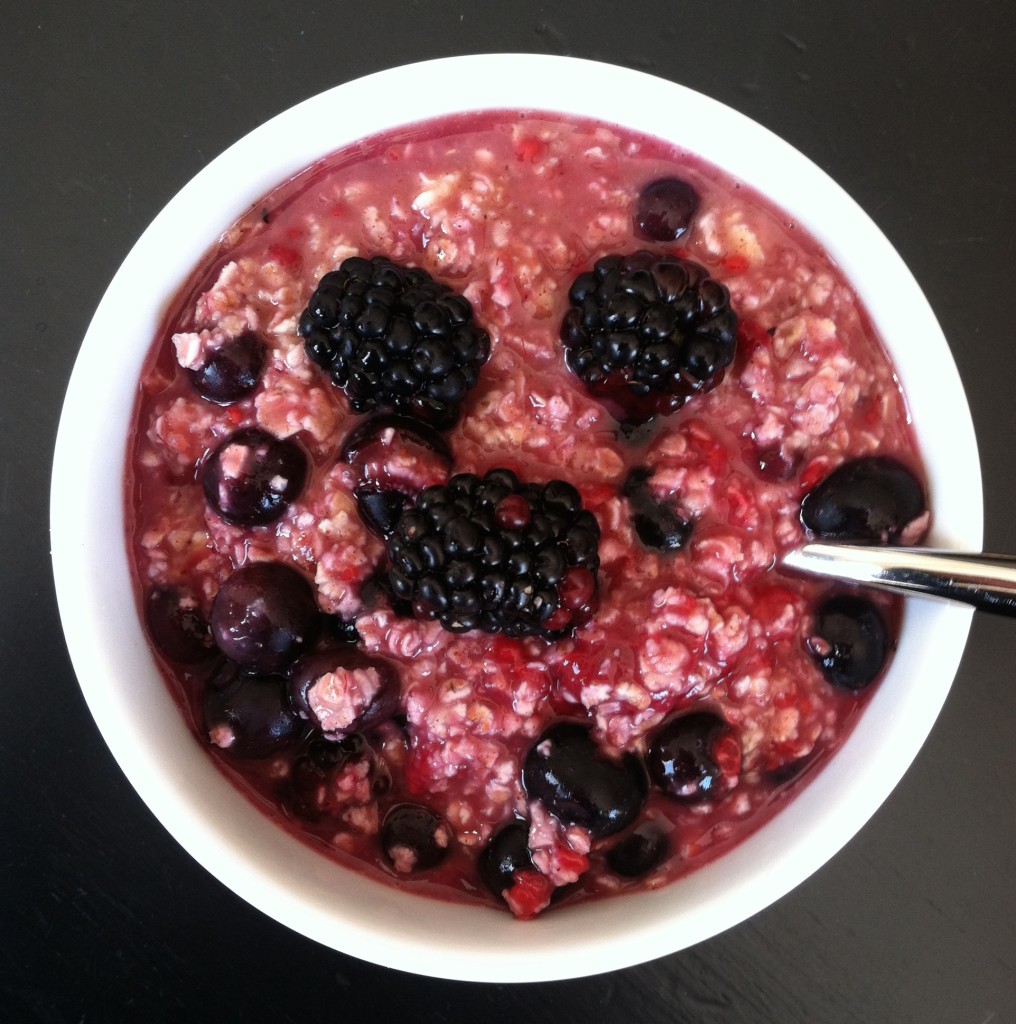 Lunch
Salad and a Green Smoothie
7 PPV
Salad – Chicken, Roasted Beets, Blueberries, Feta Cheese, lots of veggies and a light vinaigrette.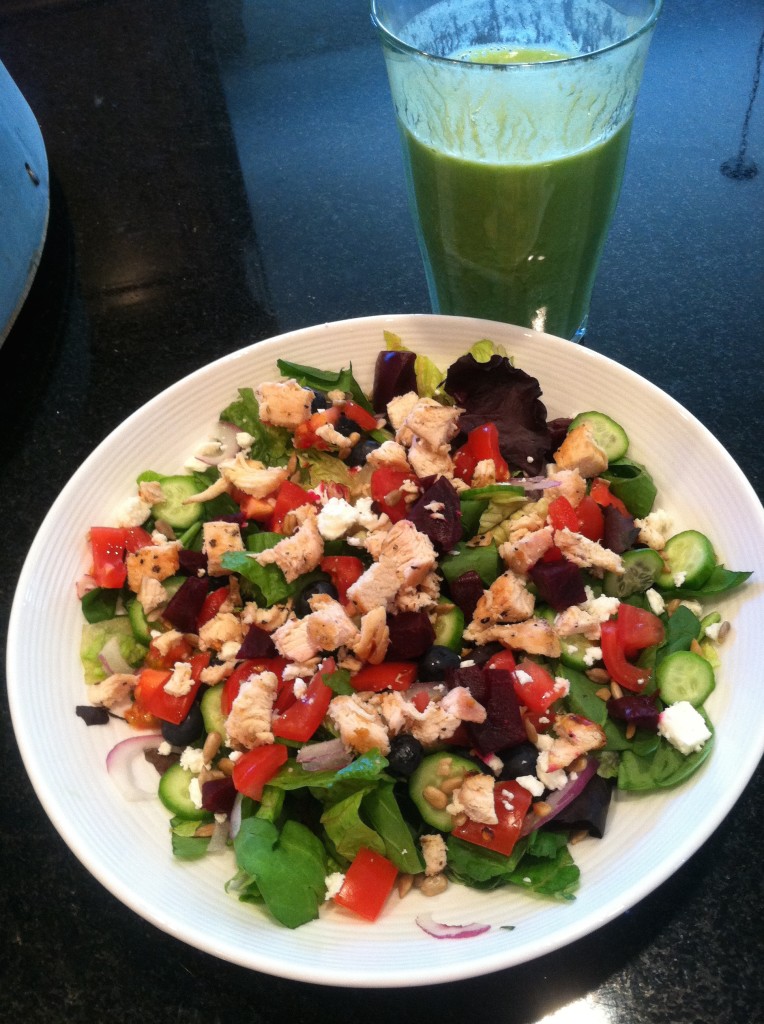 Snack
Apple 0
PPV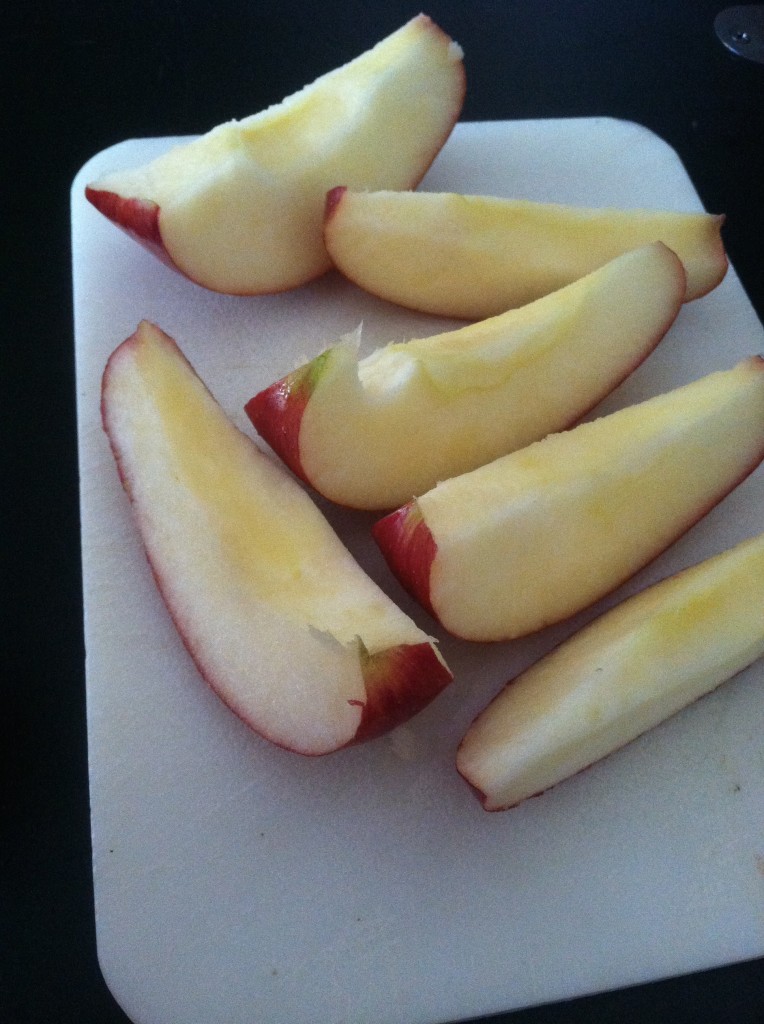 Dinner
1/3 C. Cooked Quinoa, 3 oz Grilled Chicken
1/4 C. Black Beans, 1/4 C. Corn, Chopped Tomato
50 g of Smashed Avocado
1 tsp Chipotle Infused Olive Oil
Lime Juice, Sea Salt, Cracked Black Pepper
10 PPV
Weigh your avocado on a scale in grams. You might be surprised when you get more than 1/4 of an avocado!
Dang, this was good!
Weight Watcher's Points Plus
I can eat 26 PPV a day.
I can earn Activity Points by doing exercise, and eat them if I choose.
I have an allowance of 49 extra points that I can dip into throughout the week if I choose.
I should drink a minimum of 6 (8 oz) glasses of water each day.
My Weight Watcher Week Begins on Friday's
Breakfast = Oatmeal and Berries, Frothy Coffee (5)
Lunch = Salad and Green Smoothie (7)
Dinner = Quinoa Bowl (10)
Snack = Banana with Almond Butter (3)
Total = 25
Exercise = walked 4.3 Miles
Activity Points Earned for the Day = 5
Activity Points Earned This Week = 14
Activity Points Remaining This Week = 12
How many ounces of water I drank for the day = 70
Remaining points from my 49 Points Allowance = 0
This is What I Will Accomplish in 2015
I will choose one occasion per month for Social Drinking (um…this is a work in progress)
I will go no more than two days in a row without exercise.
I will track every single day for the entire year. No matter what. I'll track if I eat 26 points, I'll track if I eat 76 points.
I will RUN in a minimum of six 5K's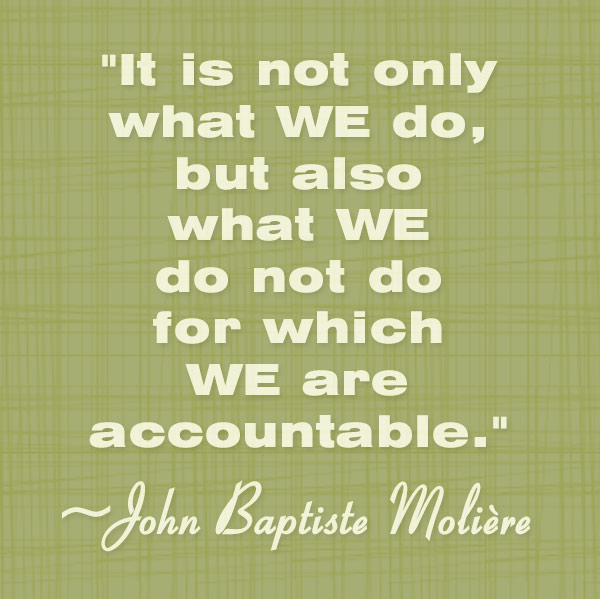 "love the life you live, live the life you love"