Yesterday was the last day of my 5 Week Challenge. I walked 25 miles a week for 5 weeks.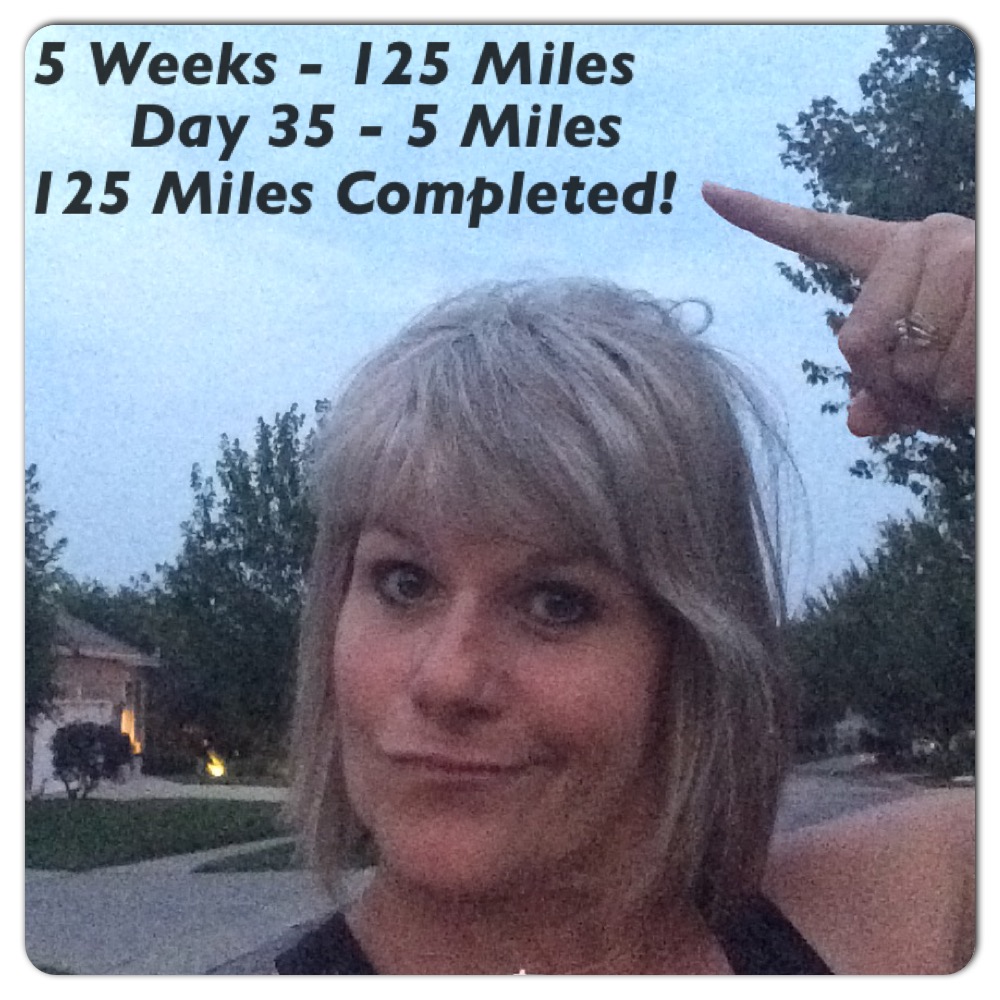 Not only did I walk 125 miles in 5 weeks, I also managed to squeeze in a few Yoga classes, and a few Jazzercise classes. Minus a few occasions, I ate mostly Weight Watcher Simply Filling Foods.
I only lost 4 pounds in the past 5 Weeks, but I blame my love of beer for that. Okay, I blame me. I'm really not upset though. I feel good about my accomplishments.
Making an exercise and food challenge for myself forces me to get out and exercise on the days that it would be so easy for me to make excuses to NOT exercise. It also reminds me to eat more fruits and veggies and lean protein. My husband started walking with me, and he hasn't done any type of exercise in a very very long time, so this has been an awesome challenge for both of us!
I started this challenge on Wednesday, May 27th. I didn't start it on the 1st of the month. I didn't start it on a Monday. I didn't start it on a Friday (my Weight Watcher weigh in day). Nope. I knew I needed a challenge, so I looked at the calendar and decided that instead of waiting a week and starting it on Monday, June 1st, (which would have made so much sense, right?) that I would give myself a one week head start, and call it a 5 Week Challenge.
Now I need a July challenge. I'm feeling something a little more intense and drastic. I haven't quite figured out what that is yet. More intense exercise for sure, and possibly NO dipping into my 49 extra weekly points at all for July AND August!! Alcohol limitations!!!! I'll work on a plan and post it tomorrow.
This week's social calendar is full and I fully plan to enjoy my adult beverages. An Engagement Party on Friday Night, a Wedding on Saturday, Wine tasting with girlfriends on Sunday, and a Birthday Party Happy Hour on Monday. After all of that, I should be a lovely swollen mess.
Between now and then, I will make the best food choices possible, I will drink lots of water and I will exercise.
Here are yesterday's eats while staying away from my house for the nice floor people who are refinishing the floors. Super excited about the color!!
Breakfast – 3 PPV
Breakfast by QT……Yogurt, Banana and Black Coffee. I took this to a friends house to catch up.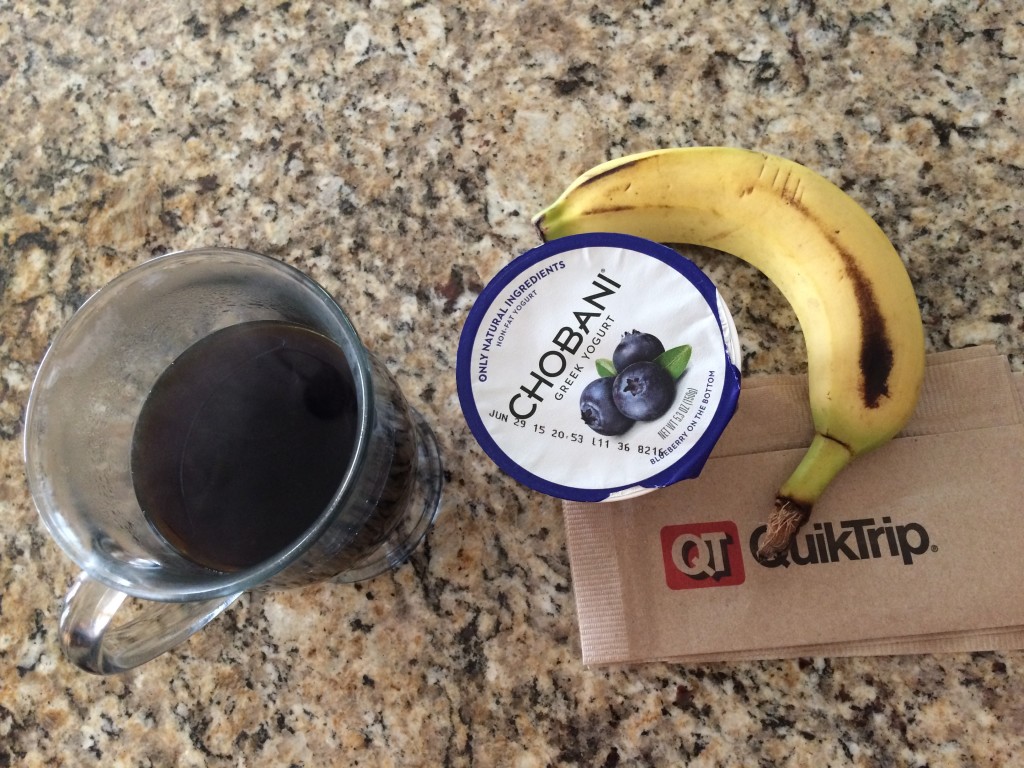 Lunch – 10 PPV
Breakfast Taco's with egg whites and corn tortilla's, fruit, water. I met my mom for lunch and killed some more time.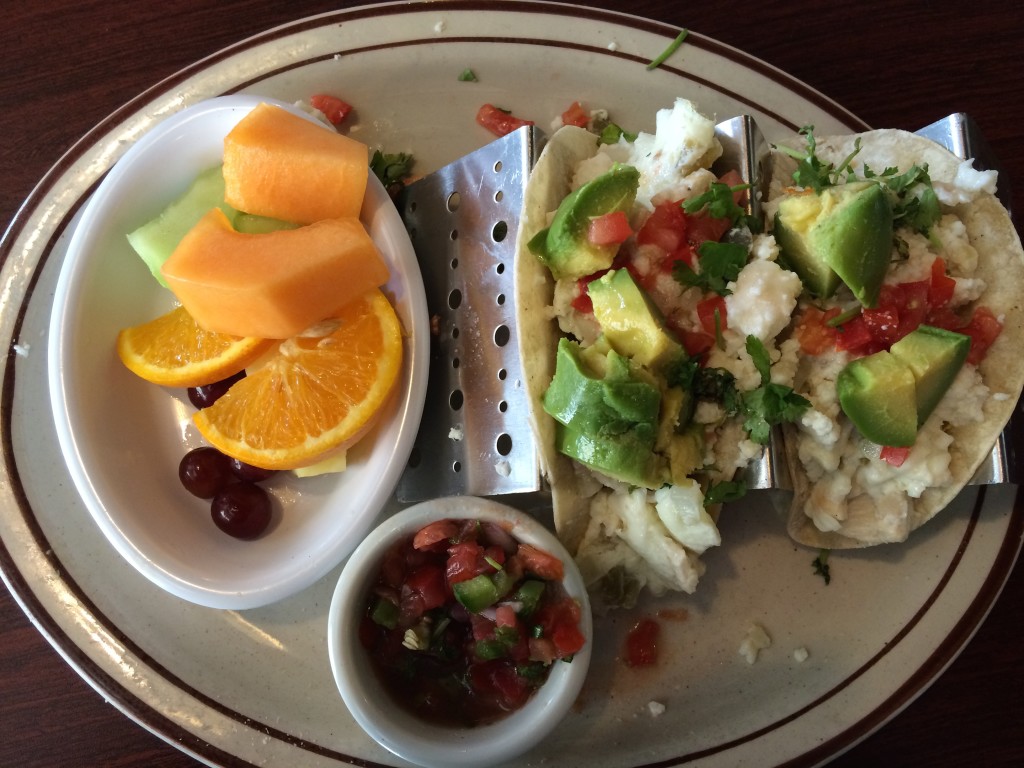 Snack – 0 PPV
Strawberries while hanging out at the grocery store.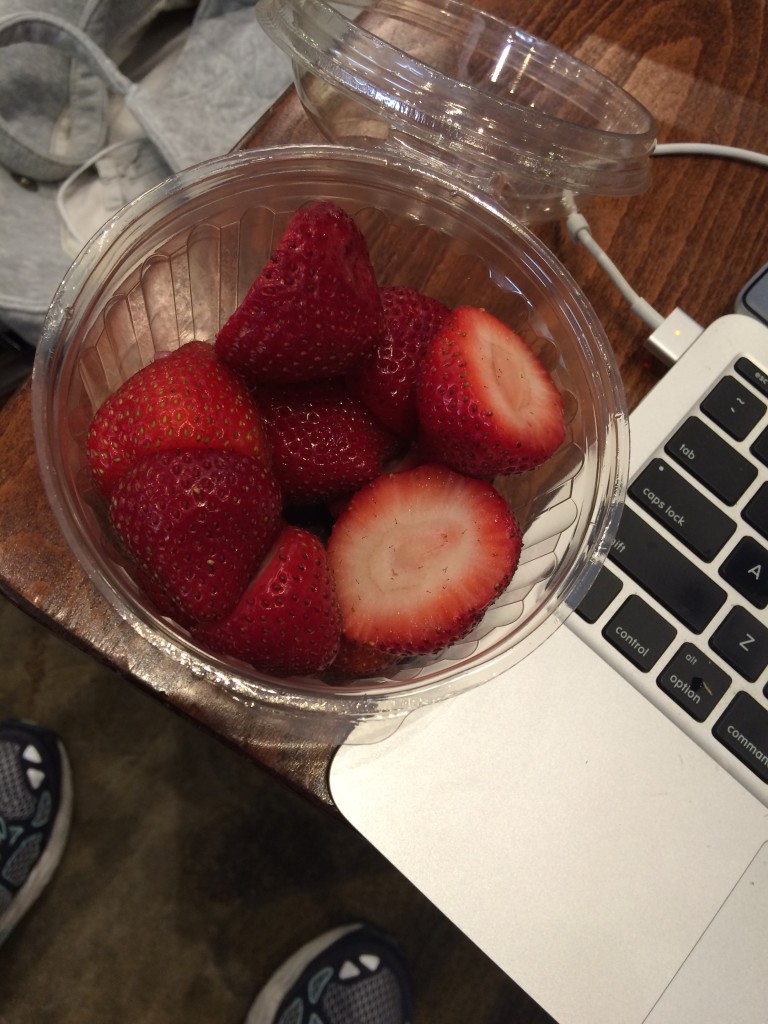 Snack – 5 PPV
Small salad while hanging out at the grocery store. Chicken, Beans, Pickled Beets and veggies. Water, water, water.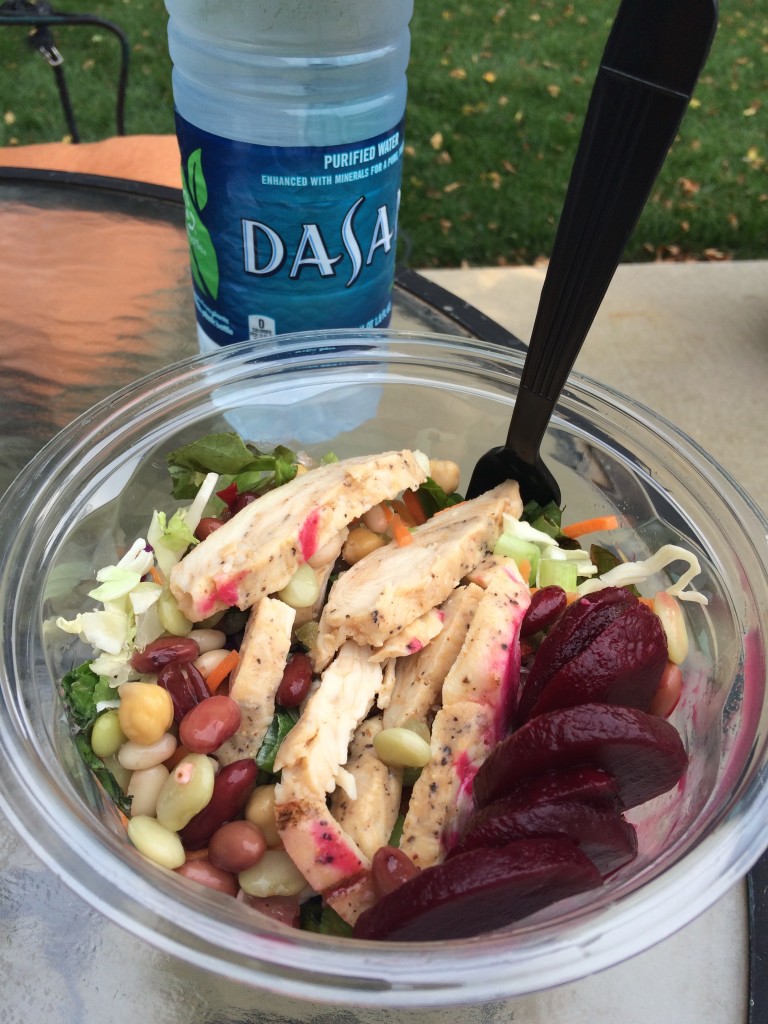 Dinner – 6 PPV
I scraped off the goat cheese and ate half of this turkey burger and only a few bites of the zucchini. I'm not sure if it just didn't taste good, or if I wasn't hungry.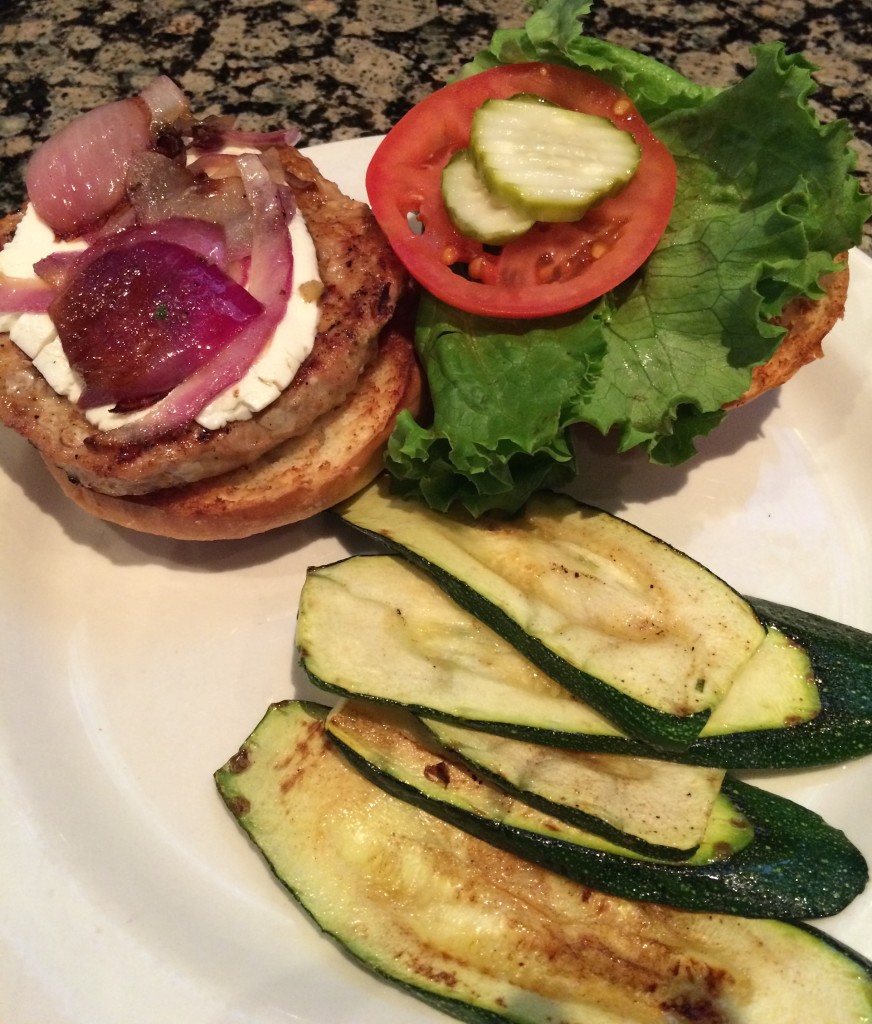 Weight Watcher's Points Plus
I can eat 26 PPV a day.
I can earn Activity Points by doing exercise, and eat them if I choose.
I have an allowance of 49 extra points that I can dip into throughout the week if I choose.
I should drink a minimum of 6 (8 oz) glasses of water each day.
My Weight Watcher Week Begins on Friday's
Breakfast = 3
Lunch = 10
Snack = 0
Snack = 5
Dinner = 6
Total = 24
Exercise = Walked 5 miles
Activity Points Earned for the Day = 6
Activity Points Earned This Week = 24
Activity Points Remaining This Week = 23
How many ounces of water I drank for the day = 70
Remaining points from my 49 Points Allowance = -1
This is What I Will Accomplish in 2015
I will choose one occasion per month for Social Drinking (um…this is a work in progress)
I will go no more than two days in a row without exercise.
I will track every single day for the entire year. No matter what.
I will RUN in a minimum of six 5K's. Two down, four to go!
So true……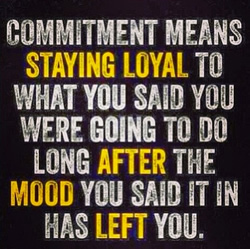 "love the life you live, live the life you love"