Yesterday I woke up to take care of doggie responsibilities, then I got back in bed and went to sleep and didn't wake up until just before noon! I don't remember the last time that I slept that long, but it felt good! While I was sleeping the morning away, Mike was mowing, and to discover that, made me really happy.
Then we both did nothing but watch movies and baseball, and that made me really happy too!
Late afternoon, I decided I was done being a vegetable, so I cleaned house and cooked some dinner. After dinner, more nothing.
It was a really good and restful Sunday.
Here are yesterday's eats…..
Late Late Breakfast – 15 PPV
Scrambled Eggs with Turkey Sausage, Pancakes and Sweet Potato Hash Browns.
I used my Veggetti to make Sweet Potato Spirals and cooked them with red onions in Olive Oil in the skillet. Tasty!!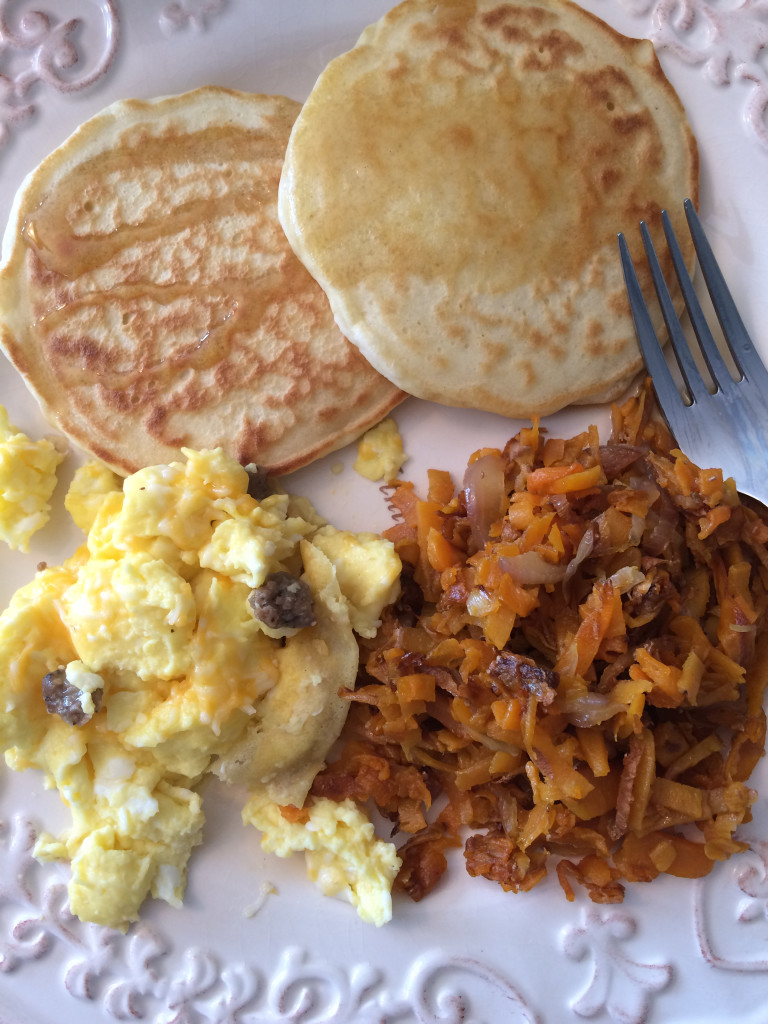 Snack – 2 PPV
Raisins and Raw Walnuts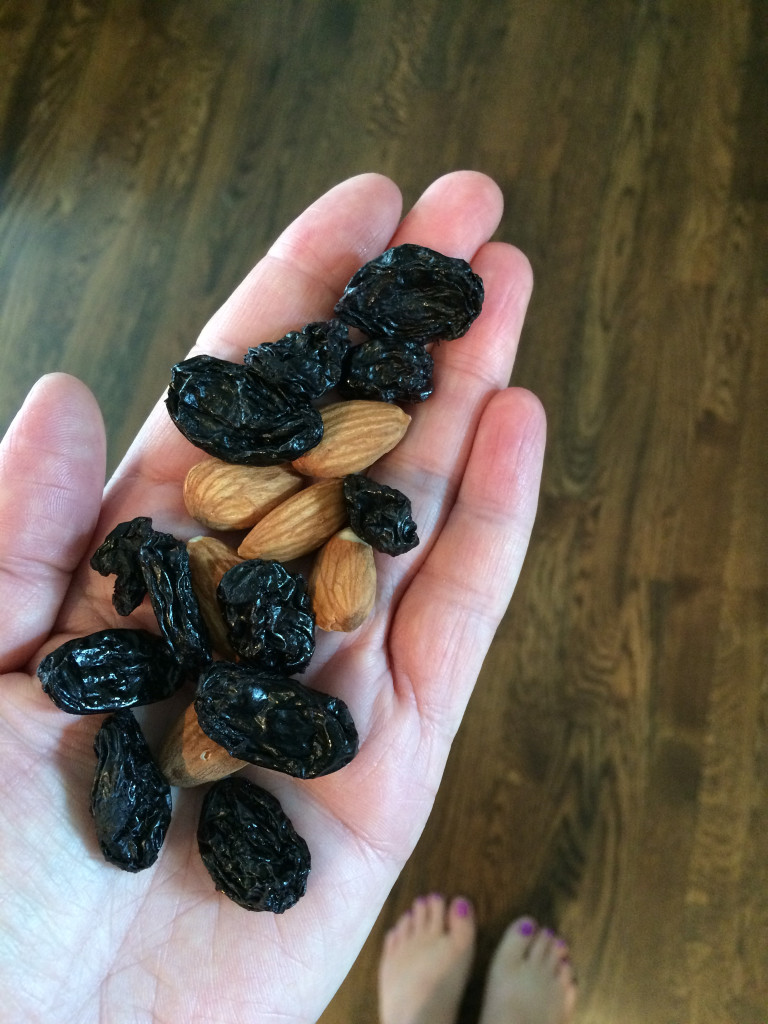 Dinner – 8 PPV
Skillet Meal with Chicken Sausage, Zucchini, Onions, New Potato's, Sweet Potato's and Cheddar Cheese. Strawberries and Blueberries.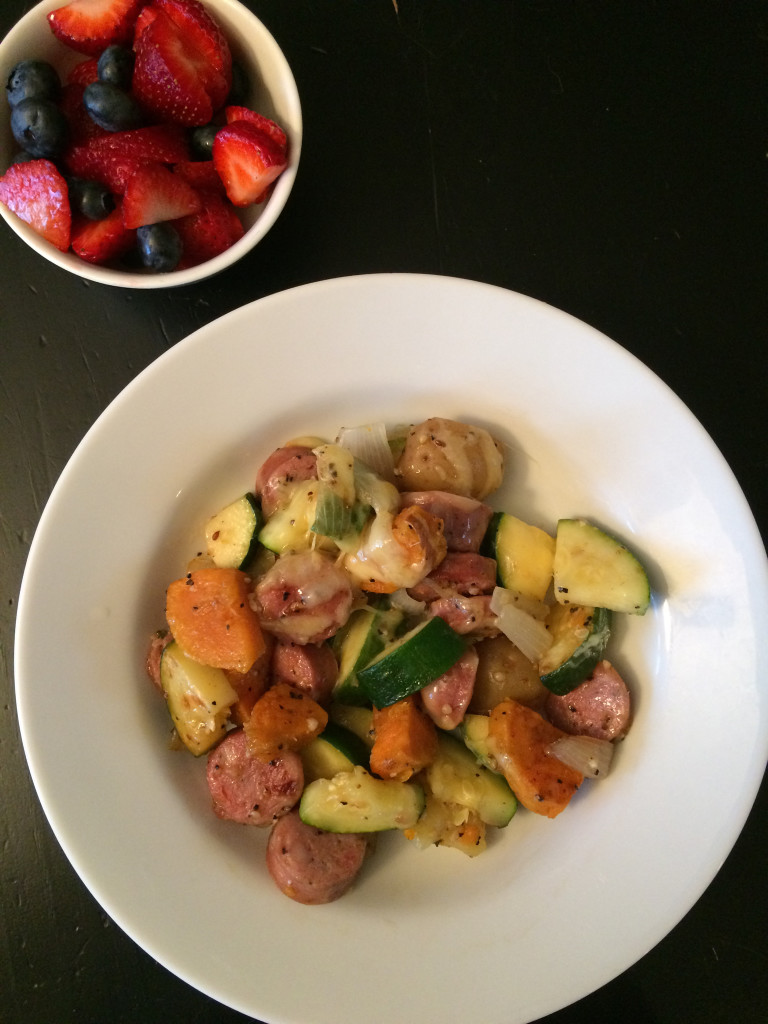 Weight Watcher's Points Plus
I can eat 26 PPV a day.
I can earn Activity Points by doing exercise, and eat them if I choose.
I have an allowance of 49 extra points that I can dip into throughout the week if I choose.
I should drink a minimum of 6 (8 oz) glasses of water each day.
My Weight Watcher Week Begins on Friday's
Breakfast = 15
Snack = 2
Dinner = 8
Total = 25
Exercise = rested
Activity Points Earned for the Day = 0
Activity Points Earned This Week = 10
Activity Points Remaining This Week = 10
How many ounces of water I drank for the day = 60, It's hard to drink water when you sleep all day long!
Remaining points from my 49 Points Allowance = 29
This is What I Will Accomplish in 2015
I will choose one occasion per month for Social Drinking (um…this is a work in progress)
I will go no more than two days in a row without exercise.
I will track every single day for the entire year. No matter what.
I will RUN in a minimum of six 5K's. Three down, three to go!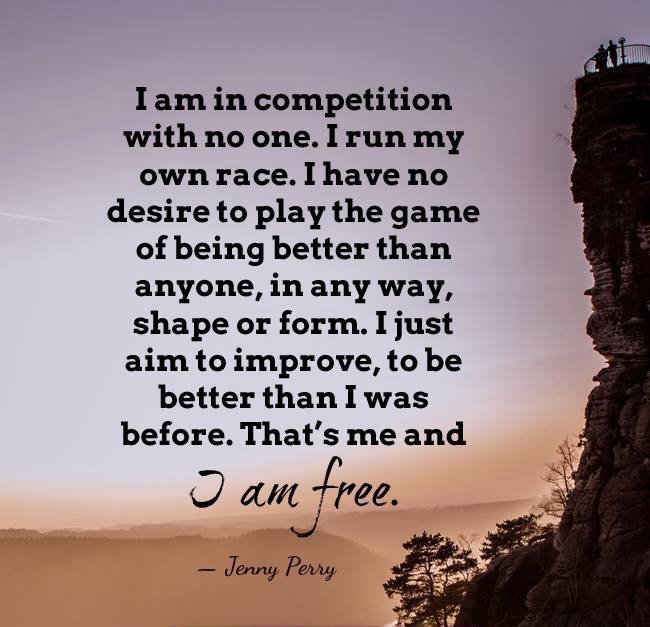 "love the life you live, live the life you love"