The Fun
What a fun weekend it was. It can be really hard to drag Mike away from work, but when I do, we always have such a good time.
My daughter, Tess, and her boyfriend, Manuel, were going to be in St Louis for the weekend to attend the wedding of a friend of theirs on Saturday. Tess wanted us to come hang out with them on Friday because it also happened to be her birthday weekend.
We headed out Friday morning for our road trip. It's a 4-5 hour drive, depending on snack and potty stops. We hadn't done a road trip together in a while, and it was good to spend that much time together in the car just chatting. Mike drove for an hour, while I entertained him with songs and stories.
After an hour of that, I got antsy in the passengers seat (I am a terrible passenger!) so I took over the open road.
We got to the hotel within minutes of Tess and Manuel arriving, where we settled into our hotel room, and came up with a plan for the rest of the day.
Food and Drink and a good view of the city were on the list. We headed out the door to check out St. Louis.
We found a great little spot on Morgan street to have a couple of beers and lunch outside and catch up. Perfect weather.
Then we hopped on the shuttle to go to the Arch. Mike is in this shuttle somewhere……I swear.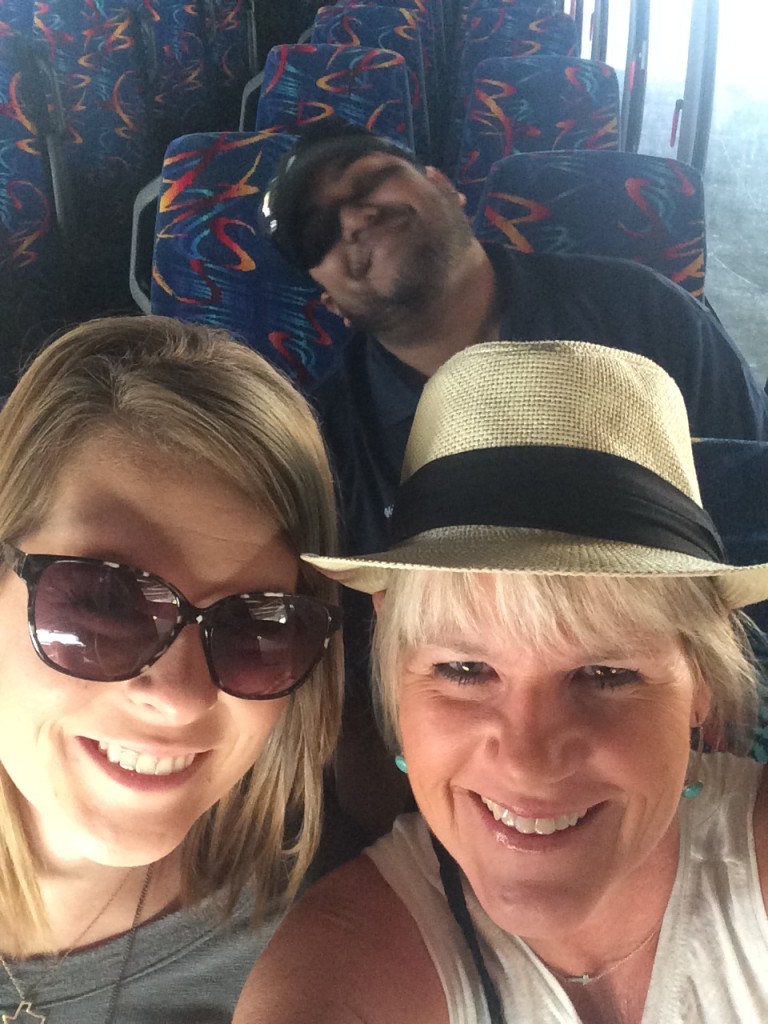 The wedding that Tess and Manuel were going to was in this church, right under the Arch. A beautiful setting!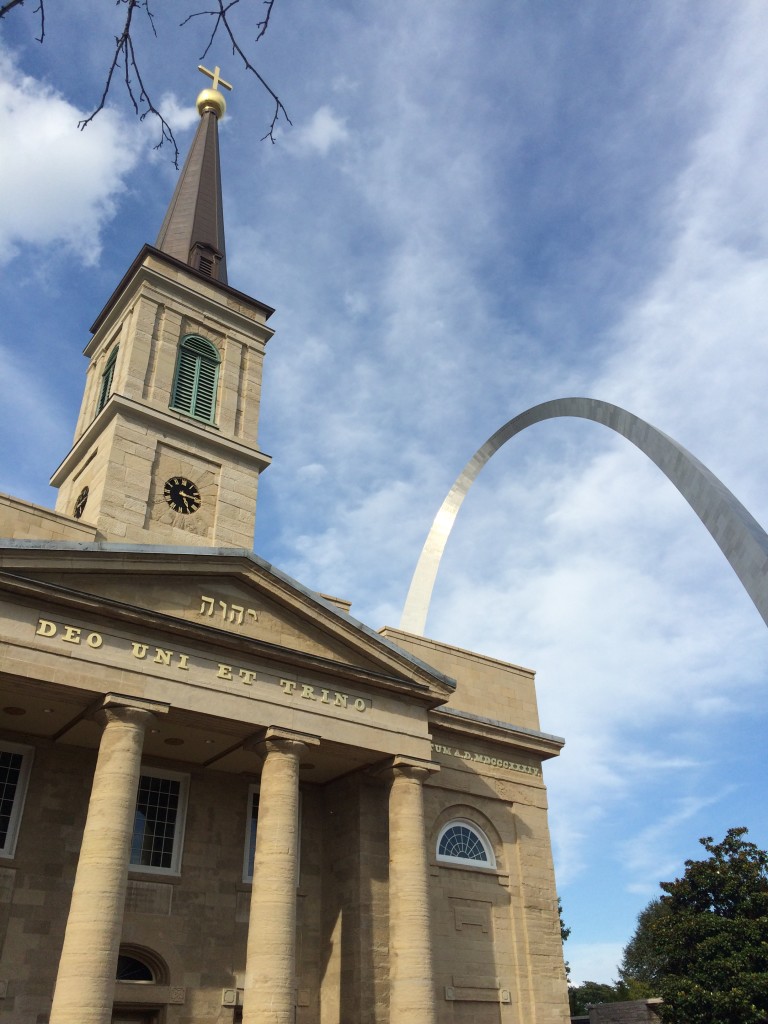 Mike decided it was just dumb to drive all the way to St. Louis, and not go up in the arch, so off he went, Manuel at his side. Um, no thank you. I've been skydiving, but for some reason, riding up the arch in that little elevator that I hear about, sounded terrible. Claustrophobia?? No regrets. Tess had no interest either.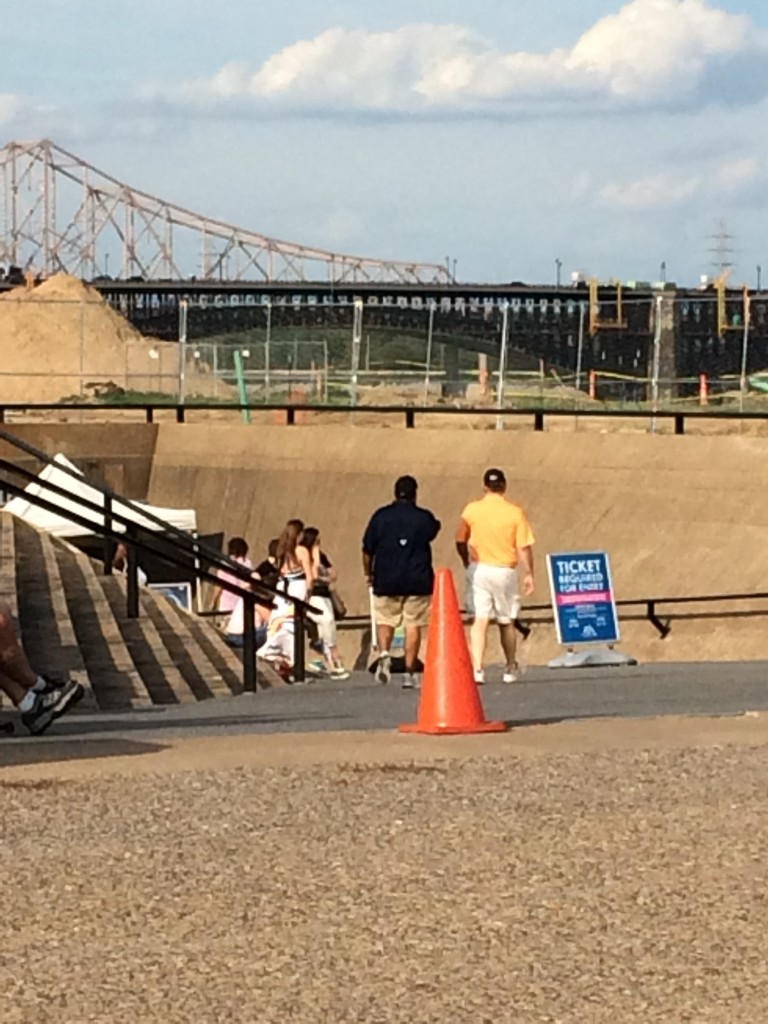 I like it down here.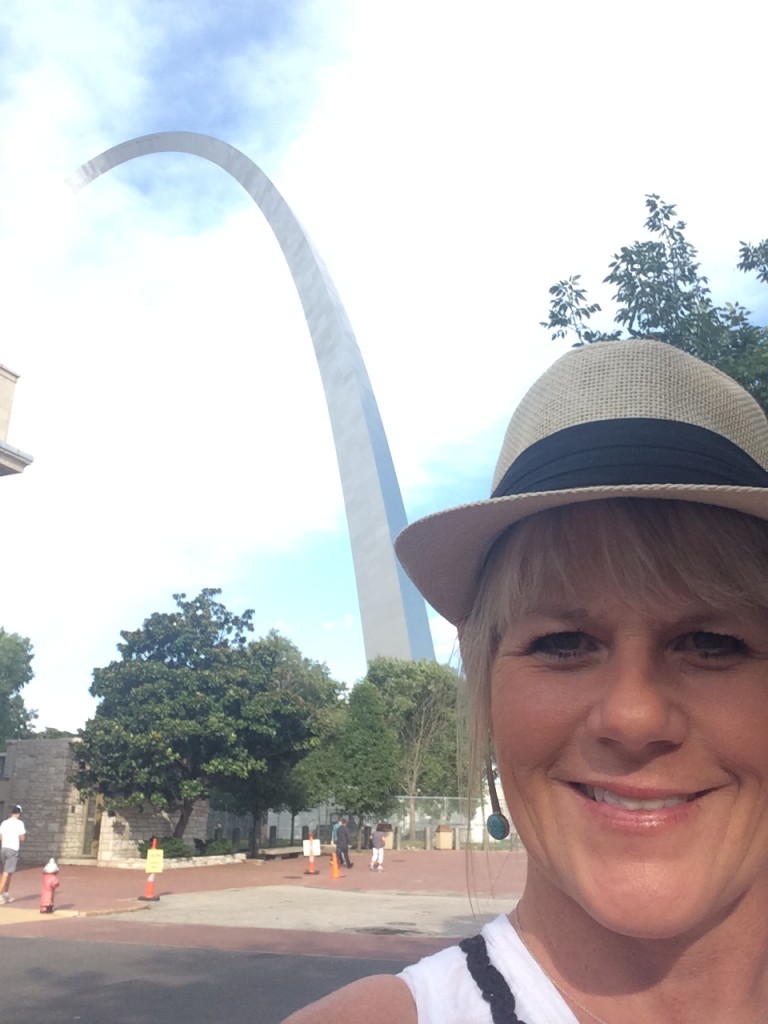 We goofed around a bit.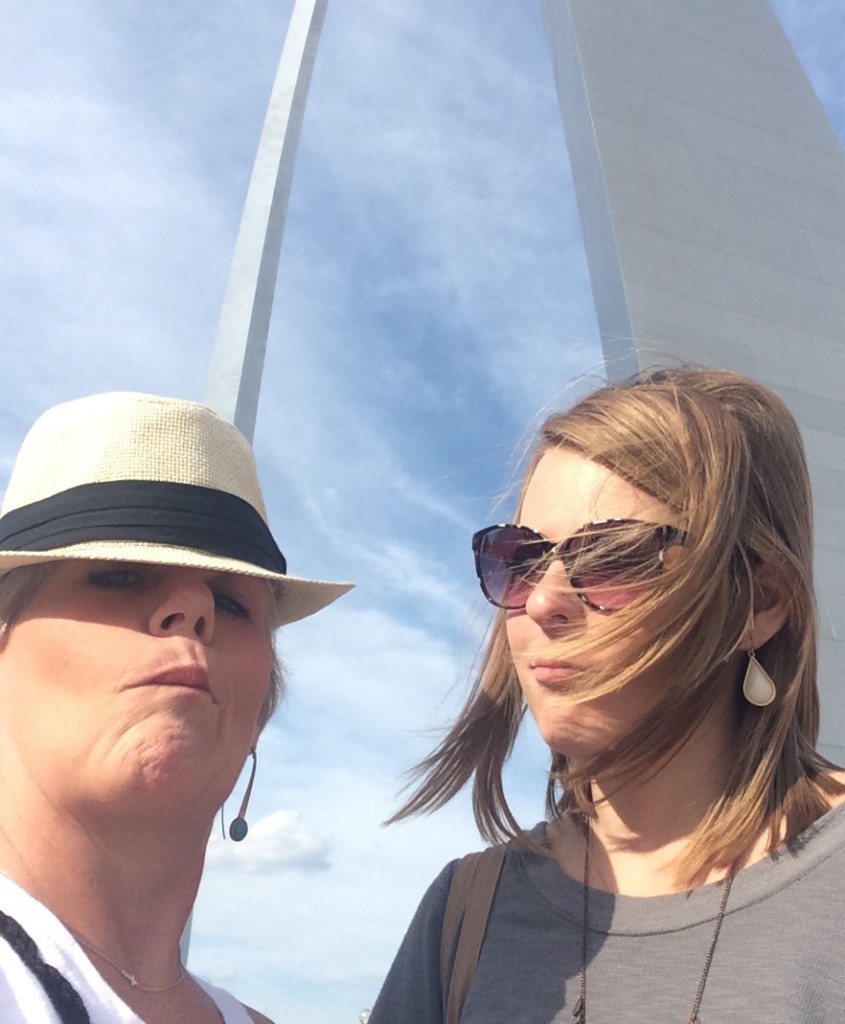 For the best possible picture and for me to avoid a double chin, l told Tess to lean over with me…..like this!!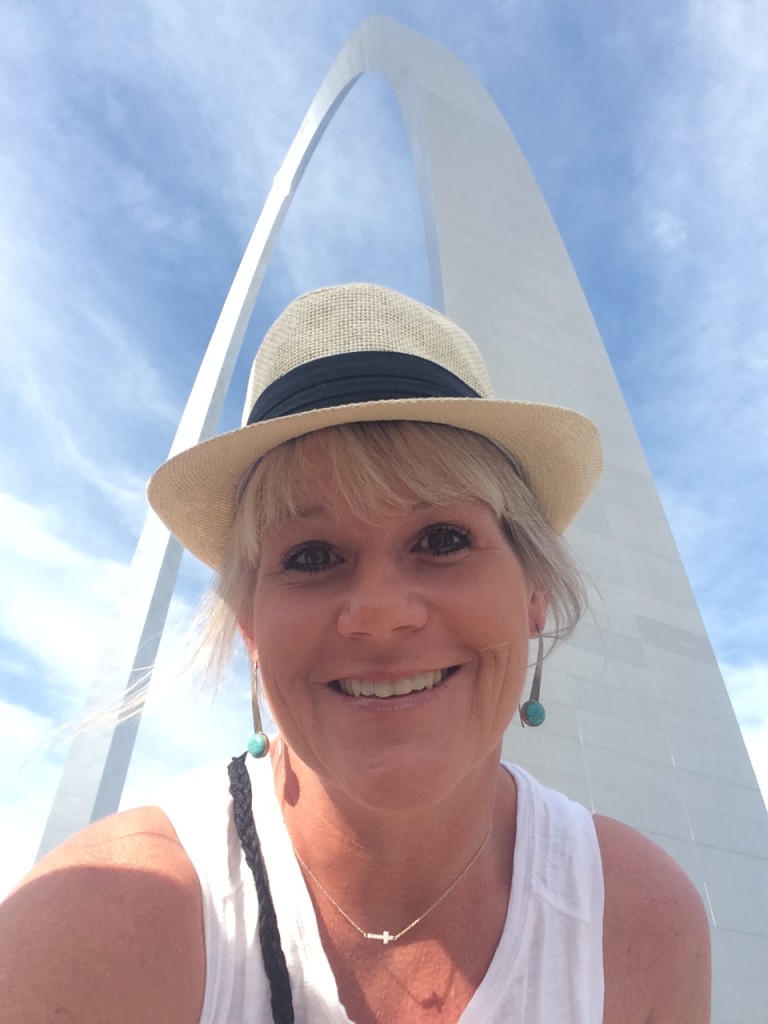 I decided to just cut my chin off of this picture. 🙂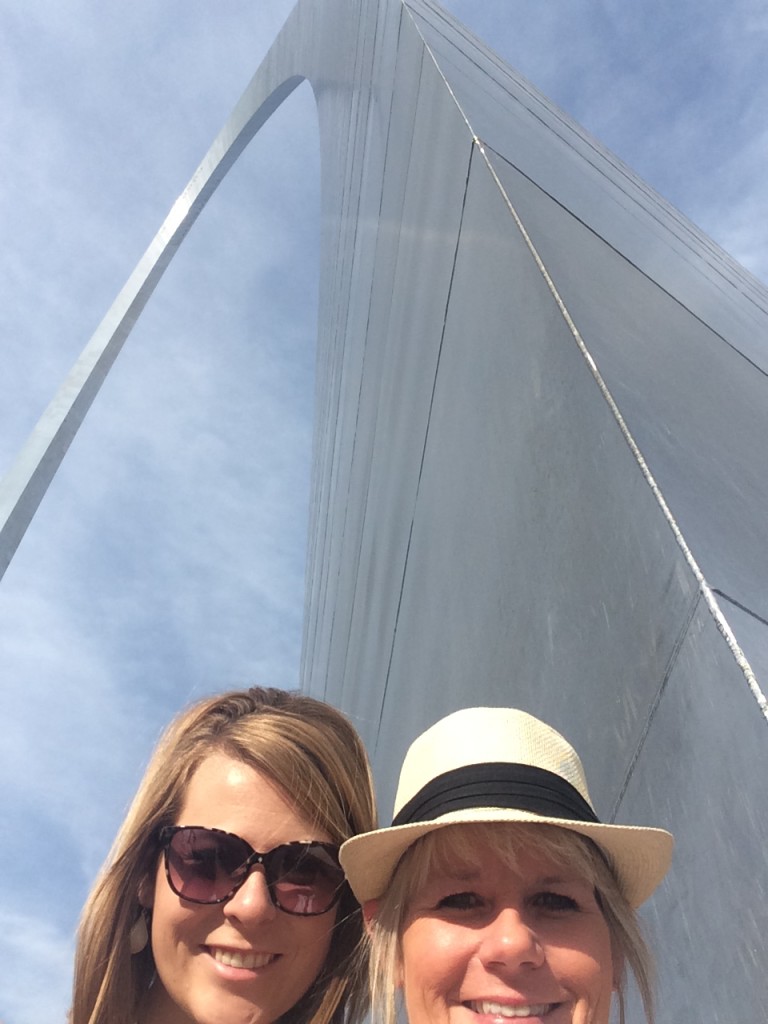 While the boys were up in the sky, and after we tried to get a good selfie, we found a great spot to have a cold beer and peek into Busch Stadium.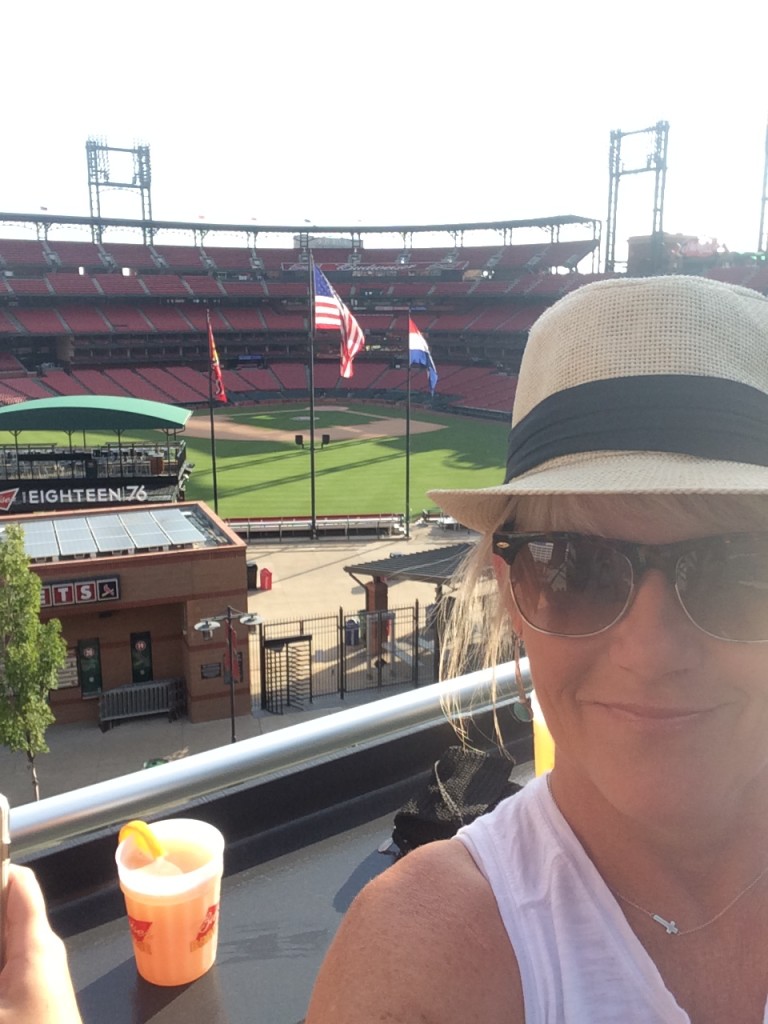 The weather could not have been more perfect.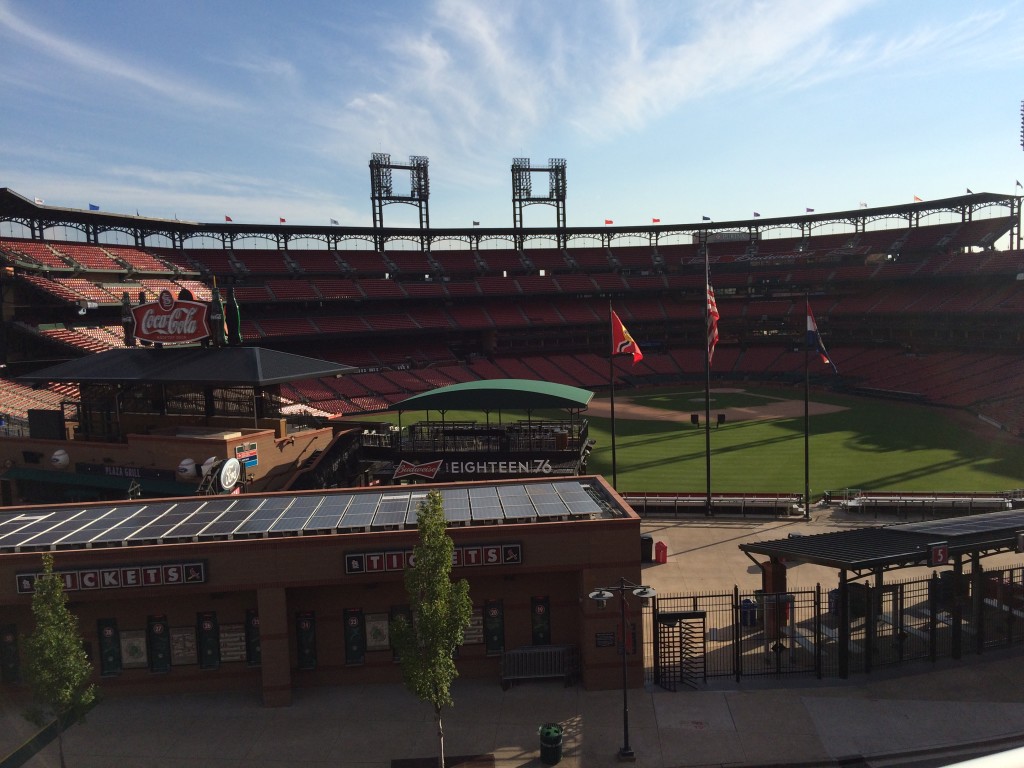 We ended the day at a sports bar watching the Royals AND the Chiefs lose. While there, we ran into several of Tess friends from Dallas that had also come into St. Louis for the wedding. It was fun to be able to put a face to name with some of those that I hadn't met yet.
We had a great day in St. Louis.
Saturday was Tess birthday. We all went to brunch at a spot downtown called the Rooster. Brunch was awesome!
I ordered this gigantic B.E.L.T. (Bacon Egg Lettuce Tomato)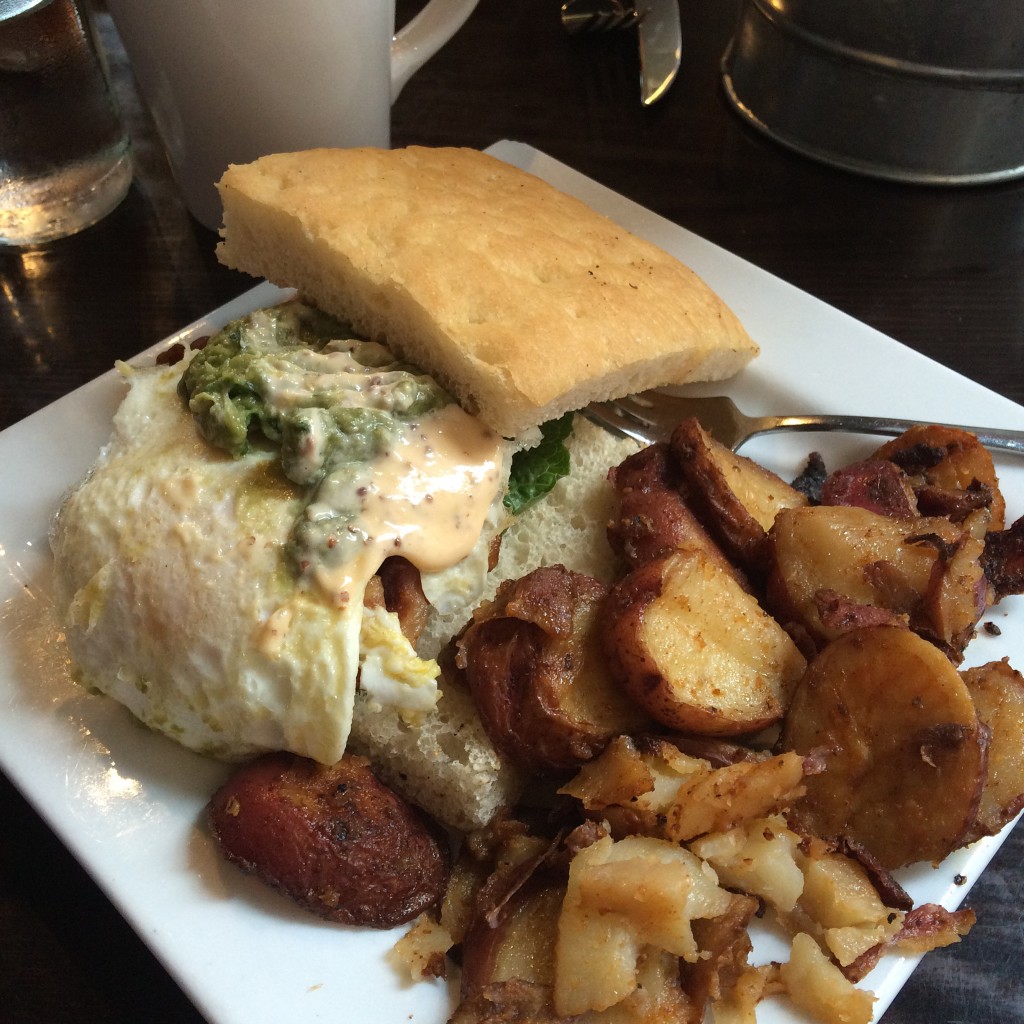 After breakfast, Mike and I headed back to Kansas City, and Tess and Manuel had a wedding to get ready for!
They will be in Kansas City in two weeks for another wedding. Yay! More fun with the kids!
The Food
Friday before we hit the road, I made Mike and I some scrambled egg whites along with some fruit. I packed snacks for the road, but we never did end up opening any of them up.
Lunch was a few appetizers and beers at the first little spot we stopped at. Tess and I shared a really yummy Steak Bruschetta.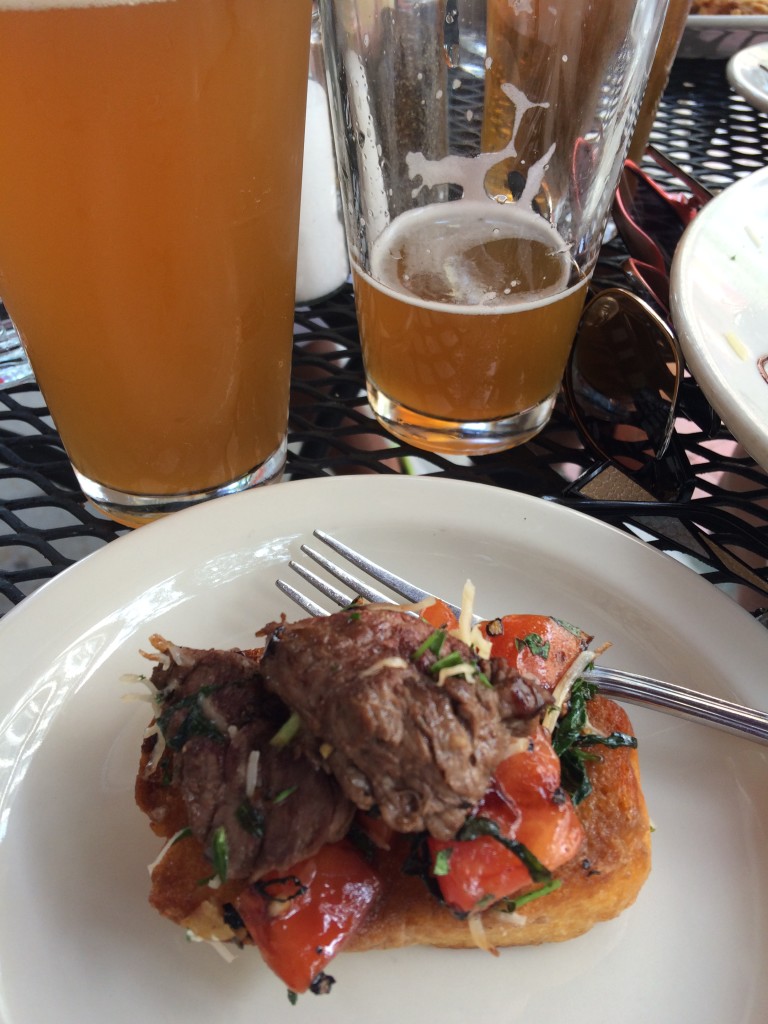 Friday nights dinner at the sports bar? Beer.
Saturday breakfast was the huge BLT. On our drive home, Mike and I stopped at a Panera where I ordered a half salad and soup.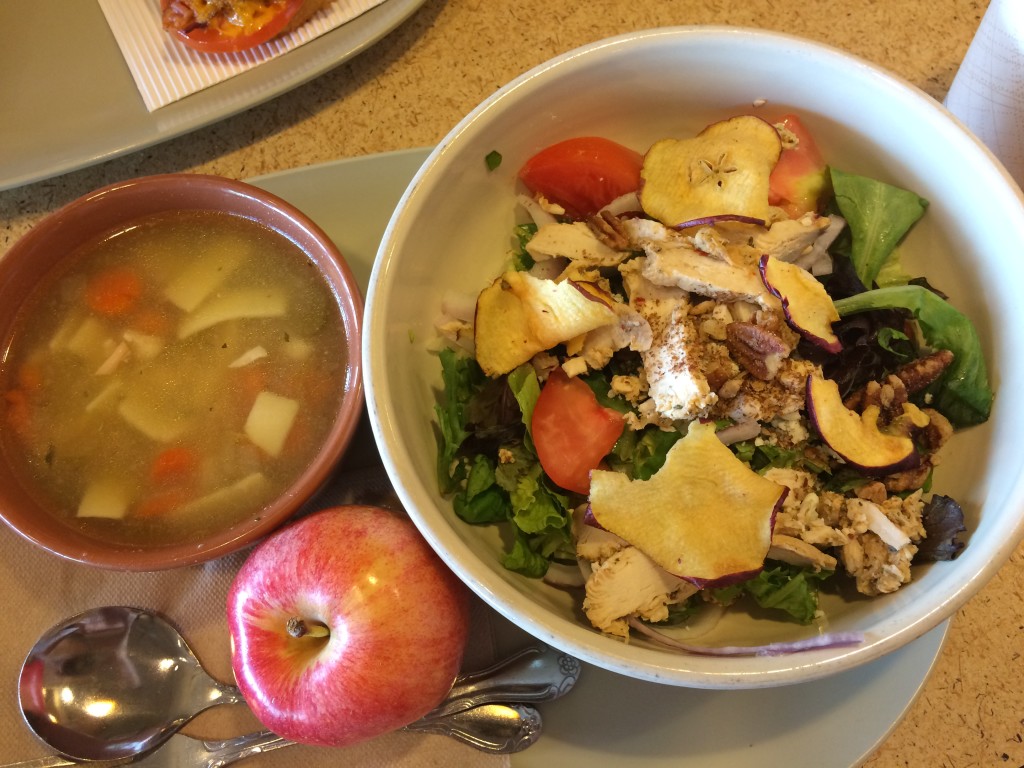 Saturday night for dinner, I had coffee and grapes. Weird, I know. The two meals that we did eat were big and we just weren't hungry.
I tracked all of my points as best as I could for the weekend. I still have 29 of my extra weekly points left, but I'll try not to eat any of those this week and stick to my 26 daily points.
The Exercise
Yesterday was a beautiful day outside, and it looks like it's going to be beautiful all week long. I'll still get in my 3 Jazzercise Classes and 1 Yoga Class, but I'm ready for some cool morning walks too!
Yesterday I got in a 6 mile walk with a few friends and it felt great!
Exciting Stuff
I actually get to go to my WW meeting this Friday, and I love my meetings. I am looking forward to that "recharge" feeling that I have when I go.
This happened yesterday, and it was kinda cool. Weight Watchers reposted one of my Breakfast ideas on Instagram!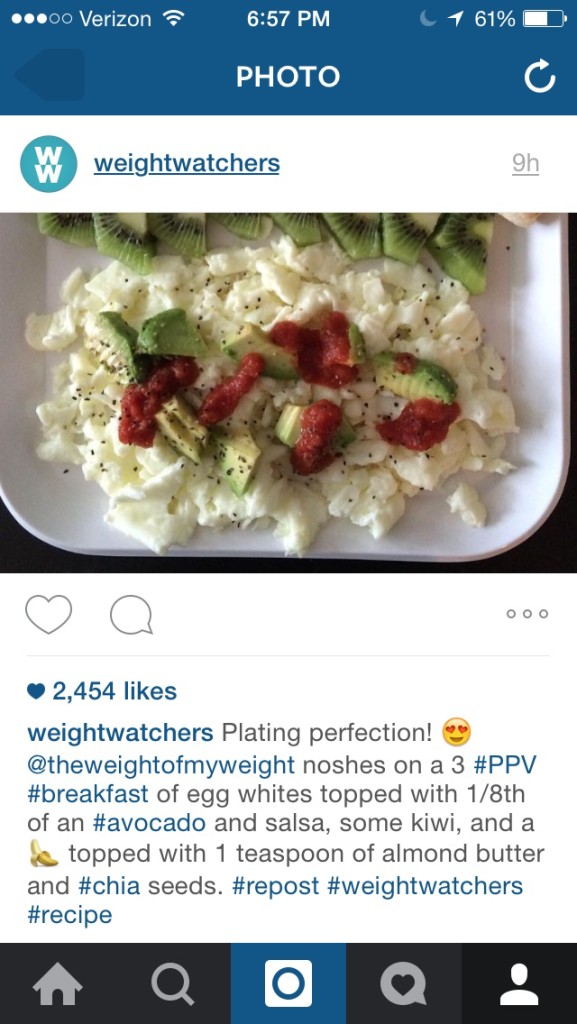 Here are yesterday's eats…..
Breakfast – 11 PPV
IHOP breakfast with my mom. I looked in my Weight Watcher app for IHOP meals, and found this meal of Nut and Grain Blueberry Pancakes with egg whites and turkey bacon, so I knew how many points to track. That's always handy.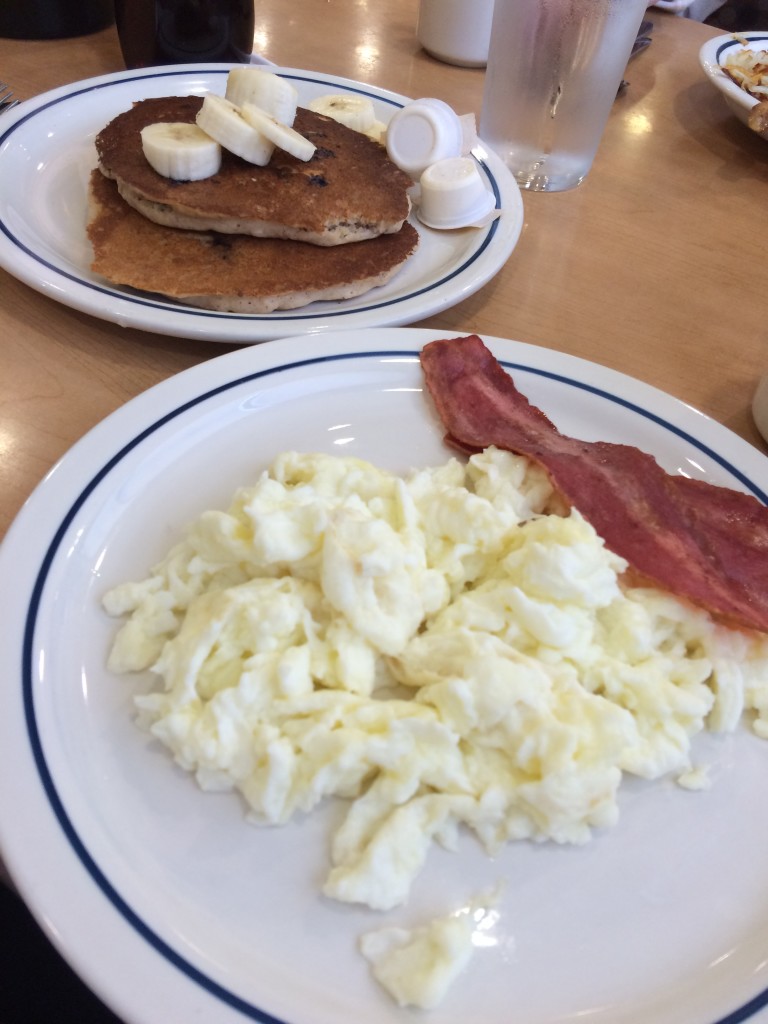 Lunch – 8 PPV
Odd, I know. Popcorn and Chocolate Covered Almonds. Breakfast was late and I really just wanted a snack.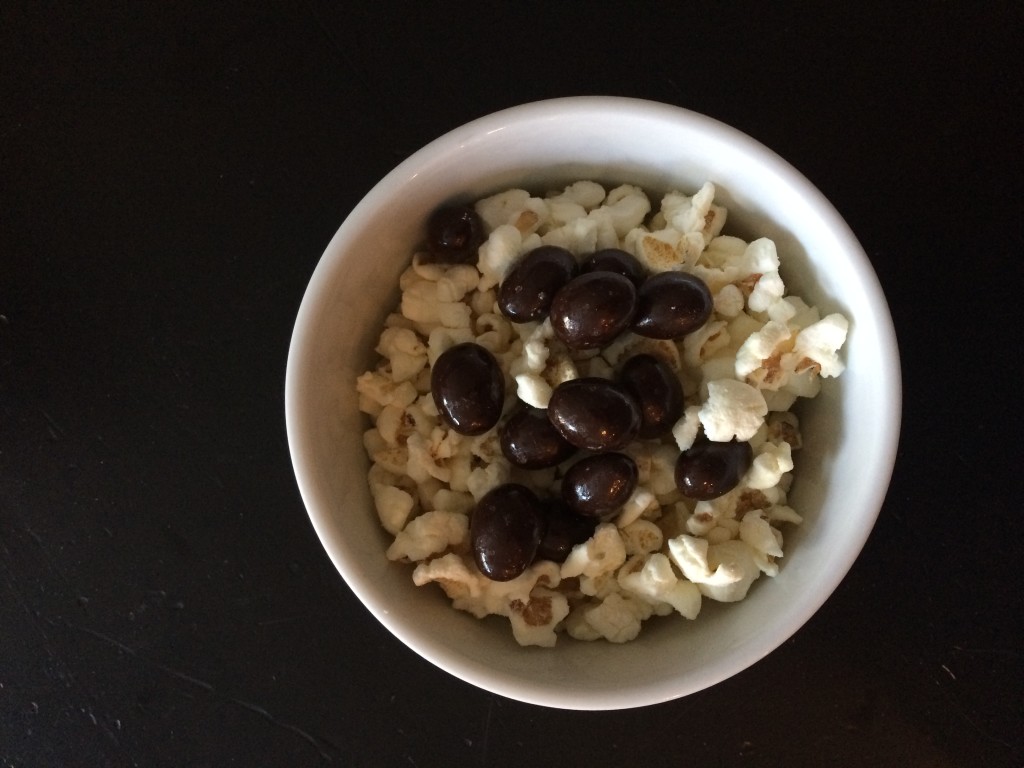 Dinner – 11 PPV
These Marinated Greek Chicken Skewers and a Greek Themed Salad with Olives, Tomatoes, Cucumbers, Bow Tie Pasta, Red Onions and Ken's Steak House Greek Dressing.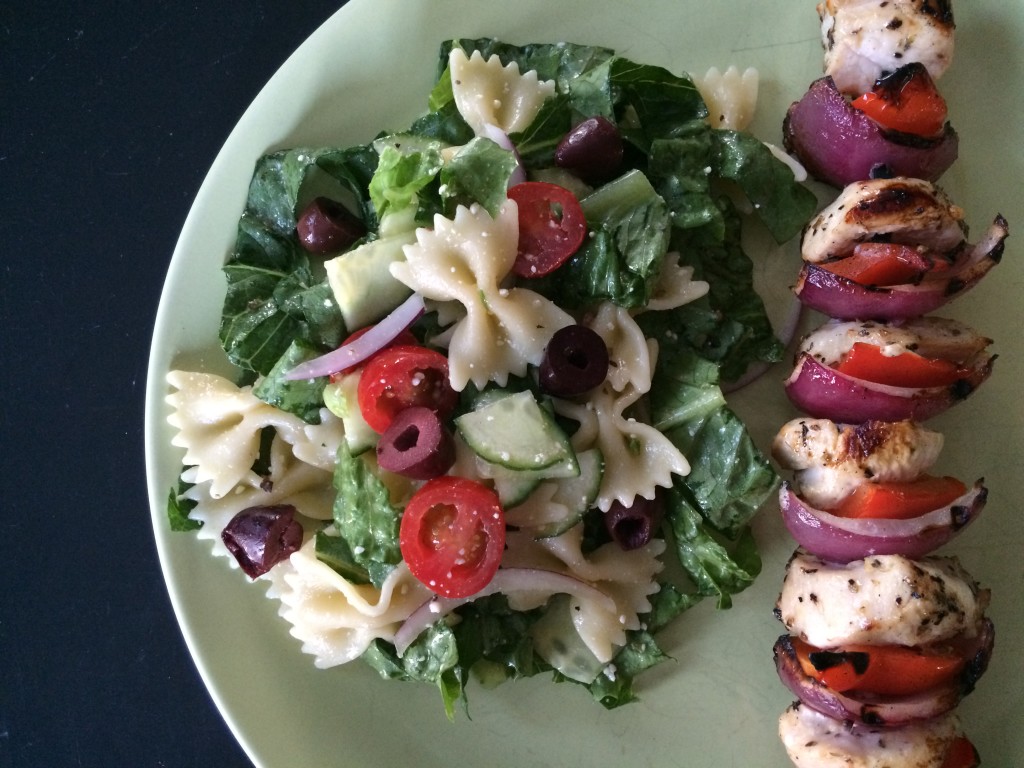 Weight Watcher's Points Plus
I can eat 26 PPV a day.
I can earn Activity Points by doing exercise, and eat them if I choose.
I have an allowance of 49 extra points that I can dip into throughout the week if I choose.
I should drink a minimum of 6 (8 oz) glasses of water each day.
My Weight Watcher Week Begins on Friday's
Breakfast = 11
Lunch = 8
Dinner = 11
Total = 30
Exercise = Walked 6 miles
Activity Points Earned for the Day = 7
Activity Points Earned This Week = 7
Activity Points Remaining This Week = 7
How many ounces of water I drank for the day = 70
Remaining points from my 49 Points Allowance = 29
This is What I Will Accomplish in 2015
I will choose one occasion per month for Social Drinking (um..this is a work in progress)
I will go no more than two days in a row without exercise. (I've done "two a day's" to make up)
I will track every single day of the entire year. (I've only NOT tracked one weekend this year.)
I will run in a minimum of six 5K's. Three down, three to go!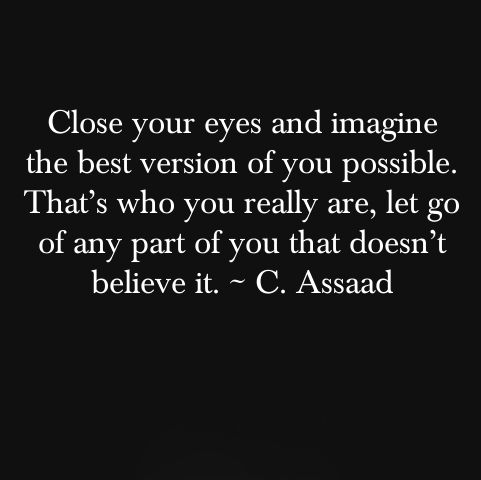 "love the life you live, live the life you love"