So much going on and so much to say about the last two days.
After my WW meeting on Friday morning, Tess, my daughter, and I chatted about our WW meetings and the goals that we wanted to set for ourselves for the week. We talk about our meetings a lot, especially since we both go on Friday mornings, and we share what is working for us, and what we need to work on to improve. We decided to send each other our WW tracker at the end of each day this week to help keep each other accountable. We set goals for the week, for the month, and for the next 16 weeks.
Weight Watchers is encouraging us to set goals. They can be non scale related goals, or not. My one week goal is to not eat any of my activity points, but to allow myself to eat my 49 Extra Weekly Points. When I eat the 49, and when I eat my activity points, I maintain, which is what I have been doing for a long time. I've become very comfortable with my weight at 172, but 169 would really be nice to see. Three pounds doesn't seem like much, and I have done a really good job on focusing on my health and how I feel, and not obsessing about the number on the scale, but we all know as WW members, or anyone losing weight and living a healthier lifestyle, it is exciting and rewarding to see that number go down.
My one month goal is to exercise 5 times per week. My 16 week goal is to see 160 something on the scale.
I ran lots of errands Friday afternoon, and did a little clothes shopping. This is one of my favorite purchases. Light, Fallish, covers my butt. I'm wearing it with a Pink Tank top and white jeans, but I can't wait to wear this with jeans and boots and a long sleeve T-shirt under it.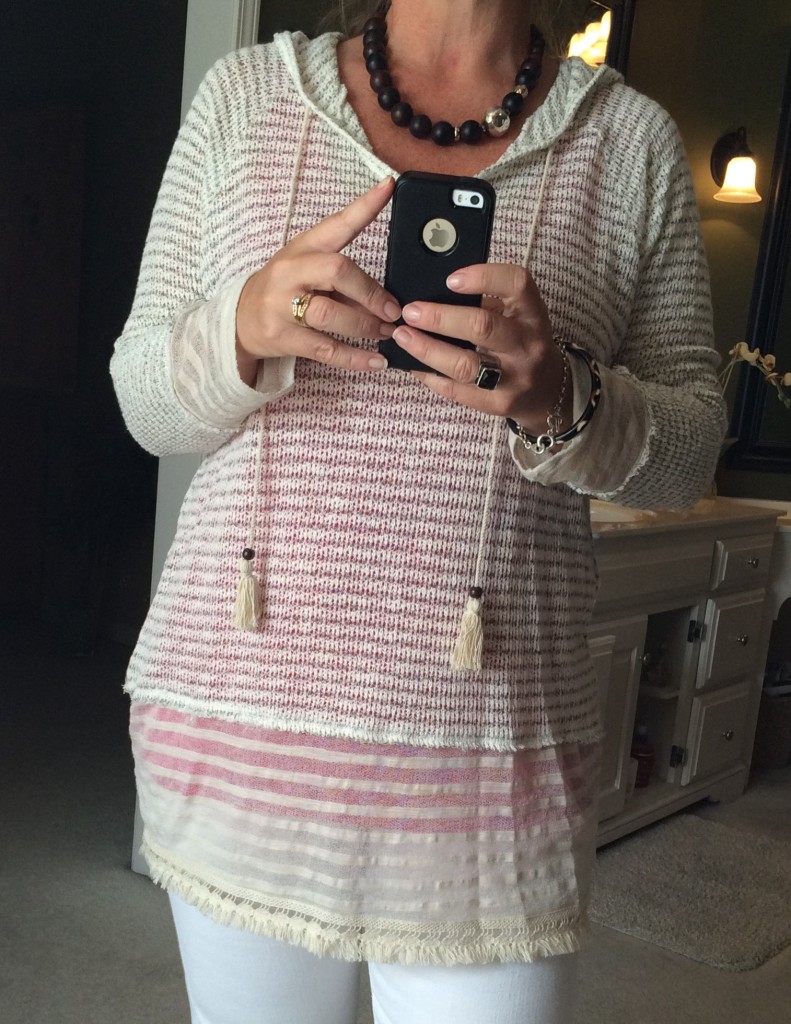 I bought another shirt that is super similar, but I loved them both so much. This is so soft, I think I want to sleep in it.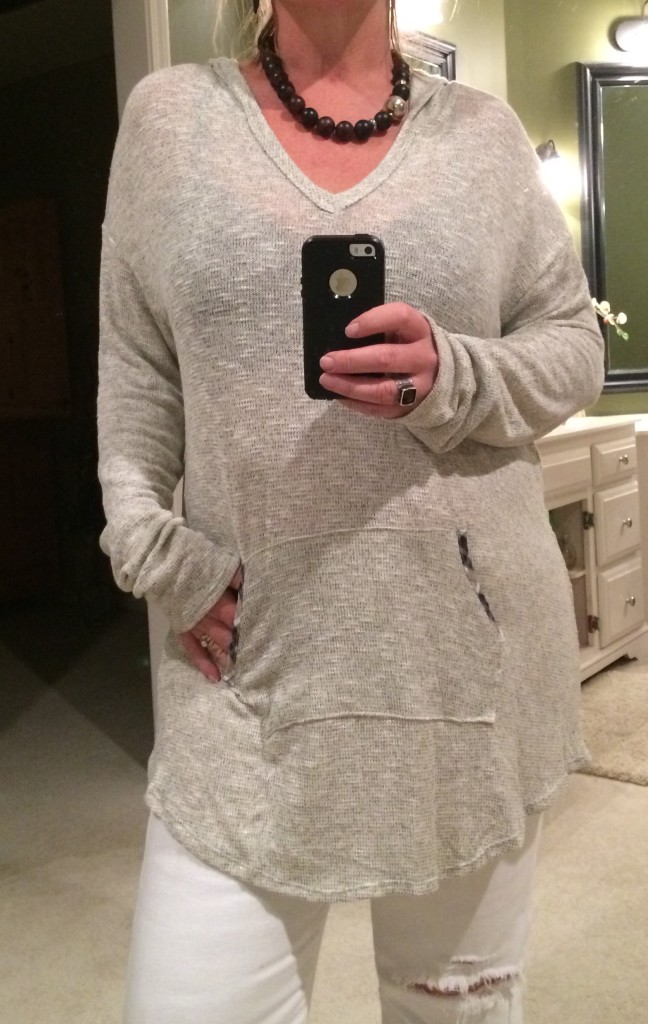 I'm not a fan of the shape of my legs, but I bought this shirt dress anyhow, along with these leggings, (I love anything denim) and hopefully I will be brave enough to wear it out of the house? I'm thinking new boots!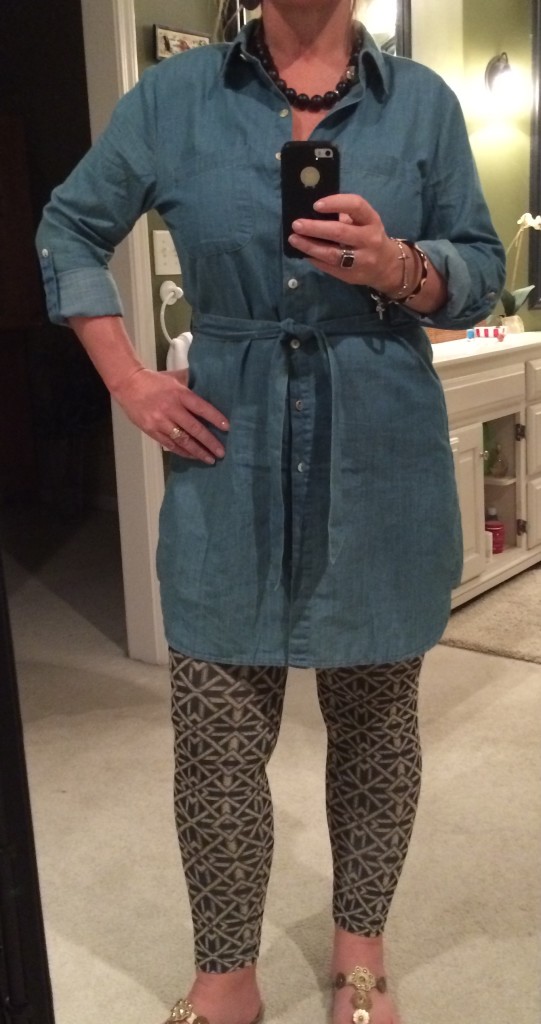 I do love a long vest….butt coverage, people.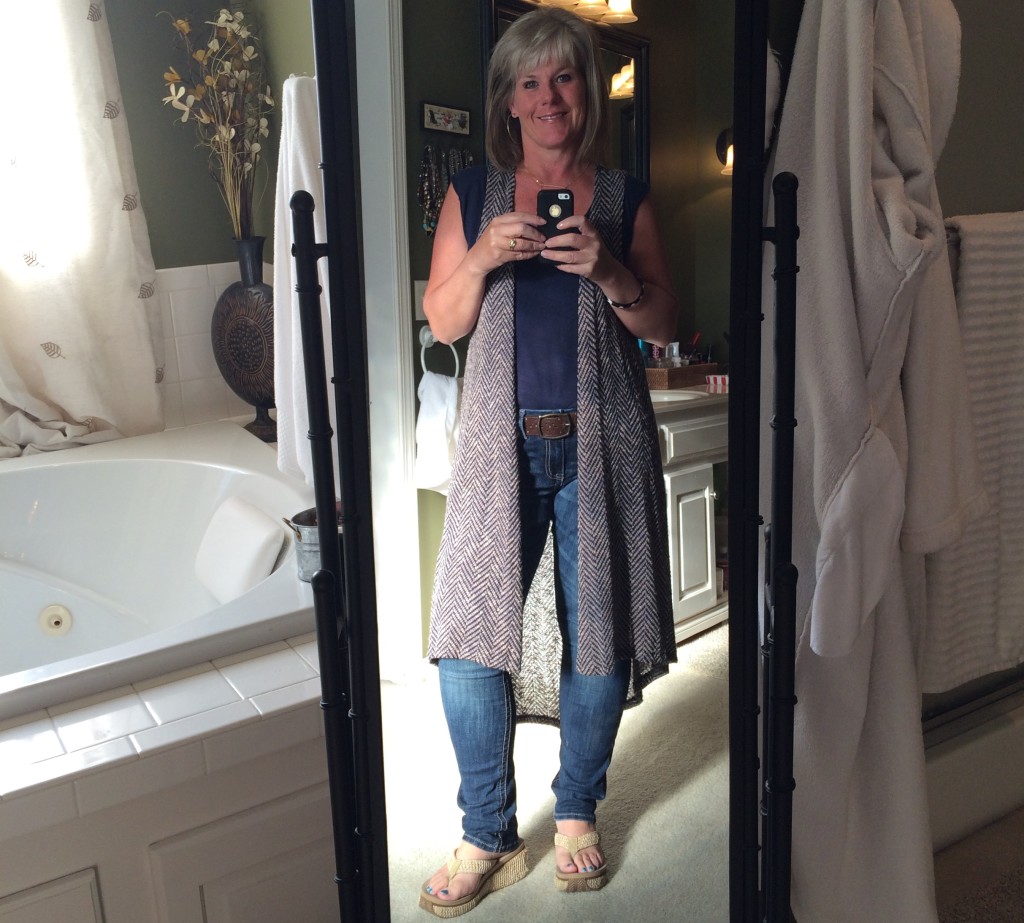 After shopping, I went to a friends house for more shopping at her Bi-Annual Candle and Jewelry party. I bought a few Fall Candles, drank wine, ate snacks, chatted with friends, and bought this cute necklace!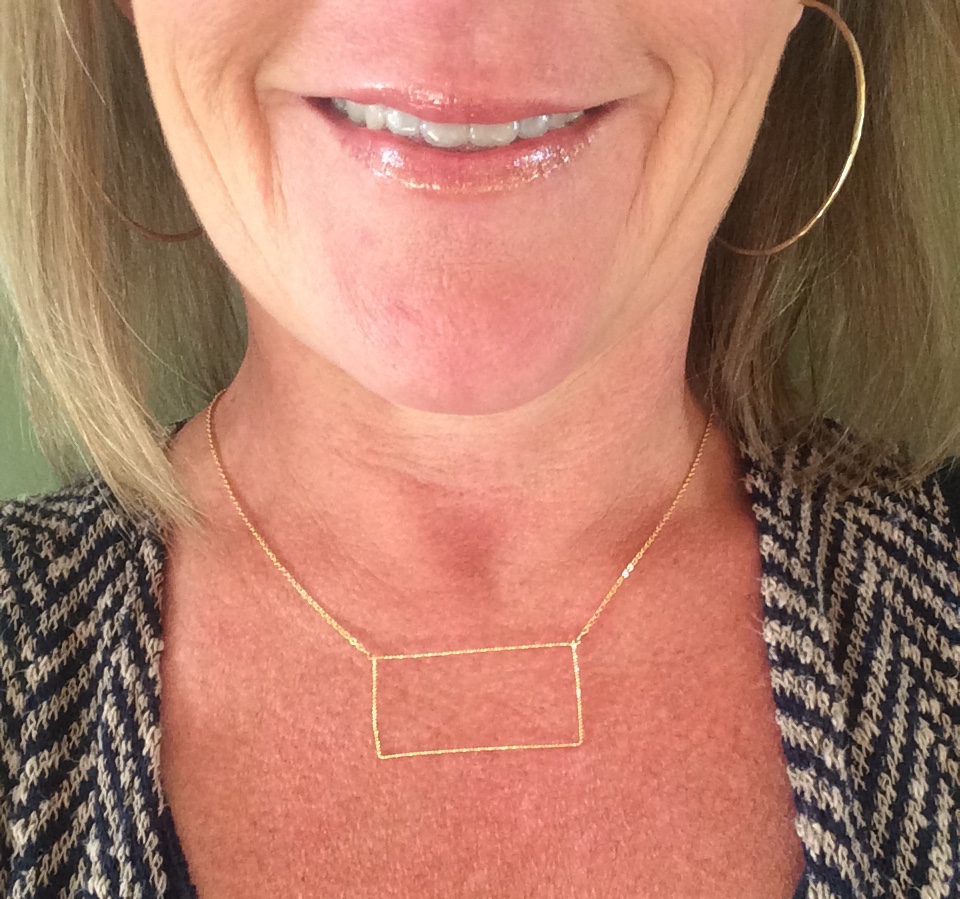 I came home around 6:30 and Mike and I had a quiet Friday night at home watching a little baseball, and the movie "Lucy". Weird, interesting, and more weird. It was only an hour and a half long, so if you're looking for weird, but interesting, I'd recommend it.
Saturday, I met my mom and niece for brunch at IHop. I looked at my WW app and picked out what I would be ordering before I got there.
After brunch, a few more errands, then a little down time in the hammock with Tucker.
After a little down time, a 7 mile walk with a friend. That felt great!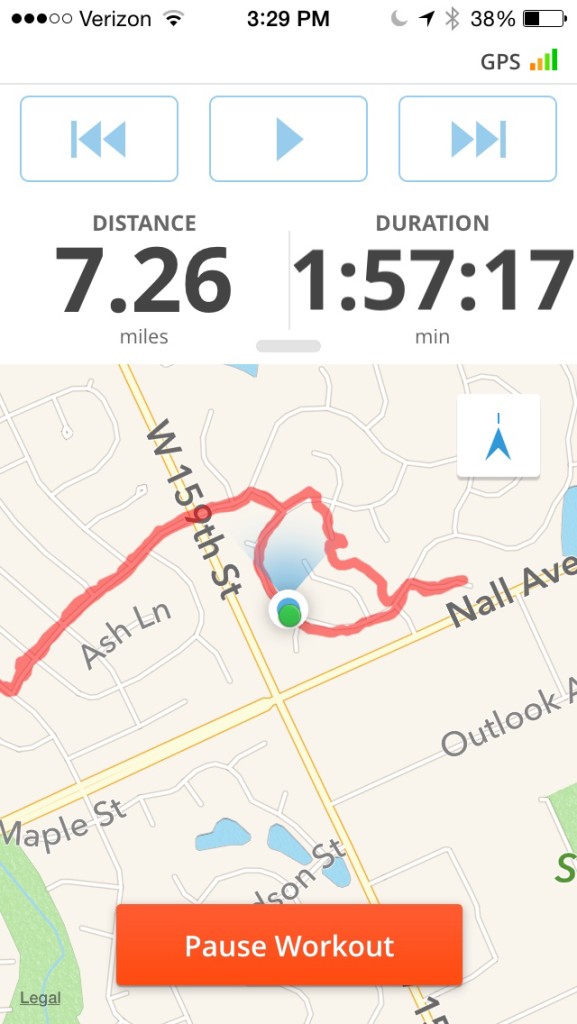 We even decided to battle this hill, going and coming, and it really wasn't all that bad.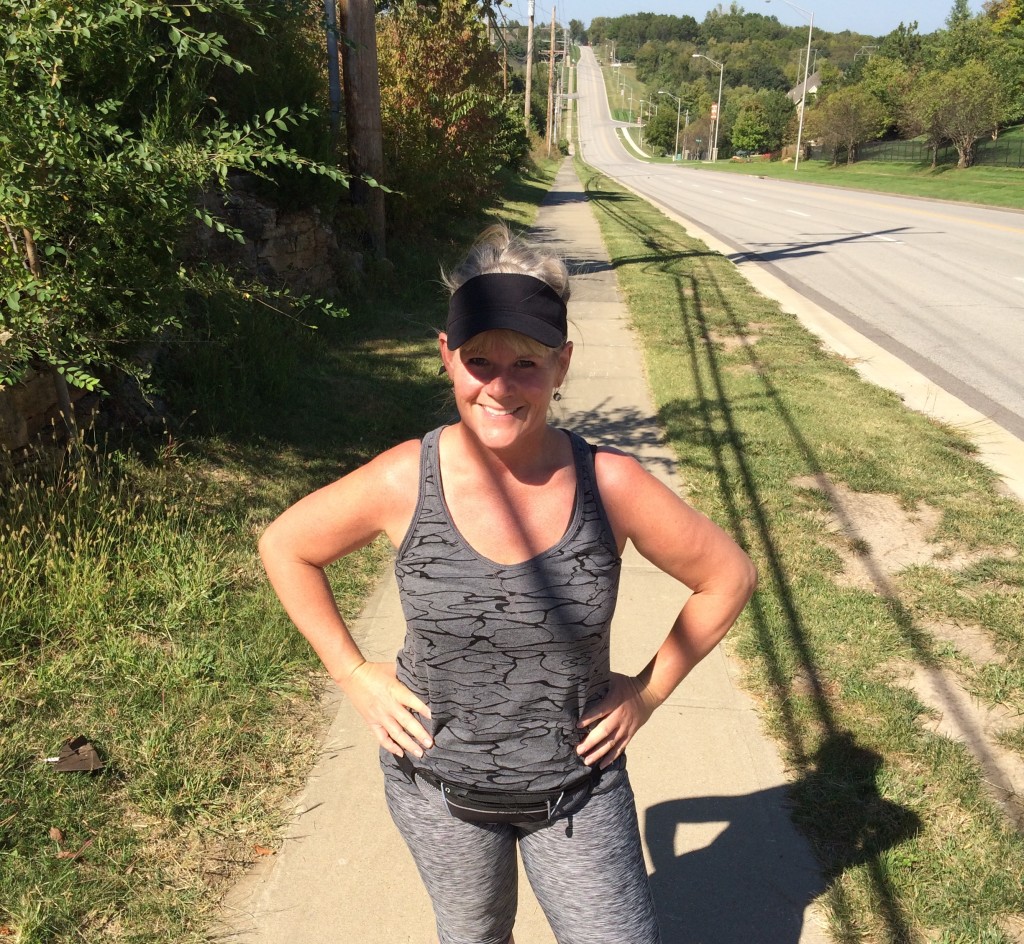 While on our walk, we may have peeked in the back window of a vacant house that was for sale. After I watched Becky climb over this railing, I did it too, but…..uh, I have really short legs and the climb over went a little differently for me. OUCH!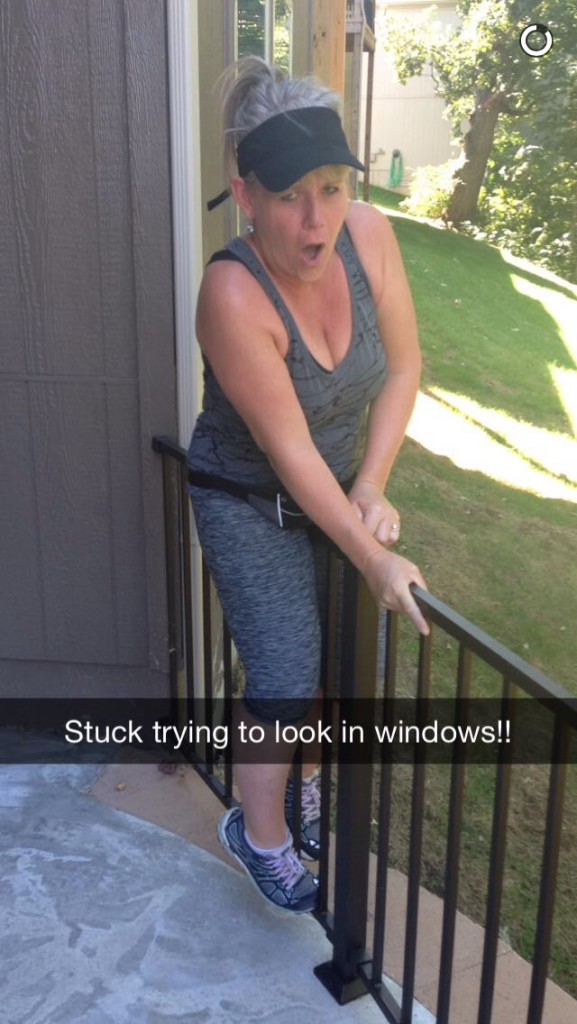 Then, date night with this guy.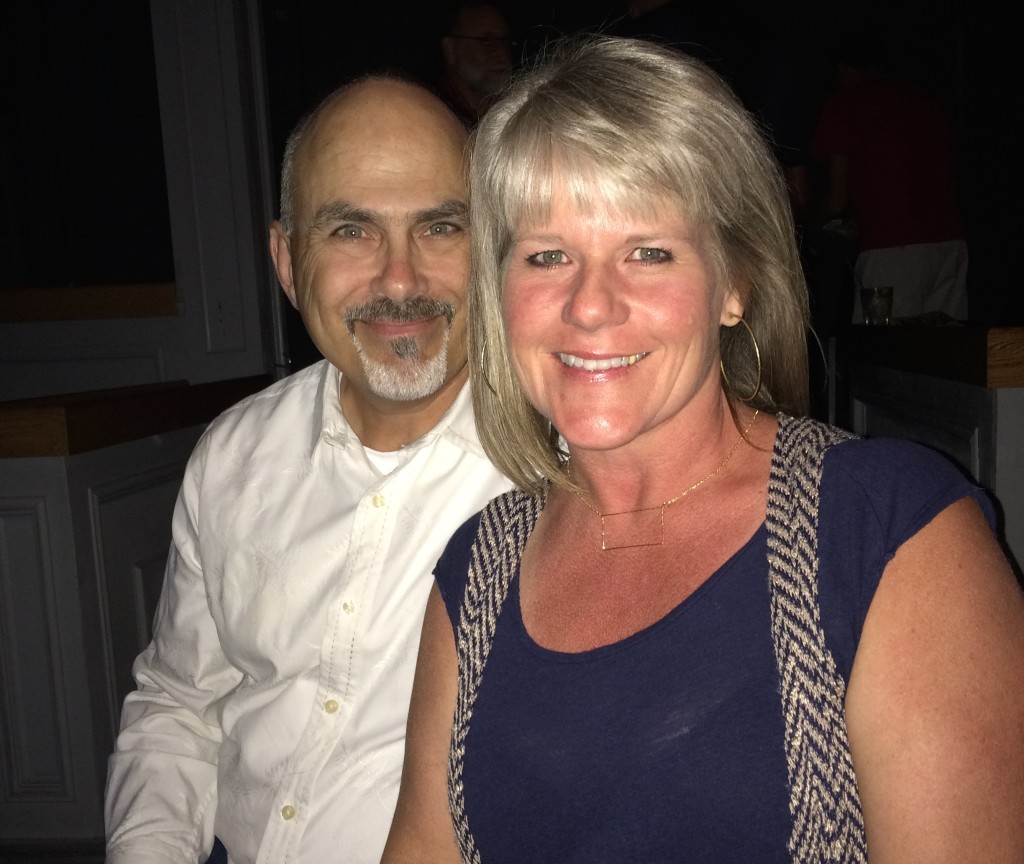 We went to dinner and shared a Shrimp Taco plate that was delicious, then we met a few friends at a bar, then we all followed each other to a little place called Missie B's. We had all bought tickets to the "Black Bewitched", to be performed by the Drag Queens at Missie B's. I really had no idea what to expect, but I had a blast, laughed my butt off and the show was AWESOME!!
I present to you….Samantha, and her mother, Endora. Seriously…..HILARIOUS.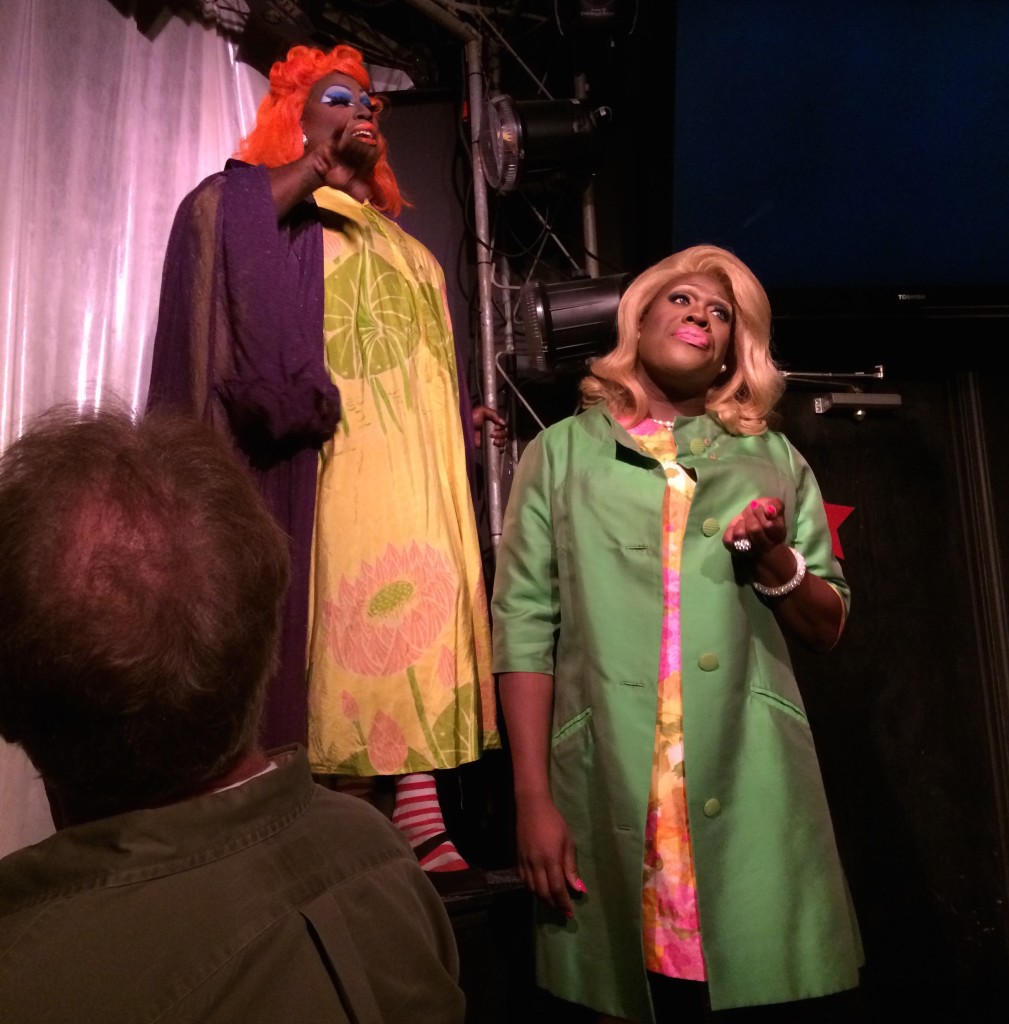 Uncle Arthur, Samantha and Aunt Clara. They all did such an awesome job and the show was really out there, but I could have watched and laughed at Aunt Clara for HOURS!!! My cheeks hurt when we left from laughing so hard.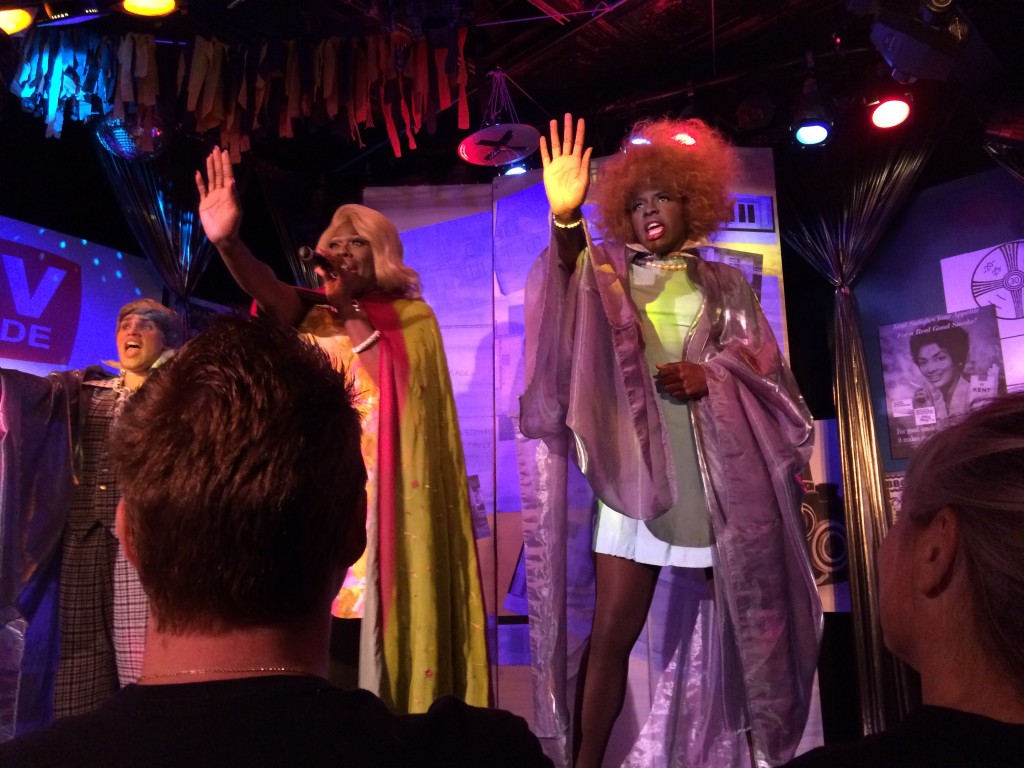 After the show, we made a late stop at a surprise birthday party for a friend of mine from High School. It was a late night, and today is busy and full, but hopefully, early to bed tonight.
I've had my party fun for the weekend, and I ate and drank almost all of my 49 points. I know. What's new, Julie? Anyhow, I'm ready for the week. I'm looking forward to exchanging my daily tracker with my kiddo. I'll get in some Jazzercise and Yoga this week and drink plenty of water.
I hope you all have a Healthy week planned, and that you have a Happy week!
Here are the eats for the last two days.
Friday
Breakfast – 2 PPV
Un-pictured Nonfat Latte
Lunch – 8 PPV
Salad Bar after my WW meeting. Lots of veggies, Chicken, a couple of Tablespoons of Taco Meat, Guac, Salsa and Kidney Beans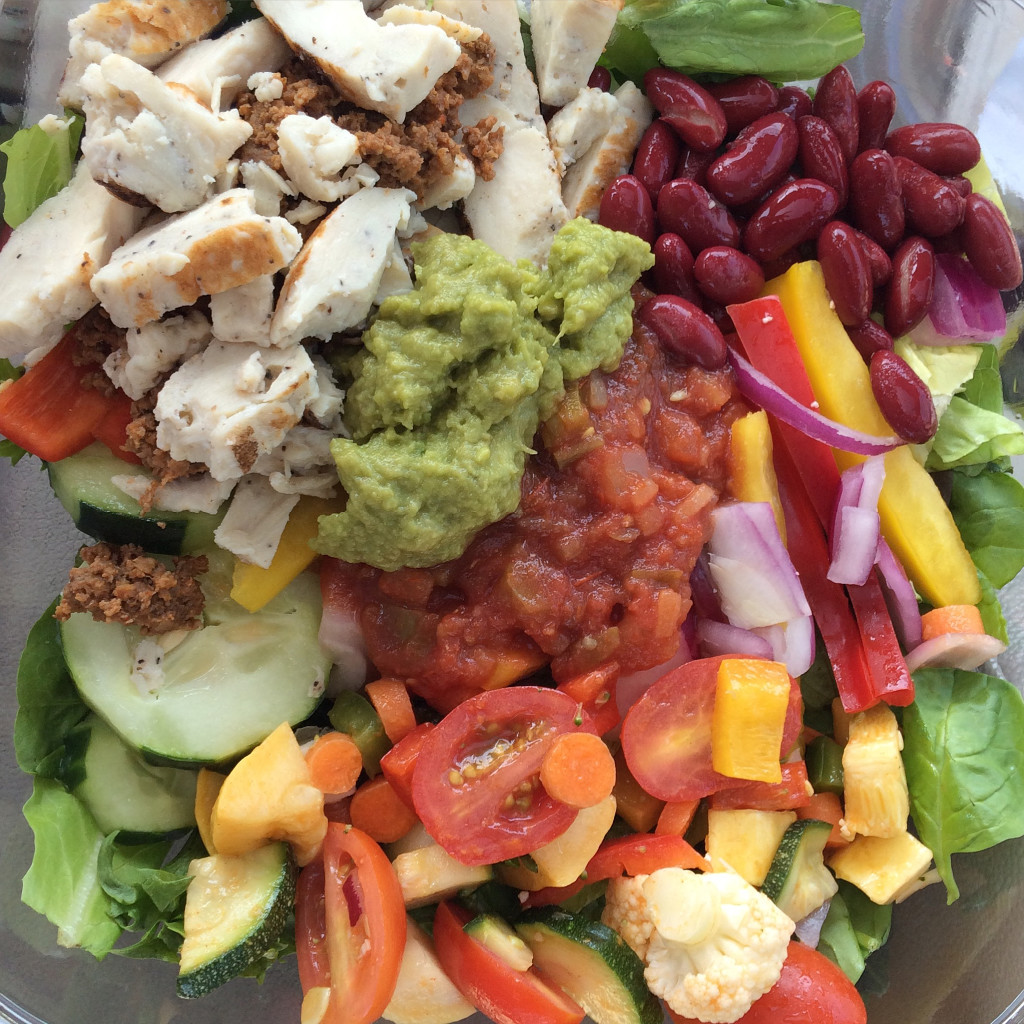 Party Snacks – 29 PPV
Un-Pictured White Wine
I ate a few of the pretzels and crackers with the dip, then I ate a few grapes and started eating the veggies with the dips. This is one of those things where you take a few bites, guess at the points, then add a couple of cushion points, drink lots of water, and move on. That pie plate is basically a Rueben Sandwich in a Dip!!! Yummo!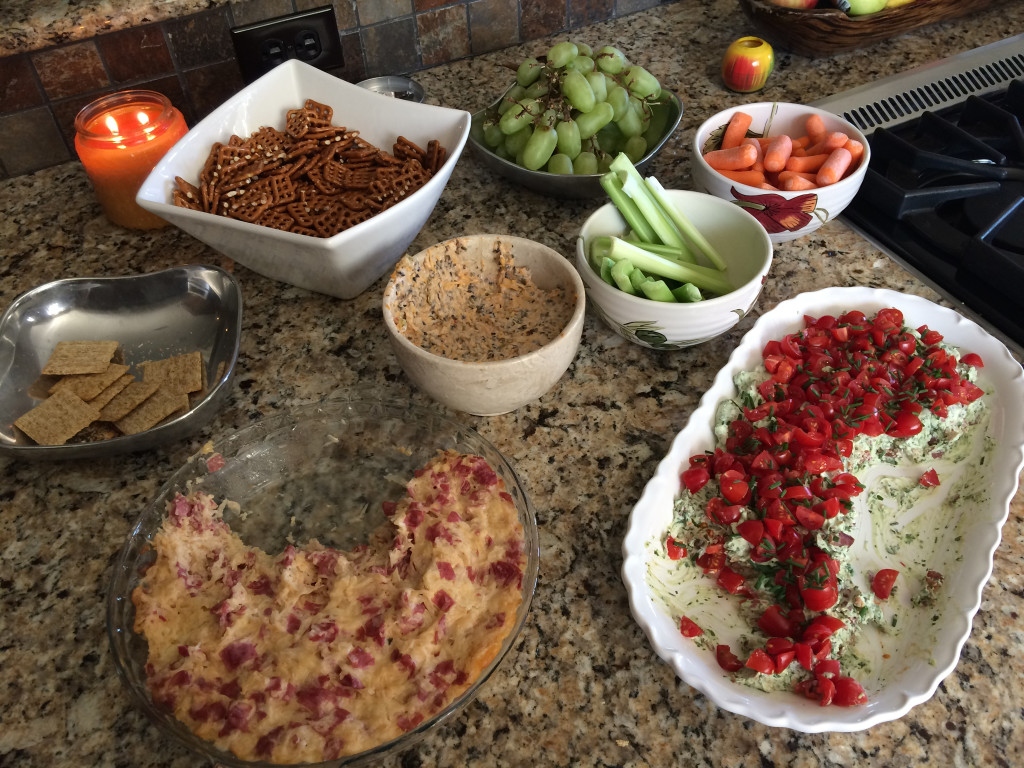 When I took this picture, I was super proud of myself for not having any of it. I love Candy Corn and peanuts. Then I ended up eating some of it! Not too much though. I LOVE Peanut M&M's, but these were just plain old M&M's, so no worries there. 🙂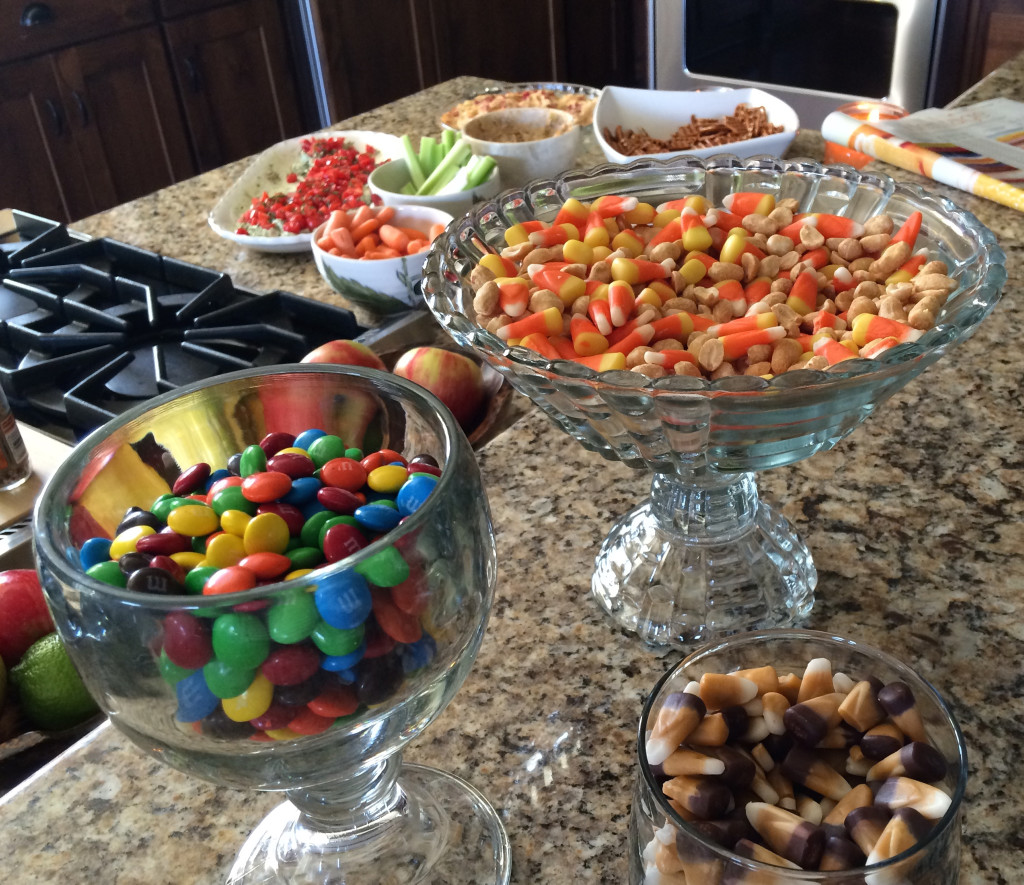 Dinner – 6 PPV
Un-Picture Taco meat on a tortilla at home.
Breakfast = 2
Lunch = 8
Snack = 29
Dinner = 6
Total = 45
Saturday
Pre-Breakfast – 0 PPV
Black Pumpkin Spice Coffee, Banana

Brunch – 11 PPV
IHop Smart and Fit Blueberry Harvest Grain 'N Nut Pancake Combo. The meal is egg whites, turkey bacon and pancakes and is listed in the WW app as 11 points. I substituted the Turkey Bacon for fresh Fruit, but still counted it as 11 Points because I put a little syrup on my cakes.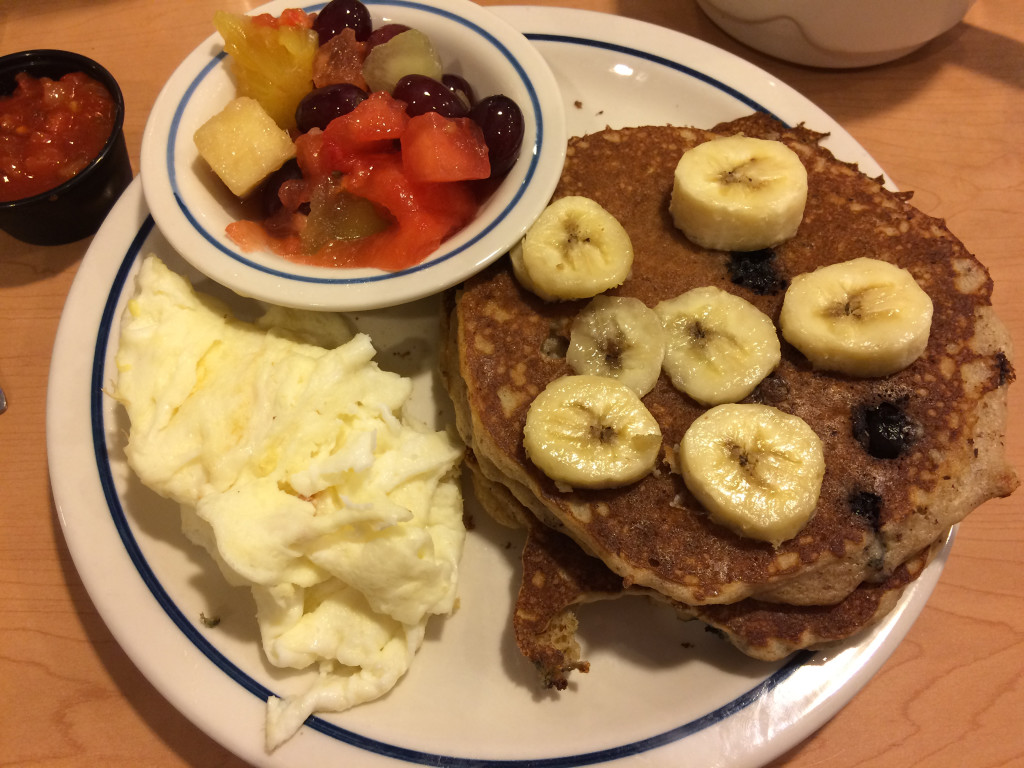 Snack – 0 PPV
Fruit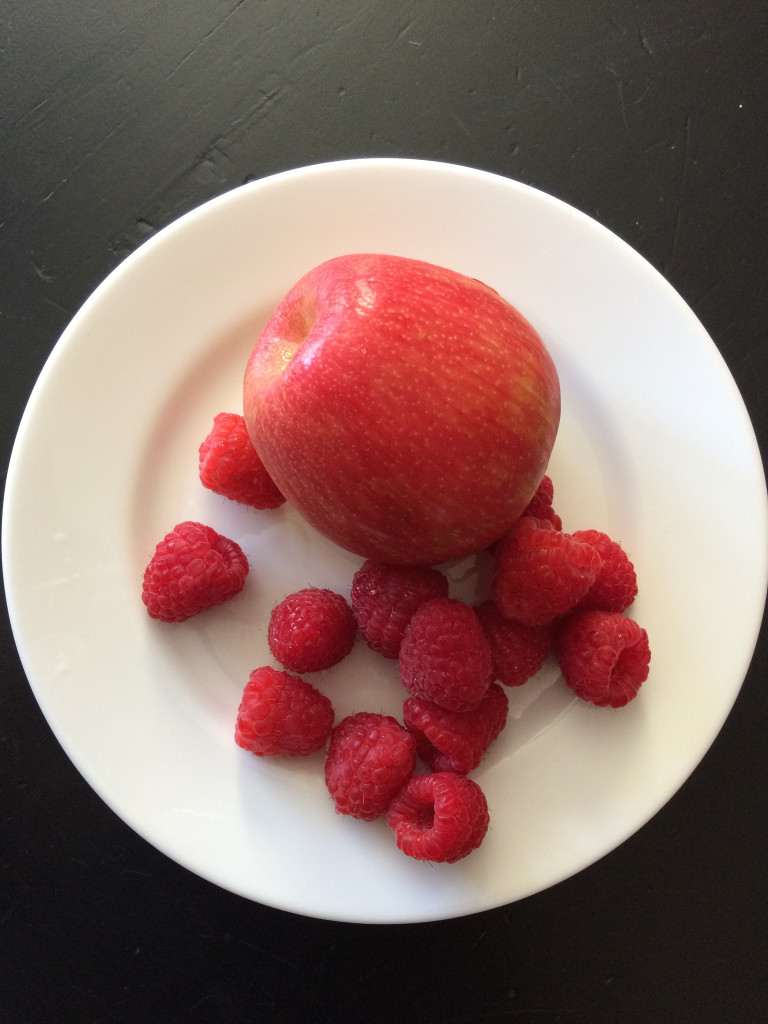 Dinner and Drinks – 39 PPV
Mike and I shared the Shrimp Taco dinner along with a few Chips and Guac and a beer. I had two bites of rice and two bites of black beans
We met friends at a bar after dinner for a beer, then we went to the play, where I had more beer, then to a party, and more beer. I tracked it all!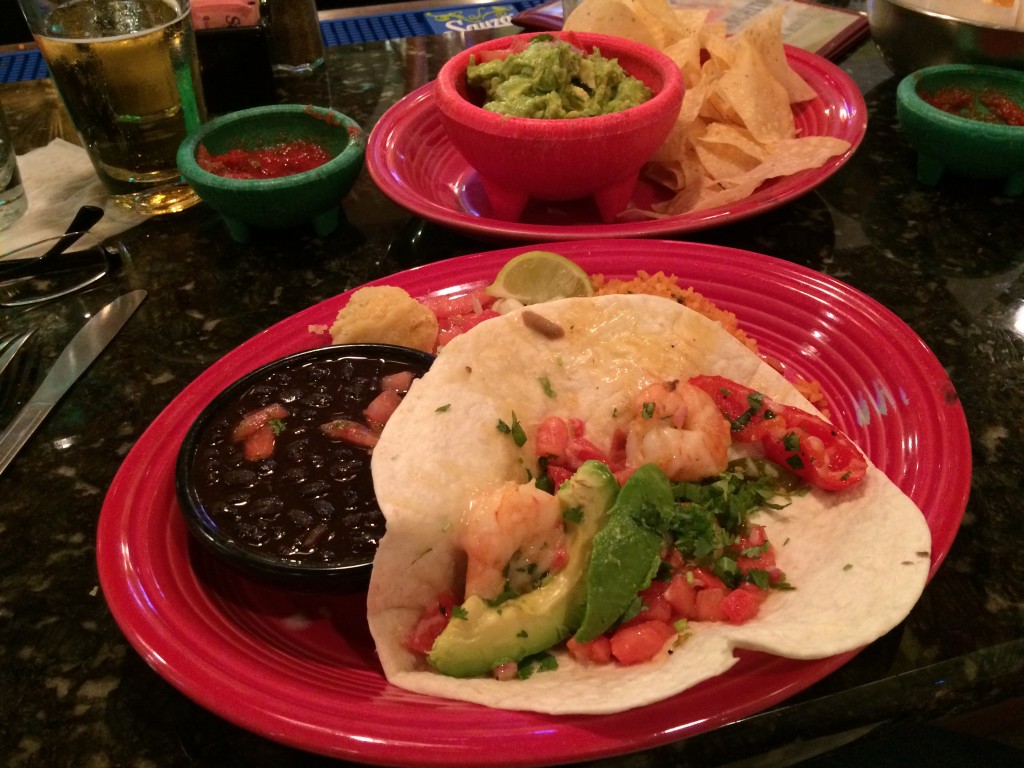 Breakfast = 11
Snack = 0
Dinner = 39
Total = 50
Weight Watcher's Points Plus
I can eat 26 PPV a day.
I can earn Activity Points by doing exercise, and eat them if I choose.
I have an allowance of 49 extra points that I can dip into throughout the week if I choose.
I should drink a minimum of 6 (8 oz) glasses of water each day.
My Weight Watcher Week Begins on Friday's
Exercise = Friday – None. Saturday – Walked 7 miles
Activity Points Earned This Week = 10
Activity Points Remaining This Week = 10
How many ounces of water I drank for the day = both days….more than 50, but less than 100?
Remaining points from my 49 Points Allowance = 6
This is What I Will Accomplish in 2015
I will choose one occasion per month for Social Drinking (um..this is a work in progress)
I will go no more than two days in a row without exercise. (I've done "two a day's" to make up)
I will track every single day of the entire year. (I've only NOT tracked a few weekends this year.)
I will run in a minimum of six 5K's. Three down, three to go!
(I've used this one a few times, but it just says so much!)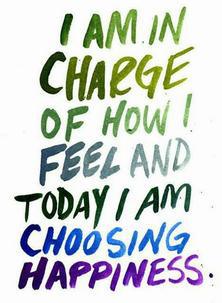 "love the life you live, live the life you love"