I've been calling it "The Exercise Room", and now I've decided (although it's small and really only has a few things in it) to call it our "Home Gym".
I always have fun doing a project, and I'm already pondering what the next one will be. I've been slowly painting each room upstairs, all lighter colors. Now I might have to lighten up the dark red bathroom upstairs, and the brown bedroom. Oh, and the entry and hallway. Or maybe……I'll build that Barn Door that I've been wanting to build for the opening between the Master and the Master Bath?
Okay, here's my little room. The only thing in here was a weight bench, a few weights, those two mirrors and a treadmill.
Before…Wall One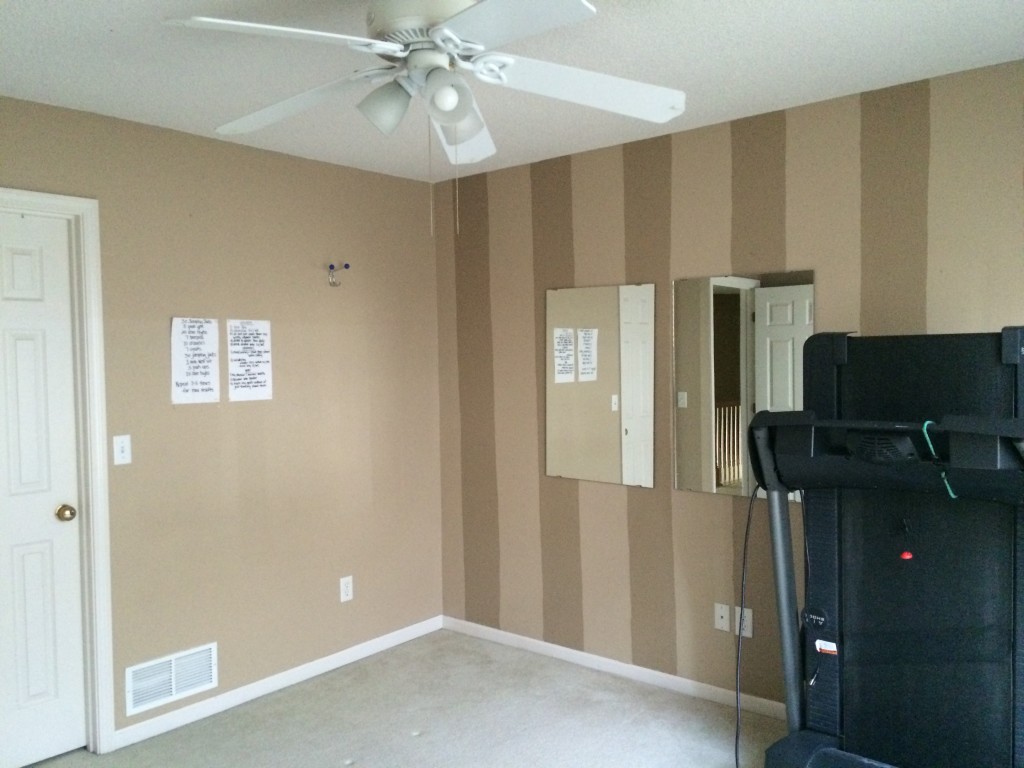 After…Wall One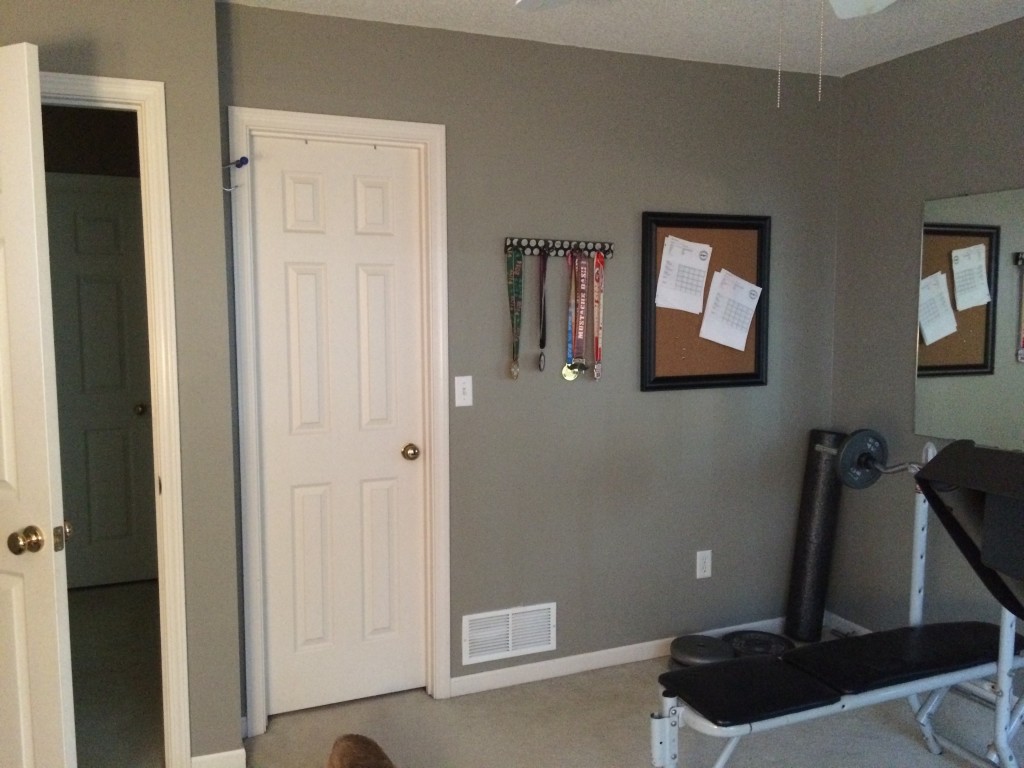 I collected a few 5K Medals last year, and what better place to put them than in the Home Gym? I pinned up a few old workouts that I had saved from when I had a trainer. Now I have options, and a room to do them in. No excuses, right?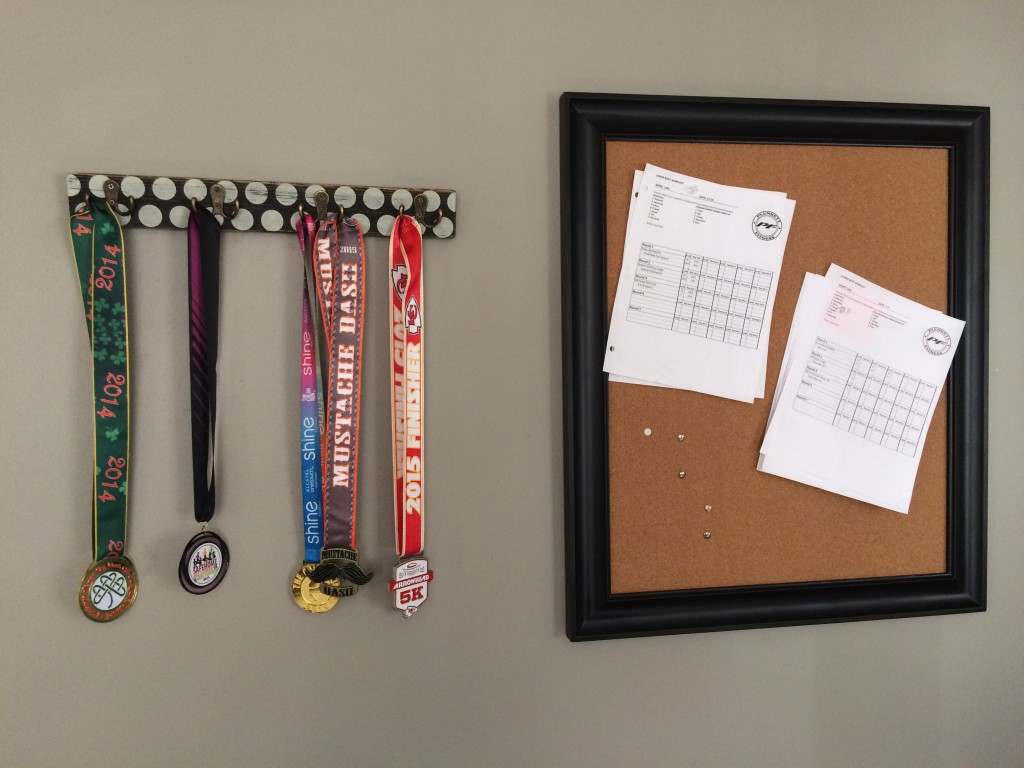 Before…Wall Two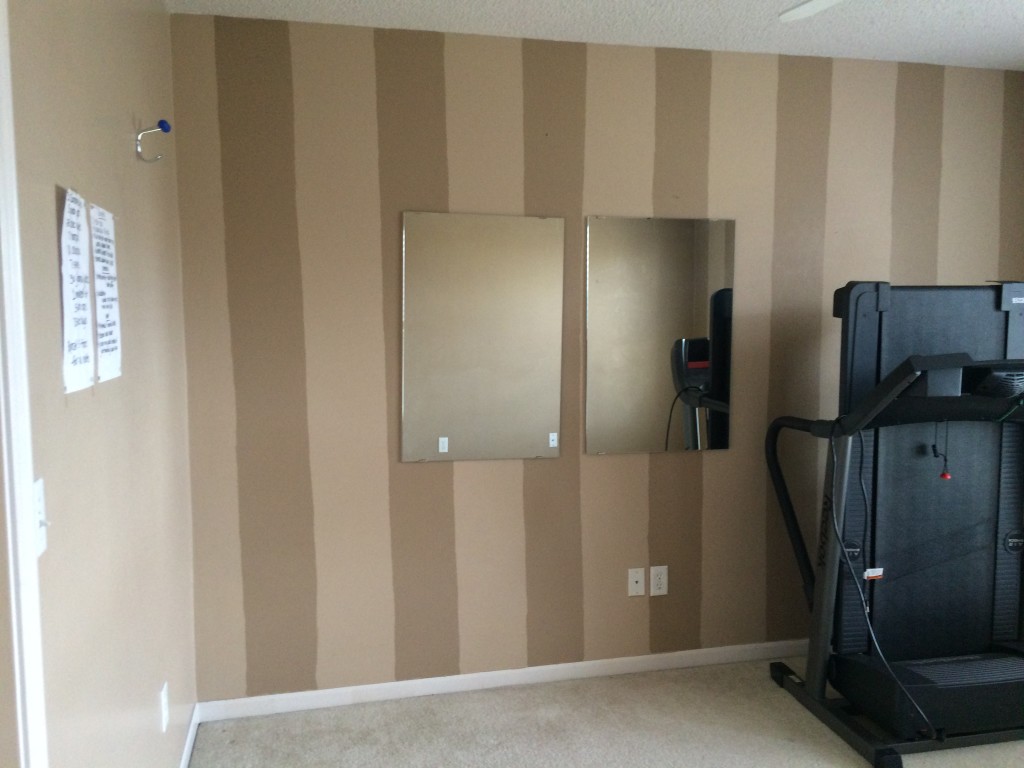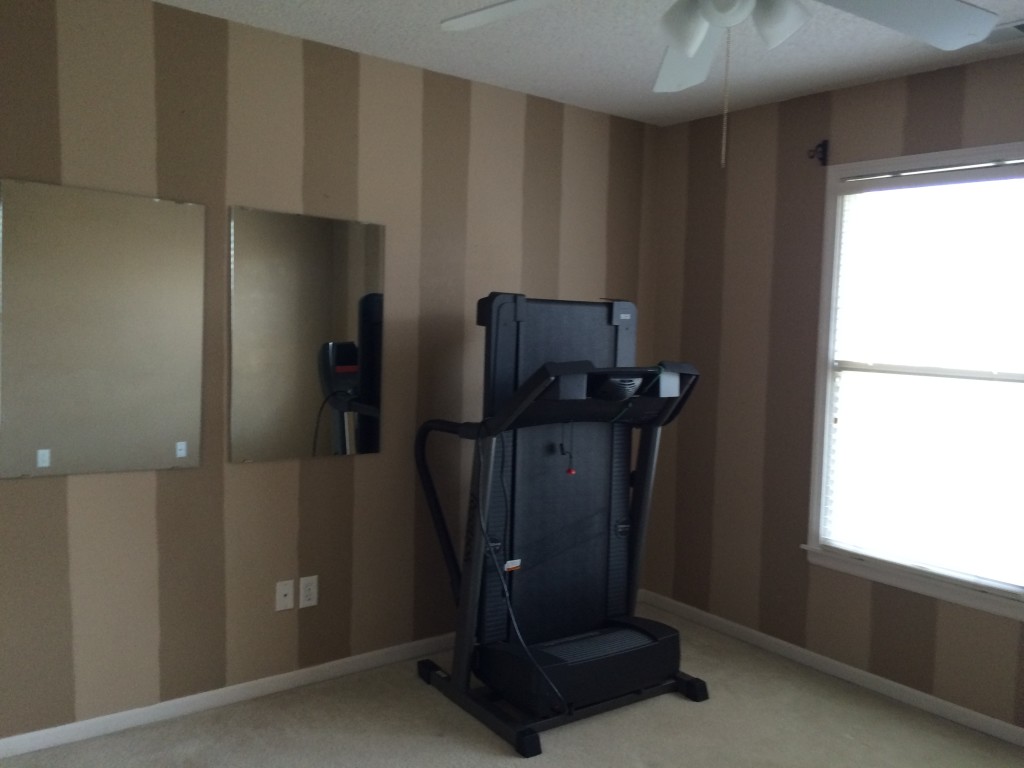 After…Wall Two
I already had the two 2'x3′ mirrors, so to make a good mirror wall (cuz it's a gym guys) I bought a 3'x3′ mirror to put in the middle to fill up my wall.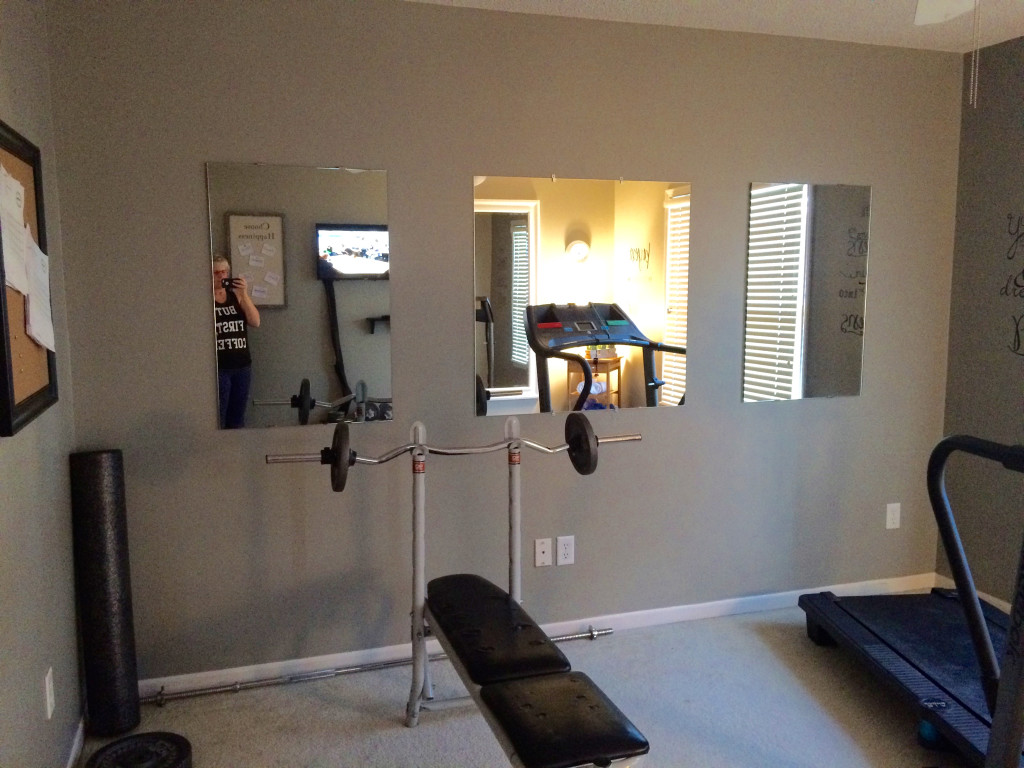 After…Wall Three.
I love the corner with the cart in it. I put a few old fitness magazines with some great workouts in the little basket (that I already had) on the floor. Maybe I'll do those workouts now?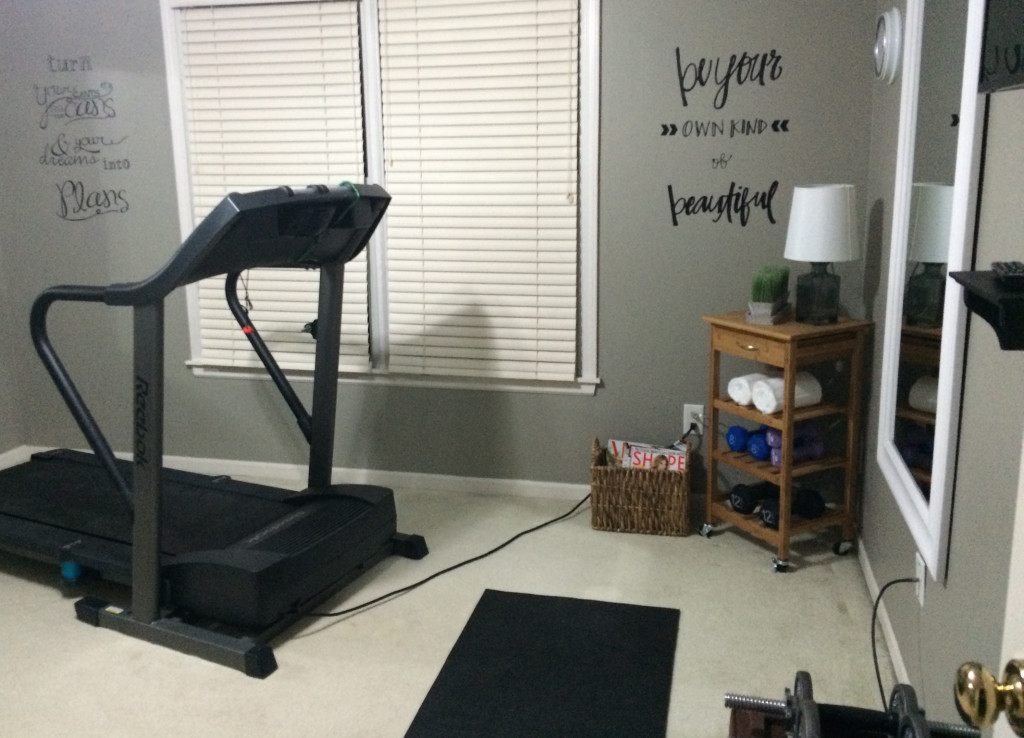 I found these at Hobby Lobby. So simple!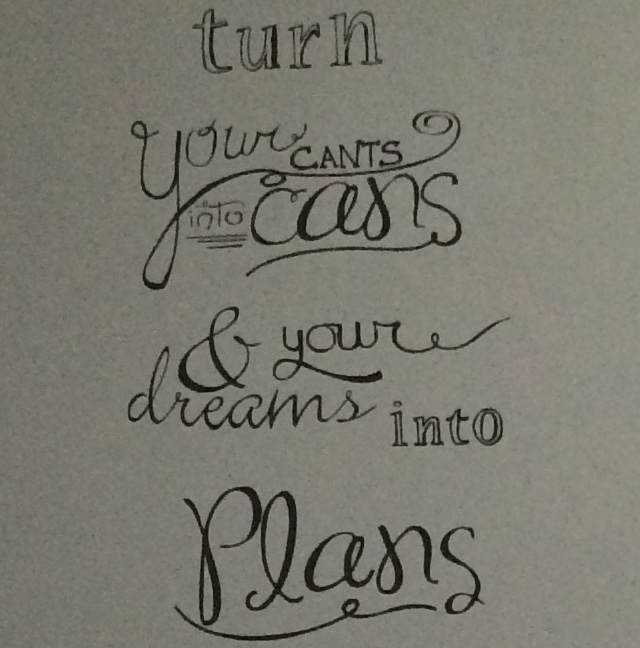 Love them.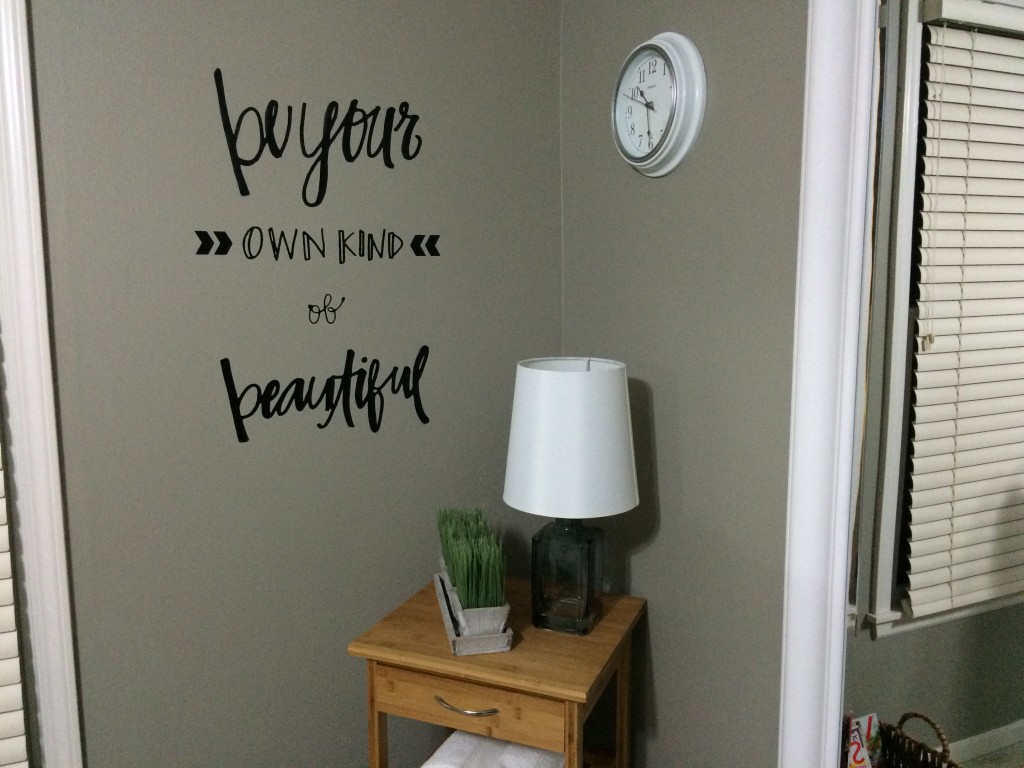 Before…Wall Four
The corner you are looking at in this picture (the same corner that is in the above picture), is my favorite area of the finished room.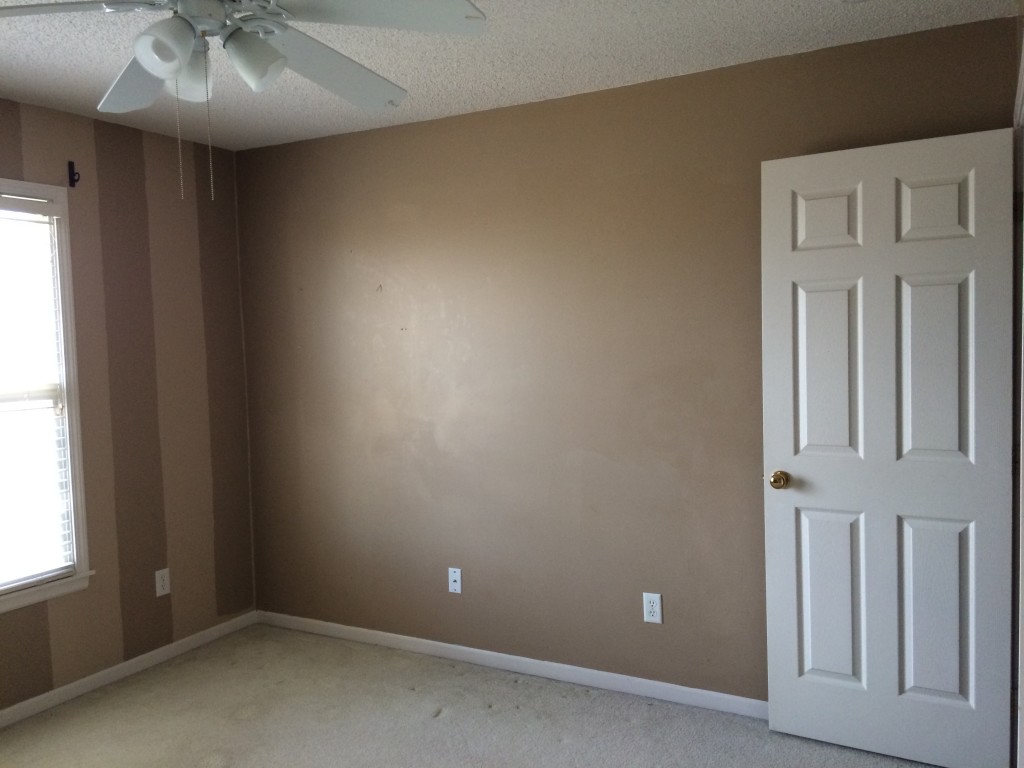 I love the large mirror that I found at Home Goods…$79. That stinker is super heavy and hanging it was no easy task. It was one of the few things that I bought for the room, besides the TV. I spent yesterday mounting the TV, then trying to figure out an inexpensive way to hide the cords hanging from it. Behind that TV, are nine nail holes. For the life of me, I could not find the dang stud. Found it!
I went back and forth on whether or not we really needed a TV in here, but after finding so many Exercise On Demand Videos that I really liked, and figuring out all of the options I have with a SmartTV (You Tube Exercise Videos, Netflix show's that I can watch that Mike's not interested in, etc) I decided that it was a good investment. Mike thought a TV in here was a good idea, which tells me he plans to use the room too! Yay!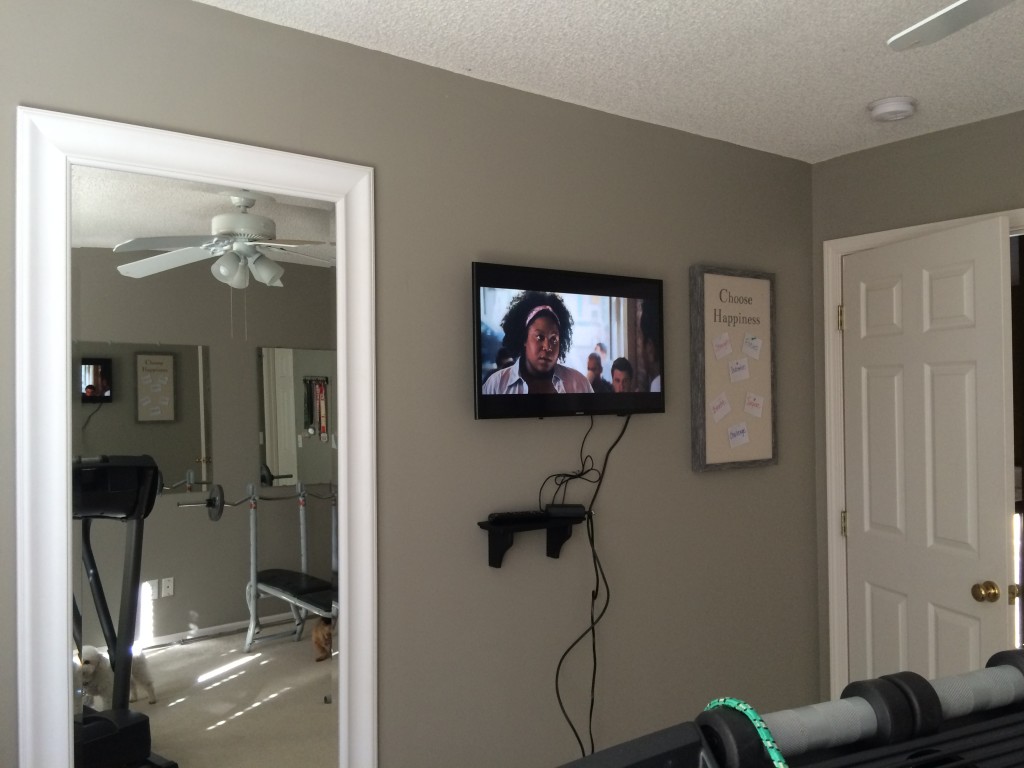 I love the little cart that I also found at HomeGoods. I also bought the lamp there. I wanted the cart for a place to set my hand weights, and it was perfect. It's also a great place for a few towels when I work up a good sweat! I had the small black shelf that is below the TV, so I hung it for a place to keep the remote. The brown storage basket below the TV was in the basement. The Grandkids use it a lot. They're gonna wonder where that went.
Here's an early evening view. I think I love looking at this wall.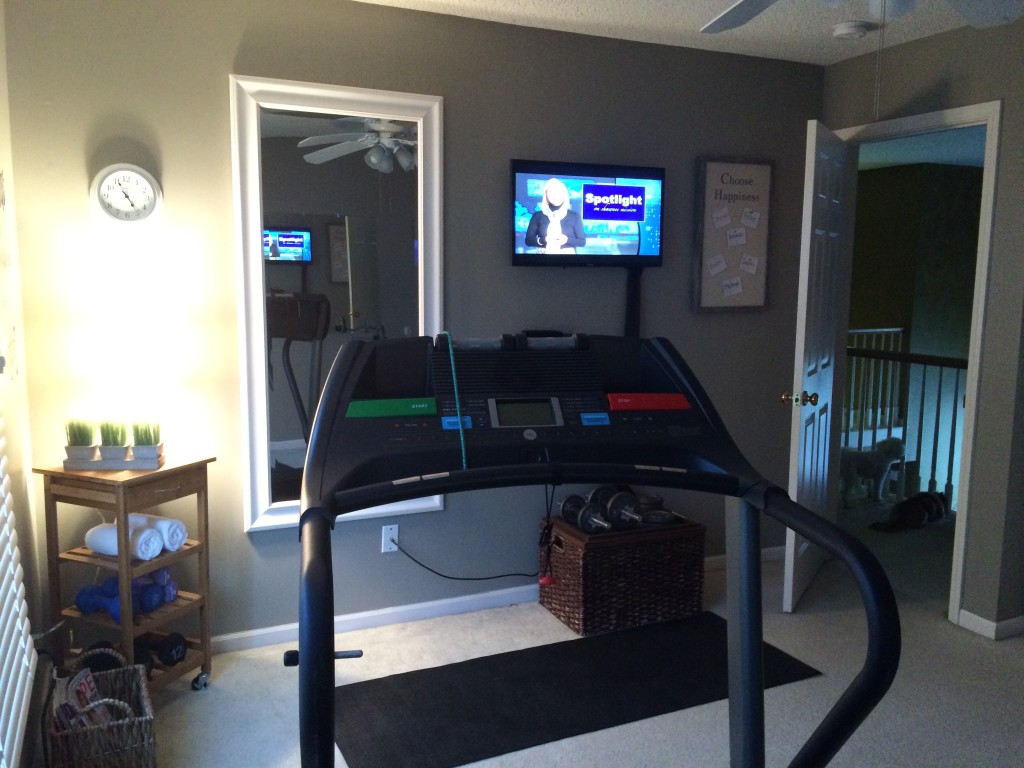 How cute is this? I'll change it up with different encouraging and positive words, and maybe a few beach vacation photo's.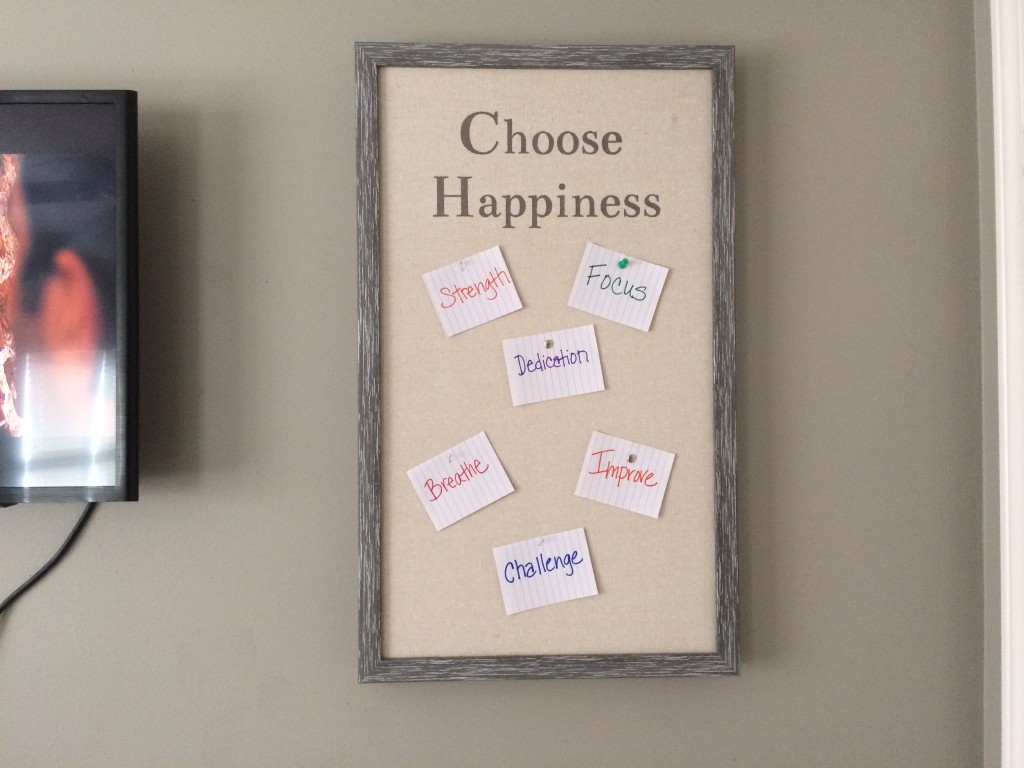 After I hung the TV, I knew I wouldn't be able to look at those cords hanging there.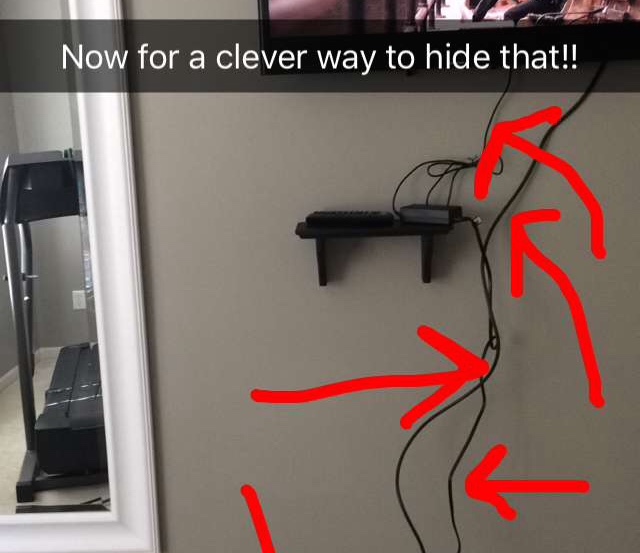 This is where the brown storage stool from the basement came in handy. I placed it in front of the outlet. I remembered that I had a dark gray pair of tights that I have never worn, so I cut the toes out, pulled the cords through, and decided that it worked for me! Mike thinks I'm a big goof.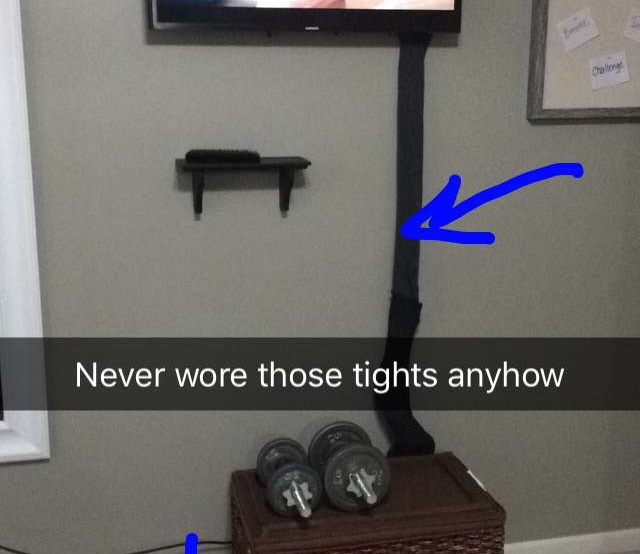 That's it. Now I'm off to put that room to use!
I've been eating well, but terrible about tracking my points. Here are the last two days of meals, with no points.
Tuesday's eats….
Breakfast
Chicken Apple Sausage, Veggies and Eggs. Berries and Black Coffee.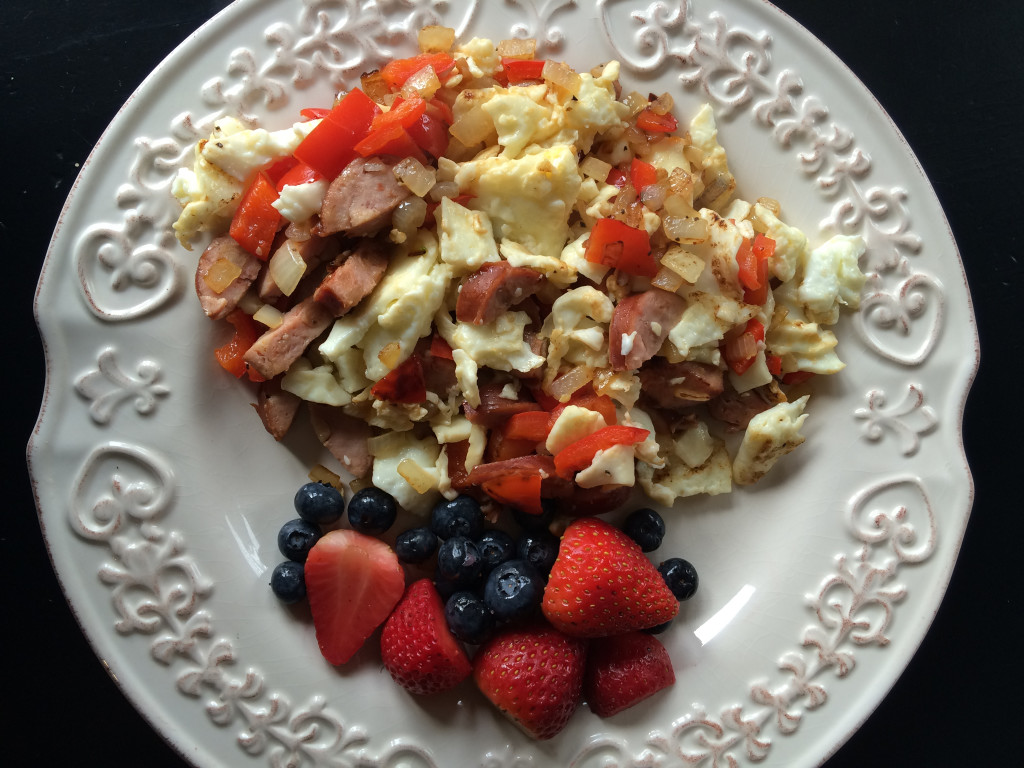 Lunch
Tuna/Egg Salad and Veggies.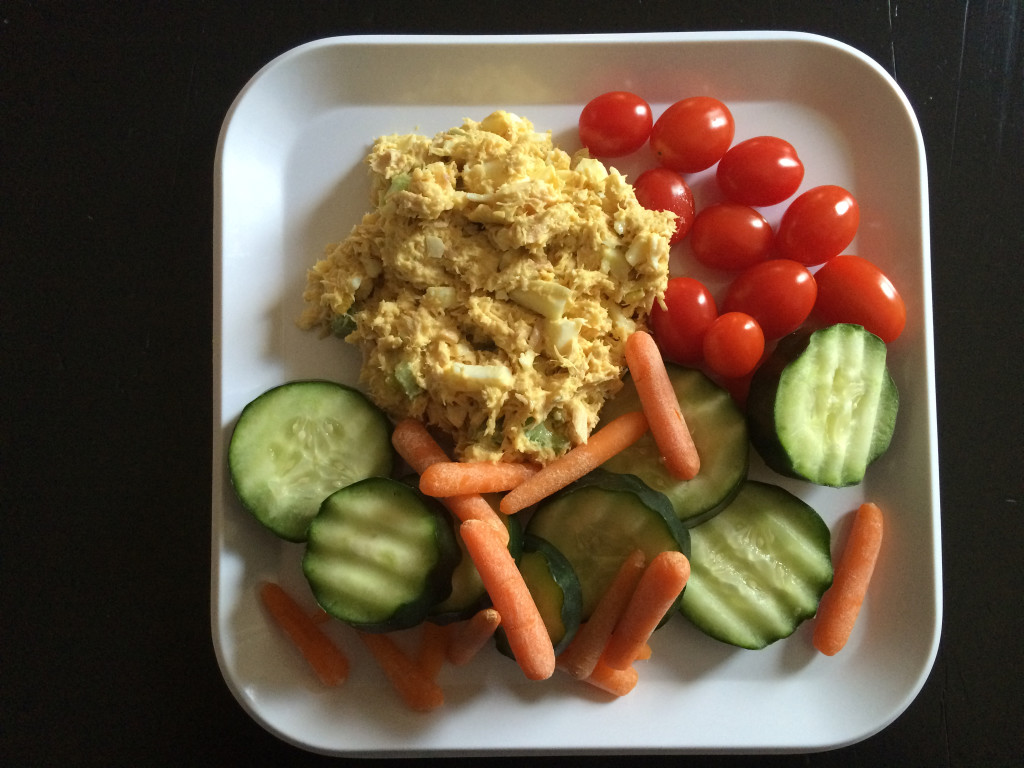 Dinner
Cod with Fish Taco Seasoning over a bed of Cilantro Lime Cauliflower Rice topped with diced tomatoes and smashed Avocado with a few Plantains.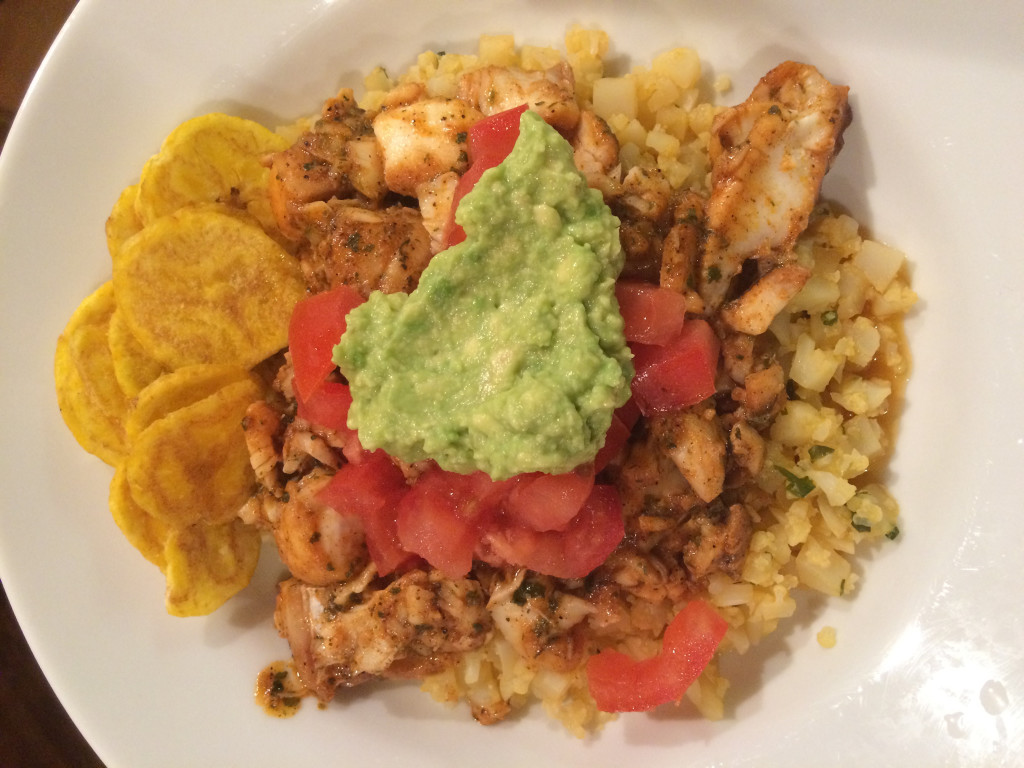 Yesterday's eats…
Breakfast
Veggie and Egg White Scramble, Fruit and Black Coffee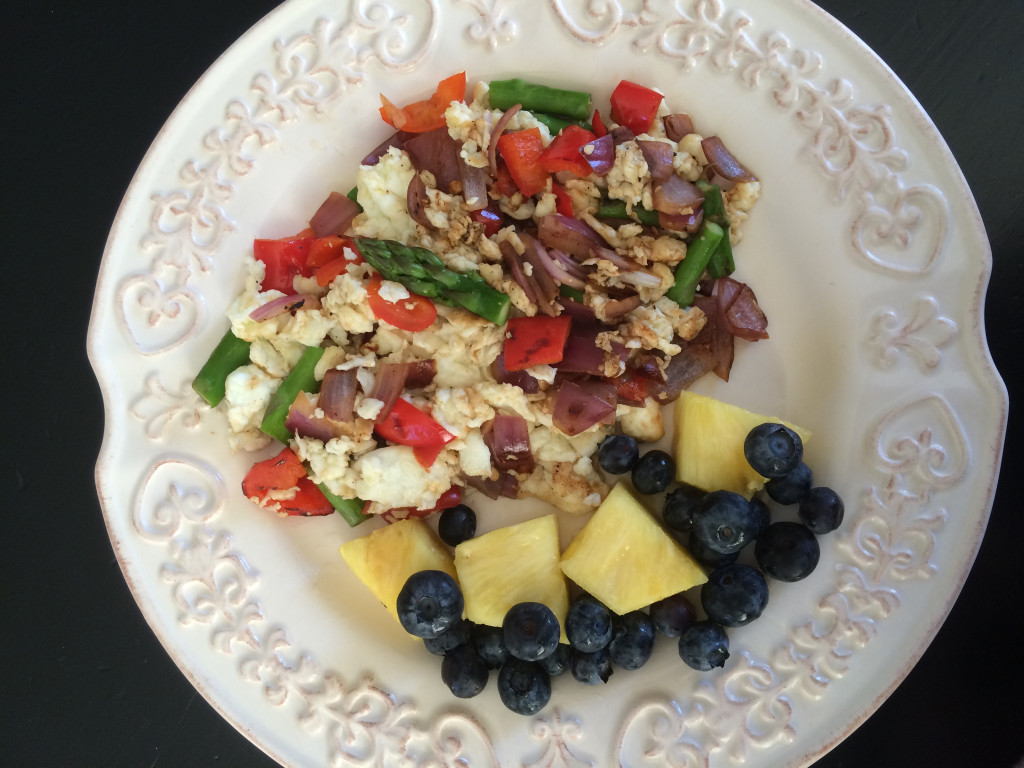 Lunch
Tuna/Egg Salad, Veggies, Plantains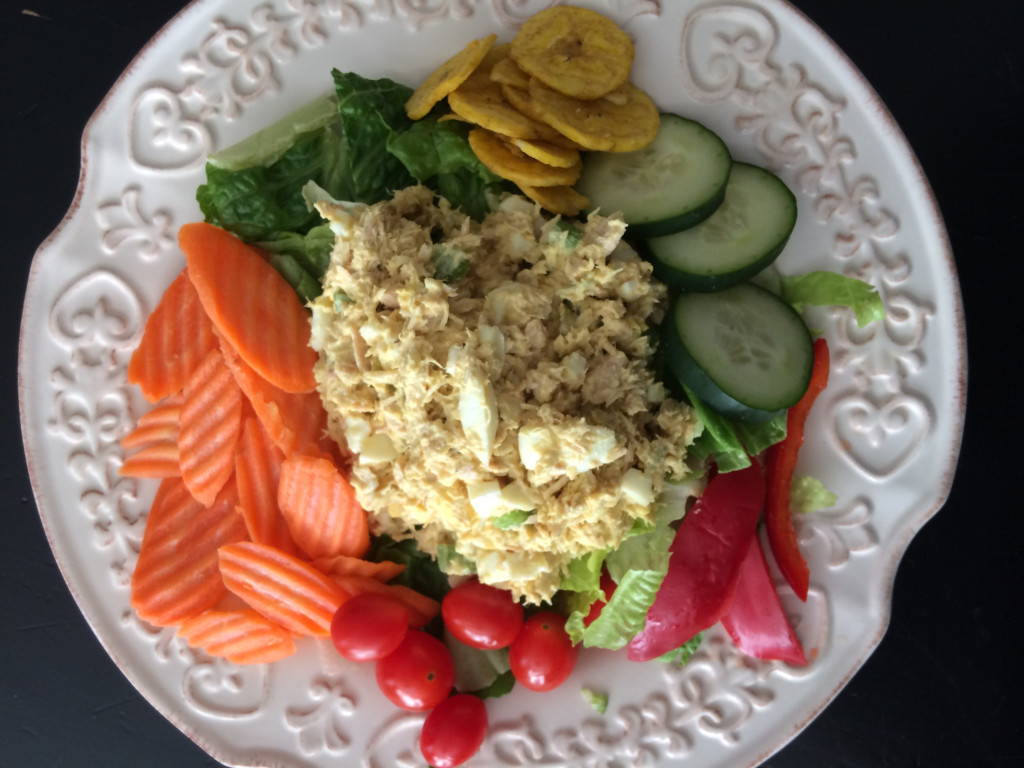 Dinner
Meatloaf (the recipe called for hard boiled eggs in the middle, so I gave it a try. Not a fan, but Mike liked it.) Whipped Cauliflower with Bacon Crumbles (yummm), Grilled Asparagus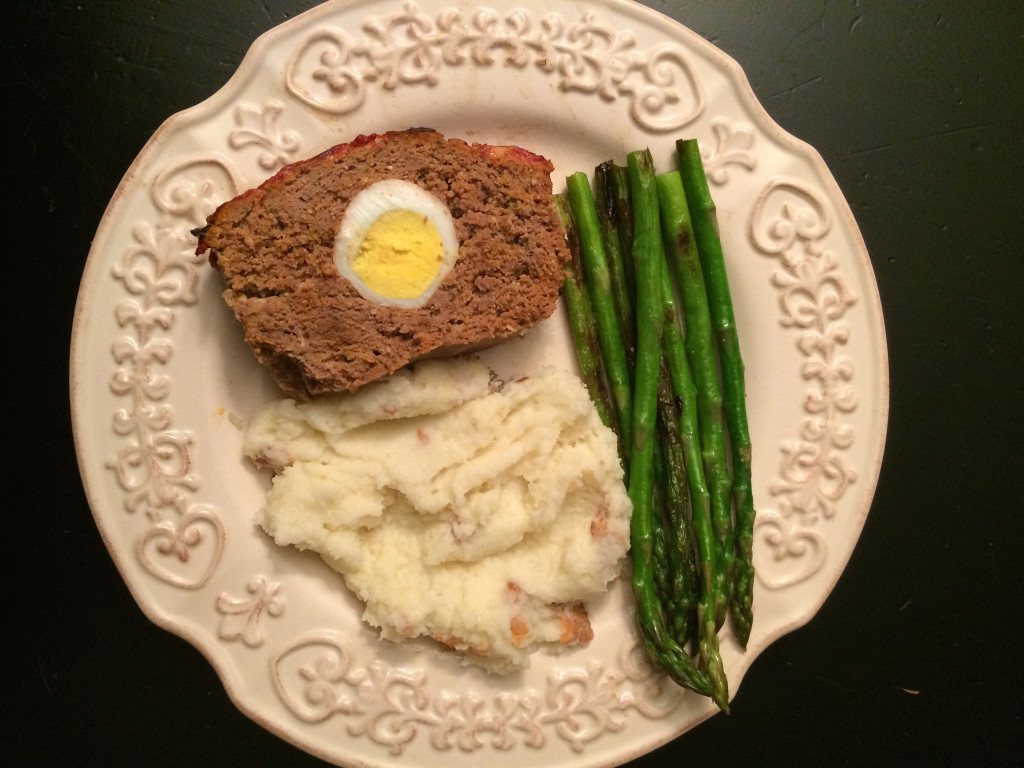 "love the life you live, live the life you love"