I am never trying to beat myself up when I write a blog post like the one that you are about to read. Writing my blog (journaling) has taught me a lot about myself. When I get my feelings and thoughts out of my head, and down on paper (or here on this screen), it helps me solve my problems and it helps me to move forward, sometimes it just takes a little longer than others. I have journaled since grade school, and it's just how I figure my shit out. If it helps you figure your shit out too, then that's one of the benefits of me sharing. While I am not beating myself up, I am recognizing my struggles, and I am sharing my thoughts and feelings.
I know for a fact that sugar and alcohol are to blame for my recent struggle to get back on track like I would like to be. I know the steps that I need to take, and I'm trying hard to take those steps and to do what needs to be done. Yesterday ended with good results, but it was not easy as I fought sugar cravings and the desire to binge all day long.
When I get in this rut, this bad place, off track…whatever I want to call it…..I know that one day at a time is my best plan of action.
Saturday morning, I met my mom and niece at IHOP for breakfast, and I teeter tottered so much about what I would order while I was driving there, I annoyed the hell out of myself and gave myself a headache. I knew that I was going to struggle with the pancakes, crepes and french toast temptations once I got there. The desire to shove a plateful of carbs into my mouth was strong!
While driving, I had decided to order poached eggs and fruit, knowing that my brain was not convinced that I was actually going to do that. I ended up ordering poached eggs and hash browns with a plan to eat half of the hash browns. When I placed my order, the waitress pointed at a picture of what I had ordered on the menu and told me that it came with my choice of French Toast, then showed me a picture of a plate of Peanut Butter Banana French Toast. I looked at my niece and asked her if she would eat some of it, since she had talked about ordering pancakes AND French Toast. (She goes to the gym all the time and has a killer bod, and she is 22.) I knew what I really should have done was order my eggs and potatoes ala carte and say "no" to the French Toast all together, but I did not do that. My food came, and I ate all of the hash browns (with ketchup, which I haven't had in forever because it has SUGAR in it!!!) and then I ate half of the Peanut Butter Banana French Toast.
I haven't been this tempted by sugary stuff in a long time, and I know that because I brought sugar back into my diet, it's now causing me to have cravings, and I am fighting it, and right now I am losing the fight.
That was a lot of detail about my Saturday morning food decisions, but that's just one example of the food demons in my head these last few days. At 5:00 pm, I ate Chicken and Veggies, then drank wine.
Sunday morning, I decided that no matter how difficult the day would be, I would make choices that would allow me to go to bed feeling satisfied and happy with myself, not frustrated with myself. I made a menu plan and a grocery list and went to the store. I was having major anxiety while grocery shopping. That hasn't happened in a really long time. I was all over the grocery store, thinking about things that were not on my shopping list, and avoiding the things that were on my list. I just wanted to go to the bulk bin and grab some chocolate. I knew that eating any chocolate would only make my cravings worse. I made it to the check out without buying any chocolate, or any other trigger foods. I bought enough groceries for dinner, and came home.
I ended the night with one glass of wine.
Today, no wine and no sugar.
You guys, sugar is the devil.
One day at a time.
Here are yesterday's eats……
Breakfast – 6 SP
Sweet Potato Rounds, 1 Slice Bacon, 5 Scrambled Egg Whites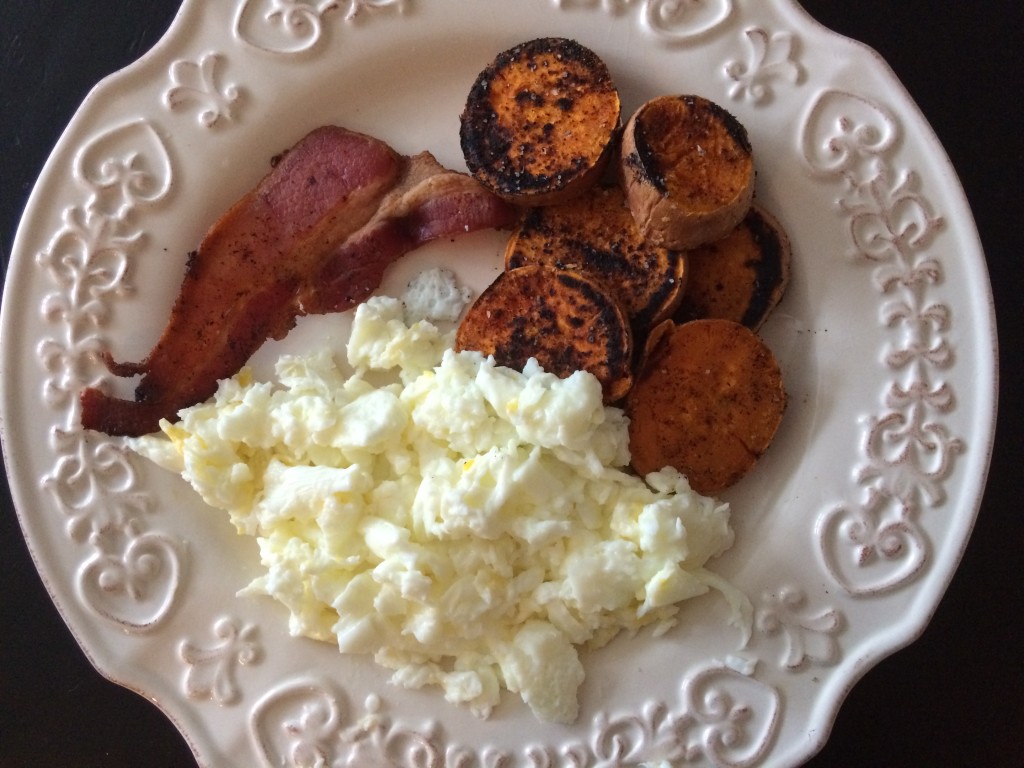 Snack – 2 SP
One Apple Sliced, 1 T Water, 1/4 tsp Cinnamon in a vented baggie and put on a microwave safe plate for 2 minutes.
1/2 C Frozen Blueberries in a bowl in the microwave for 1 minute.
Topped with 2 tsp Almond Butter.
This did satisfy my sweet tooth.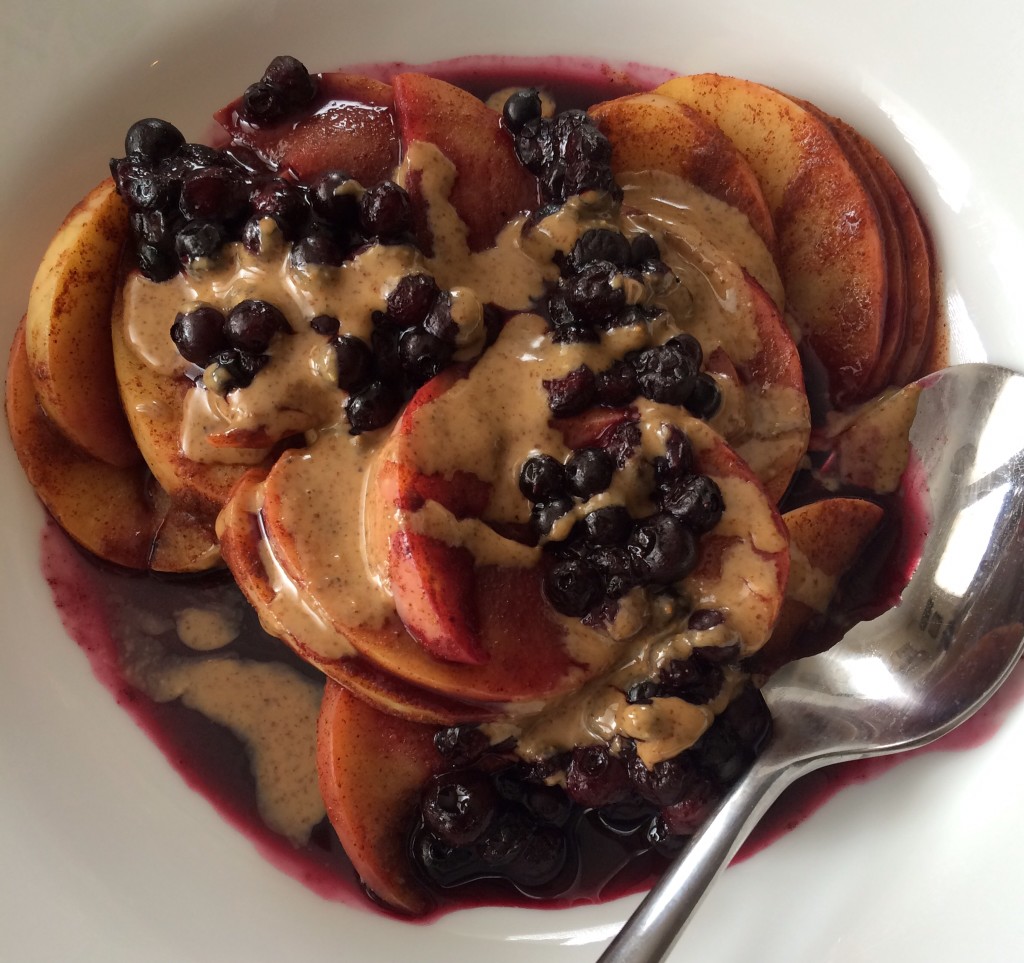 Lunch – 7 SP
Fajita Chicken, Peppers and Onions topped with Smashed Avocado and a side of Roasted Plantains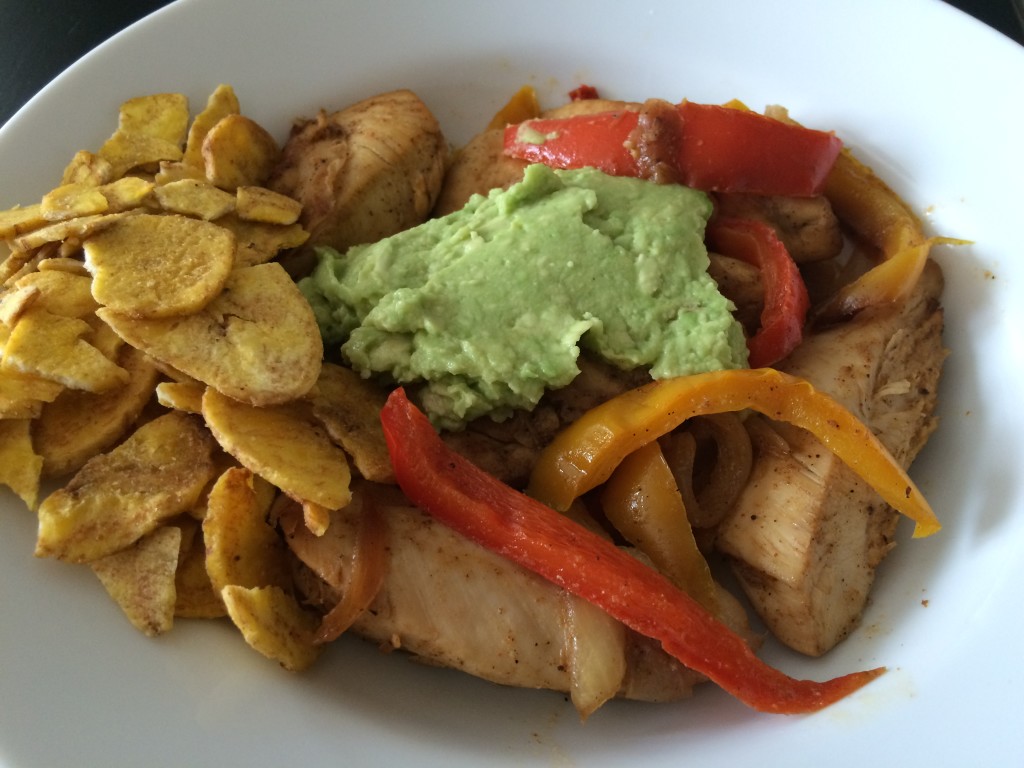 Snack- 2 SP
Leftover Fajita Chicken and Veggies with Cauliflower Rice….but mostly Cauliflower Rice.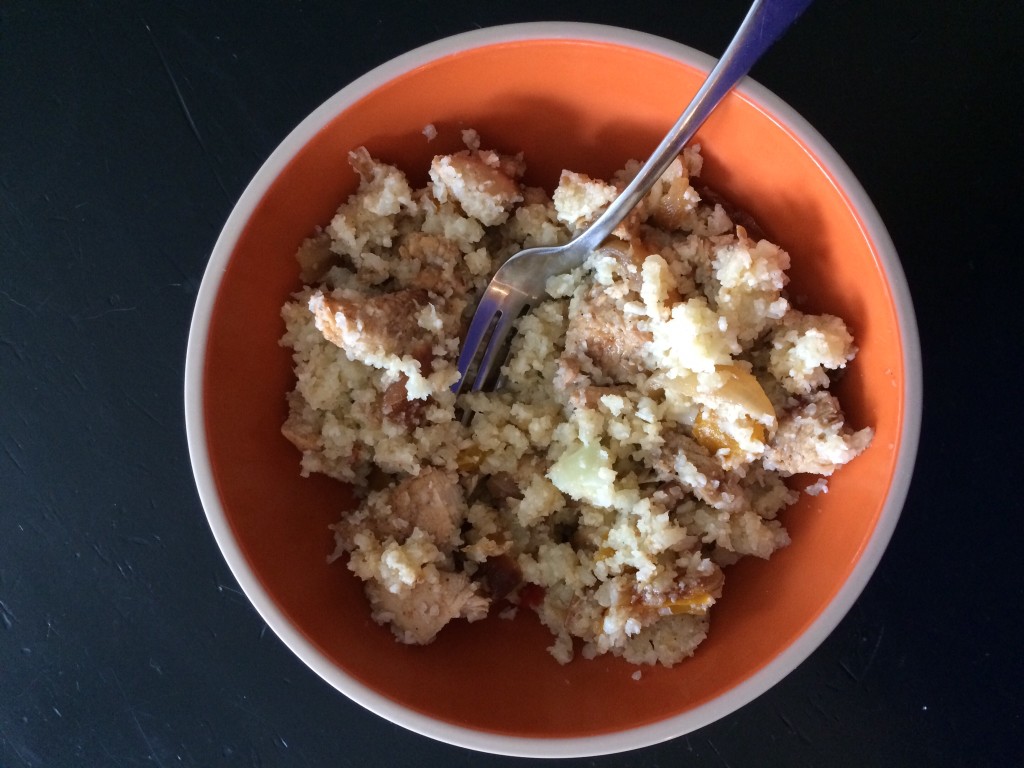 Dinner – 17 SP
Chopped Salad and Wine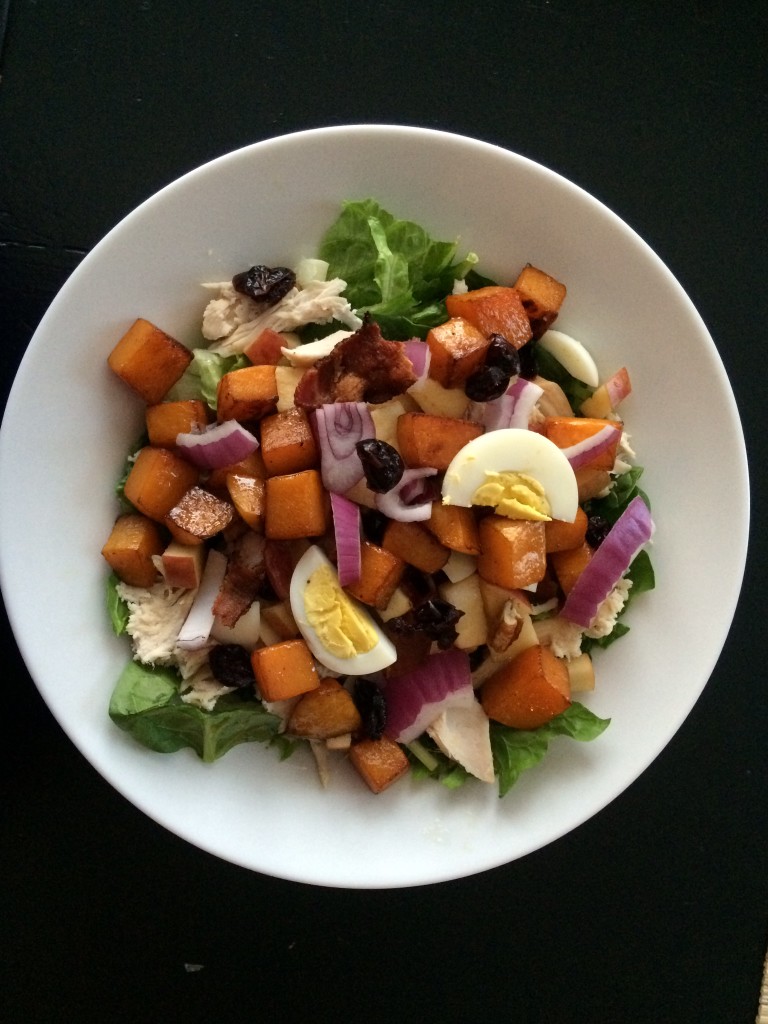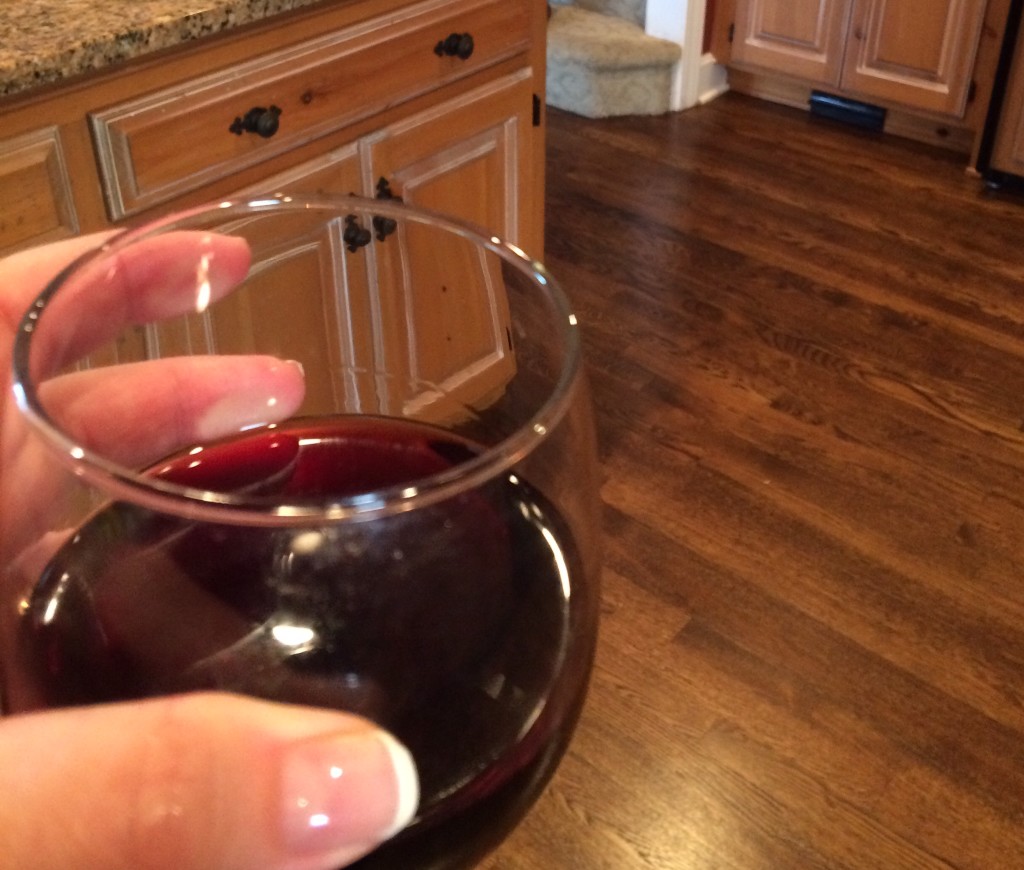 Breakfast = 6
Snack = 2
Lunch = 7
Snack = 2
Dinner = 17
Total = 34
Exercise = Walked 45 minutes
How many ounces of water I drank for the day = 80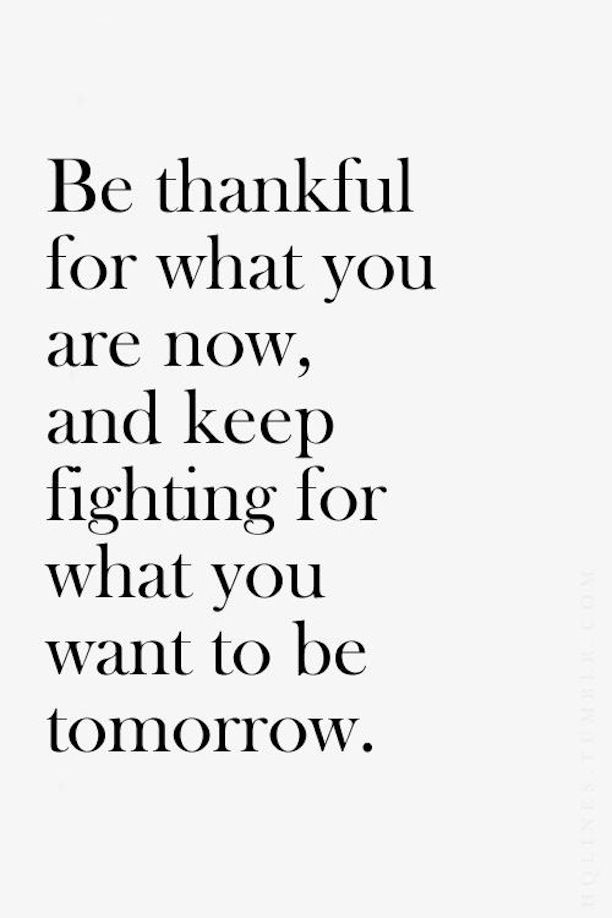 "love the life you live, live the life you love"