Saturday started off with a quick cup of coffee, then Yoga at 8:00 am! I tweaked my back a few weeks ago, so I've just been walking if I've done anything at all. It felt so good to get back to a Yoga Class.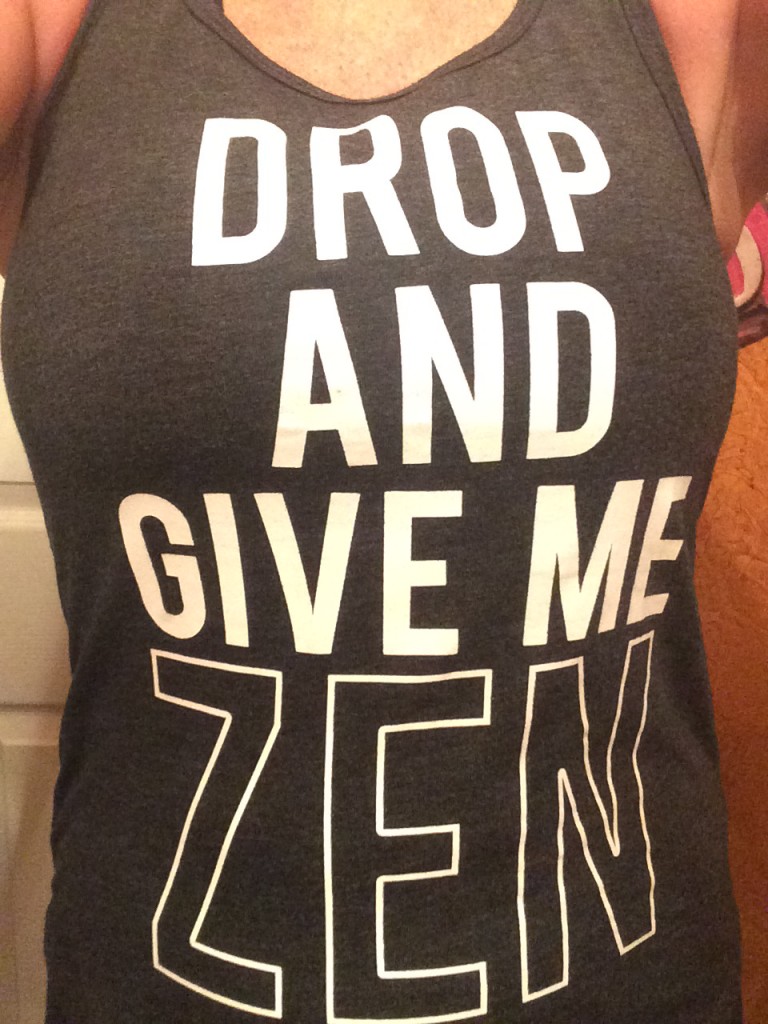 After Yoga, I met Mke for a little car shopping.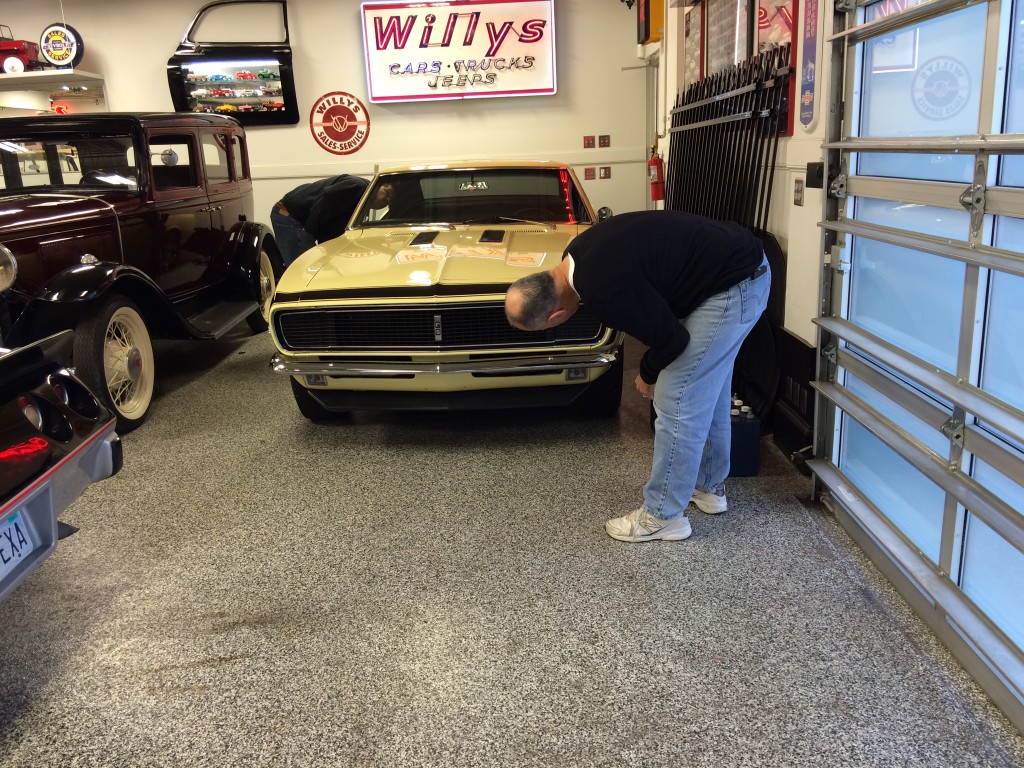 Who knows if it will happen or not, but he's talked for years about getting a "Sunday Afternoon" car. I grew up in a car family. We always had a classic car/old car/antique of some sort and we always belonged to car clubs. I would love to see Mike buy a car so we could make that a part of our weekends. We'll see what happens. I think now that he actually went to look at one, he's a little more eager to find just the right car. The shopping part is fun! The guy that owned this show room was 84 (would never has guessed it!) and we both could have talked to him for hours……
After car shopping, a Trader Joe's trip in the pouring rain. After the rain cleared up, Tucker and I got out for an afternoon walk that included some grassy hills. Only a 30 minute walk, but a hilly good one that gave me a good workout.
Next on my list? I took a 90 minute bath and read this book!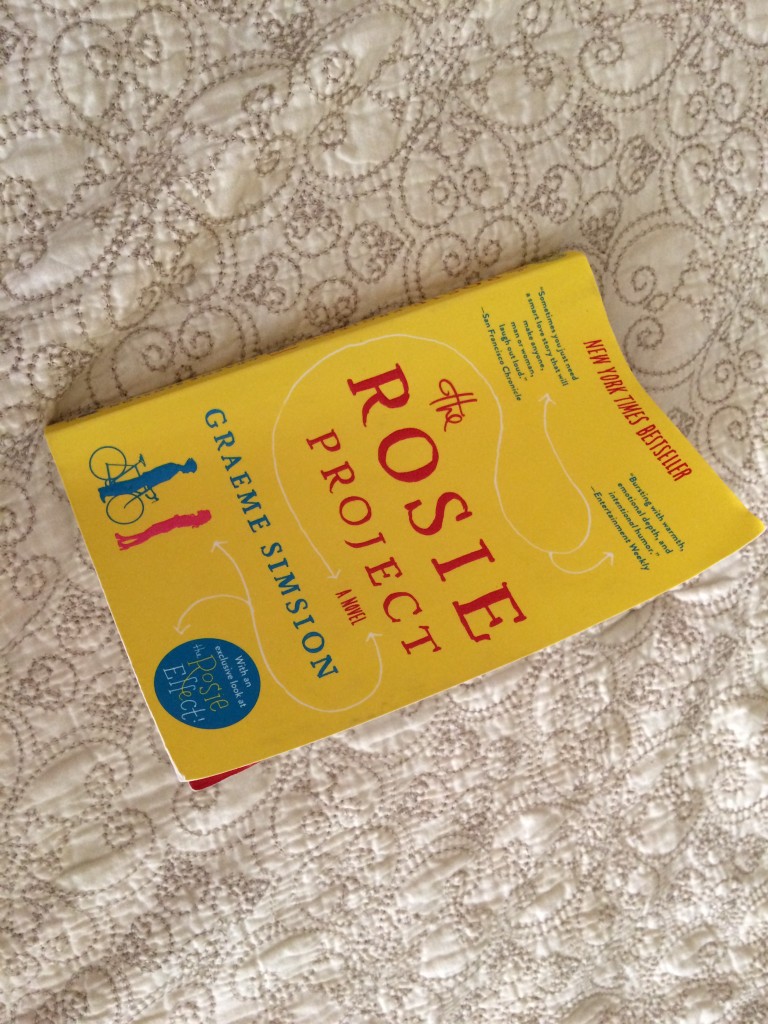 I finally had to get out of the tub to make dinner! Well, get out and eat, or add hot water and starve. I always choose food!
This is the second book in a row that I've loved from our Book Club picks. Thanks Book Club girls! I'm happy to be reading again and happy with this years choices.
After dinner, off to a friends house to watch KU. It was a sad loss. I sipped on my hot tea and sulked. We were in bed shortly after 10:00.
Here are yesterday's eats……
Breakfast – 8 SP
Skillet Scramble. Sautéed Zucchini, Cooked diced Sweet Potato (50g) and Onions in 1 tsp of Olive Oil. Then added in Scrambled Egg Whites and Cooked Pork Sausage (1 oz). Topped with Smashed Avocado (20g)
For the Pork Sausage I used Juil's recipe for Apple Fennel Breakfast Sausage over at Paleomg.com. I omitted the Maple Syrup from the recipe while doing Whole30, and instead of making Patties like the recipe suggest, I just cooked the sausage with all of the other ingredients in a skillet crumble style. You could freeze some if this is too much for just one person, which it likely is. Or…..freeze it if you just don't want sausage every day. I get that too.
This is an excellent recipe, Whole30 or not. I weighed out 1 oz of cooked sausage for my breakfast and it was perfect because it gave me just a little taste of sausage in every bite!
I still think my favorite way to eat Avocado, is to smash it and add Lime Juice and Sea Salt. It will spread nicely over just about anything. Who needs melted cheese when you have creamy avocado?? Huh? WHO?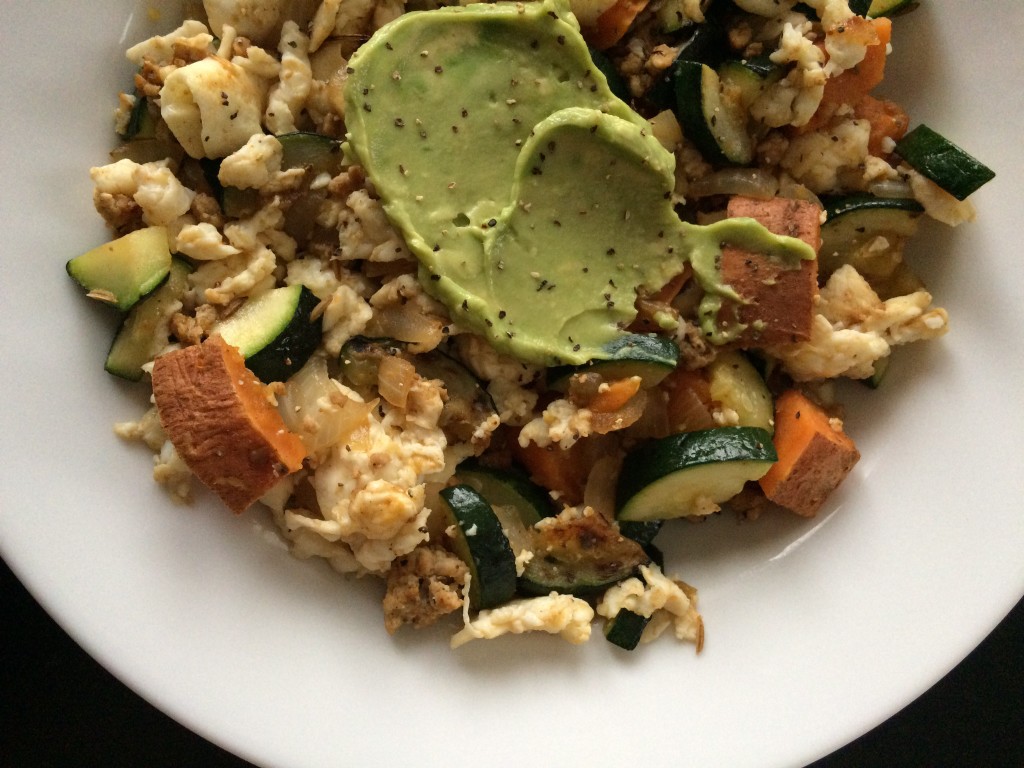 Lunch – 7 SP
Big Salad with Kale, Chicken, Tomatoes, Red Onion, Cucumbers, Avocado's, Lemon Juice, S&P and Olive Oil. A Banana too.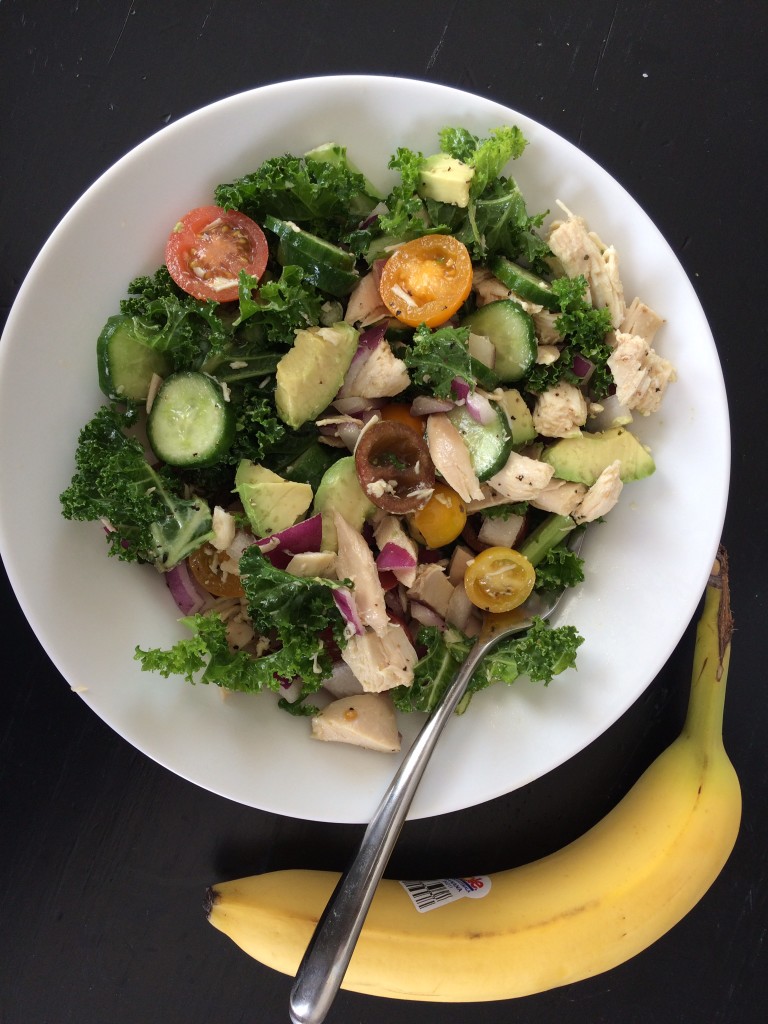 Afternoon Meal – 3 SP
Tuna Salad with Carrots and Strawberries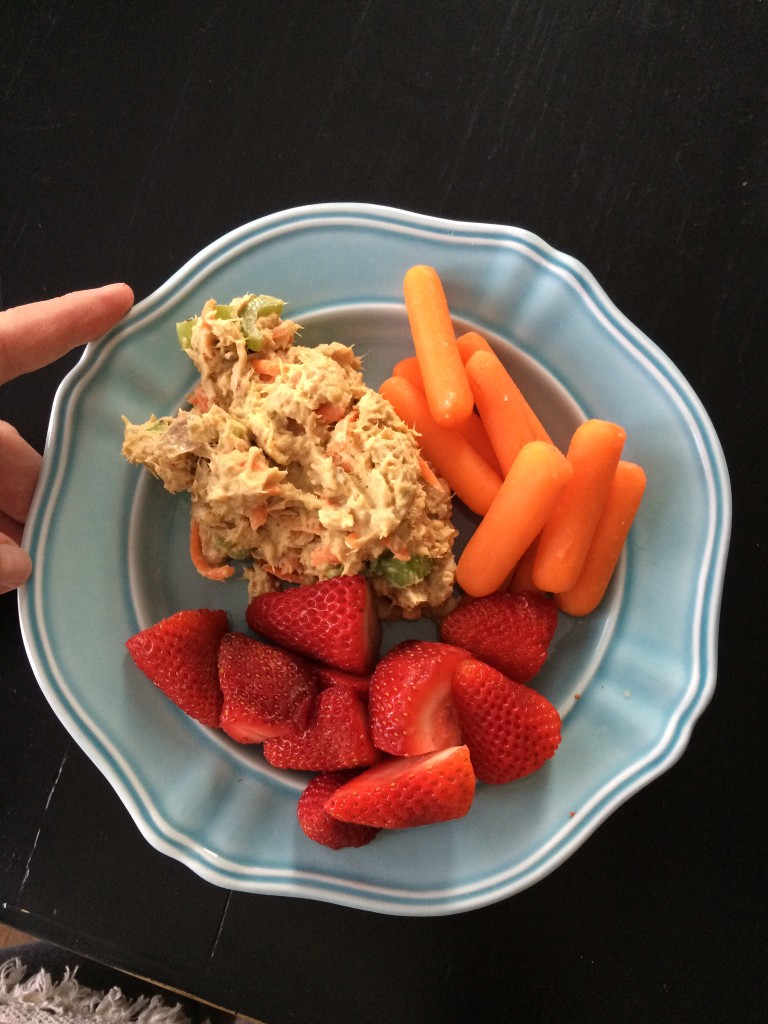 Dinner – 13 SP
Big Salad Number Two for the day. I think I got my veggies in yesterday!
Chicken, Kale, Spinach, Roasted Butternut Squash, Hard Boiled Egg Whites, Dried Cranberries, Red Onion
I used the Pear Vinaigrette Dressing from Trina over at Paleo Newbie, but I used an Apple instead of a Pear. Fresh out of Pears!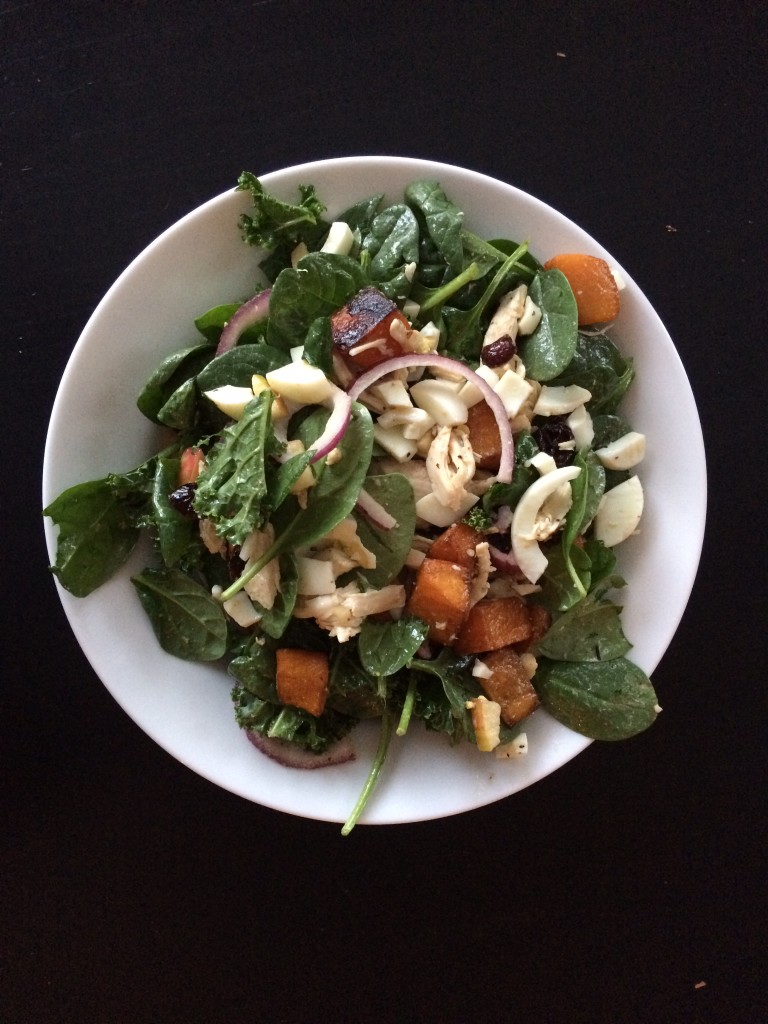 These are my 2016 Goals
Make time each week to Meal Plan
Drink 100 ounces of water each day
Exercise 5 days a week
Three Meals and One Snack, Daily
I can eat 30 SmartPoints a day.
I have an allowance of 35 extra Weekly Points that I can dip into throughout the week if I choose.
My Weight Watcher Week Begins on Friday's
Breakfast = 8
Lunch = 7
Afternoon Meal = 3
Dinner = 13
Total = 31
Exercise = 60 Minute Hot Yoga Class, 30 Minute Walk
How many ounces of water I drank for the day = 90
Remaining Weekly SmartPoints = 32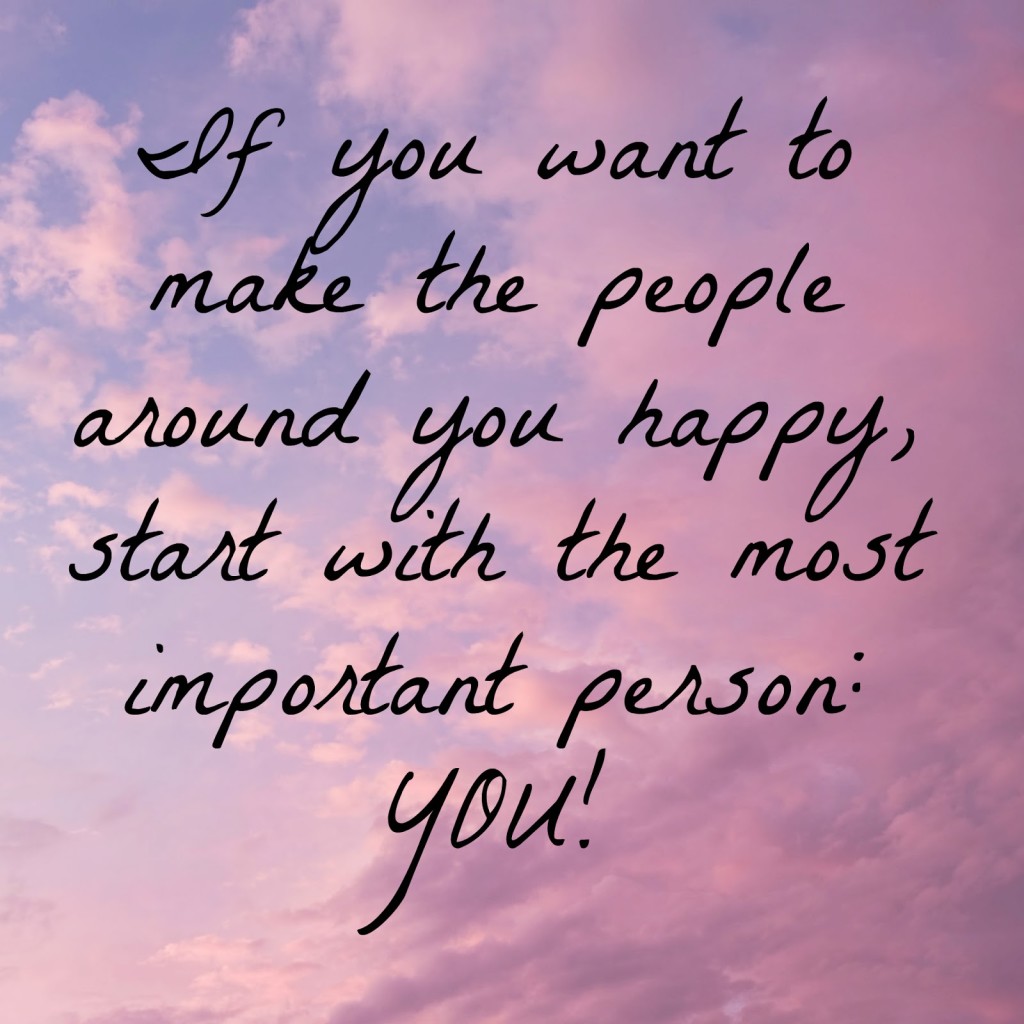 "love the life you live, live the life you love"