Food Truck Fun
While working The Food Truck window yesterday, a man came out of nowhere, stepped in front of the 10 or so people in line, gave me a $100 bill and told me to use that money to buy lunch for everyone in line. He looked at the first guy in line, patted him on the back, and said "Lunch is on me". Then he left!
I think everyone that got a free lunch paid it forward and put a nice amount of money in the tip jar, because we had really great tips yesterday!
I'll need to do my own "Pay if Forward", "Random Act of Kindness" today. 🙂
Ahhhh, Happy Day.
Roasted Brussels Sprouts and Grapes
I made a recipe last night out of a free magazine that I recently picked up at a local grocery store. Pretty tasty! The recipe calls for Prosciutto. I didn't have any of that, so I used some Chicken Apple Sausage instead, and we both loved it!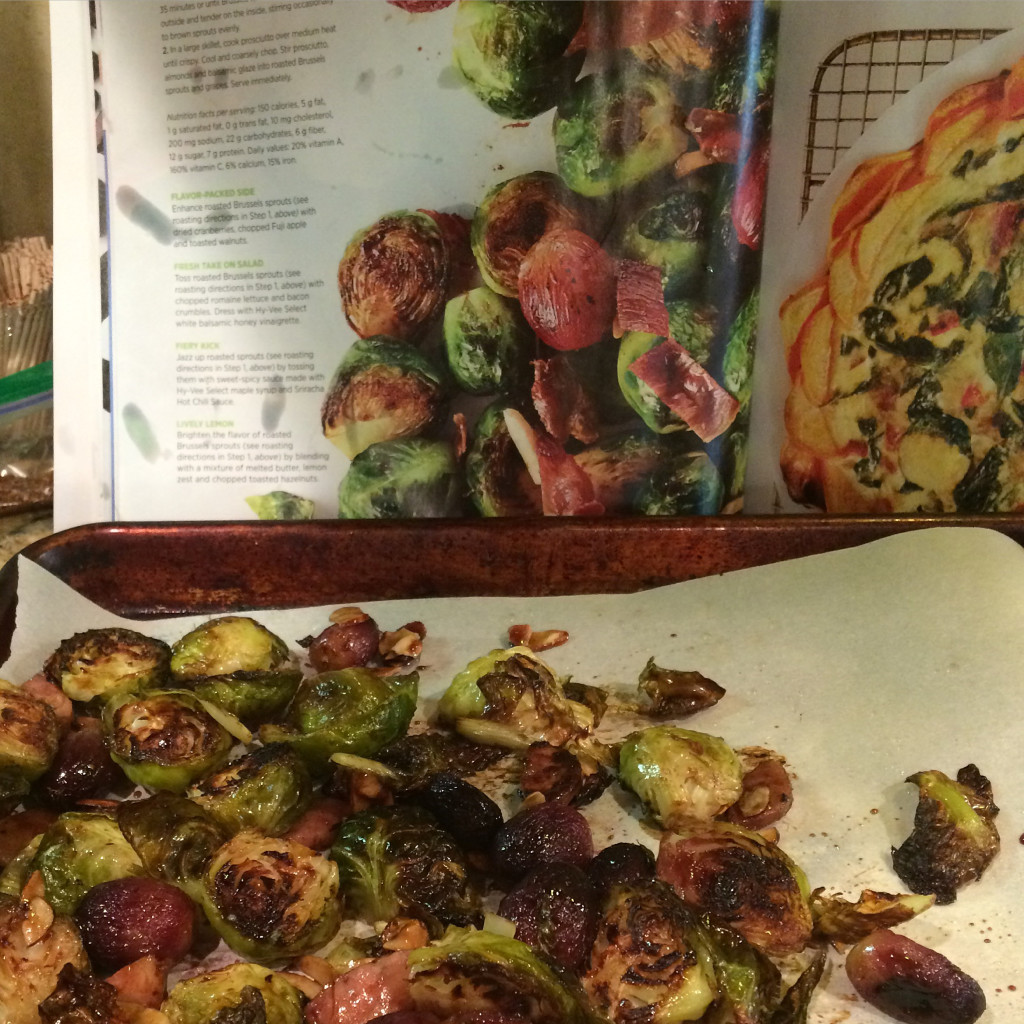 Let me know if you give these a try!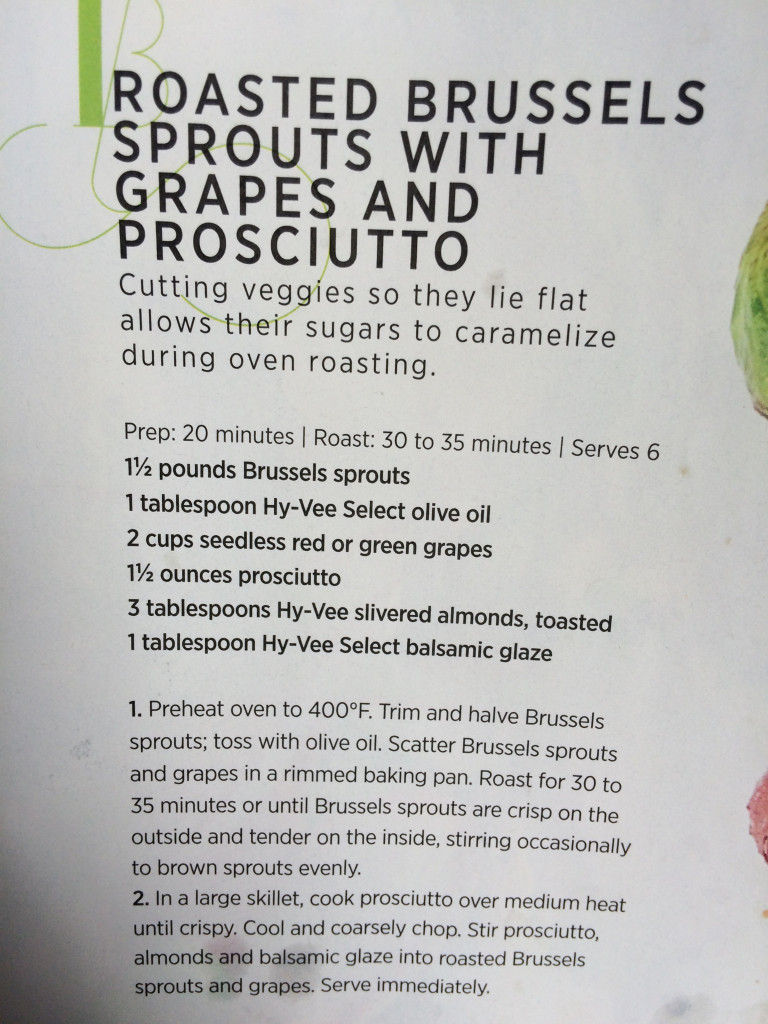 My Afternoon
After a fun day at work, I came home and took Tucker on a 2 mile walk. I've been much better at getting in at least a little walk. I had all sorts of excuses lined up as to why I didn't have time for a walk, but I got it in anyhow.
I got home from my walk just in time to babysit the youngest granddaughter. I absolutely adore her. I adore all four of our grandkids, but I think that you adore the one that you are currently with….the most.
We played outside for a long time with just the wagon, a few bubbles (we started with a lot, but little ones love to dump stuff out)….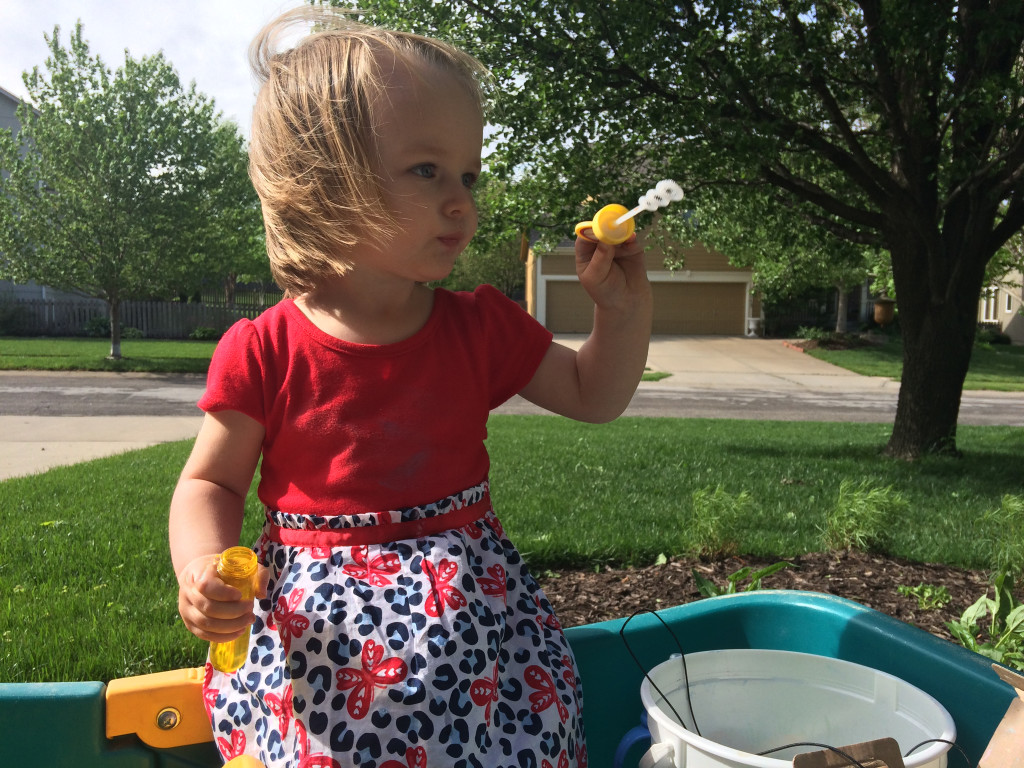 …and a large variety of chalk. I'm not sure who enjoys the chalk more, her or me? She likes to put it in buckets, then take it out of buckets. She also likes to hand it to me, then tell me what to draw. After a few smiley faces and trees, I'm like, "Can a two year old Hopscotch? I like to draw those". She looked at me like I was speaking a foreign language. I love that confused look on her face. Occasionally, when I have no idea what she is saying, I give her the exact same look and say, "Yo, hablo Ingles?" More confused looks.
Mishka was feeling great yesterday and played outside with us for a while. She tolerated the wagon for about 45 seconds, but it was 45 seconds of absolute sweetness.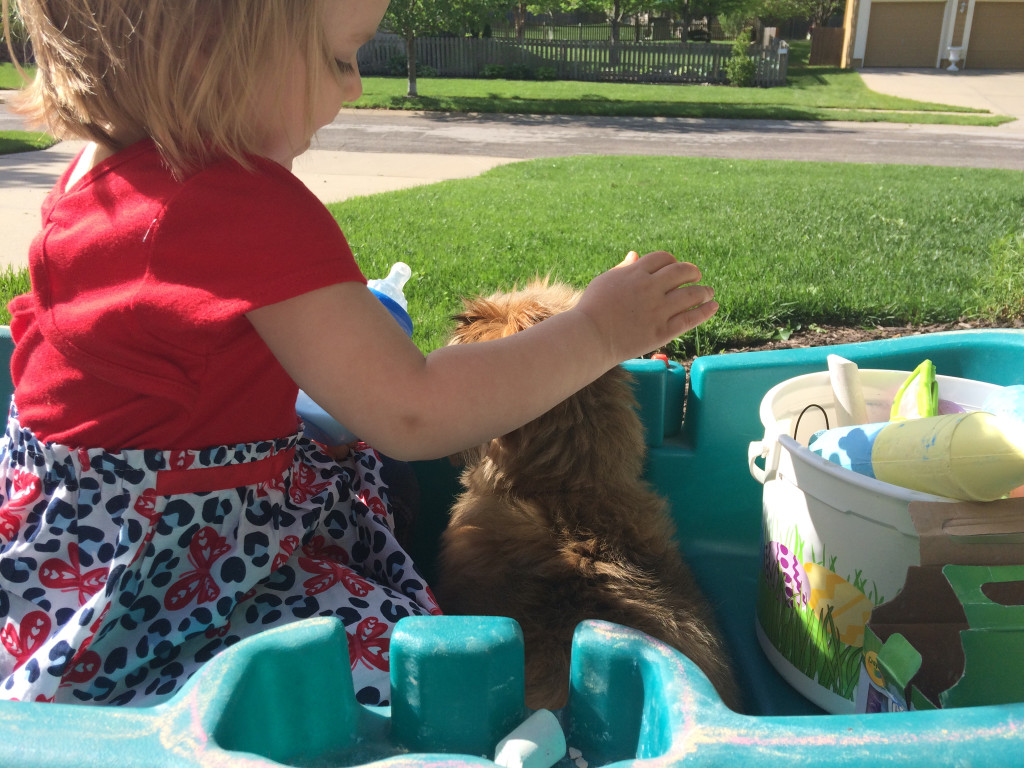 After lots of playtime outside, I made dinner. It was a Potluck type dinner for all of us.
Check out this plate of food. She ate it all and more too! Raw Cashews, Dried Cherries, Grapes, White Potatoes, Clementine, Chicken Apple Sausage, Sweet Potatoes, Applesauce and Almond Milk. It's a Paleo Potluck, for a Two Year Old!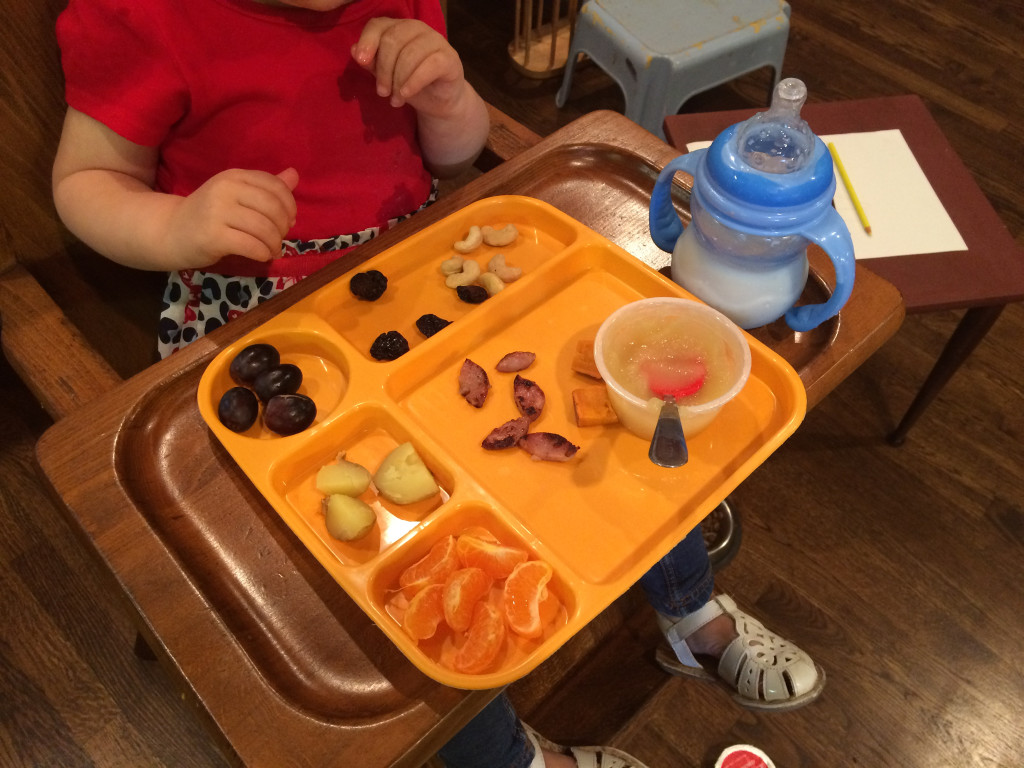 After dinner, more playtime, then we took a shower. I couldn't get the water temperature right and I got soap in her eyes. Egads. She still loves me though. She told me so.
There is nothing sweeter than a two year old wrapped up in a towel.
Her mom picked her up, and I was zonked. What a great afternoon and evening with a little ball of energy.
Here are yesterday's eats…
Breakfast – 9 SP
Breakfast Burritos (kinda), Fruit and Almond Butter
I scrambled some Egg Whites, added a piece of cooked bacon, crumbled, then divided that into two of my Paleo Tortillas. I put a little Olive Oil spray in a pan and cooked them for about a minute on each side to get them crispy. I was devastated when I realized I had NO AVOCADO!! Still good though. I heated up some frozen Blueberries, sliced a Banana and added 1 tsp of Almond Butter.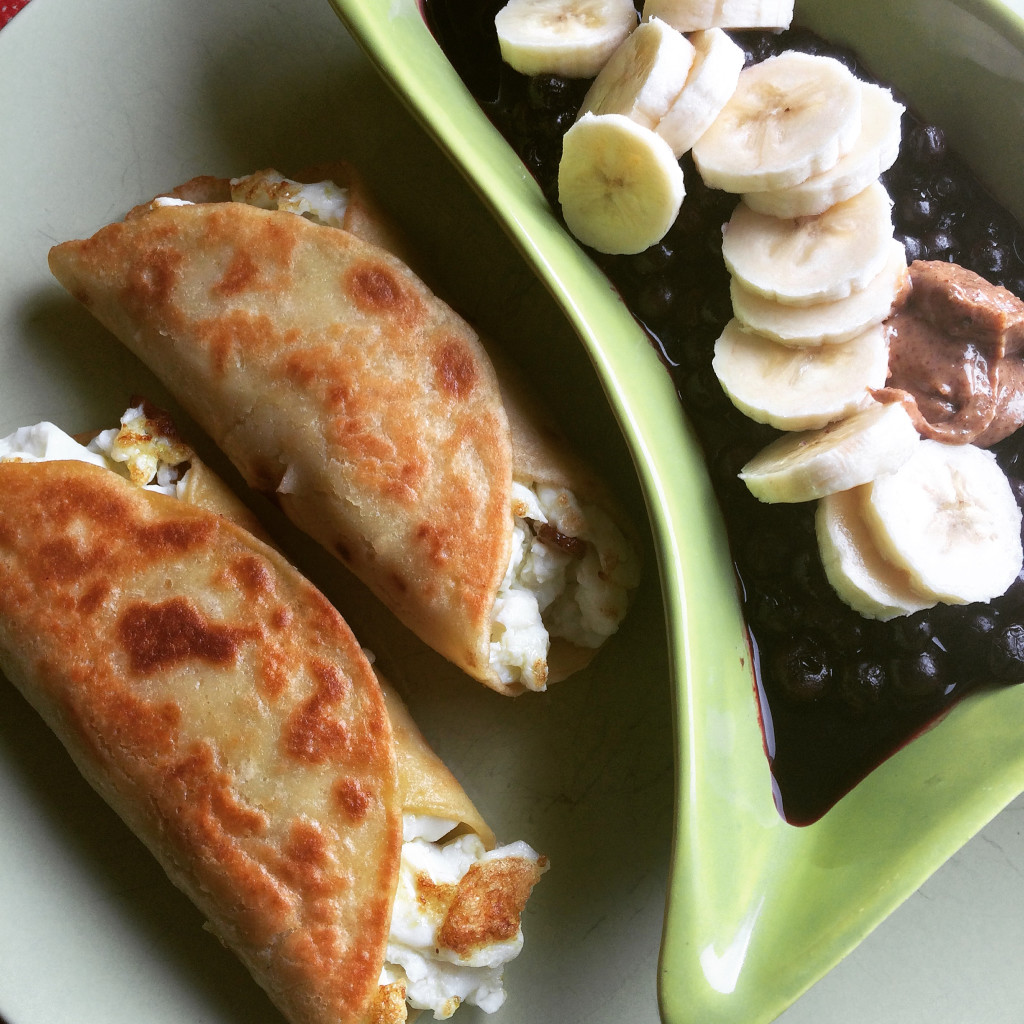 Lunch – 11 SP
I made myself one small Pork Taco at the Food Truck.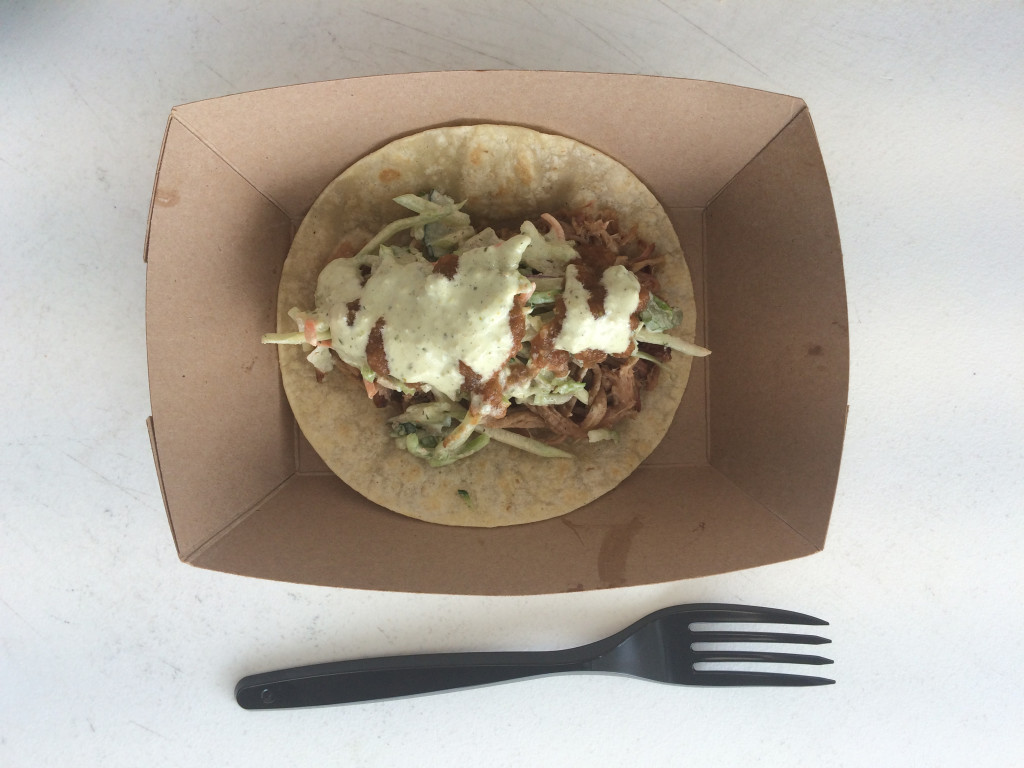 I took leftover Mediterranean Chicken to have for my lunch at the Food Truck, and since I had the taco, I only ate about half of this container.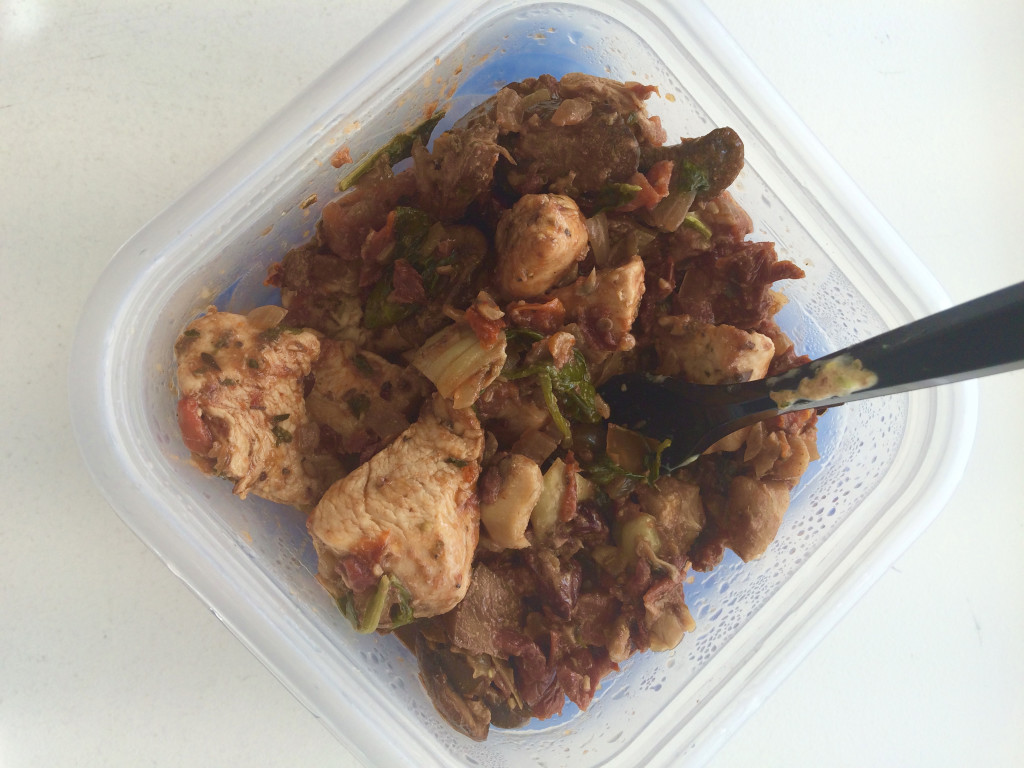 Afternoon Snack – 0 SP
Apple after my afternoon walk.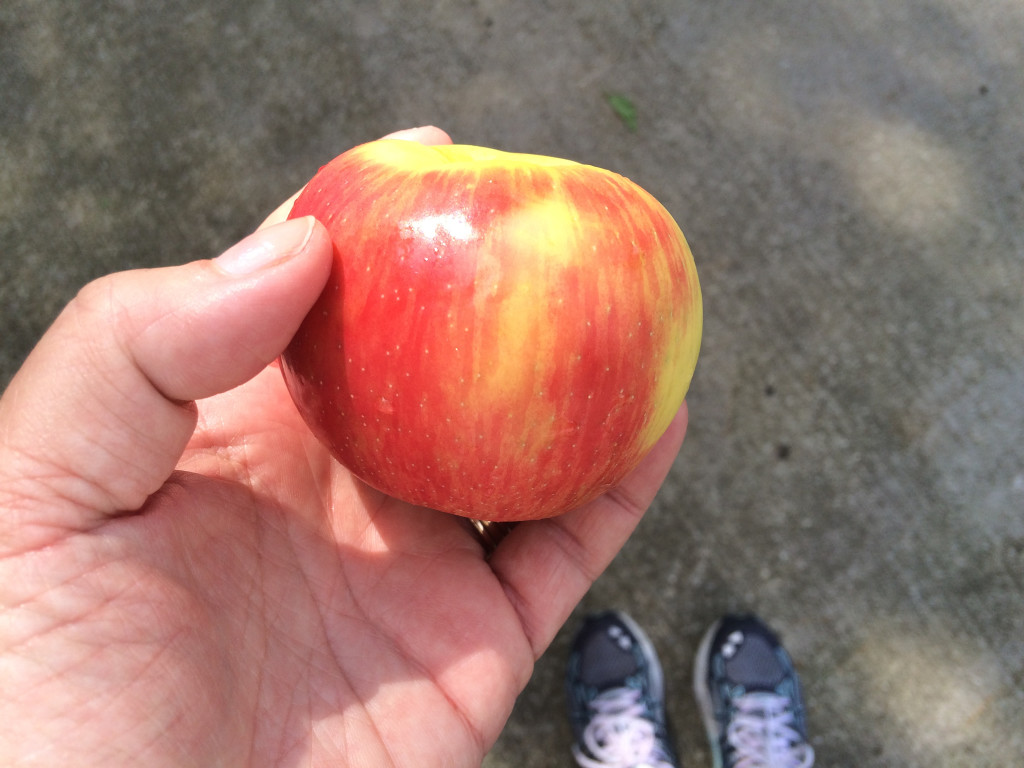 Dinner – 16 SP
It was a Potluck dinner last night.
Roasted Brussels Sprouts, Crispy Paleo Tortillas filled with Taco Meat, Taco Meat Skillet.
This skillet has a little bit of everything. Taco Meat, leftover Spaghetti Squash, Zoodles, Shredded Carrots and Sweet Potato.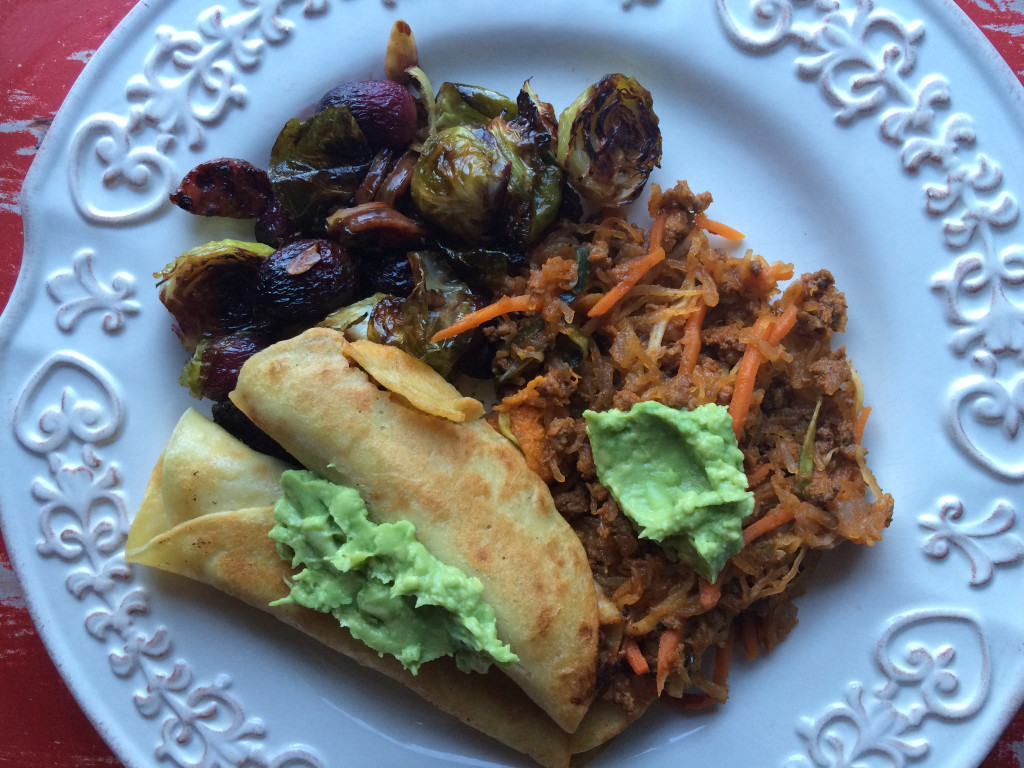 These are my 2016 Goals
Make time each week to Meal Plan
Drink 100 ounces of water each day
Exercise 5 days a week
Three Meals and One Snack, Daily
I can eat 30 SmartPoints a day.
I have an allowance of 35 extra Weekly Points that I can dip into throughout the week if I choose.
My Weight Watcher Week Begins on Friday's
Breakfast = 9
Lunch = 11
Afternoon Meal = 0
Dinner = 16
Total = 36
Exercise = Walked 2 Miles
How many ounces of water I drank for the day = 70
Remaining Weekly SmartPoints = 0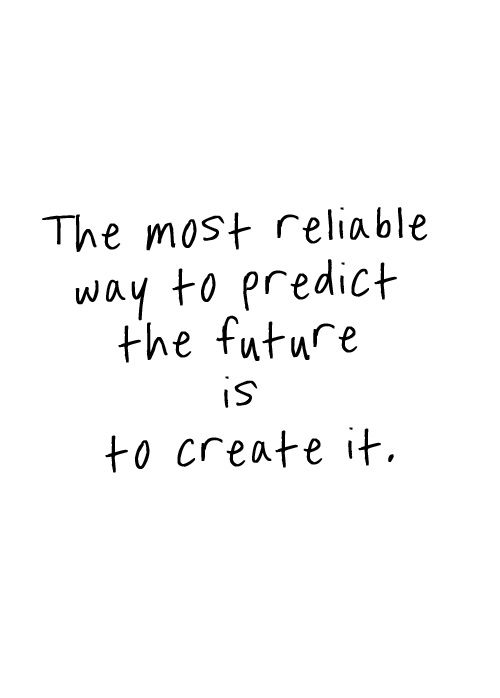 "love the life you live, live the life you love"