I love this little blogging corner of my world for so many different reasons. I've formed relationships from this blog and my Instagram account that I never imagined were possible. The relationships are great for support, accountability and even a good a laugh, but I have actually made a few friends too.
One blog reader of mine has truly become a friend of mine. Since I didn't ask her if I could blog about her today and I do respect the privacy of others, I'll call her Shonda Smolley. She'll know I'm talking about her and the name will make her giggle.
Her comments on my blog really started to connect us. She saw similarities in the two of us, and began to share them with me.
Soon, we started exchanging emails that included a little more personal information. Eventually we exchanged phone numbers and now we text each other. The fact that she has an "online friend" that she has shared personal information with has her family concerned. lol
I'm going to surprise her one day soon and call her up!
We really do have a lot in common, which is what brought us together. She makes me laugh and I feel like I've known her for some time.
I have no idea how she found my blog or if she even knows how she came upon it.
We will meet this year. I just know it.
When I posted about wanting to buy a Vintage Trailer, she sent me a text message with this picture of a vintage trailer by her house that has been for sale for quite a while. I'm thinking I visit her and buy that trailer!
Is this the cutest?? It's exactly what I see myself buying! If the inside is as cute as the outside, I WANT IT!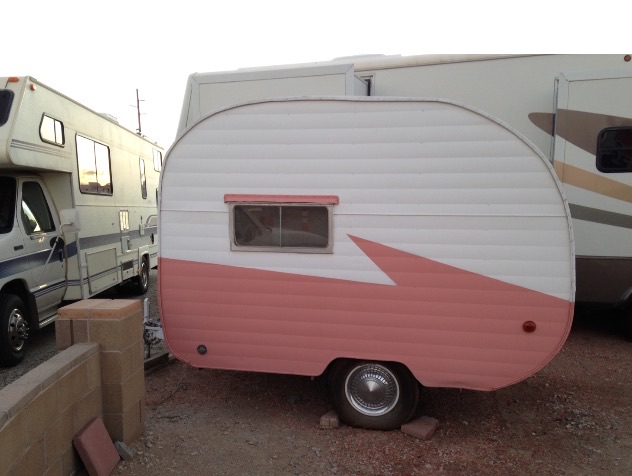 Shonda Smolley is responsible for introducing me to Medjool Dates. Do you eat them? They really are delicious. I have to be careful with those little suckers too, because although they are fruit, these are dried fruit, which means sugar, which means a lot of SmartPoints.
They are truly worth it.
Look what Shonda sent me in the mail!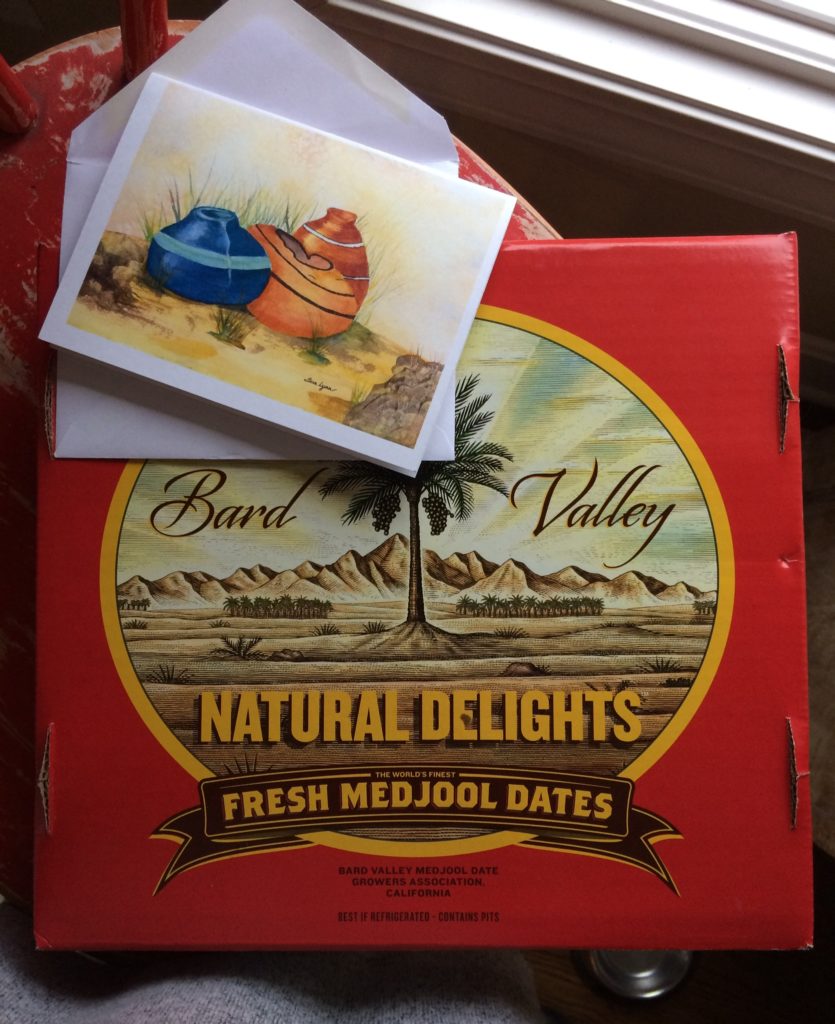 That right there is a 5 pound box of beautiful and fresh deliciousness!! They are so soft and plump!
After putting in the nutritional information from the box, one date is 4 SmartPoints, so I need to be careful. I've got some in the freezer already for safe keeping!
I'm looking forward to finding a few recipes and making my own fruit and nut bars. These are also delicious with a little Almond Butter in them, or baked with an almond stuffed in them and wrapped in bacon, or just alone with a nice cup of hot tea.
So happy to receive such a great gift!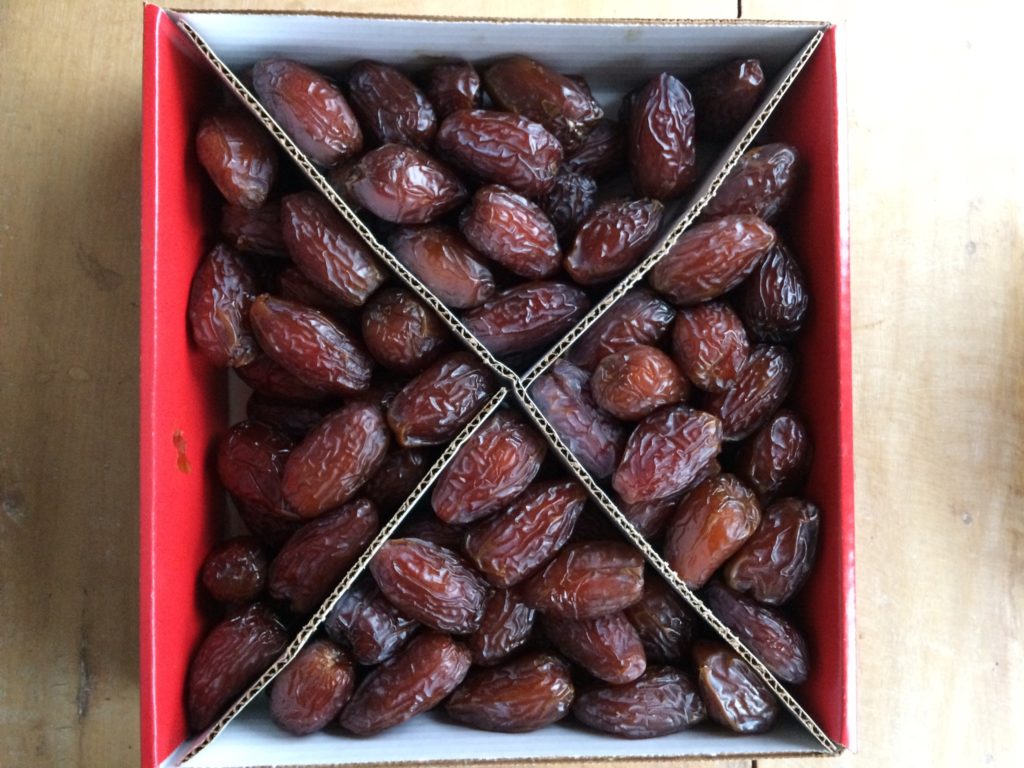 Thanks Shonda!! You're the best! Sending you great big hugs!!
Here are yesterday's eats…
Breakfast – 6 SP
Egg White Omelet stuffed with Leftover Roasted Broccoli, Asparagus, Sweet Potato, a few Pork Sausage Crumbles and Bell Peppers. Cara Cara Orange and Blackberries on the side and Black Coffee.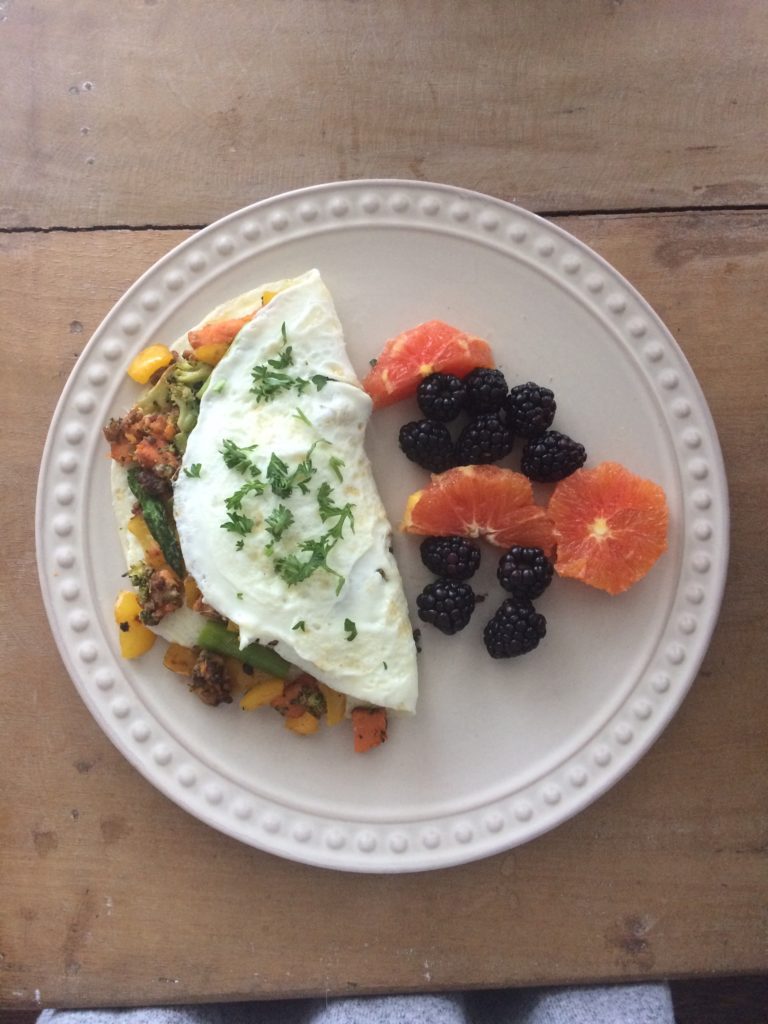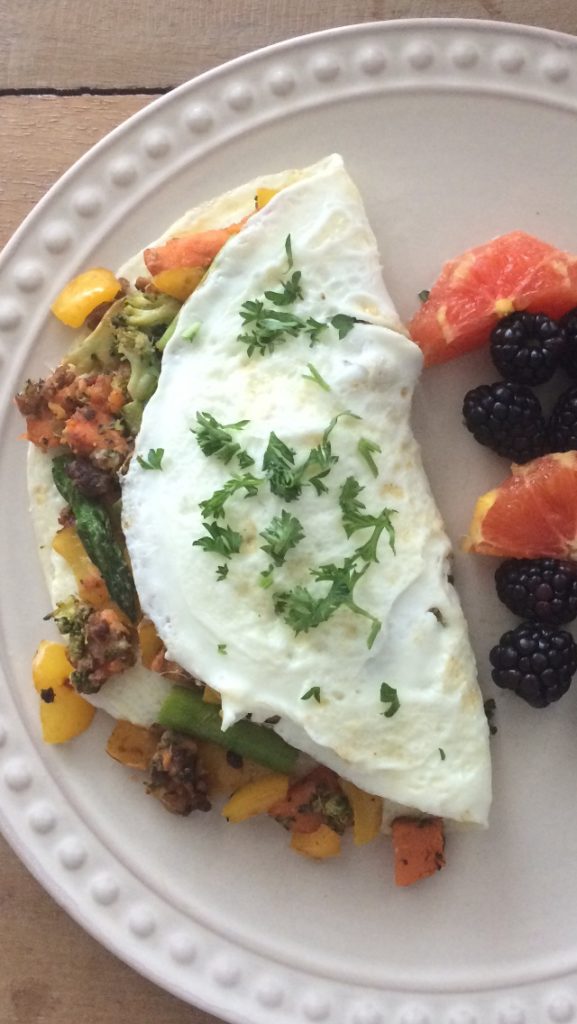 Snack – 4 SP
1/2 RXBar – Blueberry
Mike and I were out running errands and it was 2:00 in the afternoon and I was starving. I had this in my purse and offered him half because I didn't want to use 7 Points on a snack. I wanted a meal!
He wasn't interested, and for me this was a success because I only ate half and wrapped it back up and put it in my purse. I thought about pulling it out of my purse and finishing it off more times than I would like to admit before we ever ate a meal.
I took this picture when we got home. Now it's in the pantry in a ziplock bag.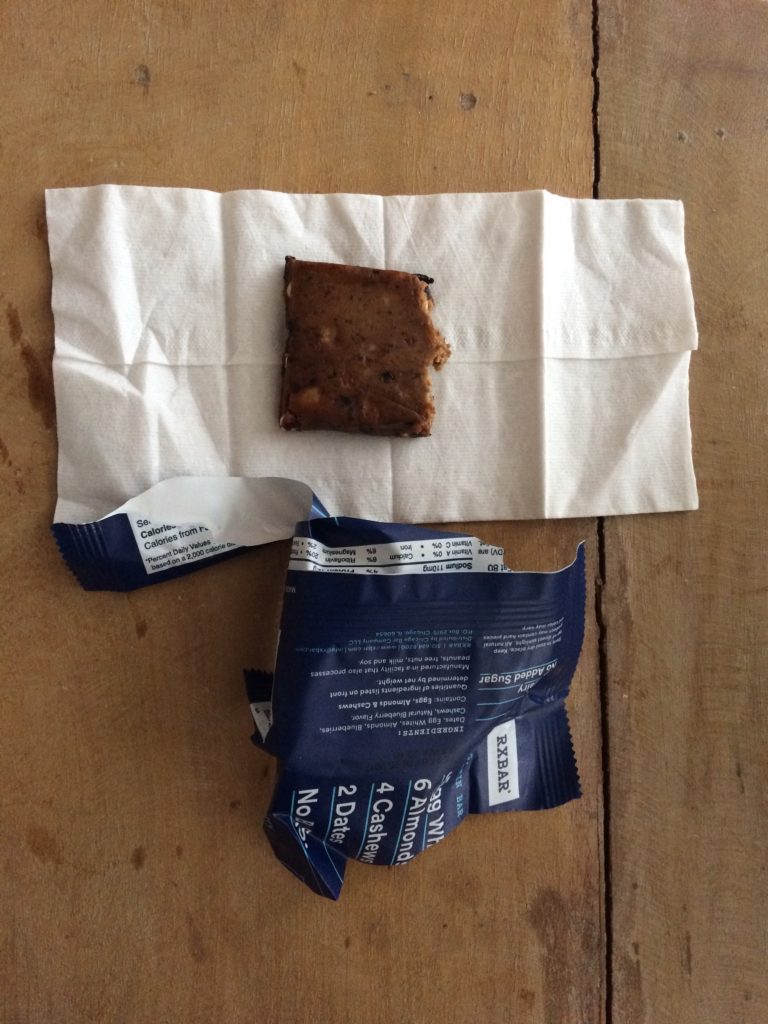 Lunch – 7 SP
We stopped at a restaurant to have some lunch. I ordered a mixed greens salad with Salmon and Vinegar and Oil. This was a $14 salad and that was the smallest piece of salmon that I have ever seen!! I wanted the other half of my RXBar!!
Dinner – 10 SP
I made a huge pot of Turkey Sweet Potato Chili when we got home. Now THAT hit the spot.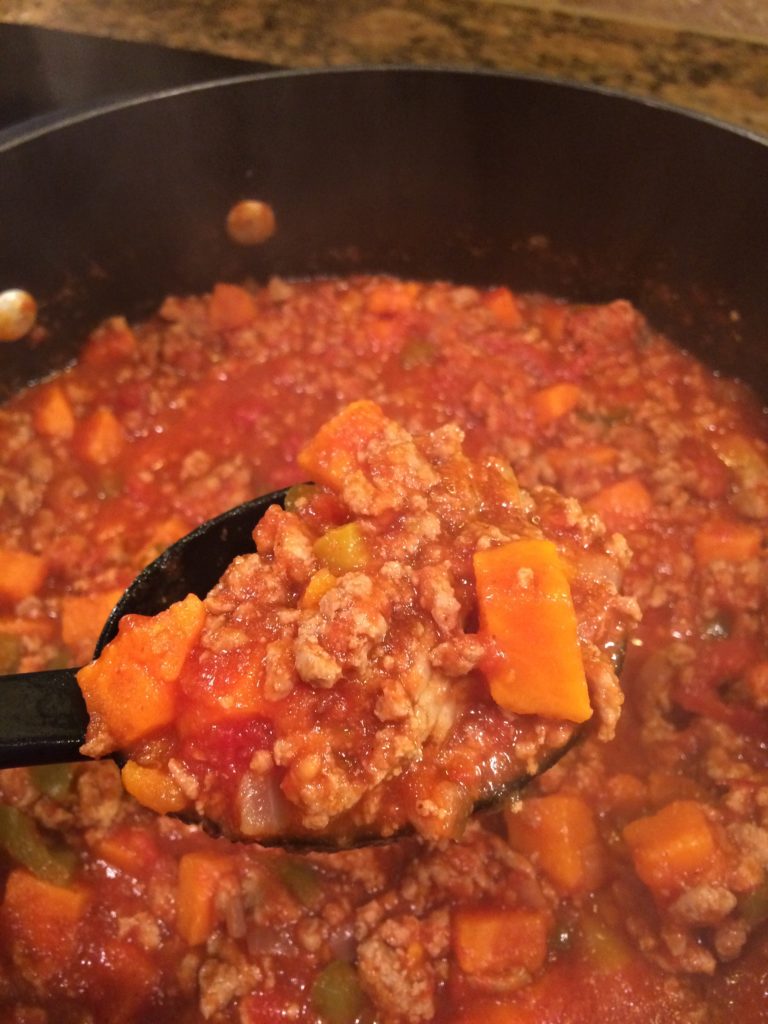 I ate a bowl and a half. Tucker thought that it smelled amazing. It did.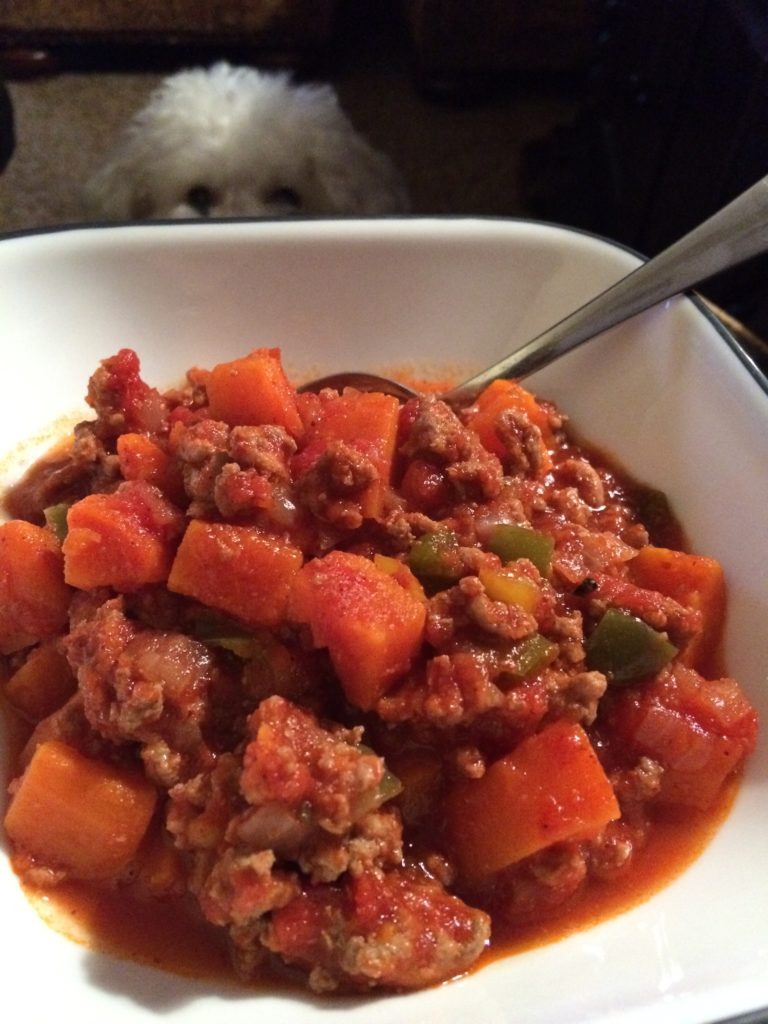 Daily SmartPoints Total = 28
2017 Goals
Make time each week to Meal Plan
Drink 100 ounces of water each day
Exercise 5 days a week
Eat three meals and one snack daily
FOUR 100 Mile Walking Challenges this year!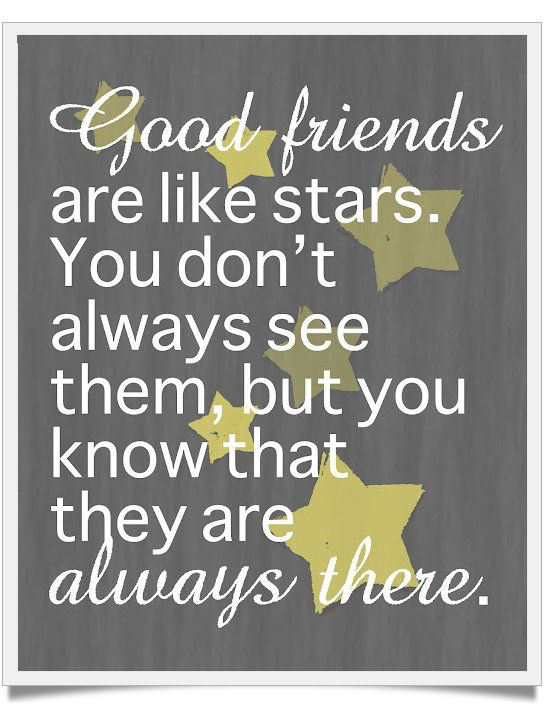 "love the life you live, live the life you love"