I've filled my mind with positive thoughts over these last several days. I am an optimist. In time, all will be back to normal.
I spent yesterday in bed, again. I watched another favorite movie, Scent of a Woman. I love that movie. I napped off and on all day.
In between naps, I checked my email, and I discovered an exciting one!
In the past year, I've been listed on a couple of websites as a Top Weight Loss Blogger. When I look at the other blogs that are on the list, I have no idea how my little blogging corner of the world is discovered by these people, but I must admit, it makes me feel good to be included on these list, and I greatly appreciate the exposure.
I really don't know the logistics of how blog traffic works or how people actually find my blog, but I made it onto another list!
Happy Day!
Kristina at Fittous put me on her list of Top 50 Weight Loss Blogs You Should Be Following in 2017. Thanks Kristina! I am very familiar with a few of the other blogs on this list, and I am looking forward to checking out the rest of them today! You can click on the turquoise colored badge to the right and check them out!
Some good news was just what I needed it and encouraged my positive mind to continue down it's positive path.
Mike picked up Tess from the airport yesterday. I've done a pretty good job of just staying in my bedroom so I don't spew my germs all over the house. Tess went to Walmart and bought disinfectant wipes, more Lysol and a mask for me to wear. I'm cooperating, but this mask smells like I have my face in a bowl of Lysol.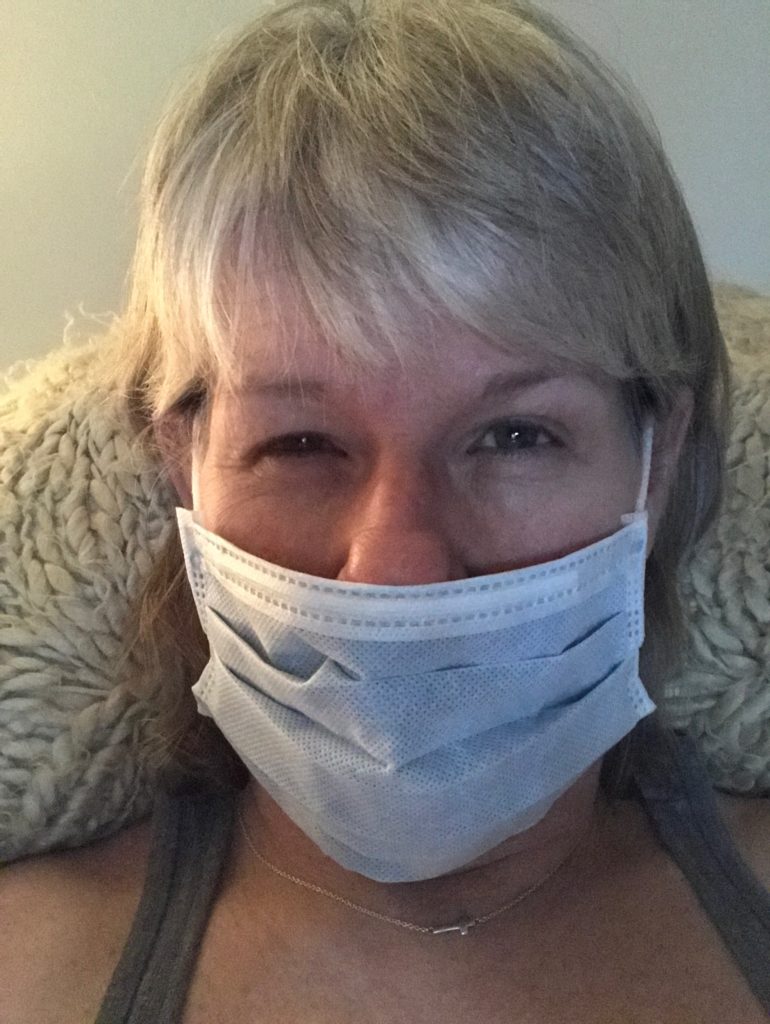 I really miss being in the kitchen and cooking up some dinner. When Mike is in his office, I sneak in the kitchen and make something quick, then spray Lysol everywhere and go back to my room.
Here are yesterdays eats…
Breakfast – 5 SP
Two days in a row of Breakfast Bowl of Oatmeal.
1/2 Serving of Oatmeal bulked up with Banana Slices, 1/2 tsp Chia Seeds, 1 T. Almond Butter and Wild Blueberries. I buy frozen unsweetened Wild Blueberries. I like to heat these up and pour them over my oatmeal. The juice is so sweet, and with the Banana slices, no additional sweetener is needed. So good!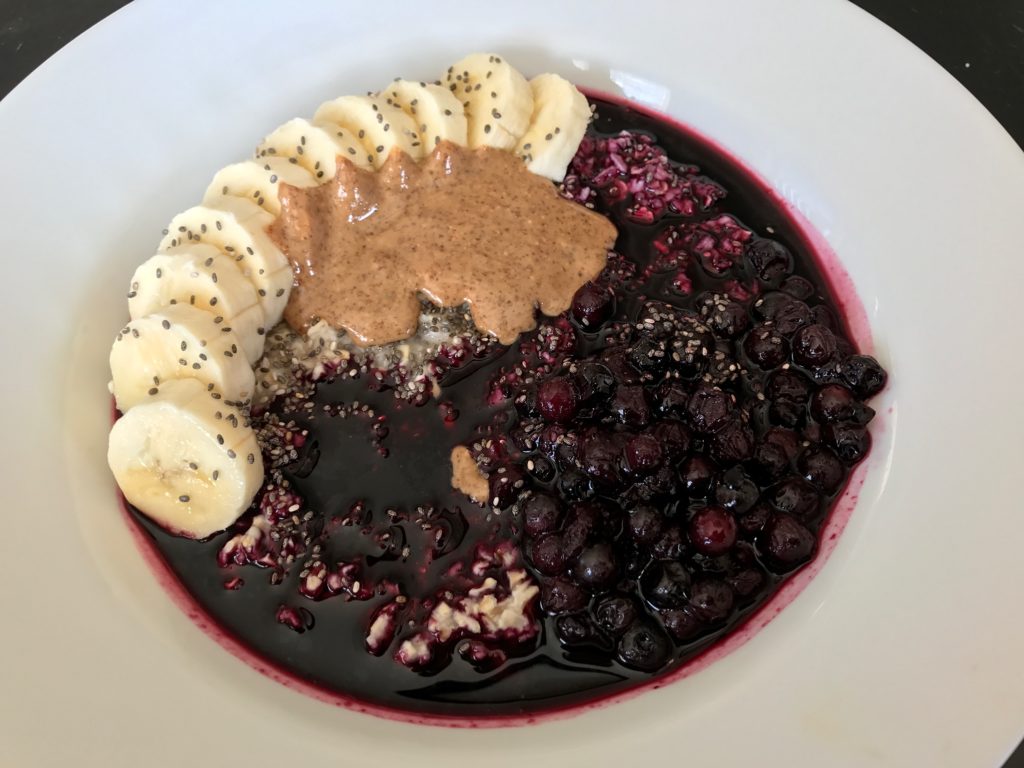 Lunch – 7 SP
Almond Butter and Cold Fruit were about the only things that sounded good yesterday.
I follow a few people on Instagram that eat Almond Butter on Sweet Potatoes. I tried it one time, and I just didn't get it. For some reason, I decided to try it again.
This tasted so good to me yesterday afternoon.
Half of a baked sweet potato (150g), sprinkled with Cinnamon, Sea Salt and 2 tsp of Trader Joe's Almond Butter. Fruit with Cinnamon.
Snack – 4 SP
Un-Pictured Medjool Date, no almond butter
Dinner – 12 SP
Same dinner as the night before, but the dinner portion, not the lunch portion that I had the other night. It ended up being too much food, and I didn't eat it all, but it did taste good.
Chicken Hawaiian Skewers with Pineapple, Zucchini, Bell Peppers and Red Onions, Steamed Broccoli, Potatoes

Daily SmartPoints Total = 28
2017 Goals
Make time each week to Meal Plan
Drink 100 ounces of water each day
Exercise 5 days a week
Eat three meals and one snack daily
FOUR 100 Mile Walking Challenges this year!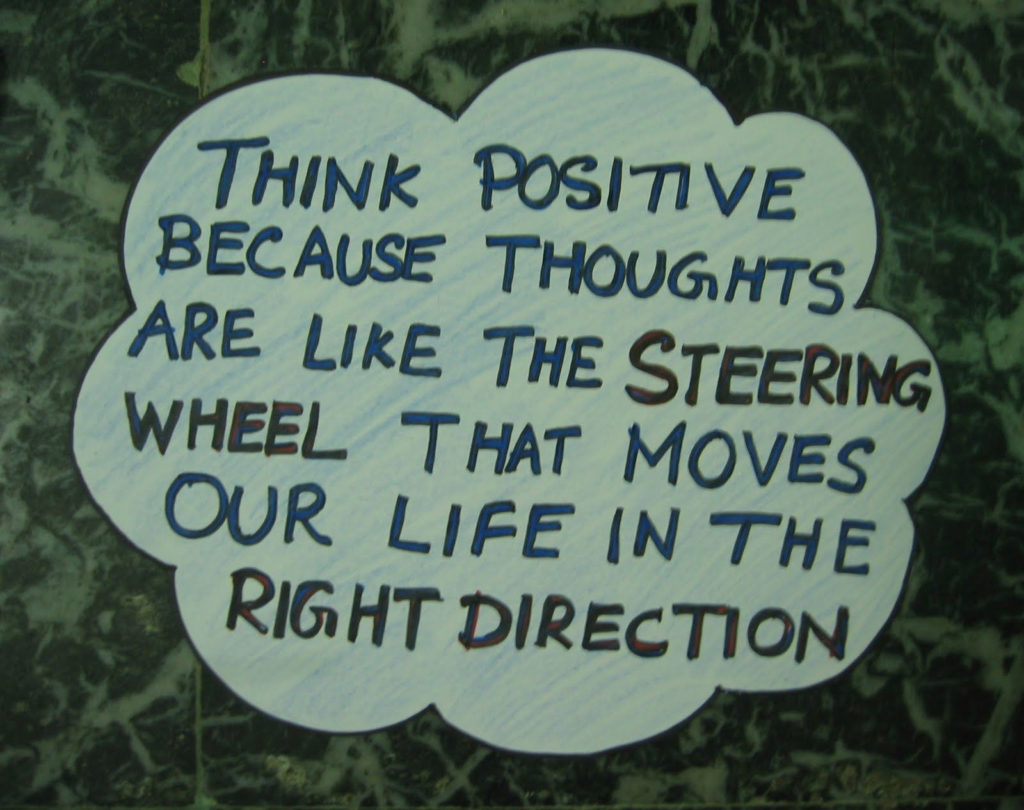 "love the life you live, live the life you love"