I had such big plans for myself in March with my 100 Mile Walk, then that dang Plantar Fasciitis got in the way of things and I did not complete my 100 mile challenge. I didn't make any goals at all for myself for April, so I feel that May really needs a mindful plan.
I went to a gym about 30 minutes away to inquire about a 6 Week Challenge they have starting next week. That seemed far to drive when I know there are things that I can do that are closer to home. It was a tad pricey for three 30 minute workouts a week, so I've decided to stick to walking and Yoga until I come up with something else to try.
I like the Fitbit, but I have not been great about working towards the 12,000 step goal that I set for myself. I've decided to be more mindful of that and make a goal for myself that includes how many days a week that I will get in 12,000 steps.
The plantar fasciitis does feel better thanks to that KT tape, stretches and always wearing a shoe with a supportive arch. While my foot is not 100%, I think that I can get those steps in.
I have become really lazy about drinking my water and tracking my food.
That can really get me in trouble. When I do not get my water in or track my food, my body begins to show the side effects, not only weight gain, but I start to lack energy and I don't sleep as well. I don't like any of that!
May Goals!
Track every bite of food and blog what I eat every single day in May! No excuses.
Walk 12,000 steps FIVE days a week in May!
Did you make goals for yourself for May? It's not too late!
Have a great week!
Breakfast – 7 SP
Egg White Omelet filled with veggies and ham and topped with Avocado Slices.
1/4 Big Ass Waffle on the side with berries.
I made extra waffles over the weekend, then put them in the freezer. It was kind of nice to pull out just 1/4 for 1 SmartPoint! If Mike doesn't find them, they should last me a few days!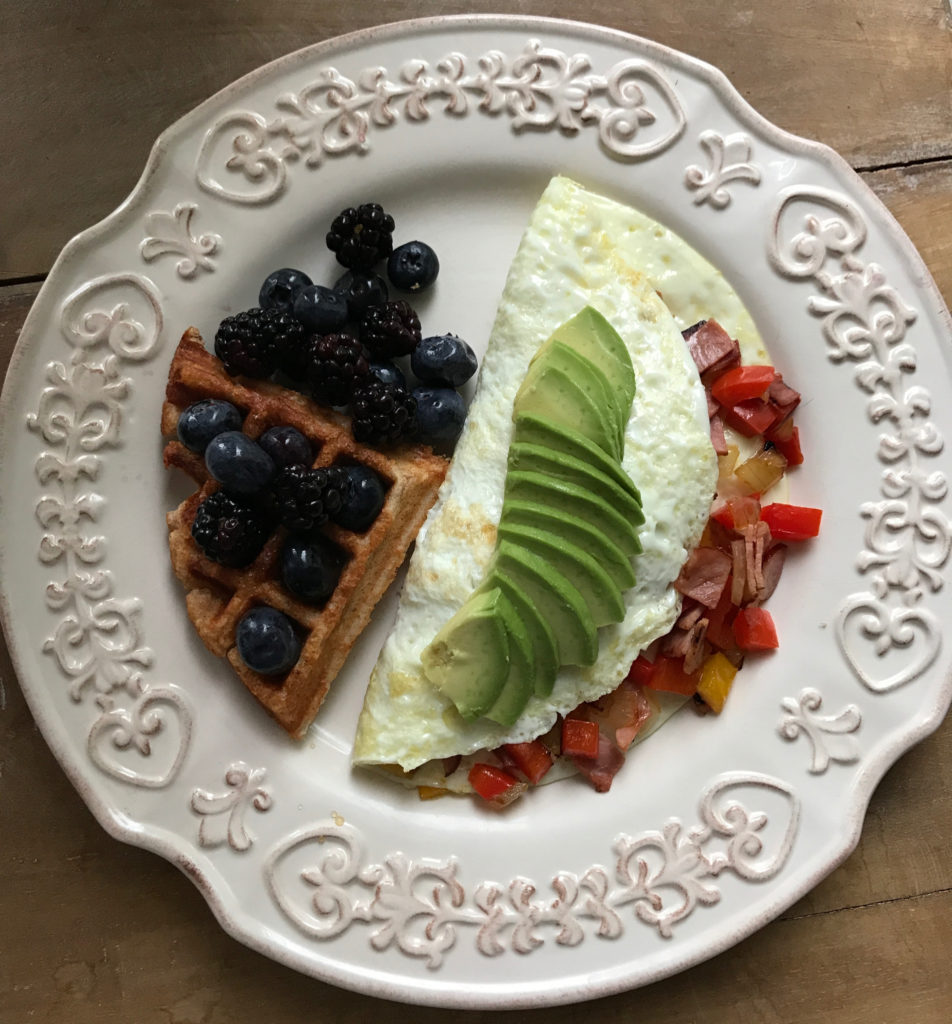 Lunch – 13 SP
I made Skinnytaste Carnita's for dinner at the farm with friends this weekend.
We had plenty of pork leftover, so I made these little taco's for lunch yesterday. I also had a few extra bites of pork, so I had to guess here on how many smartpoints this lunch really was.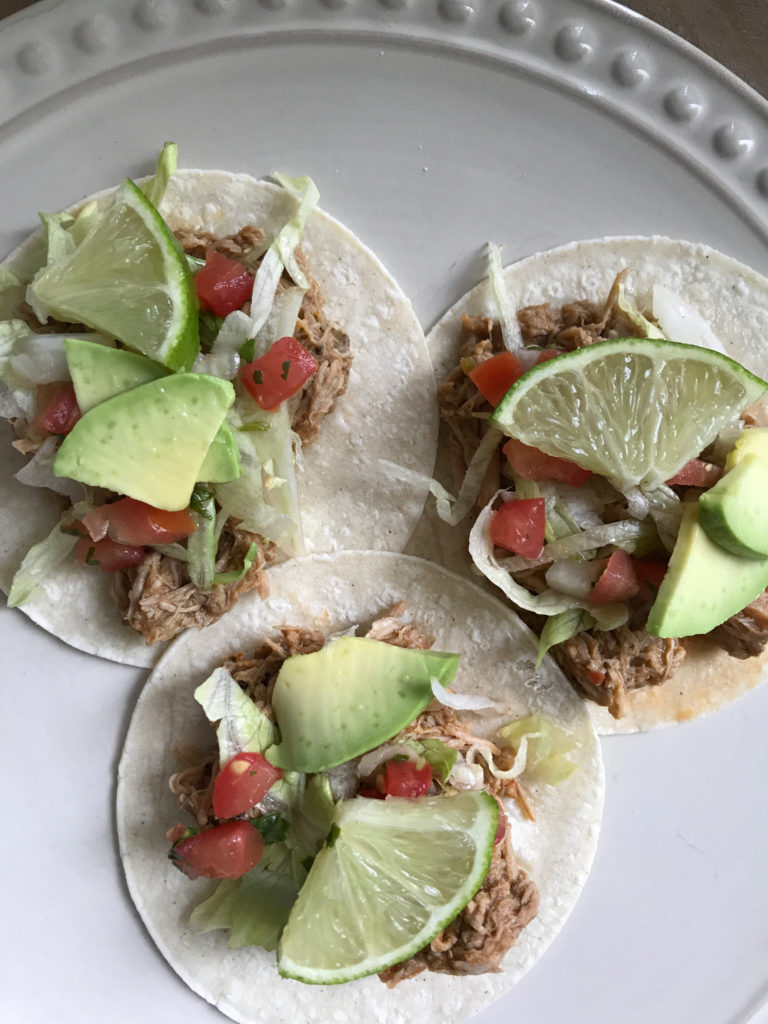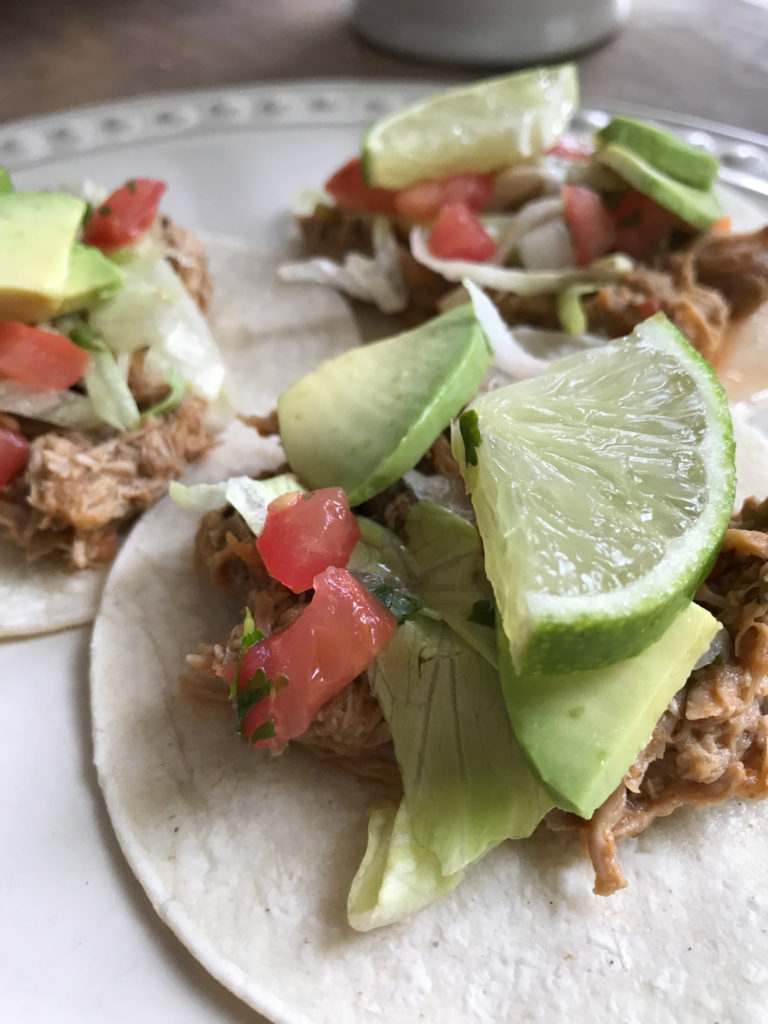 Dinner – 13 SP
Hard Boiled Egg on one slice of Toast and Berries and 1 T. Nut Butter on the other slice.
This bread is really good, but it is 4 SmartPoints per slice! I thought it was 2 SmartPoints per slice while I was throwing together this quick dinner, then after taking this picture, I remembered that I had bought a loaf of bread with larger slices for Mike to make sandwiches for lunch. Oops. Super filling though!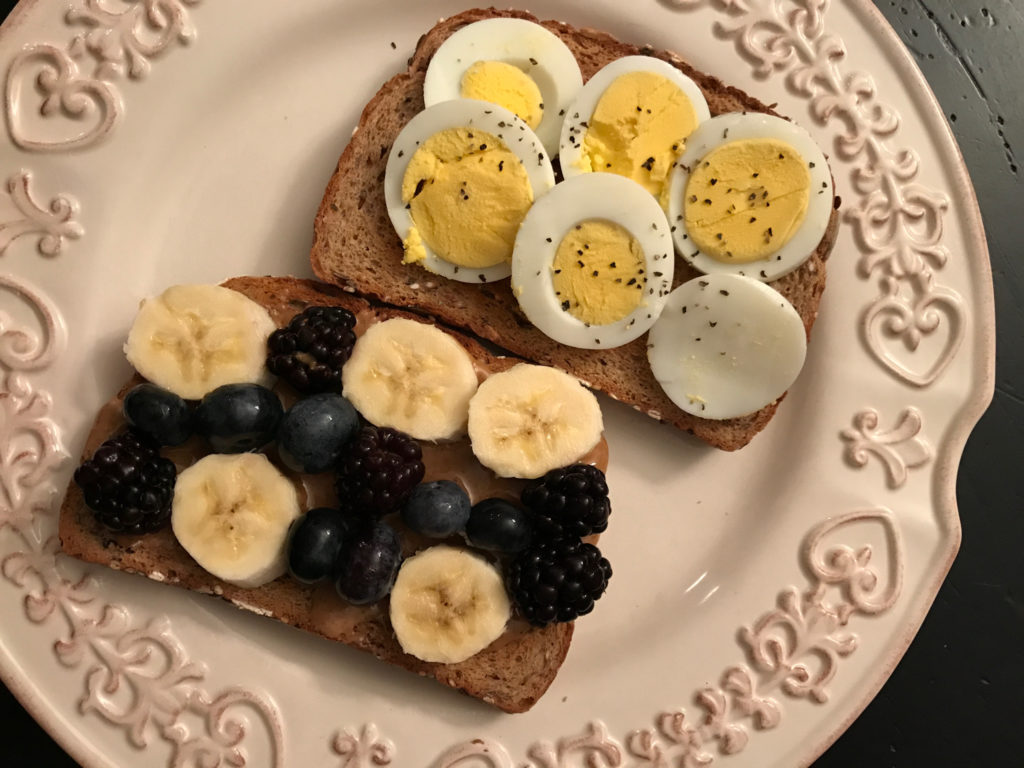 Daily SmartPoints Total = 33
2017 Goals
Make time each week to Meal Plan
Drink 100 ounces of water each day
Exercise 5 days a week
Eat three meals and one snack daily
FOUR 100 Mile Walking Challenges this year!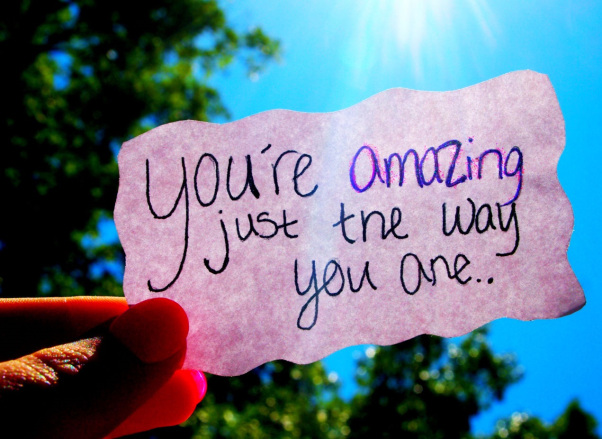 "love the life you live, live the life you love"