This steak soup really isn't streak soup at all, but while playing in the kitchen one afternoon, I made this soup and it totally reminded me of a Steak Soup that I love at one of our locally owned restaurants.
I used ground turkey and vegetable broth the day that I first made it, then I thickened it up a bit with a puree made from potatoes and broth. Mike and I both loved it but of course I was just playing around and I didn't write anything down.
Now I've played with this recipe a few times and I finally came up with a recipe that I could write down.
Some friends came by for a visit on Saturday, and I had a pot of my soup on the stove. With the fireplace going and the crazy single digit temps we are having here in Kansas City, (and the fact that I cooked something 17 post op major surgery), I was ecstatic to be able to offer them a warm bowl of soup.
After the first bite, our friend said, "This is great Steak Soup!"
His daughter worked as a hostess at that particular restaurant that I mentioned that had the Steak Soup, so I asked him if that was what he was referring to.
"Yep!"
So…go make yourself some Steak Soup that really isn't Steak Soup at all!
Enjoy all of the Zero Smartpoints veggies that are in it!
I use 2 pounds of meat because I really like a thick soup.
This is one of those recipes that taste great the day that you make it, but it is even better the following day!
You could totally make this soup using 99% Fat Free Ground Turkey and leave the potatoes out all together for a great Zero SmartPoints Soup!
Serve that over Whipped Cauliflower and you still have a yummy tasting and thick soup!
Julie's Steak Soup
2018-01-01 08:10:29
Ingredients
2 lb Ground Turkey - 93% lean
1 Onion, diced
3 Celery Stalks, diced
1 Garlic Glove, diced
4-6 Medium Carrots, sliced
16 oz White Potatoes, peeled and cubed.
1 C. Frozen Peas
1 C. Frozen Corn
3 T. Tomato Paste
8 oz fresh sliced Mushrooms
1 tsp Worcestershire
1 tsp Parsley Flakes
1 tsp Sea Salt
1 tsp Rosemary
1 tsp Thyme
1/2 tsp Cracked Black Pepper
2 Bay Leaves
6 C. Fat Free Chicken or Vegetable Stock
Instructions
Set aside 1 1/2 Cups of stock and 1 Cup of diced potatoes.
In a large dutch oven, add turkey, onion, celery and garlic and cook until turkey is no longer pink.
Add the remaining ingredients, minus the stock and potatoes set aside.
Mix well and simmer on medium low stirring occasionally.
In a small pot, bring the 1 1/2 C of broth and 1 cup of cubed potatoes to a boil.
Boil for 8-10 minutes, or until very tender.
Using an emersion blender, puree the cooked potatoes in the broth until the consistency of baby food.
Add this to your pot of simmering soup. It will thicken things up nicely.
Simmer soup for at least 30 minutes.
Remove bay leaves and serve.
Notes
1 Cup = 3 SmartPoints
The Weight of My Weight http://theweightofmyweight.com/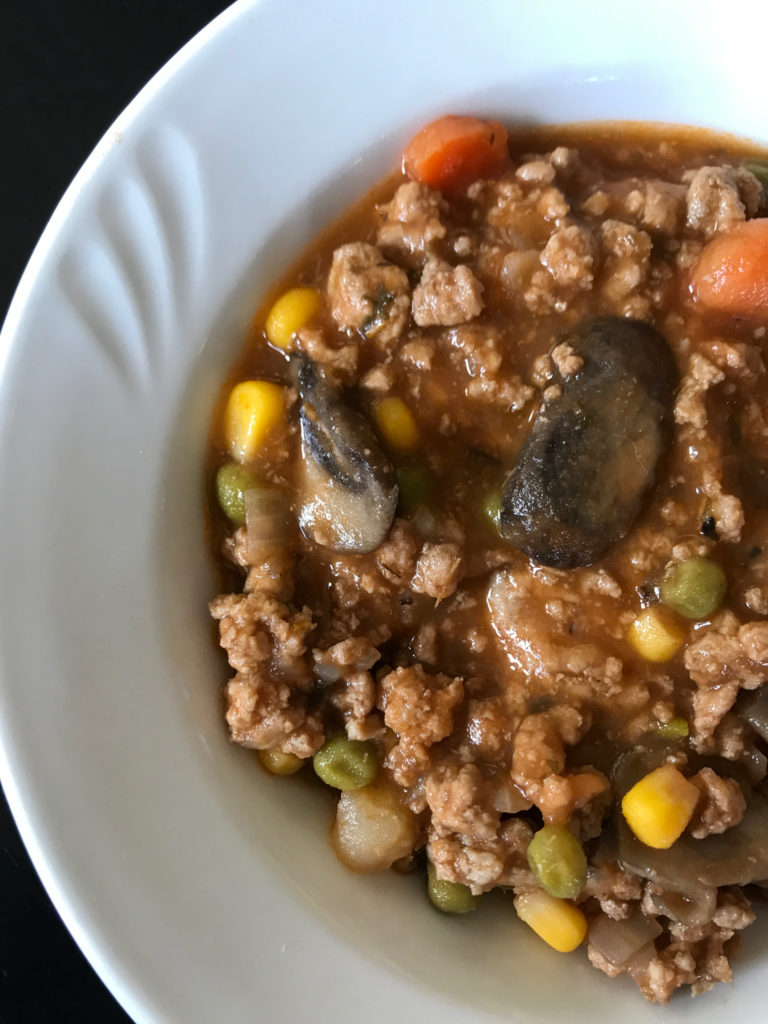 "love the life you live, live the life you love"