My "Four Week Chicken Challenge" is winding down, and I really can't believe how many recipes I have accumulated that I haven't made yet! I've been spending a lot of time on Pinterest searching for Chicken Recipes, and now I have a ton that I want to try!!! Maybe I'll add another week to my Chicken Challenge??? Nah……But I do have several recipes yet to try, and if they are a success, I will be adding them to my nicely growing list of "Low Point Meals" under the "Recipe" tab at the top of this page.
For the recipe I am posting today, I was thinking Chicken Salad, but I didn't want one that was heavy with mayo, so I was thinking mustard? I really only started liking mustard in the last couple of years. I'm amazed at how my taste buds are still changing as I get older. There's still a pretty good list of foods that I'm not crazy about, like raw sushi, but I still taste it once in awhile, just in case. Like my personality, my palate isn't very mature. Maybe in my 80's, I'll be a sushi regular, or even beef tartare? But, I doubt it.
I love Chicken Salad made with grapes and celery, but I wasn't real sure how that would taste with mustard vs. mayo, so I decided a "little" bit of mayo might be okay, and I went with Honey Mustard!!
Ingredients
1/4 C. Light Mayo
1 T. Dijon Mustard
2 T. Honey
1 Pound Cooked Chicken, cut into bite size pieces or shredded
1 Celery Stalk, chopped
1 Cup of Red Grapes cut in half
1/2 C. of Water Chestnuts, diced
Salt and Pepper, to taste
Serves 4
1 Serving = 7 PPV
Combine Mayo, Dijon Mustard and Honey and mix well.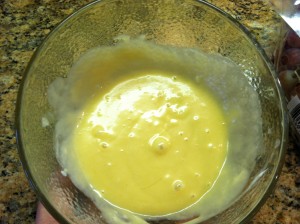 Combine all other ingredients in a large bowl.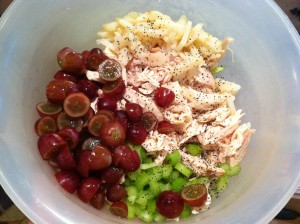 Add Honey Mustard mixture.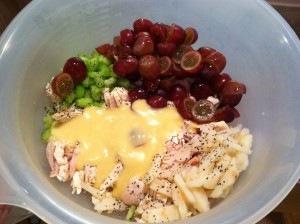 Stir until all ingredients are mixed well.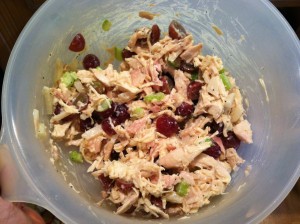 Divide into 4 servings. 1 Serving = 7 PPV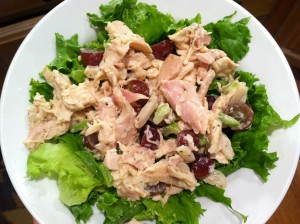 Serve on bread, in a wrap, on a bed of lettuce, or simply in a dish!
I'm keeping this post simple, so here are the yesterdays eats!
Breakfast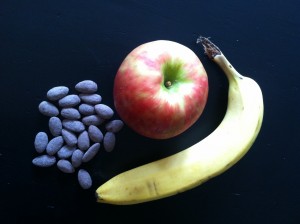 Lunch

Snack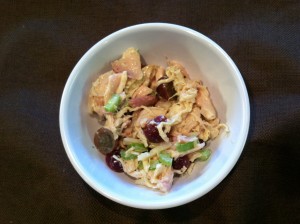 Snack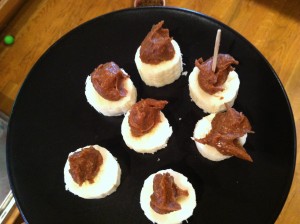 Dinner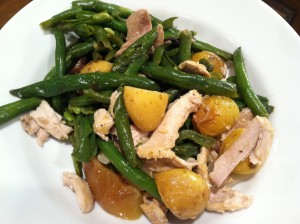 Refresh…I can eat 26 points a day.
I can earn Activity Points by doing exercise, and eat them if I choose.
I have an allowance of 49 points that I can dip into if I chose.
I should drink a minimum of 6 (8 oz) glasses of water each day.
The food I ate and it's PPV
Breakfast = 24 almonds, Banana, Apple (4)
Lunch = Pulled Pork, Broccoli Slaw and Aioli (8)
Snack = Honey Mustard Chicken Salad (7)
Snack = Banana with PB2 Chocolate (1)
Dinner = Leftovers from the Apple Cider Baked Chicken (9)
Total = 29
Today's Exercise = I have really been struggling on exercise and my schedule lately! I did not get any exercise in today. 🙁
How many glasses of water I drank today = 10
Activity Points Earned Today = 0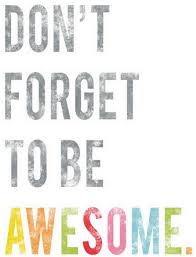 "love the life you live, live the life you love"