When I opened the fridge on Thursday morning, I realized how full it was of veggies that needed to be eaten! I hate throwing away food, but it seems like no matter how hard I try, I sometimes end up with extra produce that gets tossed. I was determined to use as much of it as I could for dinner. I had decided to use some of the rotisserie chicken that I had in the freezer for our dinner, but I hadn't really decided exactly what I was going to make. I finally decided on soup. Chicken Soup. Then I decided I would make something similar to Chicken and Noodles, but with Quinoa. I knew I had onions, celery, carrots, quinoa and chicken broth. No need to go to the store for anything! Easy Peasy, well, except there are no peas in this soup.
I started with some Olive Oil, onions, garlic and celery. Then I found the bag of broccoli slaw in the fridge and thought, why not? So I tossed that in with the few shredded carrots that I had left in another bag. I added a chopped up red bell pepper (because I had six!), and then I let all of those veggies sauté for a bit until they became nice and tender.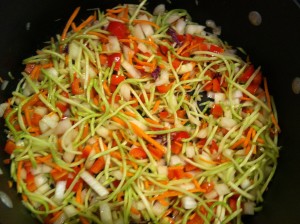 After the veggies were tender, I added some chicken broth.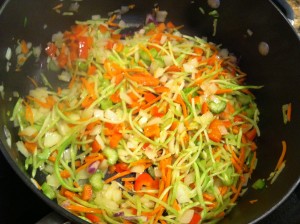 I chopped up the chicken into small pieces.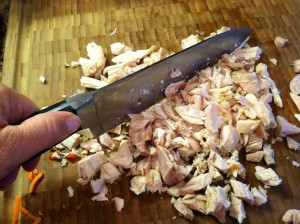 I added the chicken and some cooked quinoa to the pot and let it all simmer for a bit, then I put some into a small bowl, and gave it a taste.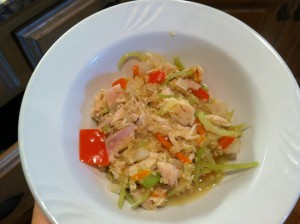 It was really good, but it wasn't really soup. It needed more broth, so I opened the pantry to grab some, when I saw this!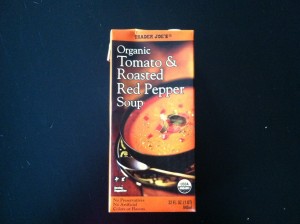 I had completely forgot that I had any of this amazing soup on hand, and without another thought, I opened up the box, and added it to the pot. Perfect!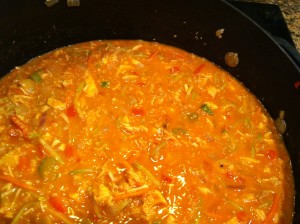 I did not add any salt or pepper to this and loved the way it tasted without it. Mike likes to salt most of his food, and he never picked up the salt shaker either, so I would imagine with the chicken broth, (even though I buy the low sodium) and the tomato soup, there was enough salt in this dish without having to add any extra. This recipe for me, was definitely a keeper! I would make it again and add more broth, and leave out the tomato soup, just for a variety. I think either way, I'm going to fix both variations a lot this winter!
Not Your Mama's Chicken Soup
Ingredients
1 Cup Dry Quinoa
4 Cups Chicken Stock (2 Cups to cook the quinoa, 2 cups to add to the soup)
2 T. Olive Oil
2 Cloves Garlic, Minced
1 Onion, Chopped
1 Red Bell Pepper, Chopped
1 Cup of Shredded Carrots
2 Cups of Broccoli Slaw Mix (Broccoli, Cabbage, Carrots)
2 Celery Stalks, Chopped
1 Pound Cooked Chicken
1 32 oz. Box of Trader Joe's Organic Tomato and Roasted Red Pepper Soup
Directions
Cook Quinoa according to Package directions, but cook the quinoa in chicken broth, not water. Set aside.
Saute all vegetables in Olive Oil for about 5 minutes, or until tender. Add the remaining 2 cups of chicken broth, the chicken, the cooked quinoa and the Trader Joe's soup. Simmer.
Makes approximately 10 Cups
1 Cup = Approximately 5 PPV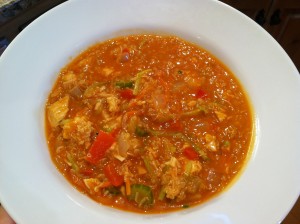 Here are the day's eats…….
Breakfast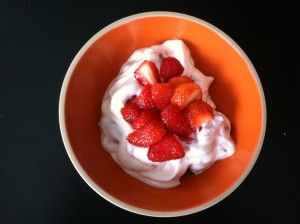 Lunch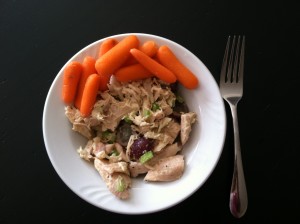 Dinner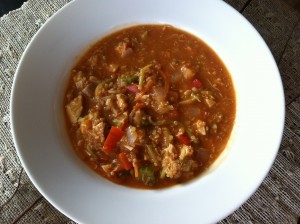 Refresh…I can eat 26 points a day.
I can earn Activity Points by doing exercise, and eat them if I choose.
I have an allowance of 49 points that I can dip into if I chose.
I should drink a minimum of 6 (8 oz) glasses of water each day.
The food I ate and it's PPV
Breakfast = Nonfat Plain Greek Yogurt, 1 Packet Sweetener, 1 Cup Fresh Strawberries (3)
Snack = Quik Trip Pumpkin Spice Latte, 1/2 Donut (6)
Lunch = Honey Mustard Chicken Salad, Carrots (7)
Dinner = 2 Cups of Not Your Mama's Chicken Soup (10)
Total = 26
Today's Exercise = urg, none.
How many glasses of water I drank today = 15+
Activity Points Earned Today = 0
Okay, I do like this little saying for it's deeper meaning, but when I found it, all I could really think about is the fact that I had no real plan for my soup, and it turned out great!!! I know. I'm a complete geek.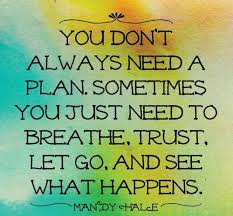 "love the life you live, live the life you love"