It was the perfect Sunday (well, almost….I really wanted the Chief's to win) that included sleeping in, a yummy breakfast, coffee on the couch with Mike and the dogs, and later, a great visit to the Dog Park with Tucker! I'd had a really busy week, so I was looking forward to having absolutely nothing planned for Sunday!
It is another busy week ahead though, so I would imagine that my post will be short and to the point for the next few days.
My weight is hanging around 153-155, and my goal for the rest of November and December is to not let my weight go OVER 155! I plan to enjoy the special food that comes with the Holidays, but I also plan to track my food and not go overboard on anything. I had an exercise plan for this past week, and I didn't stick to it as strictly as I had hoped, but having the plan did encourage me to exercise more than I had been in the last couple of weeks. I definitely do best when I exercise before doing anything else for the day.
Weighing less than 160 has been a huge Weight Loss Goal for me, but I am still aiming for 150!
Yesterday's eats……
Breakfast Idea No. 8
Cinnamon Banana French Toast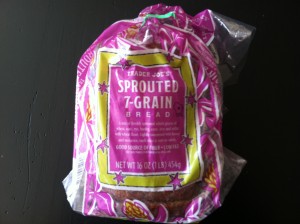 3 Slices Sprouted 7- Grain Bread (3 PPV)
3 Egg Whites (1 PPV)
2 Tablespoons Skim Milk (0 PPV)
1/4 tsp Vanilla (0 PPV)
1/2 tsp Cinnamon (0 PPV)
1 Tablespoon Maple Syrup (1 PPV)
1 Banana, Sliced (0 PPV)
Cinnamon to sprinkle on top!
Total = 5 PPV
Mix Egg Whites, Milk, Cinnamon and Vanilla. Dip bread slices in egg and cook in a medium heated skillet coated with cooking spray.
Top with Syrup, Banana slices and a dash of cinnamon!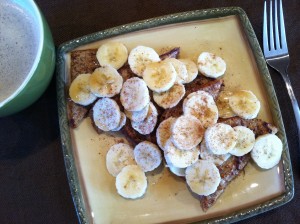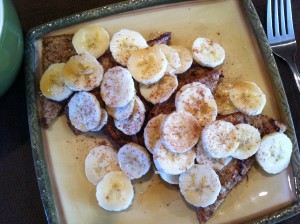 Lunch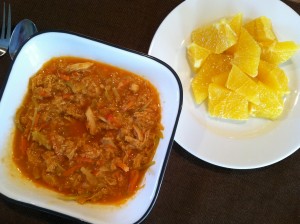 Dinner
I love this seasoning. I buy it at Whole Foods.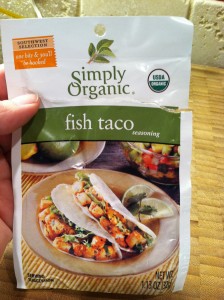 The directions say to make these taco's with Cod or Halibut, tilapia works too. I'm sure it's great with whatever fish you choose. Simply mix the packet of seasoning with warm water and stir. Put the fish, cut into bite sized pieces, into a ziploc bag with oil to coat the fish, then add the seasoning mixture.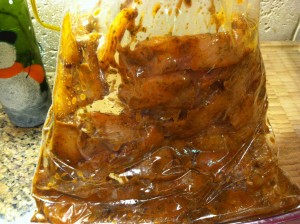 Cook in a skillet.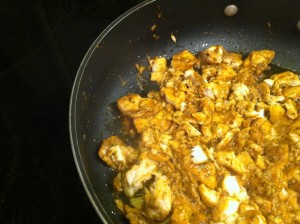 So Easy! So Good!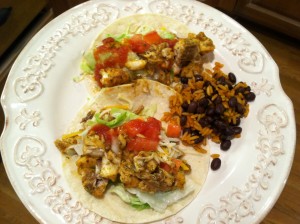 Refresh…I can eat 26 points a day.
I can earn Activity Points by doing exercise, and eat them if I choose.
I have an allowance of 49 points that I can dip into if I chose.
I should drink a minimum of 6 (8 oz) glasses of water each day.
The food I ate and it's PPV
Pre-Breakfast = Coffee with skim milk (1)
Breakfast = Cinnamon Banana French Toast (5)
Lunch = Not Your Mama's Chicken Soup, Orange (4)
Snack = un-pictured Almonds (5)
Dinner = Tilapia Taco's, Two Pictured, then I ate one more! (14)
Total = 29
Exercise = Walked 2.25 Miles, Strength Training (4)
How many glasses of water I drank = 10
Activity Points Earned for the Day = 4
Activity Points Earned This Week = 10
Remaining points from my 49 Points Allowance = 39
Alcohol consumption = none
What are YOU eating for Breakfast? I'd love to know!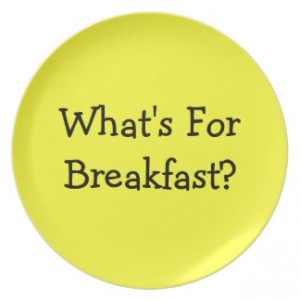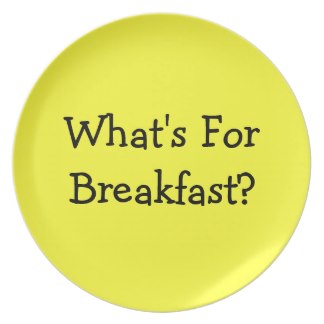 "love the life you live, live the life you love"