Tess came in town for the Thanksgiving Holiday early last Monday morning, and I just took her to the airport last night. We had almost an entire week together and I loved every minute of it!
I spent two full days getting the house ready for Thanksgiving, and the rest of the week, we spent having lunches, coffees and dinners with lots of family and friends.
We had 21 family members here for Dinner, and it was The Perfect Thanksgiving!
How Mike didn't realize that a large portion of his face was covered up, I have no idea….and, not ONE grandkid cooperated for this picture, but from goofy to prayerful to irritated to completely oblivious, their expressions and this whole family picture makes me smile!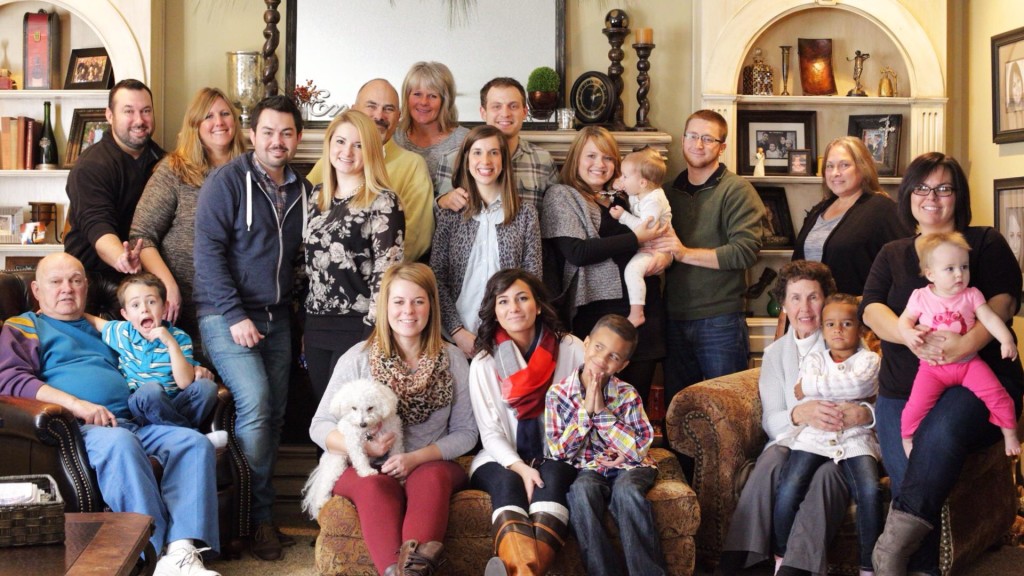 I had so much fun getting the tables ready!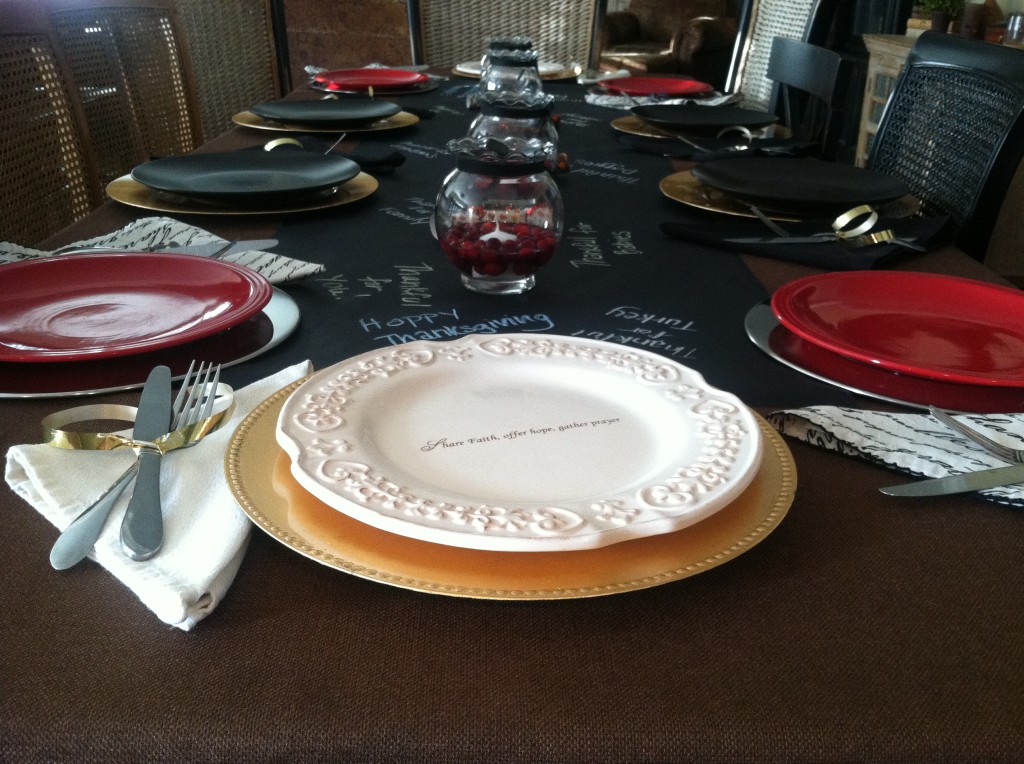 I loved the chalk table runners that I found! Everyone loved that they were included in one way or another.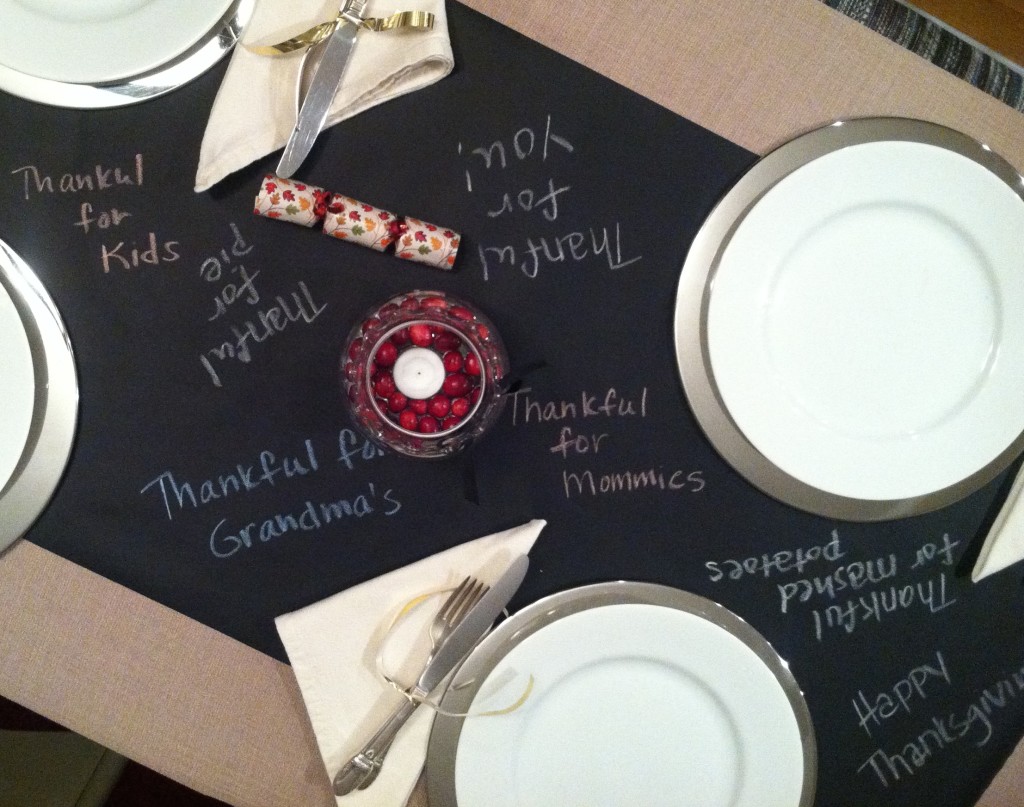 It was a simple and inexpensive way to have a fun table setting!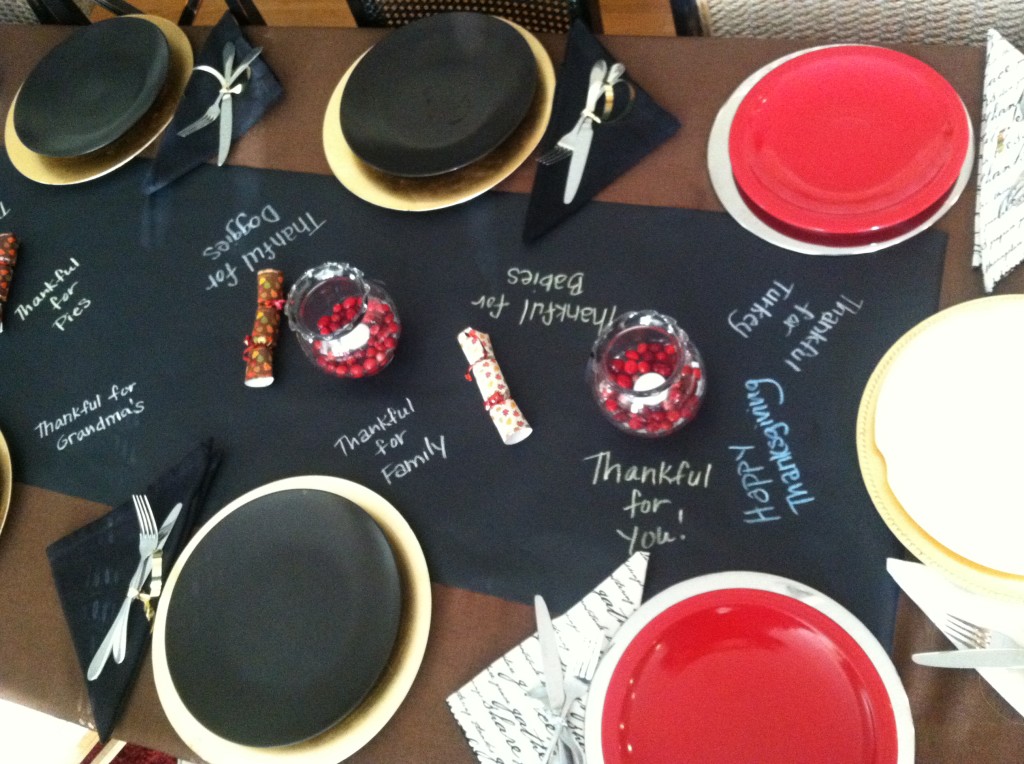 Everyone pitched in and brought side dishes, so getting dinner together and serving it all warm at the same time actually worked out really well!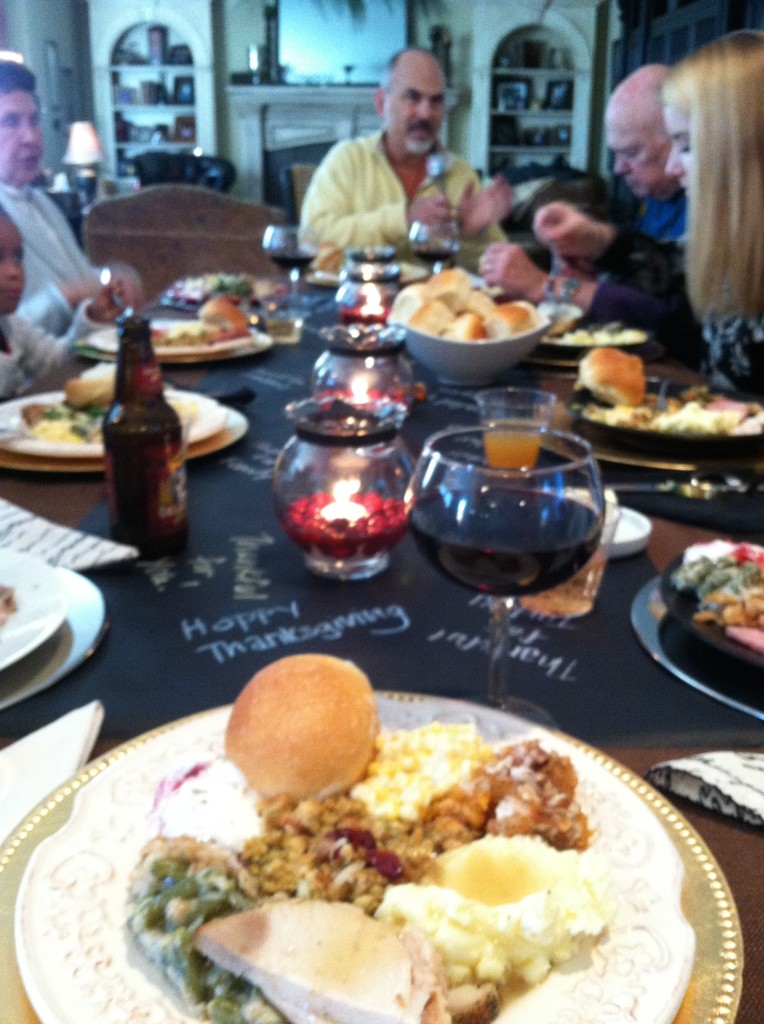 We had a great time hanging out after dinner playing checkers, playing pool, eating pies, and of course lots of loving! Baby Charlotte took her first steps this week and she won't be ONE until February! Look at that face!! Look at that hair!!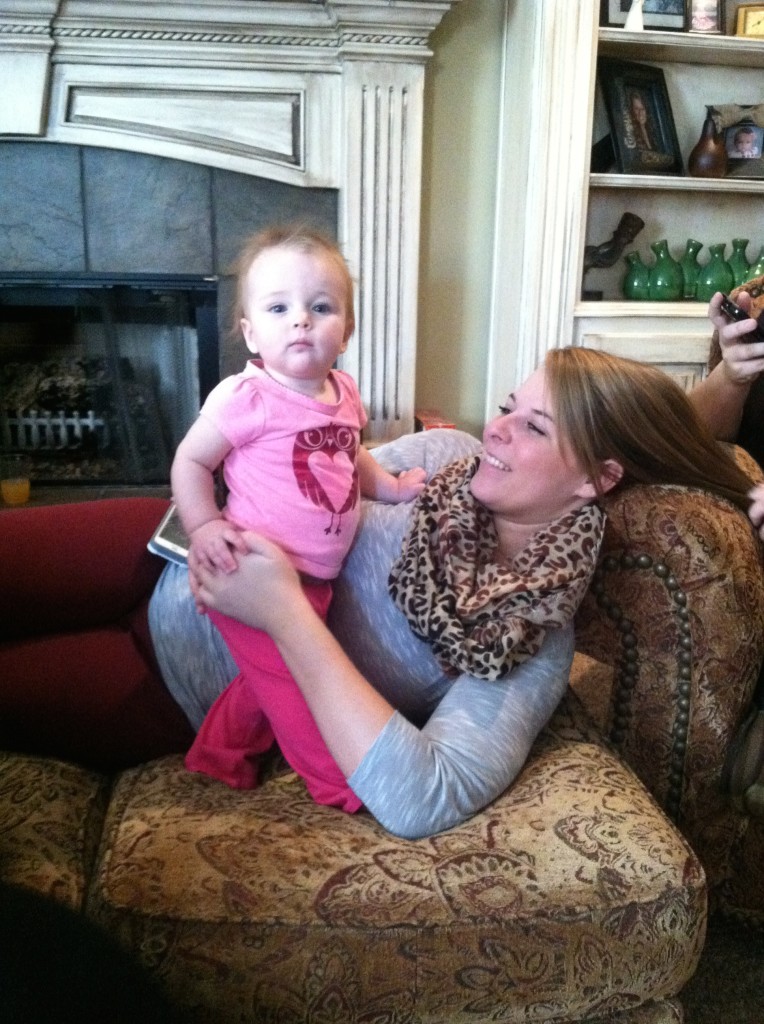 Everyone chipped in to help clean up and I was on the couch and in my pi's by 7:30! It really was the perfect Thanksgiving!
Aside from a great Thanksgiving Feast, the night before the big feast, Tess and I had girls night out with my nieces on my side of the family!
I drank wine, but ordered a really yummy salad!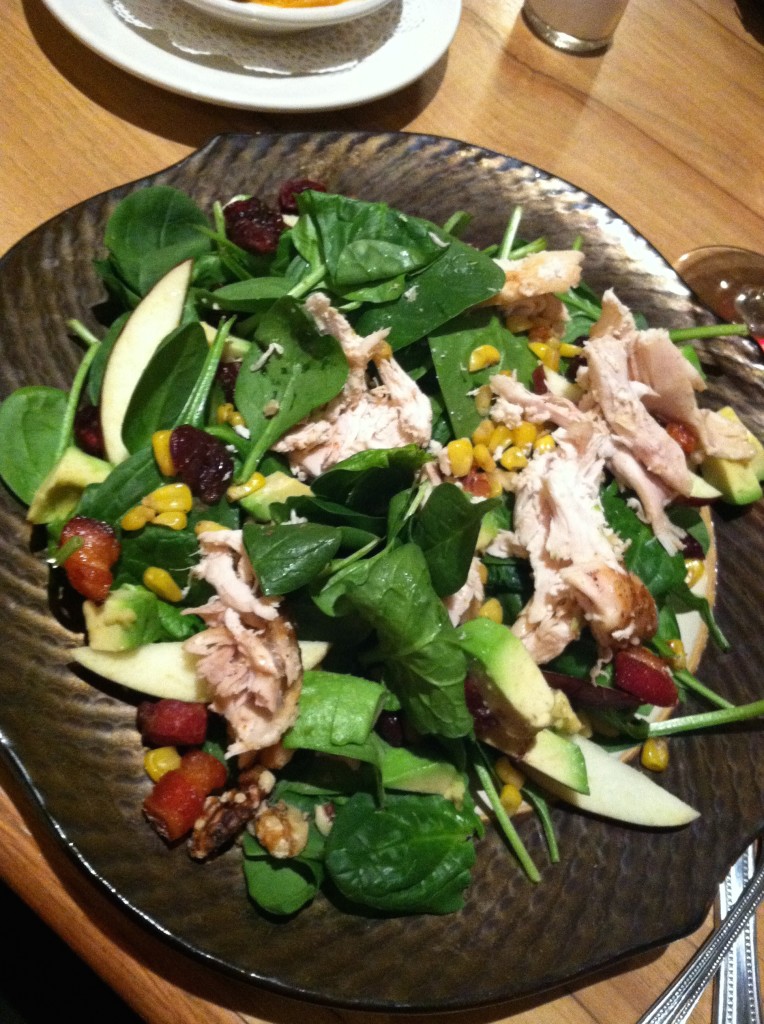 Me, my nieces Jessie and Carla, my daughter Tess. Do we look related?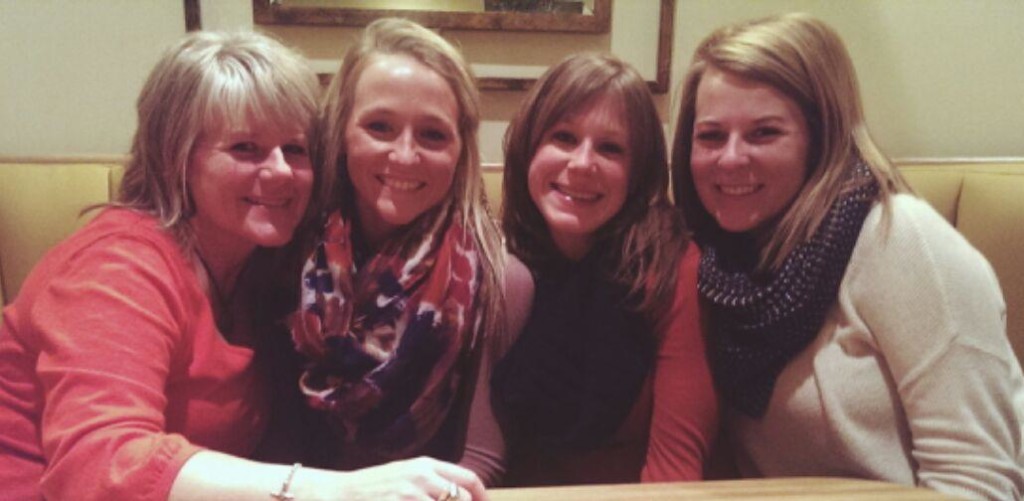 We had breakfast with some of my high school girl friends on the morning after the Thanksgiving Feast, and Tess and I shared a meal! I think I was still full from Thanksgiving. We had a great chat and got all caught up!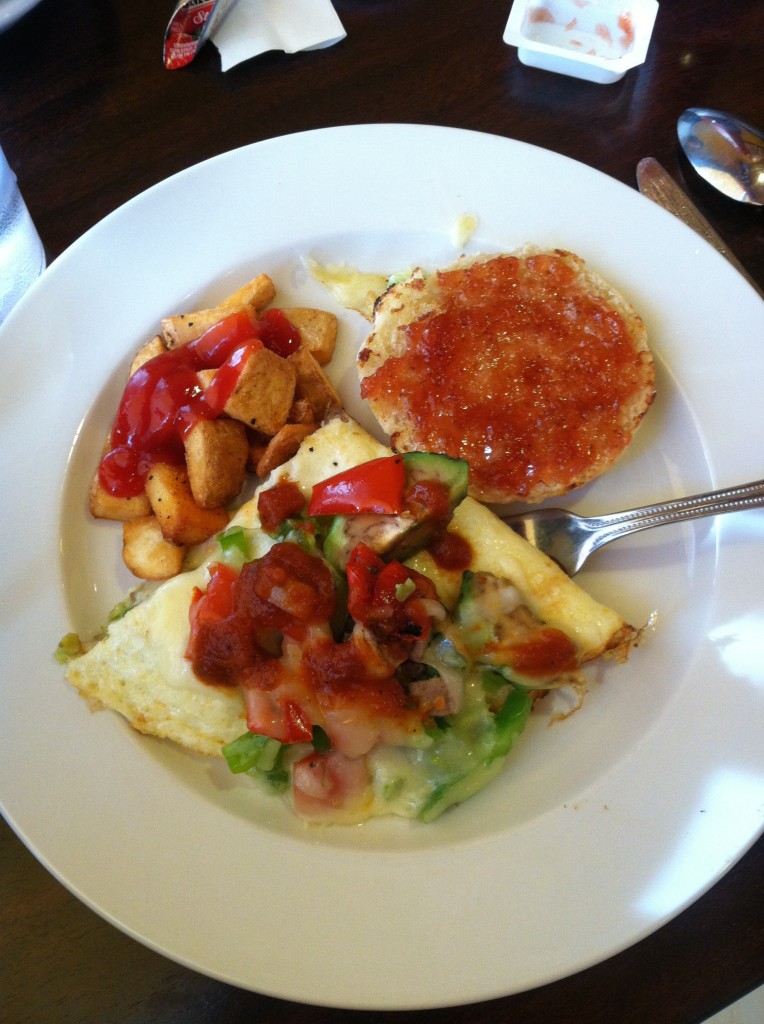 Friday, I spent the rest of the day decorating for Christmas!
Tess will say that she helped, but mostly she was horizontal on the couch and watched, me, and it was good.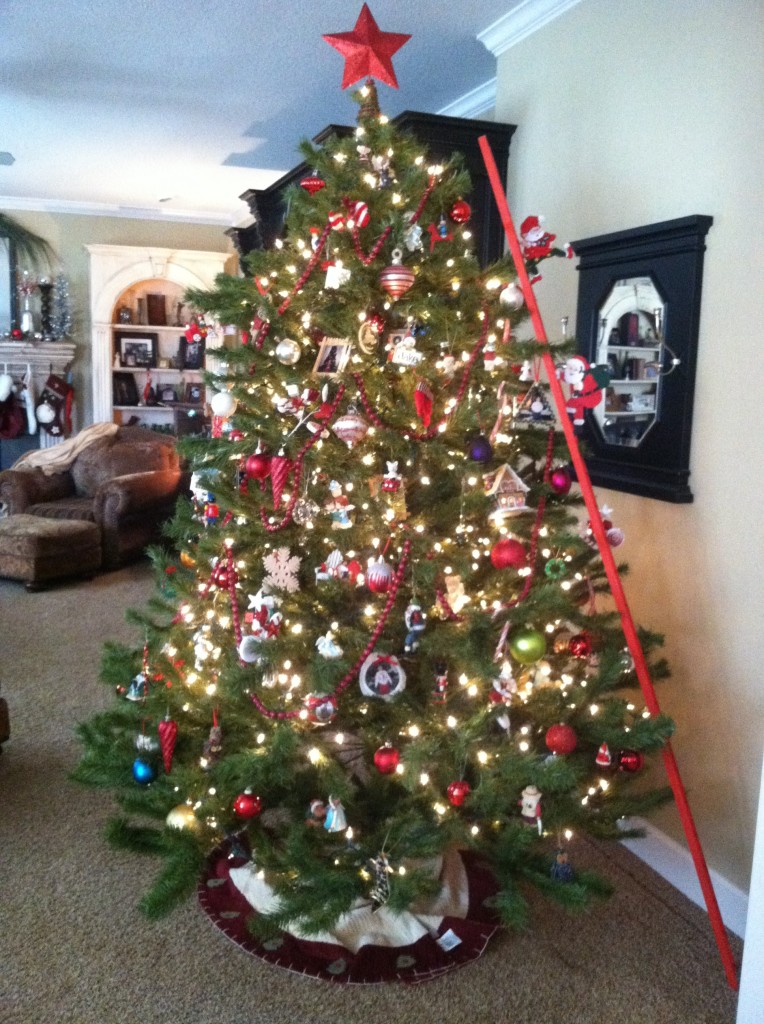 With kids and spouses and grandkids, we now have 12 stockings!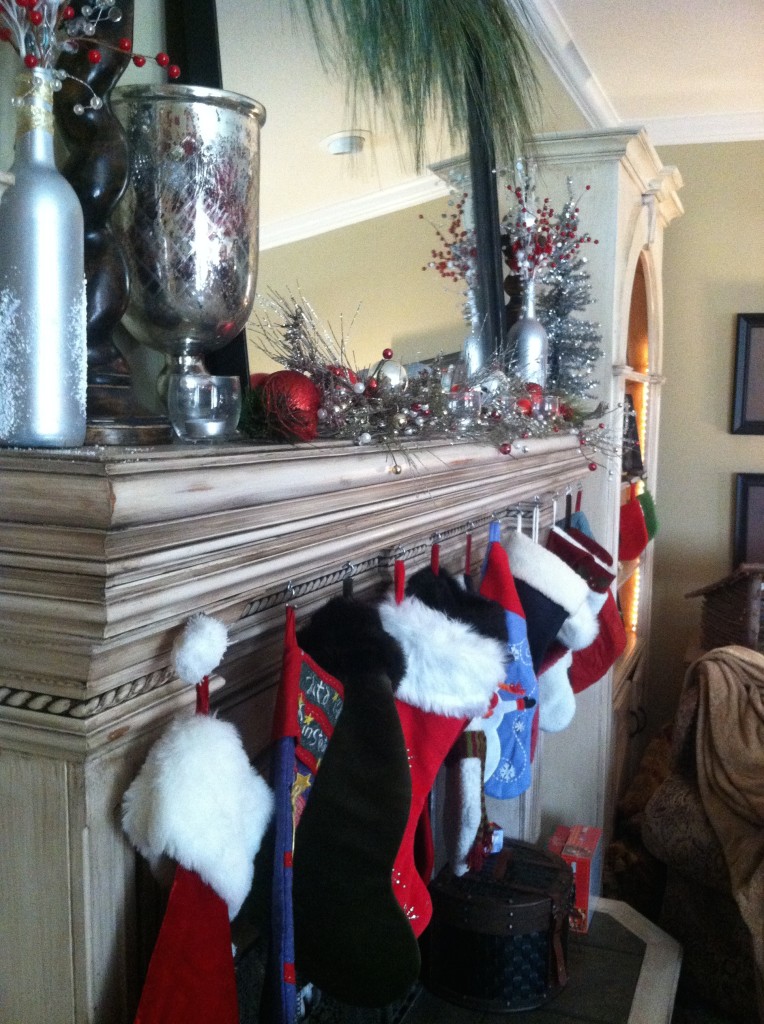 This Fall Decoration turned into a Christmas Decoration really easy! I love pine cones and red stuff!!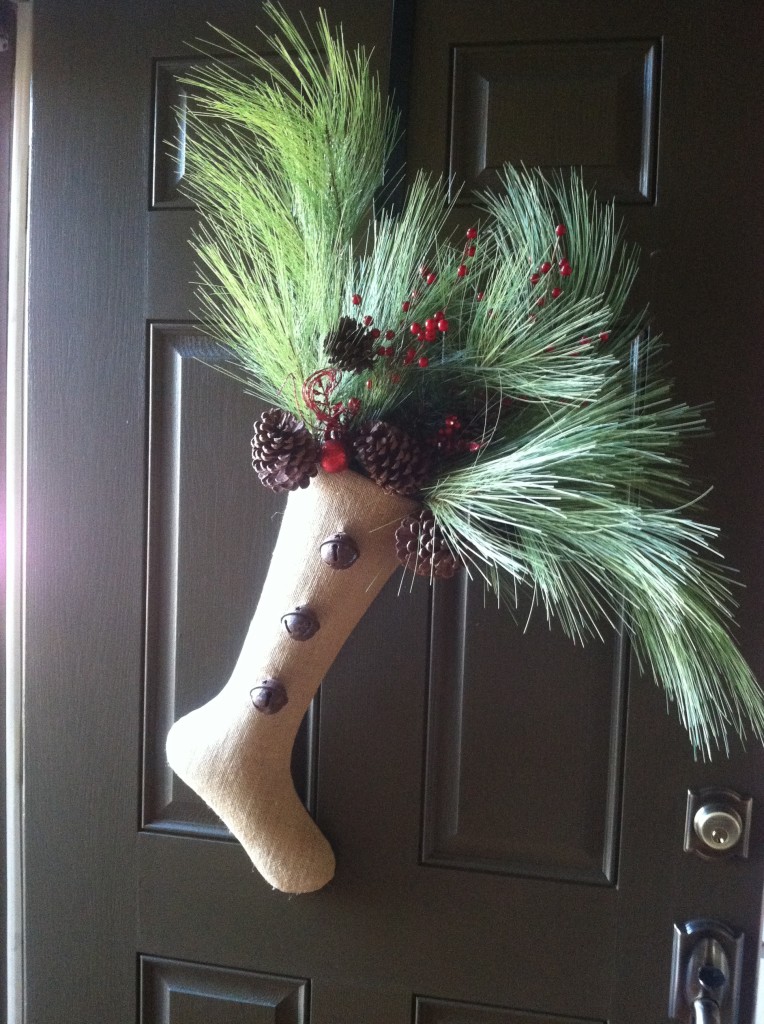 Pine Cones and red stuff!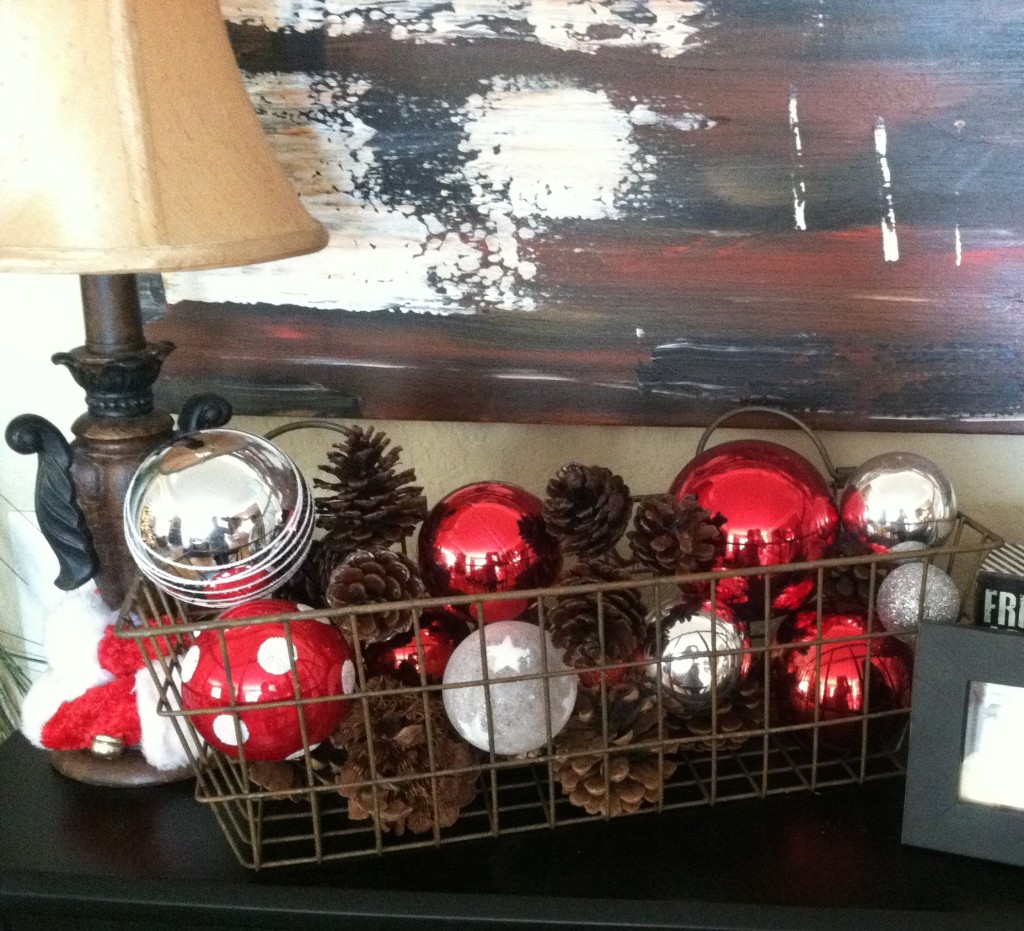 Pine Cones and red stuff!!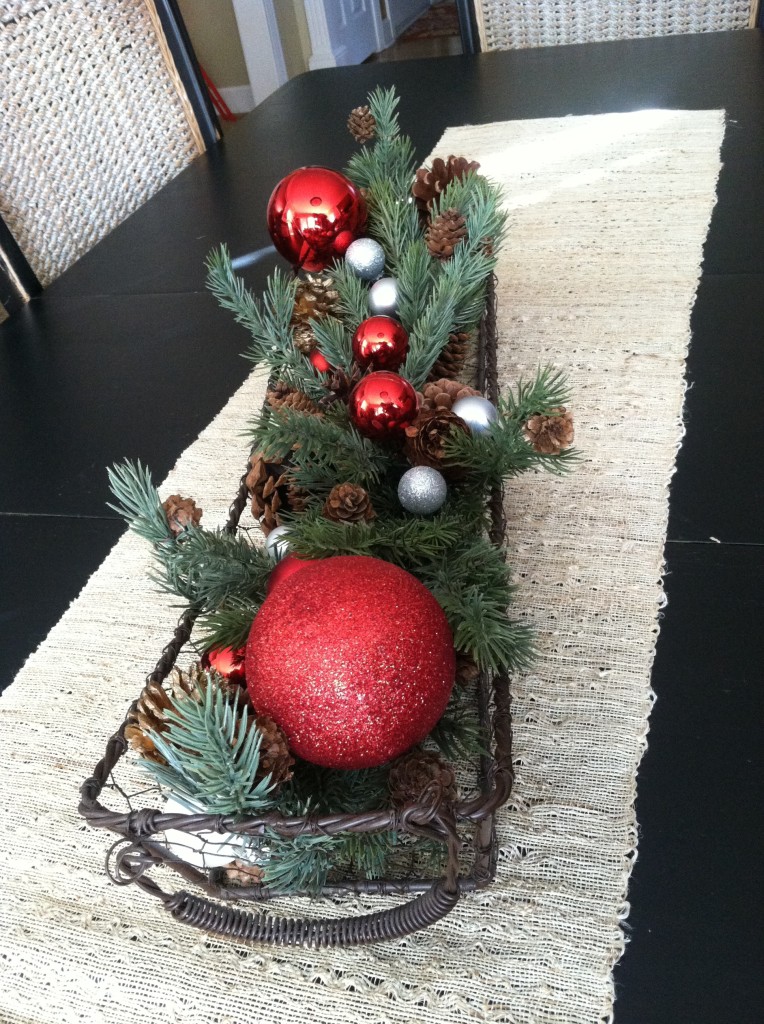 One of my favorite parts of the house, the entry!
Maybe I just need to sit on a chair in front of it for a while with a cup of hot chocolate and enjoy it. OR…maybe I make all of my guest just stare at it for a few minutes???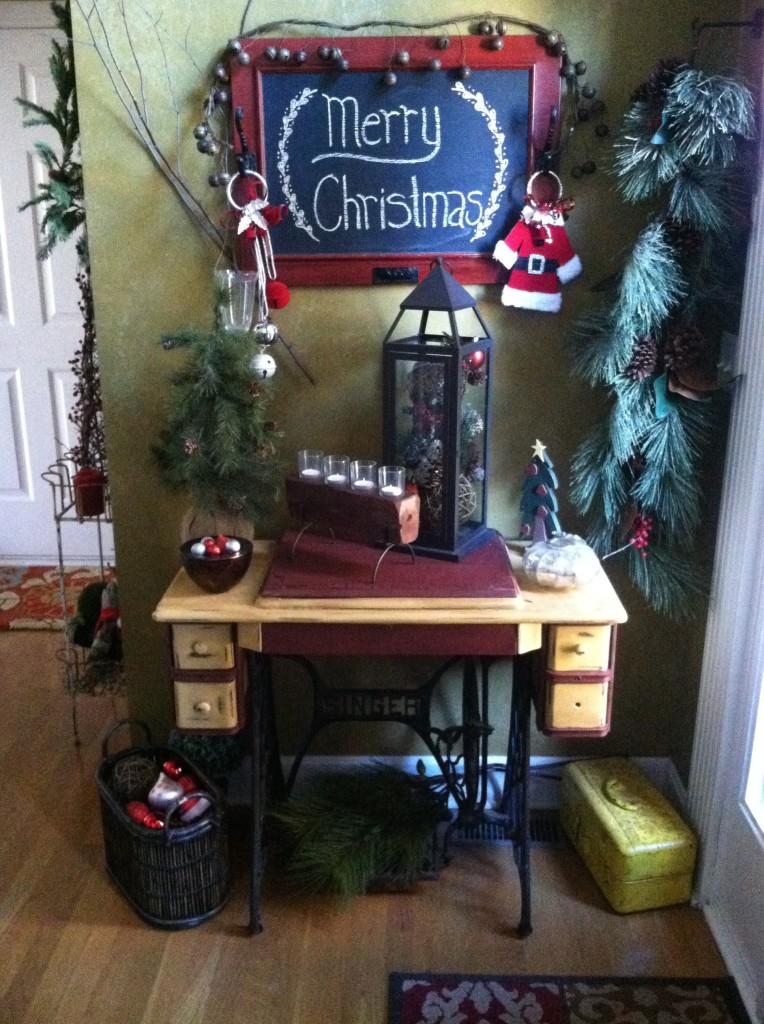 Most importantly, look who got a new bow tie!!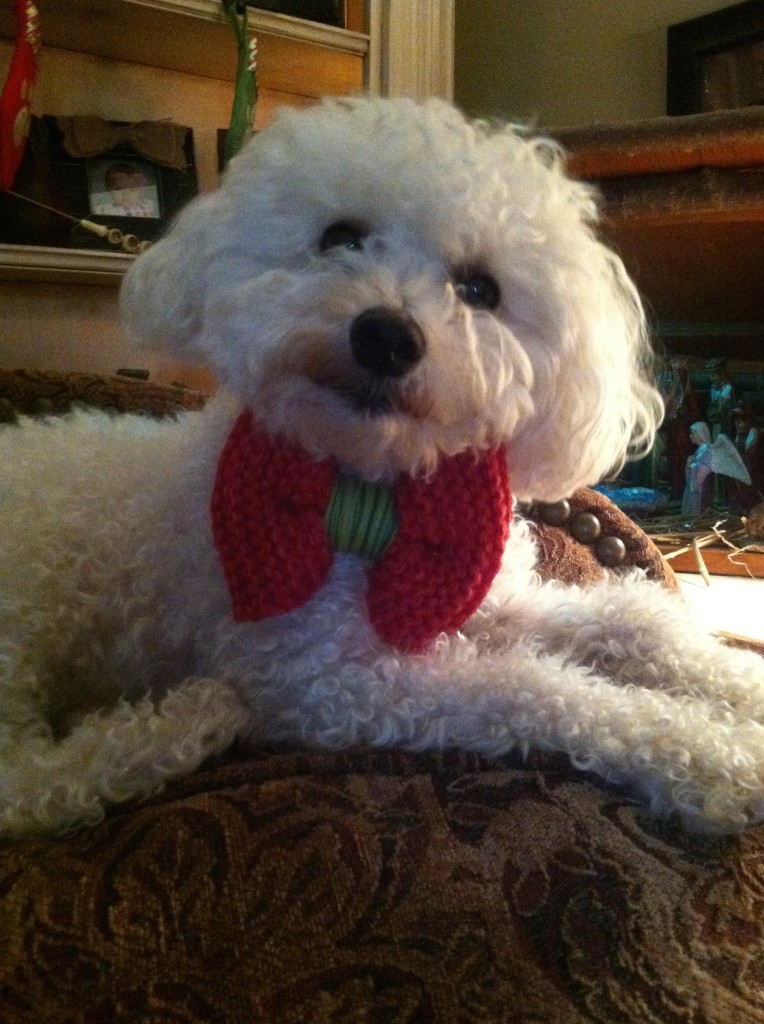 Okay, that's all for the festivities….
I didn't track or blog all week long. I basically quit my walking challenge, I drank too much wine and I ate too much pumpkin bread.
Yesterday, I got back on track. I actually had points left at the end of the day for a Latte while I sat on the couch and enjoyed the Christmas Tree.
This morning I went to a 60 minute Hot Yoga class, and right now I feel great!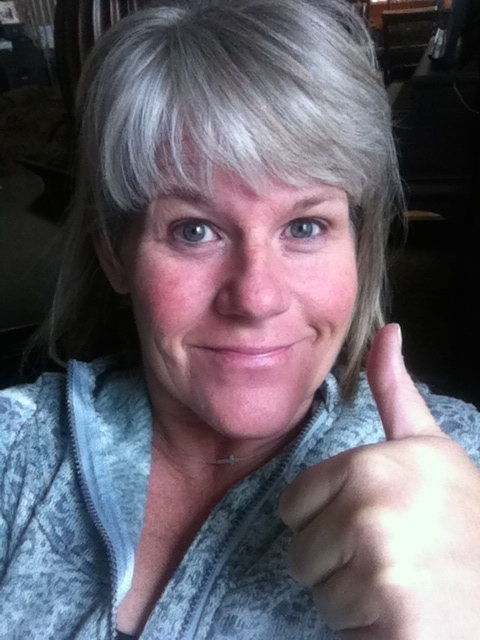 Here are yesterday's eats!
Breakfast
Zucchini, Red Onion, Sweet Potato, Egg
7 PPV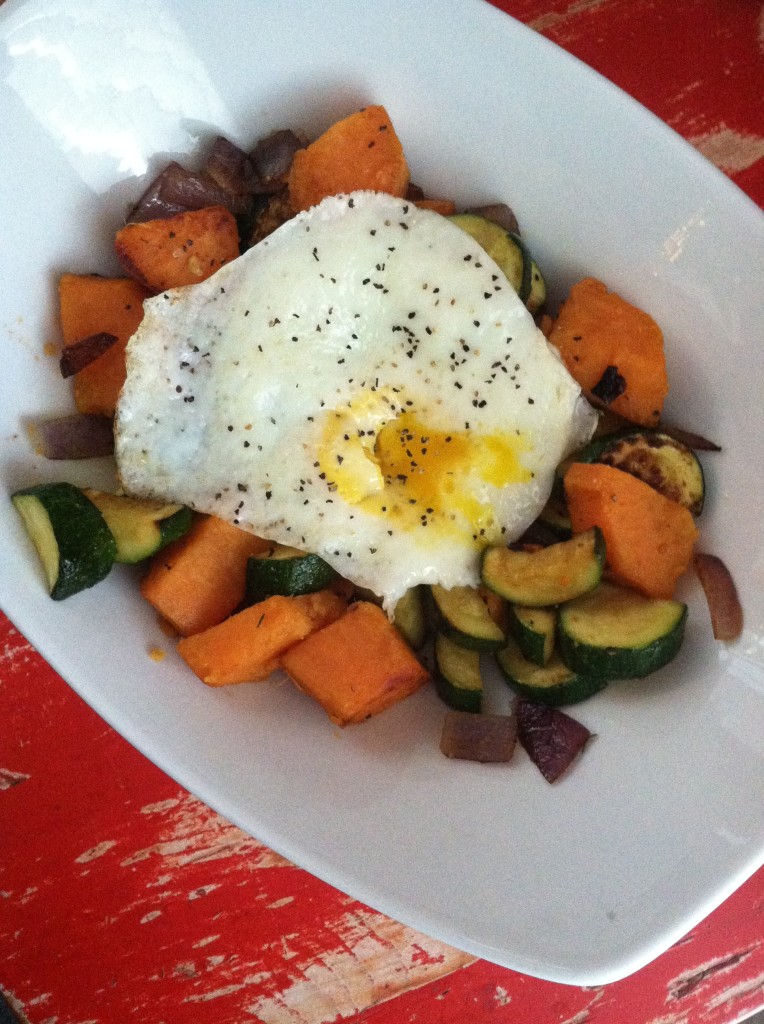 Lunch
Nonfat Plain Greek Yogurt
2 T. PB2 Powder, Banana
3 PPV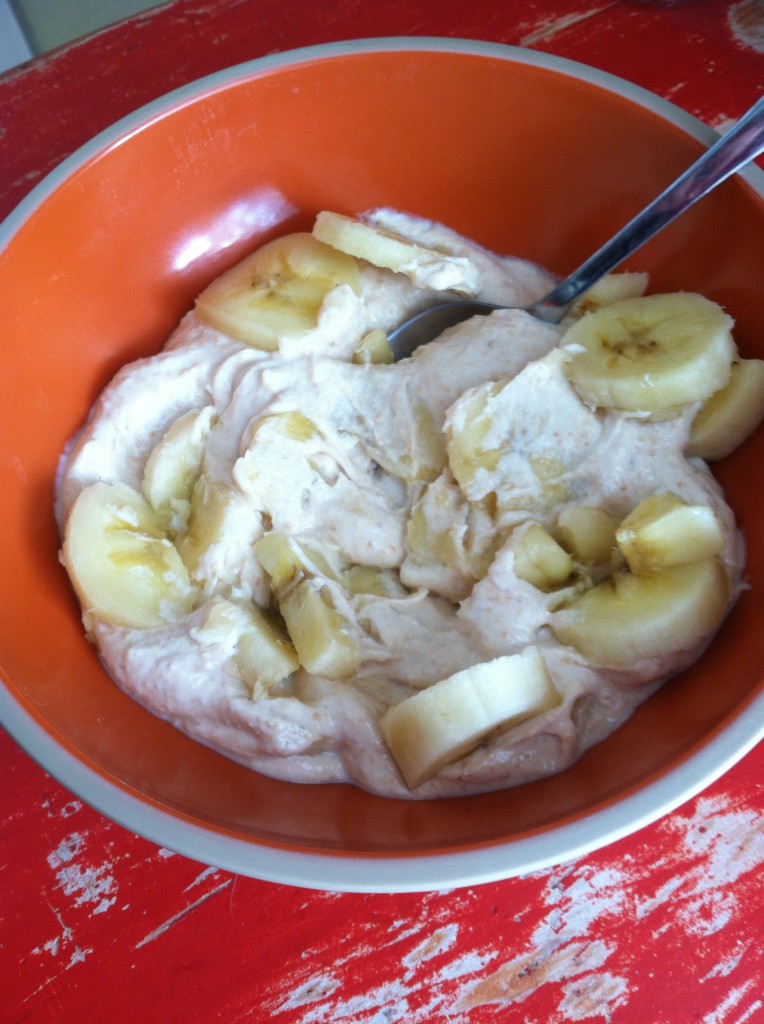 Dinner
Salmon Caesar
12 PPV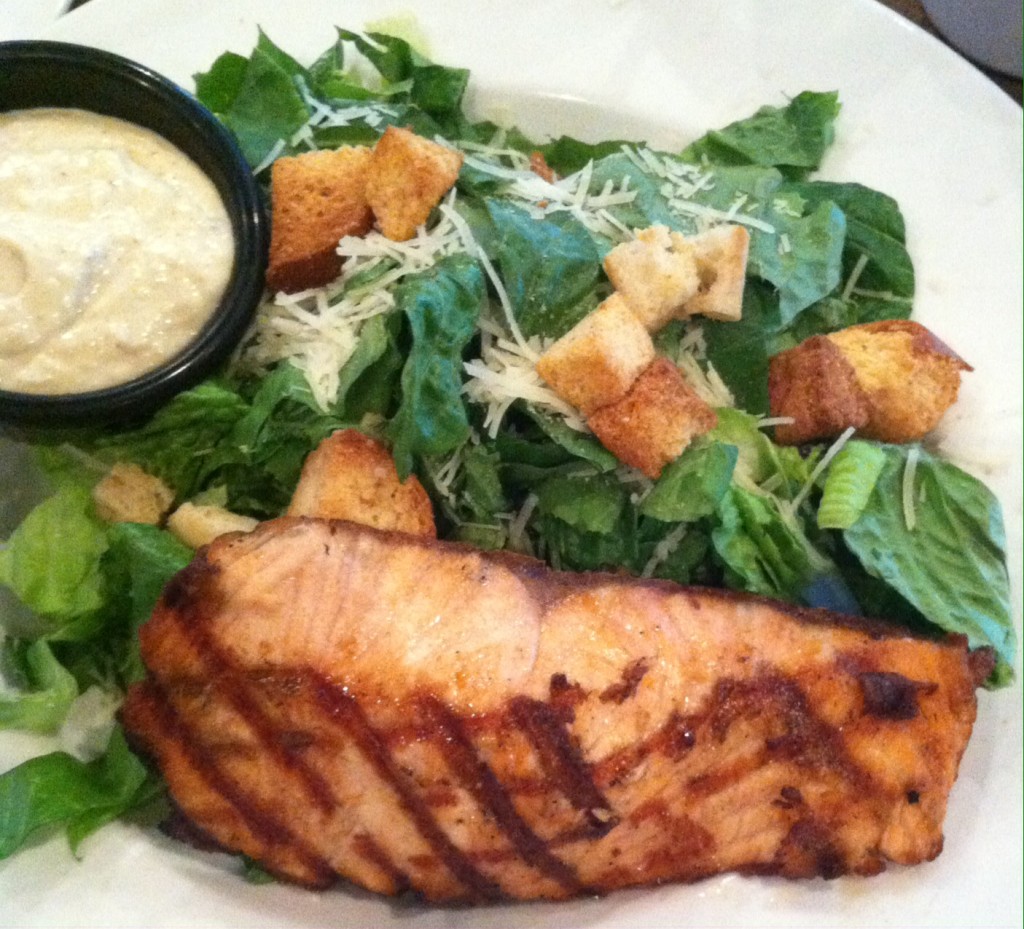 Snack
Tall Nonfat Latte with 1 Pump Sugar Free Caramel
3 PPV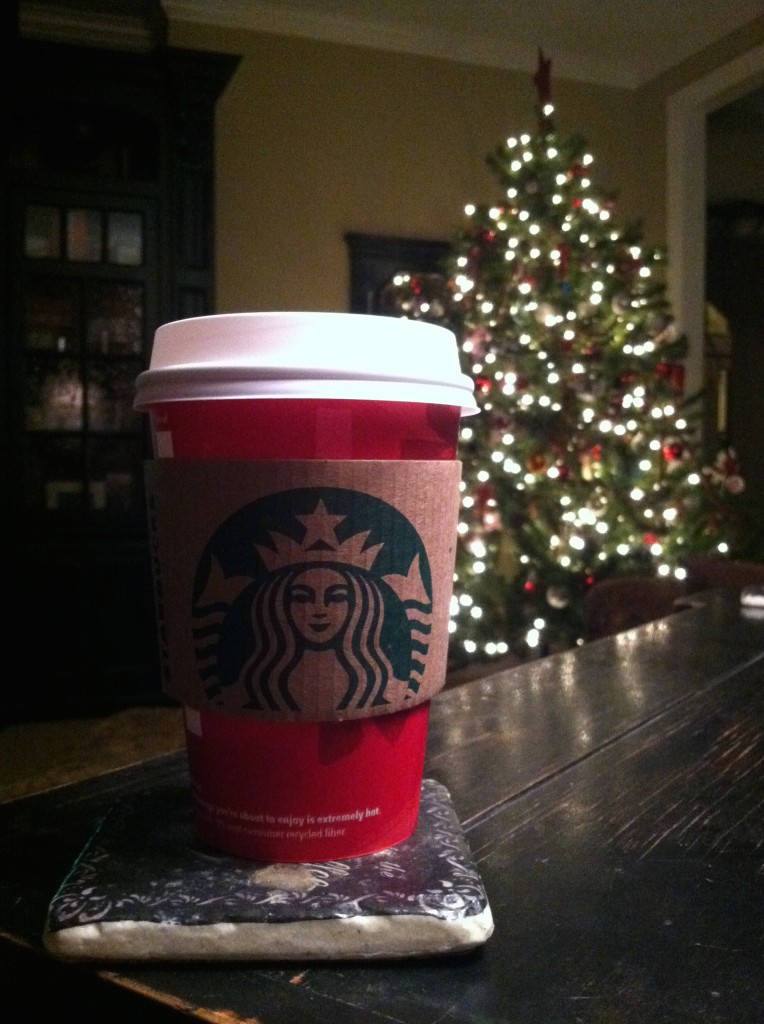 Weight Watcher's Points Plus
I can eat 26 PPV a day.
I can earn Activity Points by doing exercise, and eat them if I choose.
I have an allowance of 49 extra points that I can dip into throughout the week if I choose.
I should drink a minimum of 6 (8 oz) glasses of water each day.
My Weight Watcher Week Begins on Friday's
Breakfast = Veggies, Egg, Frothy Coffee (7)
Lunch = Yogurt (3)
Dinner = Salmon Salad (12)
Snack = Latte (3)
Total = 25
Exercise = none
Activity Points Earned for the Day = 0
Activity Points Earned This Week = 0
Activity Points Remaining This Week = 0
How many glasses of water I drank for the day = 8
Remaining points from my 49 Points Allowance = 0

"love the life you live, live the life you love"