I'm having a little fun experimenting in the kitchen this month. I've made French toast before using Egg Whites, and leaving out the splash of milk, and I couldn't tell the difference.
This morning, I used two small slices of Gluten Free Bread, and soaked up the 3 egg whites really well before putting them in the skillet.
This satisfied my sweet tooth, my carb cravings, and after topping this with a little Pure Maple Syrup, a few slices of banana and a little of my Homemade Granola, I had a nice big plate of yumminess for only 7 Weight Watcher PointsPlus!
Ingredients
2 Slices Gluten Free Bread (4 PointsPlus)
3 Egg Whites (1 PointsPlus)
1/4 tsp Cinnamon (0 PointsPlus)
1/4 tsp Vanilla Extract (0 PointsPlus)
1/2 Banana (0 PointsPlus)
2 tsp Pure Maple Syrup (1 PointsPlus)
1 T. Homemade Granola (1 PointsPlus)
Cooking Spray
Directions
Mix Egg Whites, Cinnamon and Vanilla. Dip Bread and soak well. Flip bread and again, soak well. Place bread in a skillet coated with cooking spray over medium heat. Cook for about 3 minutes, then flip to cook an additional 3 minutes, or until nice and brown.
Top with Syrup, Sliced Banana and Homemade Granola
Makes One Serving
One Serving = 7 PointsPlus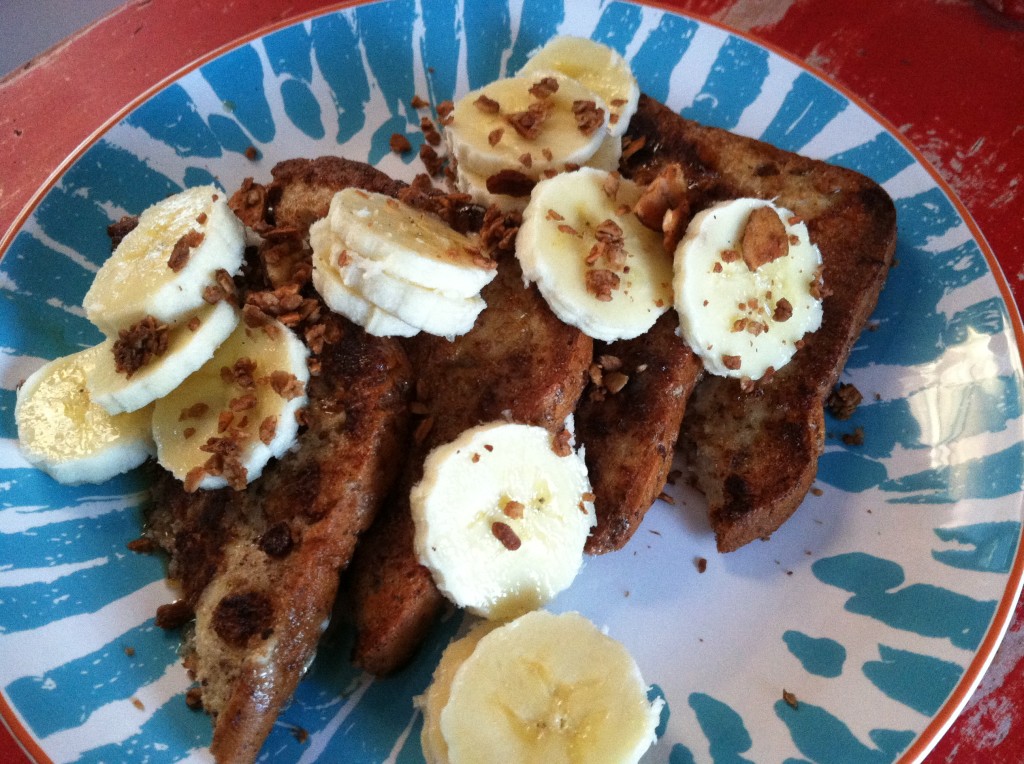 "love the life you live, live the life you love"