Let me first say this……
If you are trying to lose weight, or even maintain a weight loss, tracking what you are eating can be such a great tool!
Whether you are counting points, or counting calories, or simply writing down what food you eat, I encourage you to continue to do so, even when it's difficult.
I had a rough day yesterday. I didn't take pictures of everything that I ate, but I did write it all down. When I start to see those points add up, it can be helpful in not going as overboard as I might have otherwise.
Yesterday…….was icky.
I slept like crap and woke up cranky.
I had lot's of things that I could have done yesterday at home. I did none of them.
I had errands that I could have ran. I never left the house.
I have book club next week, and I'm on Chapter One of my book. I didn't read. I watched two episodes of Downton Abbey and rented The Theory of Everything. (Loved that movie!)
I was going to split up my treadmill walk and do some in the morning and some in the afternoon. I did none in the morning…..and then to even out my day, I did none in the afternoon.
I had toast and coffee for breakfast. A whole bunch of it! I've been good about being satisfied with one piece of toast, but I wanted two. There were three slices of bread left. Who leaves ONE slice of bread in the bag? I ate all three of them.
I snacked.
I ate a smart lunch. My one proud accomplishment for the day. Well…..and deciding to watch The Theory of Everything.
At dinnertime, I had NO plan whatsoever. I had some ground turkey, and that was as far as my plan went. I made a sort of Stroganoff? It tasted good, and was point friendly, but it wasn't made with the foods I've been trying to eat, and I made it more out of a mood for comfort food.
I didn't drink much water.
At the end of the day, I ate 40 points.
I'm feeling certain that I will NOT have a loss at my WW meeting this Friday, no matter what food choices I make for these next three days. If I am going to dip this far into my extra 49 Weight Watchers points for the week, I'd better be getting in some good workouts for the week, and that's just not a possibility right now.
So, basically……yesterday sucked in the healthy living department.
I've planned my meals for today and I know at the end of the day I will be happy with all of my choices.
I woke up on the right side of the bed this morning. Yesterday wasn't my best day. Today will be better.
(Journaling…(or blogging)….is great, because you can have a real shit day, get it all out, and move on!)
Beating yourself up about some decisions you've made? Food or otherwise?
Journal it.
Write it down.
Get it all out.
Move on.
Here are yesterday's eats……
Breakfast
Gluten Free Toast with Almond Butter and Strawberry Jam
13 PPV
What the heck?????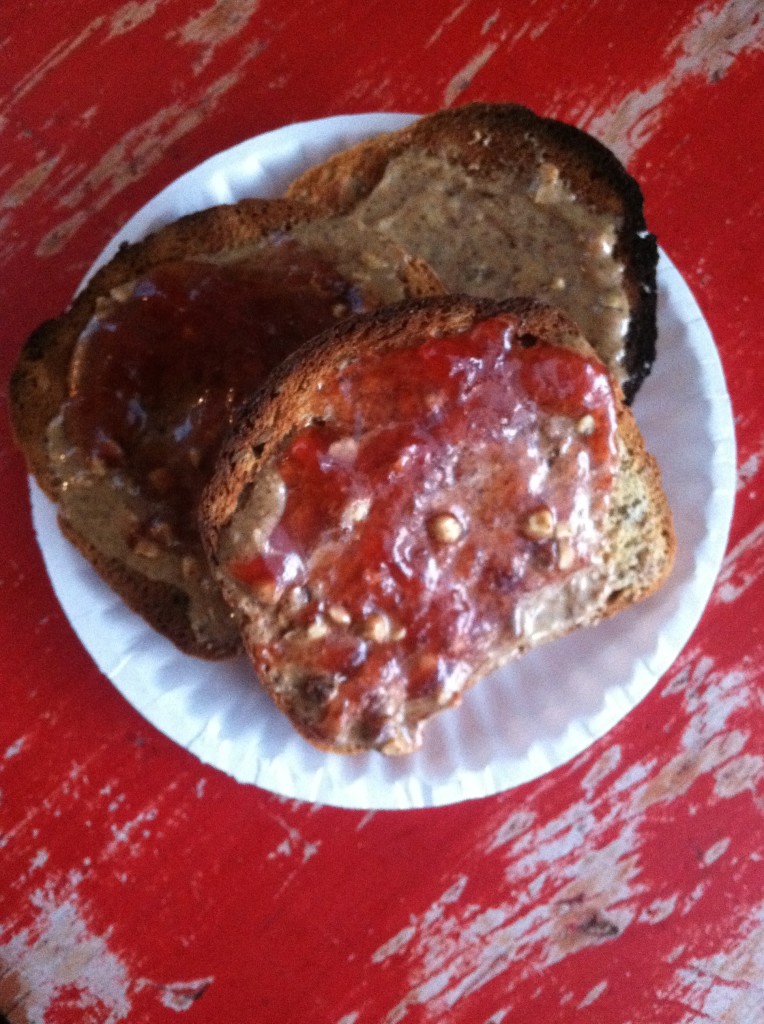 Un-Pictured Stuff
12 PPV
Coconut, Almonds, Some Oatmeal, More Toast…….UGGGG!!
I tracked it all!!
Lunch
Sweet Potato, Egg
5 PPV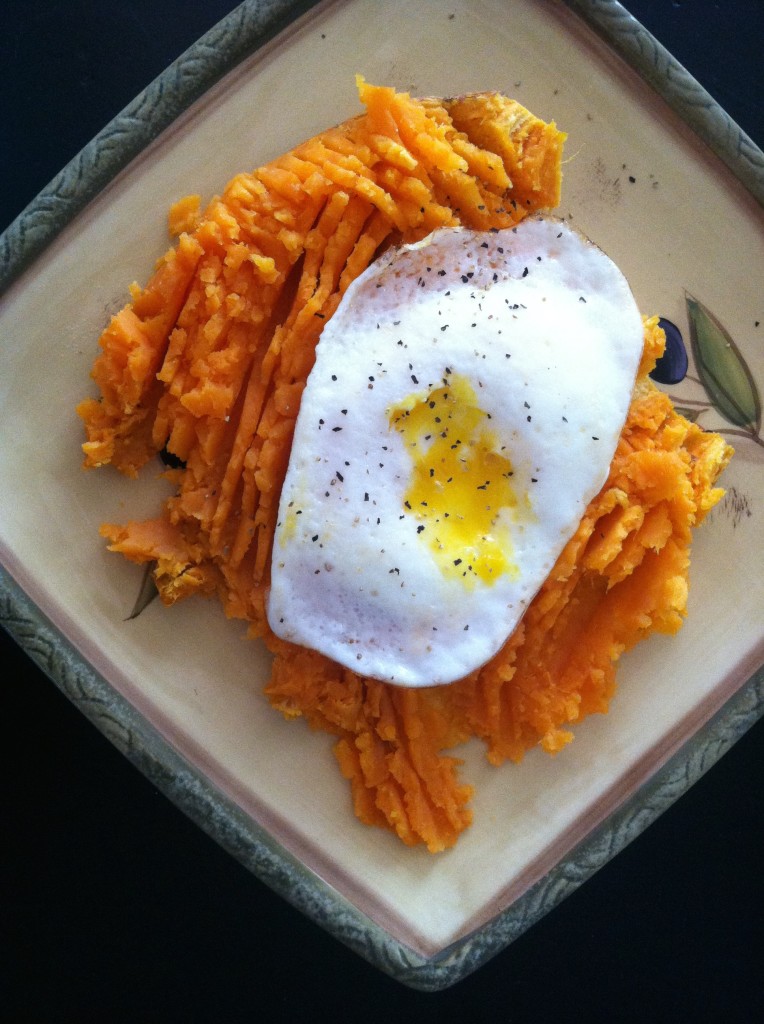 Dinner
Turkey Stroganoff….Kinda
10 PPV
Ground Turkey, Onion, Cream of Mushroom Soup, Chicken Broth, Gluten Free Brown Rice Pasta, Laughing Cow Cheese Wedges, S&P.
Here's what the leftover's look like this morning…….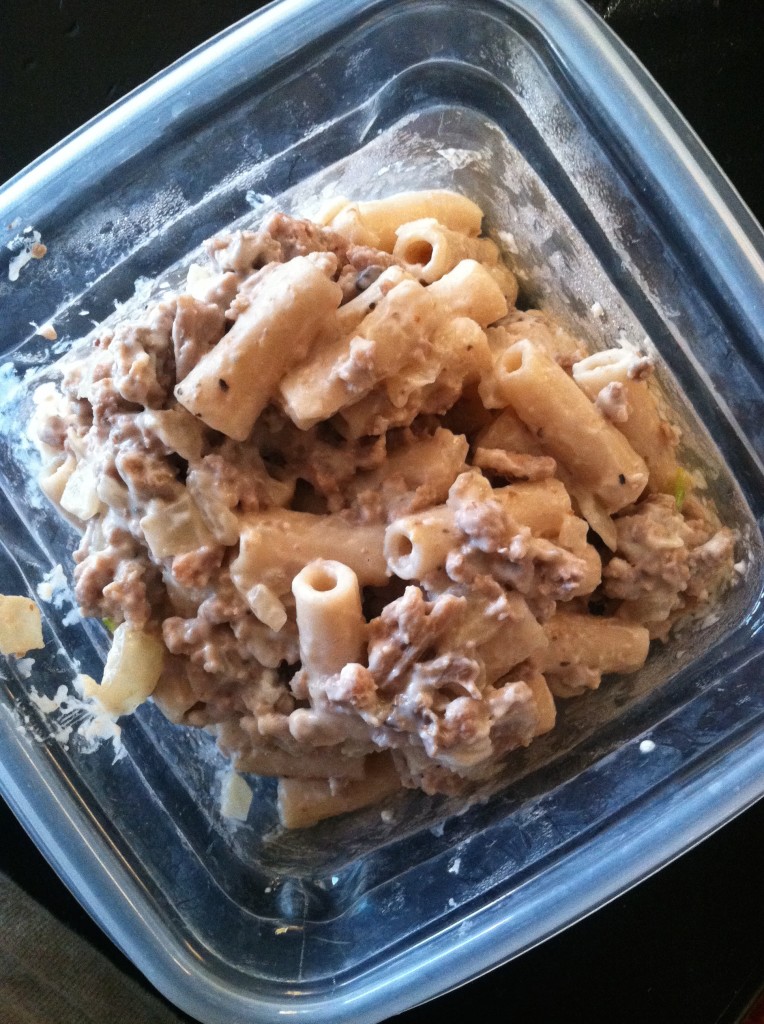 Weight Watcher's Points Plus
I can eat 26 PPV a day.
I can earn Activity Points by doing exercise, and eat them if I choose.
I have an allowance of 49 extra points that I can dip into throughout the week if I choose.
I should drink a minimum of 6 (8 oz) glasses of water each day.
My Weight Watcher Week Begins on Friday's
Breakfast = Toast and Coffee (13)
Snack's = Almonds, Coconut, Oatmeal, Toast (12)
Lunch = Sweet Potato, Egg (5)
Dinner = Stroganoff (10)
Total = 40
Exercise = none
Activity Points Earned for the Day = 0
Activity Points Earned This Week = 2
Activity Points Remaining This Week = 2
How many ounces of water I drank for the day = 50?
Remaining points from my 49 Points Allowance = 10
This is What I Will Accomplish in 2015
I will choose one occasion per month for Social Drinking
I will go no more than two days in a row without exercise. (unless I'm sick..or break a bone!!)
I will track every single day for the entire year. No matter what. I'll track if I eat 26 points, I'll track if I eat 76 points.
I will RUN in a minimum of six 5K's

"love the life you live, live the life you love"