I haven't tried any new recipes in awhile, so yesterday was the day. I found a few new things I'd like to try this week. I shopped and bought ingredients for a Stuffed Spaghetti Squash, which we had for dinner last night, and I am planning to make a Zucchini Noodle Basil Pesto dish before the end of the week!
I had a reader ask recently about my favorite tortilla's. I am always trying a new brand, but this is a Corn Tortilla that I like!
One Serving = 3 Points for 3 Tortilla's. They are thin, so they don't always hold together really well. If that bother's you (it does my husband) then these aren't for you, but if you're looking for a low point corn tortilla, and that doesn't bother you, then these are just for you!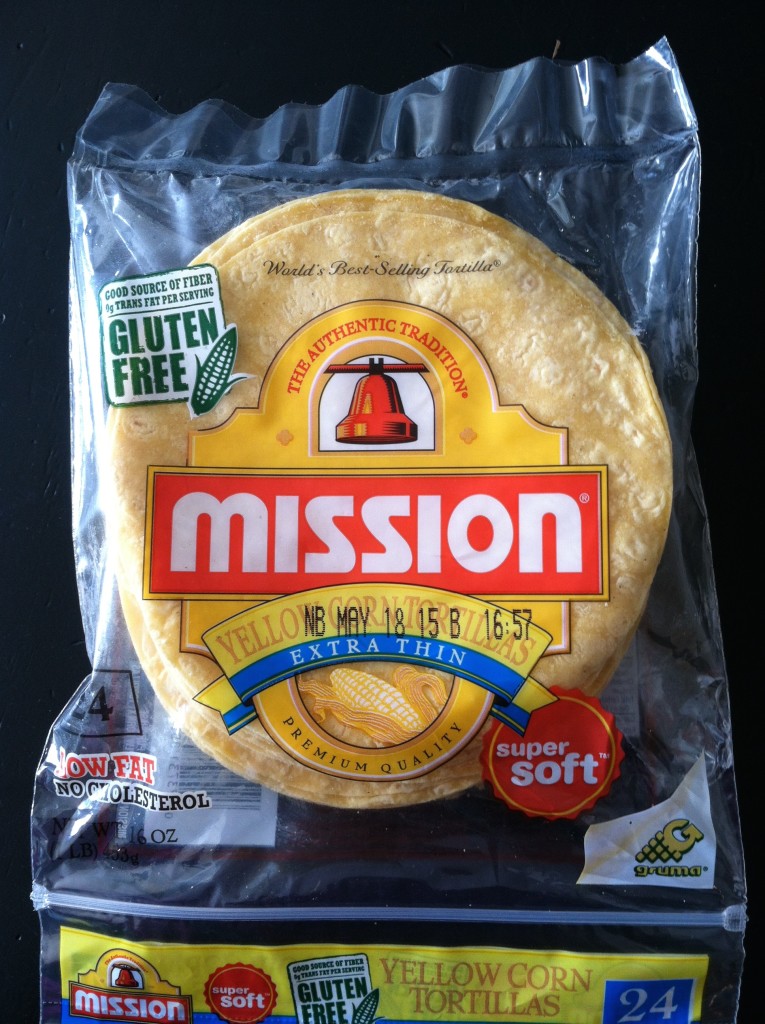 I had a super productive day yesterday that included grocery shopping, meal planning and another Hot Yoga class. I LOVE that class!
Here are yesterday's eats…..
Breakfast
Black Coffee
4 PPV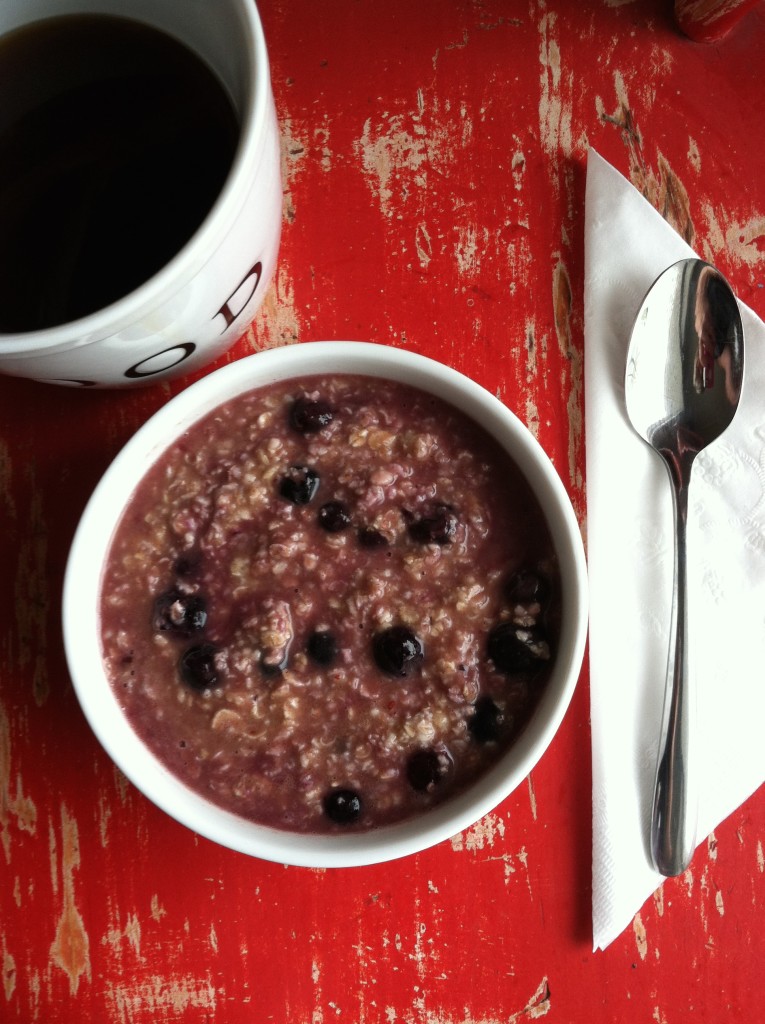 Lunch
Grocery Store Salad Bar
Lot's of Veggies, Grilled Chicken, 3 T. Taco Meat
Garbanzo Beans, Kidney Beans, Salsa
1 Corn Tortilla
10 PPV
This salad tasted great, and the package of tortilla's was laying on the counter with the rest of the groceries that I hadn't put away yet. I kept thinking about how yummy one would taste with some salad stuffed in it, so I did.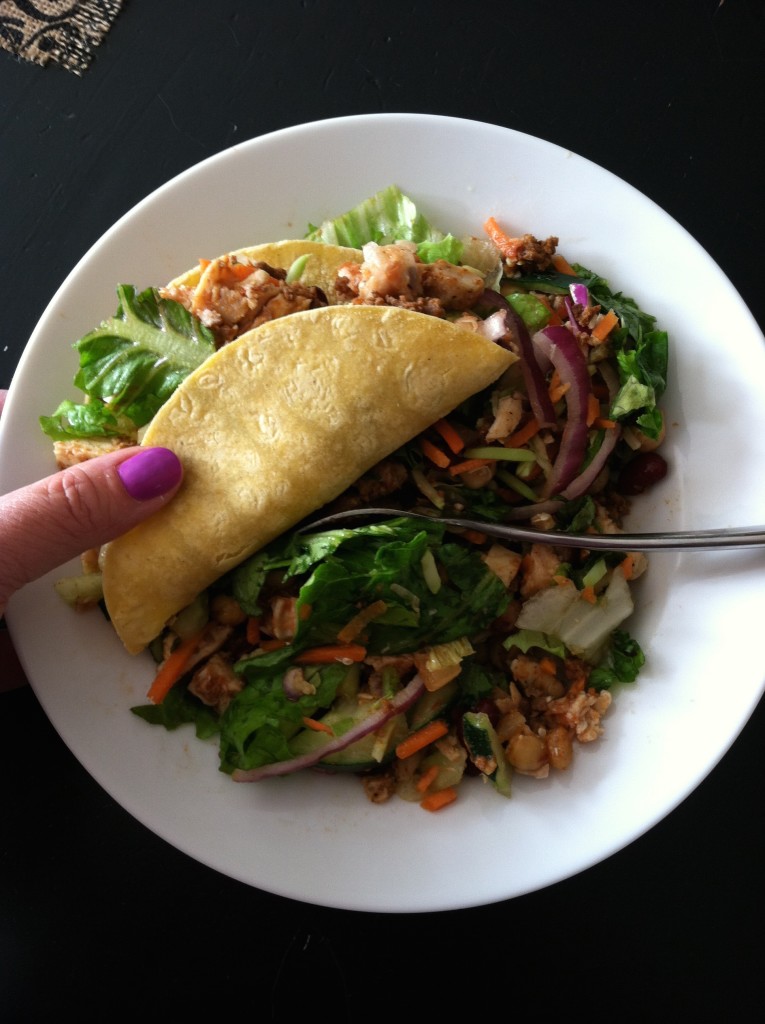 Snack
Dried Apples
3 PPV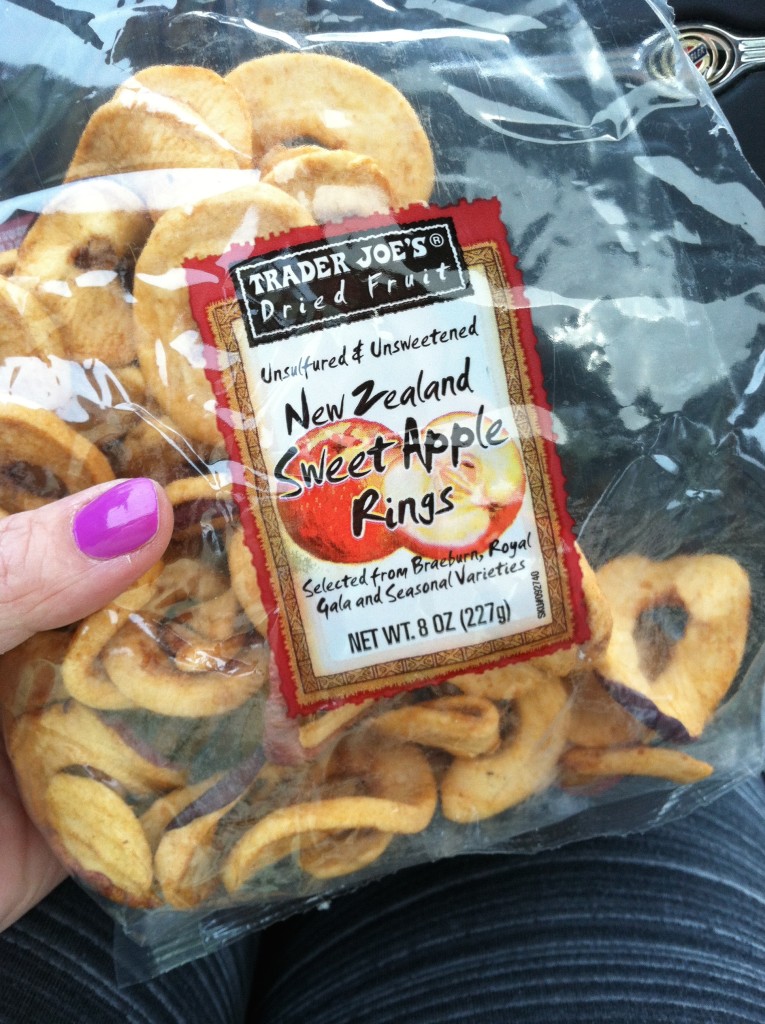 Dinner
Stuffed Spaghetti Squash
8 PPV
You can click HERE for the recipe that I found that inspired this simple dinner.
The original Stuffed Spaghetti Squash recipe is a vegetarian dish. I added Turkey Taco meat to get a little protein in. I didn't use all of the same ingredients that are in the original recipe. I was really just looking for something new and different that included a spaghetti squash, and I loved this idea of a Burrito Bowl type meal.
Stuffed Spaghetti Squash could be a great idea for a family dinner night if your family is digging the spaghetti squash! You could set up a little assembly line on the counter top, and fill your Squash Bowl with your favorite ingredients, top it with cheese and put it under the broiler for a bit. Or….leave the cheese off. It's delicious either way!
Ingredients
Cooked Turkey Taco Meat (or Ground Beef, or Ground Chicken)
Black Beans
Corn
Veggies of your choice
Cheese of your choice
Optional toppings…Avocado, Sour Cream, Cilantro
Directions
Cook the spaghetti squash. Let it cool for a few minutes. Remove the majority of the squash and put it in a bowl. Now start filling up your Spaghetti Squash bowl with the squash and the other ingredients that you'd like to add, except for the cheese. I added Turkey Taco Meat, Black Beans, Corn, Red Bell Pepper strips and Salsa. Now pack it in tight. Top with cheese and place it under the broiler just until the cheese melts. Add any additional toppings of your choice!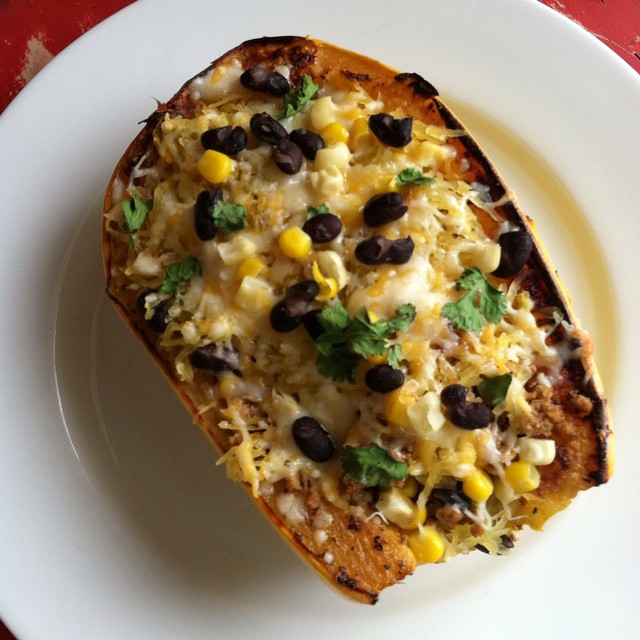 I stirred in a little light sour cream before I took this picture. Avocado would be awesome on top of this too!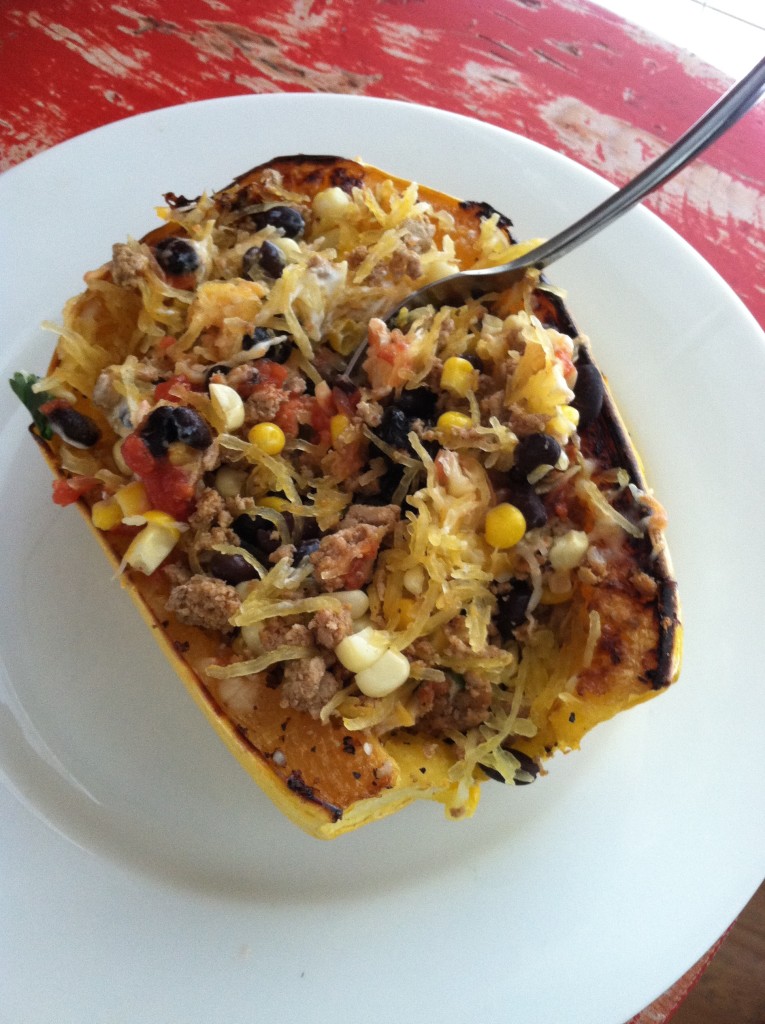 This Stuffed Spaghetti Squash meal is a keeper as far as I'm concerned! Next time, I'm thinking Chicken, Grilled Asparagus and Alfredo!
Weight Watcher's Points Plus
I can eat 26 PPV a day.
I can earn Activity Points by doing exercise, and eat them if I choose.
I have an allowance of 49 extra points that I can dip into throughout the week if I choose.
I should drink a minimum of 6 (8 oz) glasses of water each day.
My Weight Watcher Week Begins on Friday's
Breakfast = Oatmeal, Black Coffee (4)
Lunch = Salad (10)
Snack = Dried Apples (3)
Dinner = Stuffed Spaghetti Squash (8)
Total = 25
Exercise = 60 Minute Hot Yoga Class
Activity Points Earned for the Day = 3
Activity Points Earned This Week = 10
Activity Points Remaining This Week = 10
How many ounces of water I drank for the day = 75
Remaining points from my 49 Points Allowance = 31
This is What I Will Accomplish in 2015
I will choose one occasion per month for Social Drinking (um…this is a work in progress)
I will go no more than two days in a row without exercise.
I will track every single day for the entire year. No matter what.
I will RUN in a minimum of six 5K's. One down, 5 to go!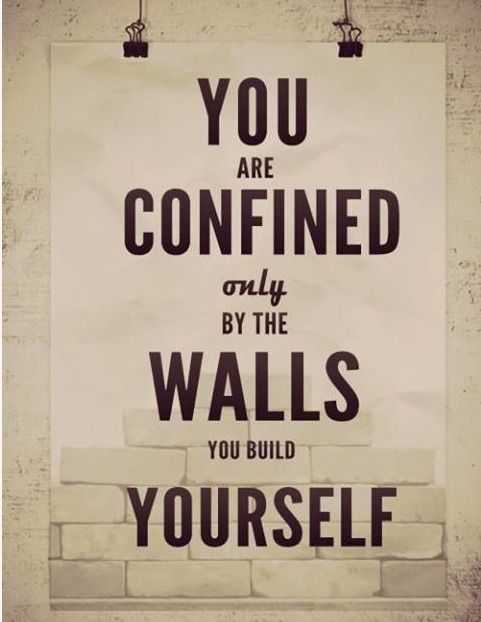 "love the life you live, live the life you love"