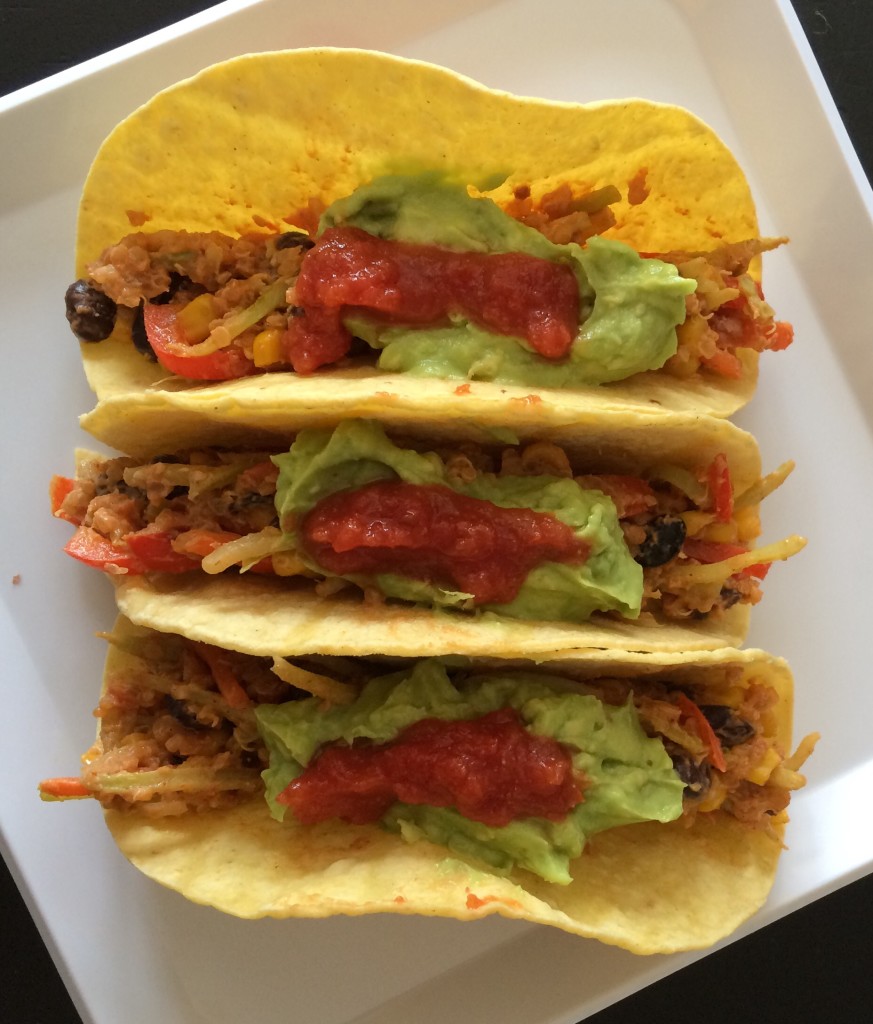 I love throwing things together that I find in the fridge. While eating a dinner the other night of egg whites, quinoa, black beans, smashed avocado and salsa all mixed up in a big bowl, I wondered why I hadn't thought to add taco seasoning to my bowl of yumminess.
With the fridge still stocked with cooked quinoa and black beans, I came up with this little creation, and I decided I'd share.
3 Taco's = 10 PointsPlus
Ingredients
1/2 C. Broccoli Slaw mix
1 tsp Chipotle Infuse Olive Oil (Any Olive Oil is fine)
2 T. Bell Pepper, chopped
1/4 C. Corn, cooked
1/4 C. Black Beans, rinsed and drained
1/4 C. Cooked Quinoa (I like to cook mine in Chicken or Vegetable Broth for more flavor.)
1 tsp Homemade Mexican Seasoning (or any taco seasoning)
2 Wedges of Laughing Cow Cheese, Creamy Light Swiss (The Queso flavor would be awesome in this!)
1 T. Salsa, and a little extra for topping
1/4 Avocado, Smashed
Lime Juice
Sea Salt
3 Mission Brand Yellow Corn Tortilla's
Directions
Heat Olive Oil in skillet. Add slaw mix and bell pepper and cook for about 2 minutes. Then add corn, black beans and quinoa and stir until heated through.
Add taco seasoning, cheese wedges and 1 T. salsa. Stir, remove from heat and cover. Let sit for 1 to 2 minutes so the cheese can melt.
While the cheese melts, smash the avocado and add lime juice and sea salt to taste. Mix well.
Remove lid on quinoa mixture and press cheese wedges into mixture with a spatula. The spatula should help things mix well.
Divide into three corn tortillas and top with Smashed Avocado and Salsa.
"love the life you live, live the life you love"