Guess who greeted me when I opened the garage door yesterday morning to head out for my walk? Yep. The foxes are still around. I stood in my driveway and watched this fox walk all the way down my street….on the sidewalk….with his breakfast just dangling out of his mouth. I kept expecting him to dart into a storm drain, or run across the street. Nope. He was just out for a morning walk down the sidewalk, just like me.
(Just to be clear, I did NOT have any breakfast dangling out of my mouth while I was walking.)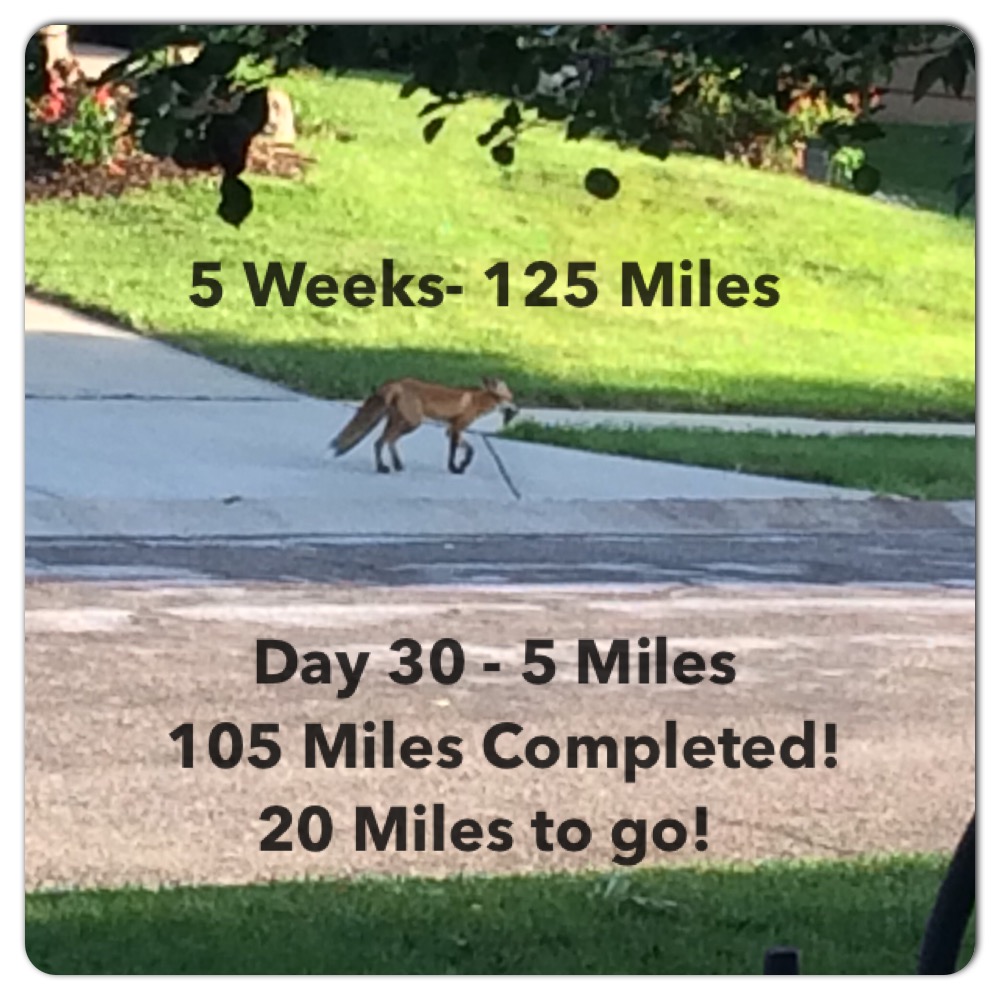 We worked the food truck yesterday. You guys….it is super HAWT in there, but I'm all smiles handing out yummy food to happy people.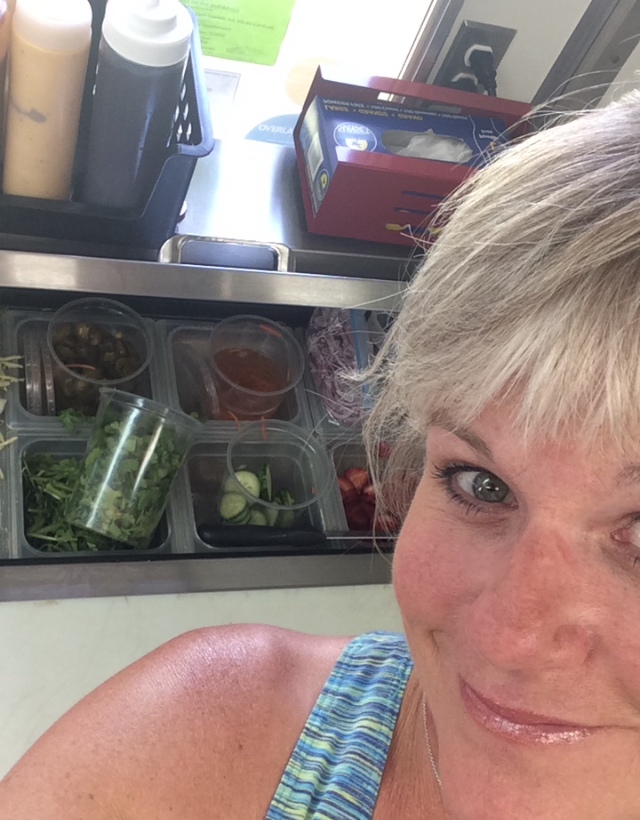 Thursday was a much better food and drink day for me than Wednesday was. I've eaten almost all of my 49 extra points this week, so I'm expecting to stay the same at the scale this week.
This next week and a half is super full of socializing. On the calendar is a birthday party, a wedding, a girls dinner, and an engagement party. I need to come up with a plan for how I am going to successfully manage all of the food and drinks that will be in front of me over these next several days.
And….we are having our floors redone next week, so we are boarding the dogs and we will be eating every meal out, Monday through Friday. Now THAT is going to be a challenge.
I've got some planning to do.
It's 6:00 am and I'm headed to the airport soon to pick up my daughter, Tess, and her boyfriend, Manuel.They are coming in from Dallas for a short weekend visit. They go home Saturday afternoon. We have a full day planned today, and breakfast plans with grandma and grandpa tomorrow morning. We will not be eating BBQ and drinking beer all weekend like we did the last time they came for a visit, but we will be having a good time.
I will get my walking in, and I will go to Yoga Saturday morning.
A girls gotta do what a girls gotta do. Right?
Have a great weekend!
Here are yesterday's eats…….
Breakfast – 7 PPV
Peanut Butter Pancake topped with 1 T. Almond Butter, 1 tsp. Honey and 1/2 sliced banana and a Frothy Coffee.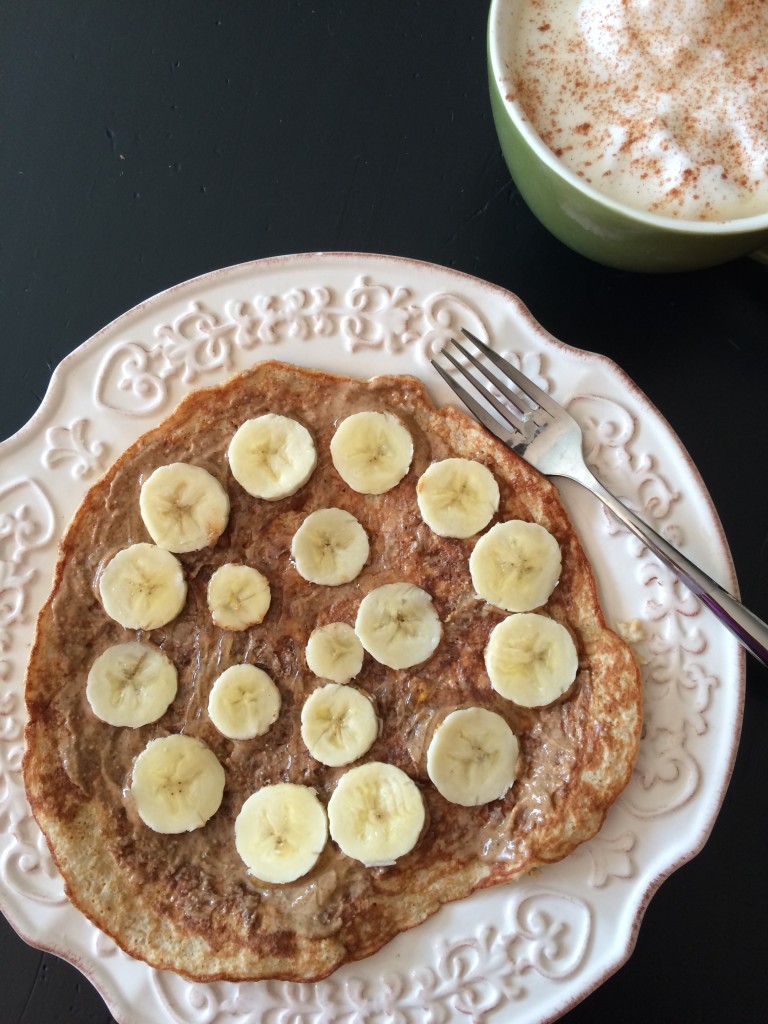 Lunch – 8 PPV
Bahn Mi Bowl at the Food Truck. Pulled Pork, Carrots, Cucumbers, Cilantro, Jalapeño's and Sauce.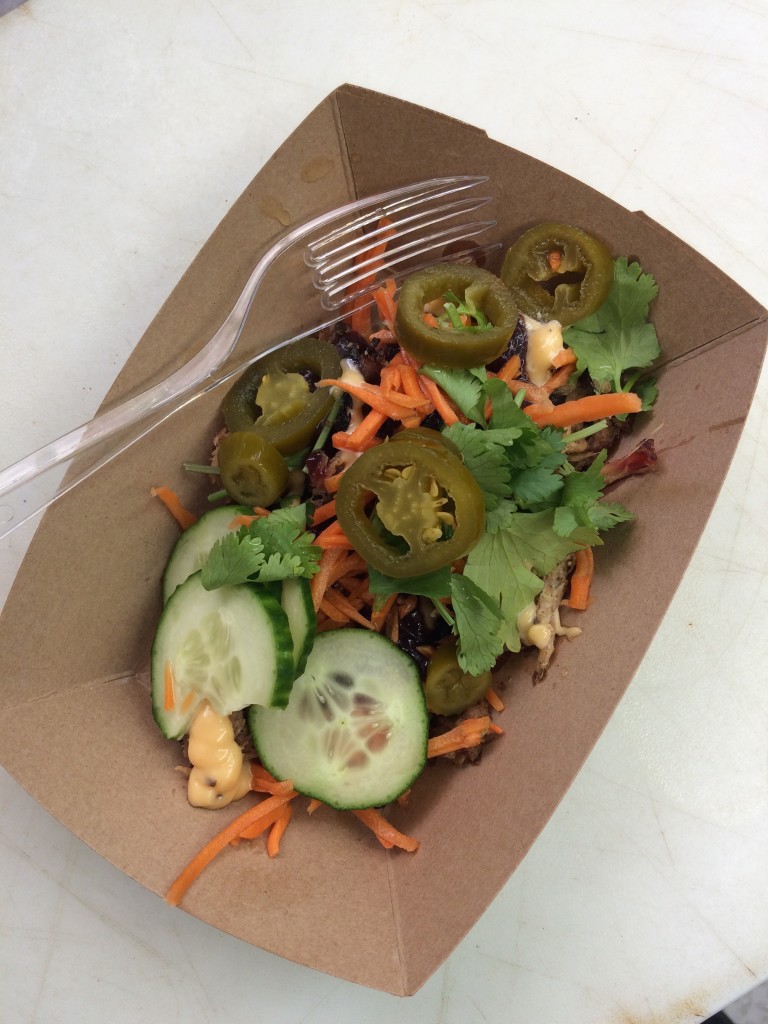 Dinner – 10 PPV
Quinoa, Grilled Chicken, Slivered Almonds, Dried Cherries, Feta and Balsamic Glaze (found in the salad dressing aisle). I bought some cooked chicken at Trader Joe's, and I had everything else at home, so dinner was a cinch!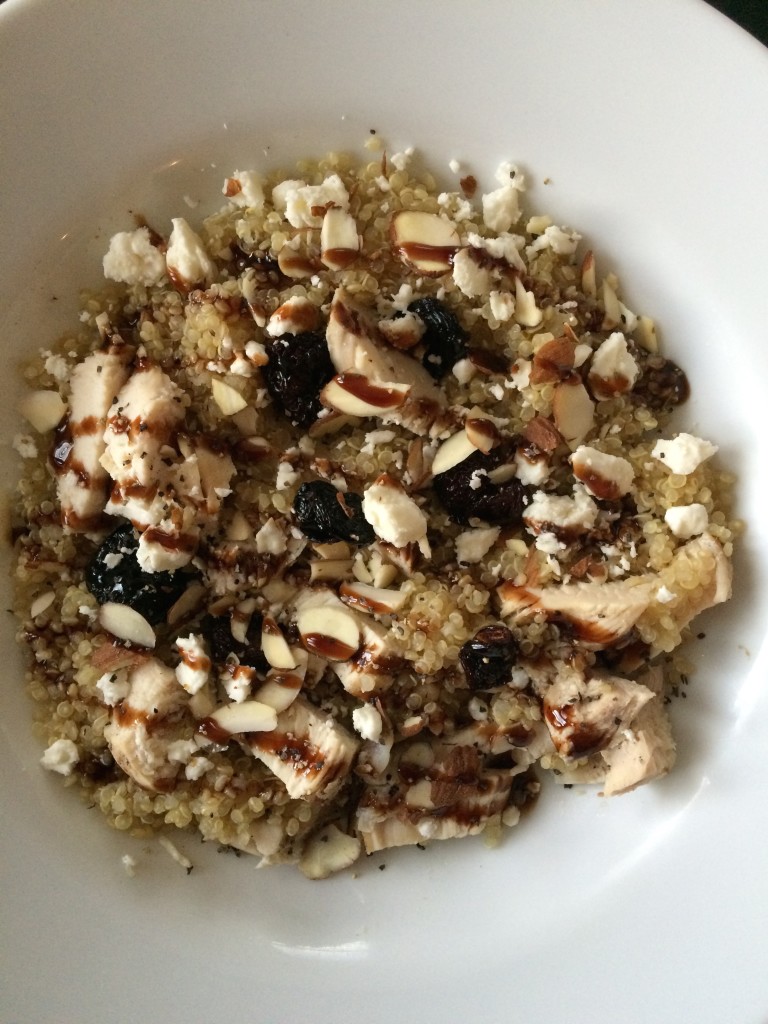 Weight Watcher's Points Plus
I can eat 26 PPV a day.
I can earn Activity Points by doing exercise, and eat them if I choose.
I have an allowance of 49 extra points that I can dip into throughout the week if I choose.
I should drink a minimum of 6 (8 oz) glasses of water each day.
My Weight Watcher Week Begins on Friday's
Breakfast = 7
Lunch = 8
Dinner = 10
Total = 25
Exercise = Walked 5 Miles
Activity Points Earned for the Day = 6
Activity Points Earned This Week = 48
Activity Points Remaining This Week = 48
How many ounces of water I drank for the day = 100++
Remaining points from my 49 Points Allowance = 5
This is What I Will Accomplish in 2015
I will choose one occasion per month for Social Drinking (um…this is a work in progress)
I will go no more than two days in a row without exercise.
I will track every single day for the entire year. No matter what.
I will RUN in a minimum of six 5K's. Two down, four to go!
This made me giggle. You are all Fabulous!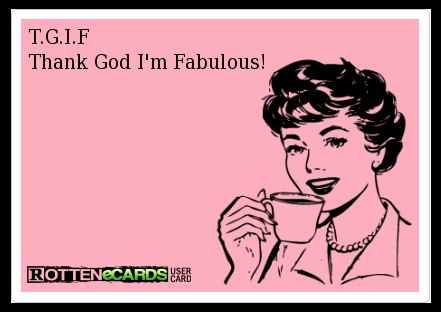 "love the life you live, live the life you love"