Yesterday was the third day in a row that I exercised in the morning. I love it when I do that, and I hate it when I forget how much I love it when I do that!
Before Jazzercise, I made this Breakfast Bowl. I'll explain what it is later.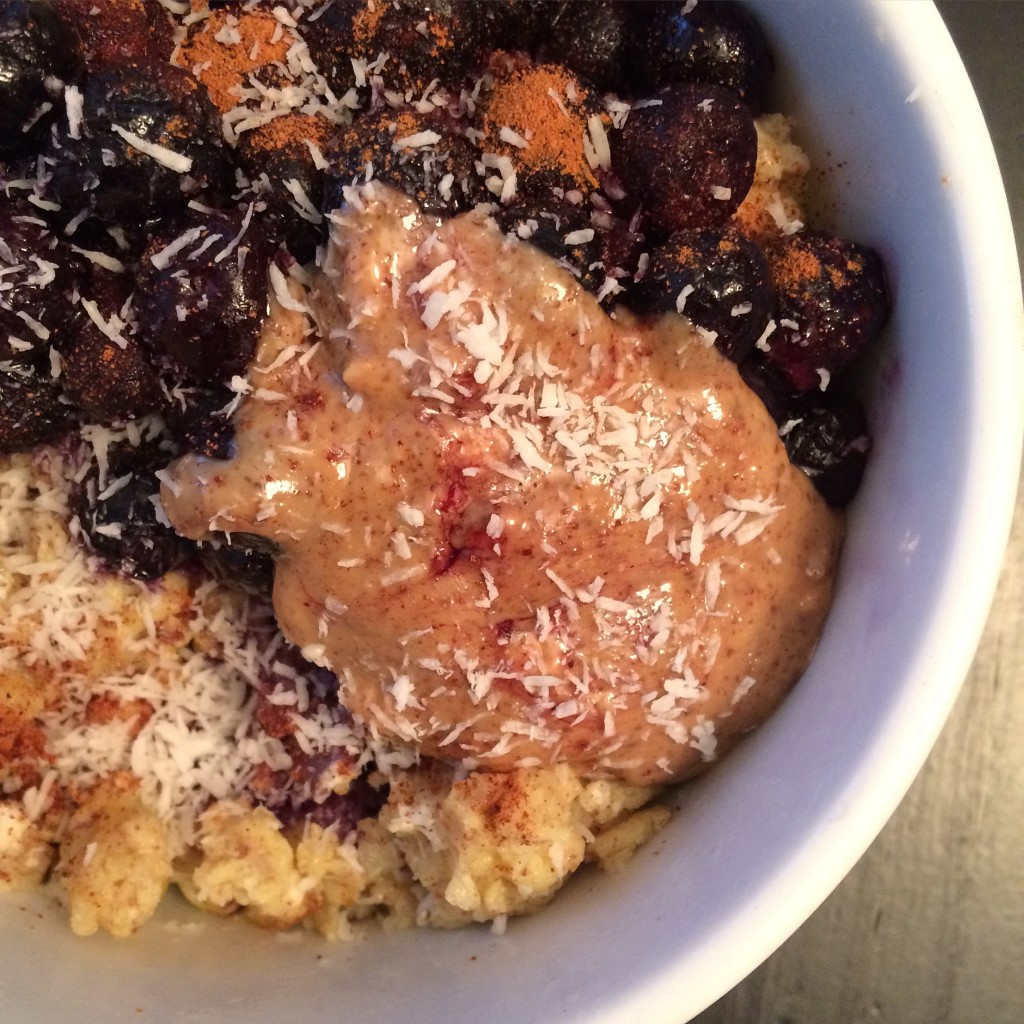 After my 10:00 am Jazzercise class, I hit up Costco and the grocery store for a few things, then I came home and spent the afternoon in the kitchen making up for the lack of food prep that I didn't do on Sunday. I had about a 24 hour kitchen withdrawal. I'm back now.
l made Egg Muffins for the hubs. I like them too, but I prefer a big skillet of veggies with an egg on top. The hubs likes these because he can grab a few and heat them up at work when he's ready for breakfast. I usually make him up a few baggies of fruit and raw nuts to grab too. Blueberries and raw Walnuts are great together. So easy, so good.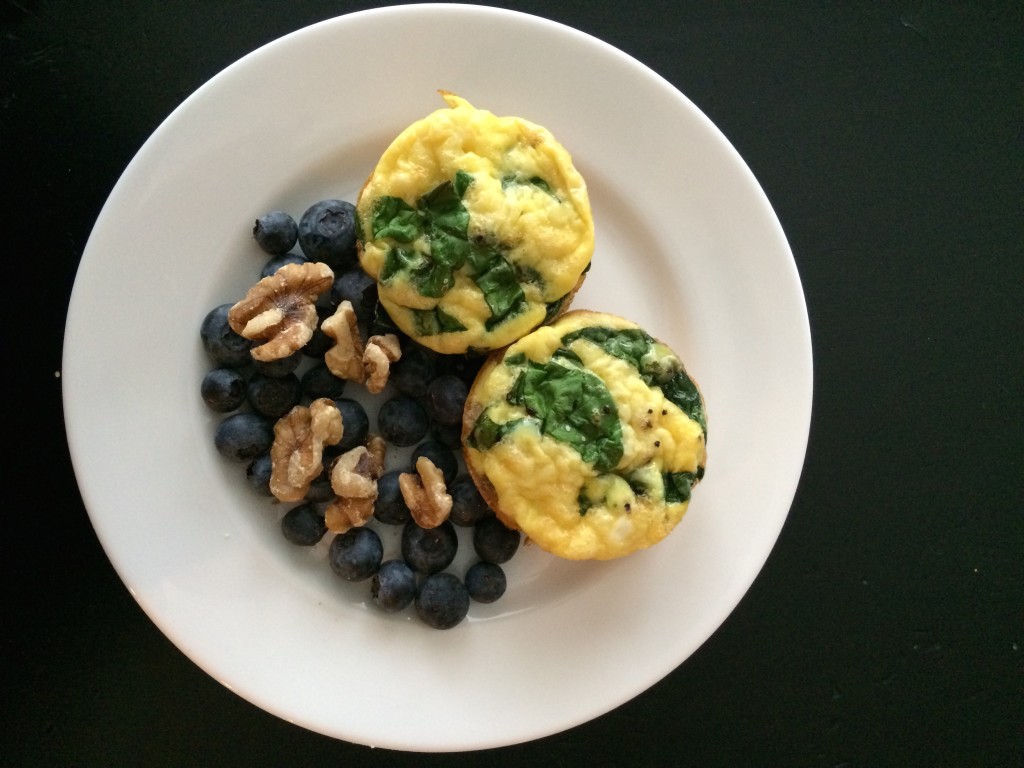 I made two dozen of these little guys. That should keep Mike satisfied for a while. I put 12 in the fridge and 12 in the freezer. When I take them out of the oven, they come out super easy with a thin spatula. So far, these seem to freeze and reheat great.
Egg Muffins are simple. Your meat of choice…Sausage, Diced Ham, Crumbled Bacon….Your Veggie of choice…..Peppers, Onions, Spinach. I put diced white potatoes in these and topped that with spinach. Pour 9 whisked eggs evenly over the top. Bake at 350 for 20 minutes.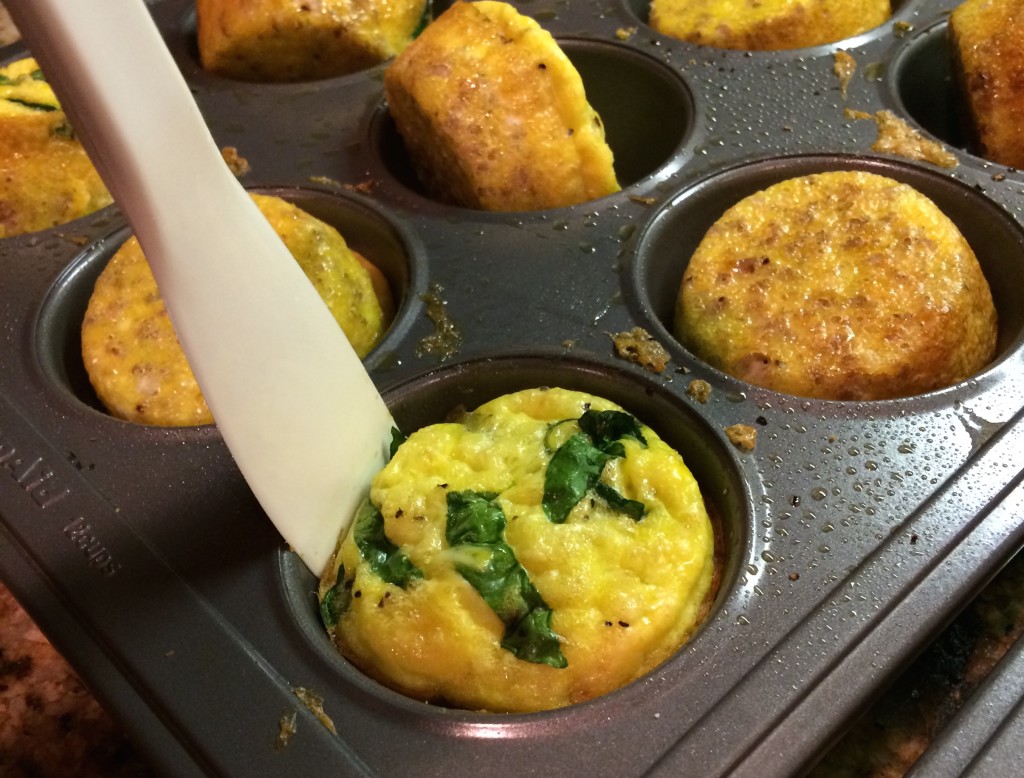 l cooked pork and seasoned it for breakfast sausage to use in my Egg Muffins.
1 lb pork
1/2 tsp sage
1/2 tsp salt
1/4 tsp pepper
1/4 garlic powder
1/4 tsp onion powder
Combine all ingredients and cook in a skillet until pork is no longer pink. It can't get any easier than that.
I doubled the recipe and used one pound for the 24 Egg Muffins that I made for the hubs. I put the rest in the freezer. I can take out a little at a time for a breakfast skillet, or make more Egg Muffins in a few weeks.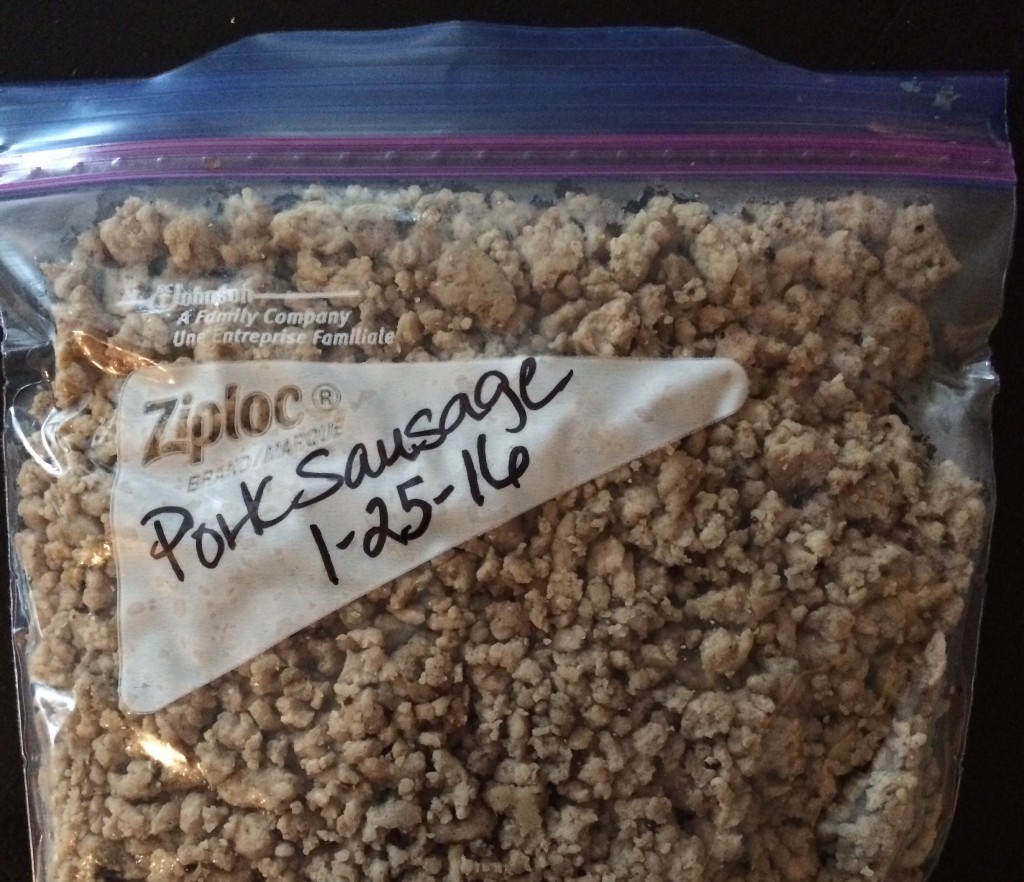 I took the chicken off of two rotisserie chickens and put one in the freezer for one of those nights when I don't feel like cooking any meat. This is great for a quick soup, a casserole, a Chicken Taco Salad, on top of Cauliflower Rice or toss some Chicken in a skillet with whatever veggies need to be used up and a little broth. So many options for a quick dinner with the chicken already cooked.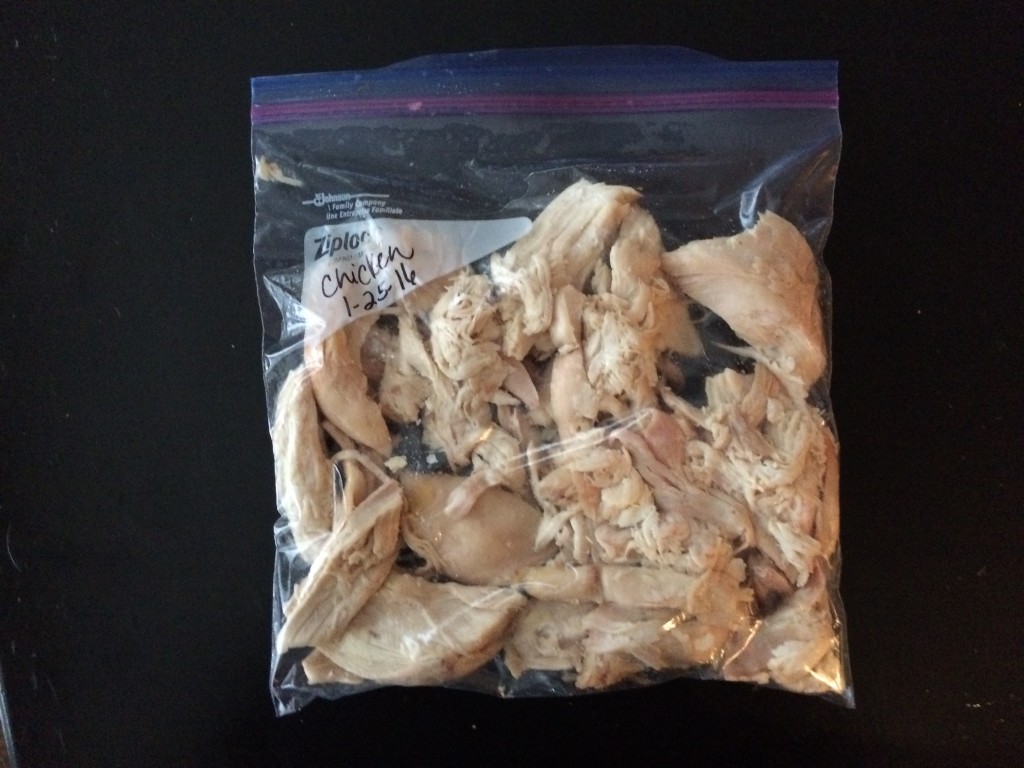 I had some bacon that needed to be cooked. Having cooked bacon in the freezer not only comes in handy for a quick and easy breakfast, it's also nice to know it's there to crumble and put on top of….well…..just about anything.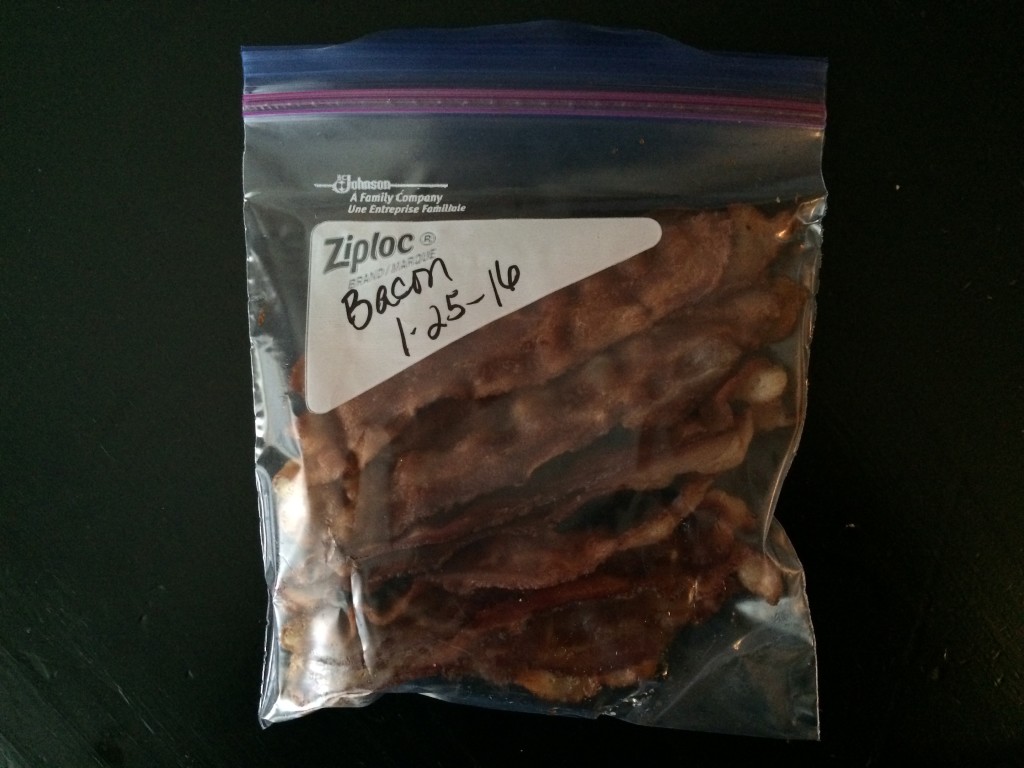 l had some fresh green beans that needed to be cooked, and I had just made bacon! Yep, that's right…I cooked these beans in a little bacon fat. We'll be having these for dinner tonight with some rotisserie chicken.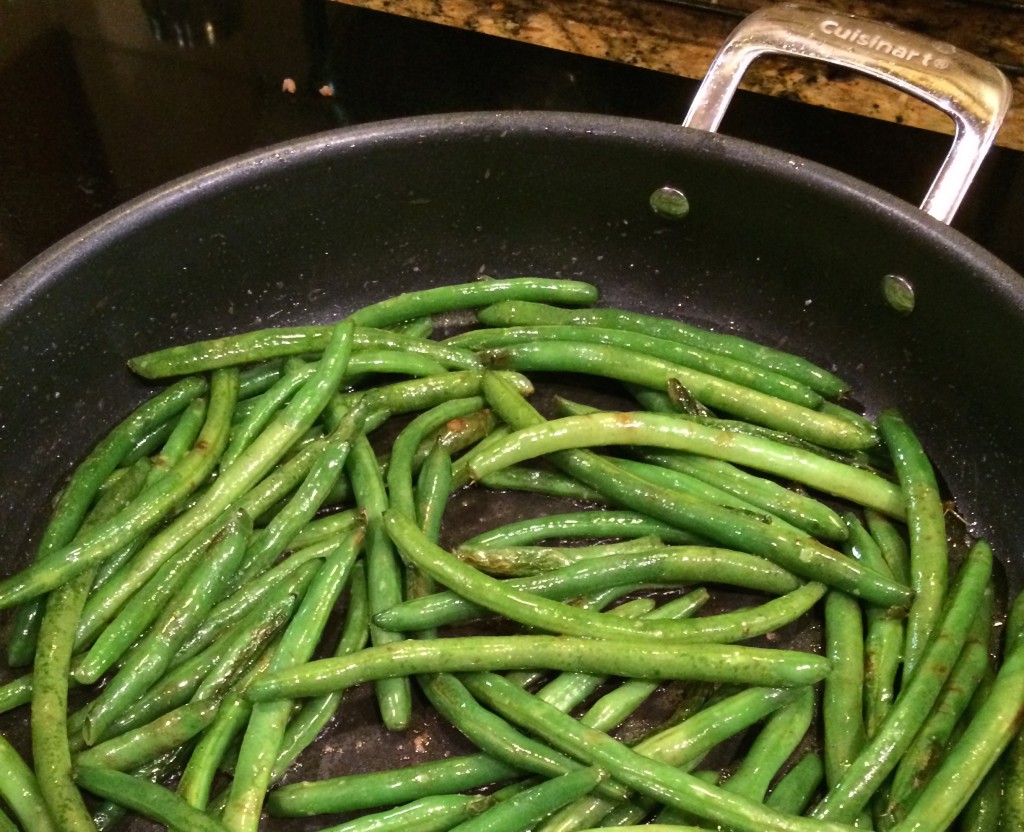 After food prep, I balanced the check book (does anyone else still do that?), paid bills from Christmas shopping (egads), showered and went back into the kitchen to cook dinner.
Here are yesterday's eats…..
Breakfast – 7 SP
This Breakfast Bowl is going to sound really weird, but here it goes…..
I make a Pancake with 2 Eggs and 1 smashed Banana. There are recipes all over the internet for different varieties of a pancake made with eggs and a banana.
Yesterday, I found a recipe for basically the same thing, using only one egg, and eaten more like a bowl of oatmeal, and I thought I should give it a try.
This is one smashed banana and one egg mixed together with a little cinnamon, then cooked…smashed….(scrambled?) in Coconut Oil in a skillet. Looks weird, I know, but think Oatmeal.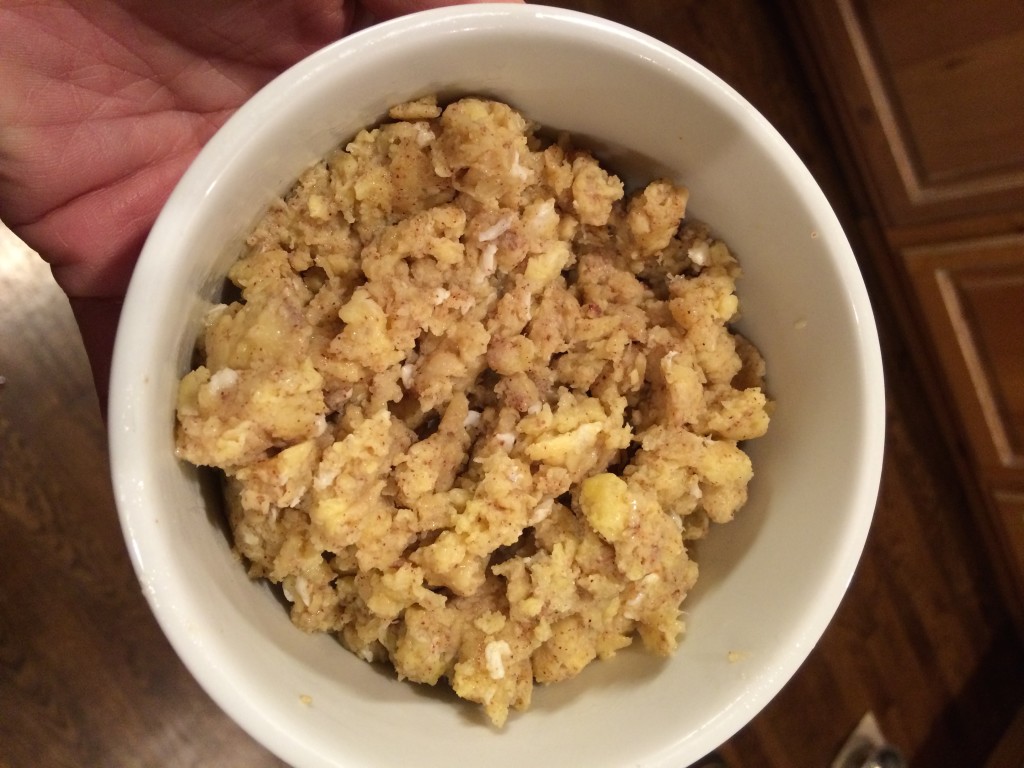 I topped my Banana Egg Combo with 1 T. Almond Butter, 1 tsp Unsweetened Coconut and Cinnamon.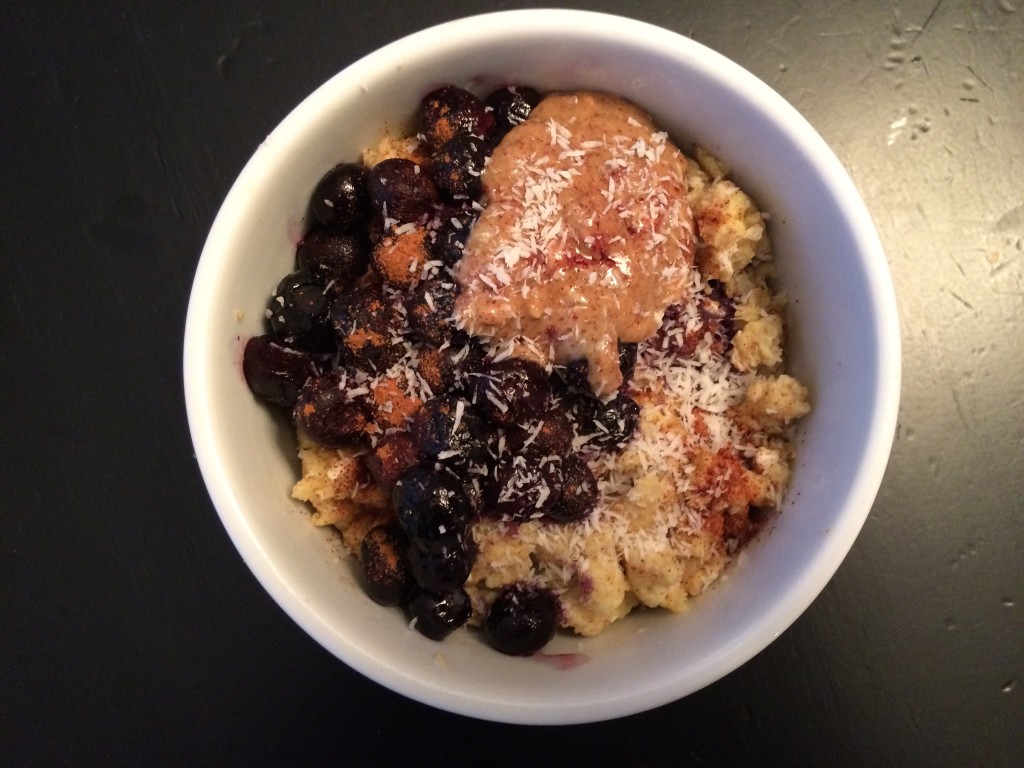 You know what? I liked this. I liked this a lot. What will I top this with next?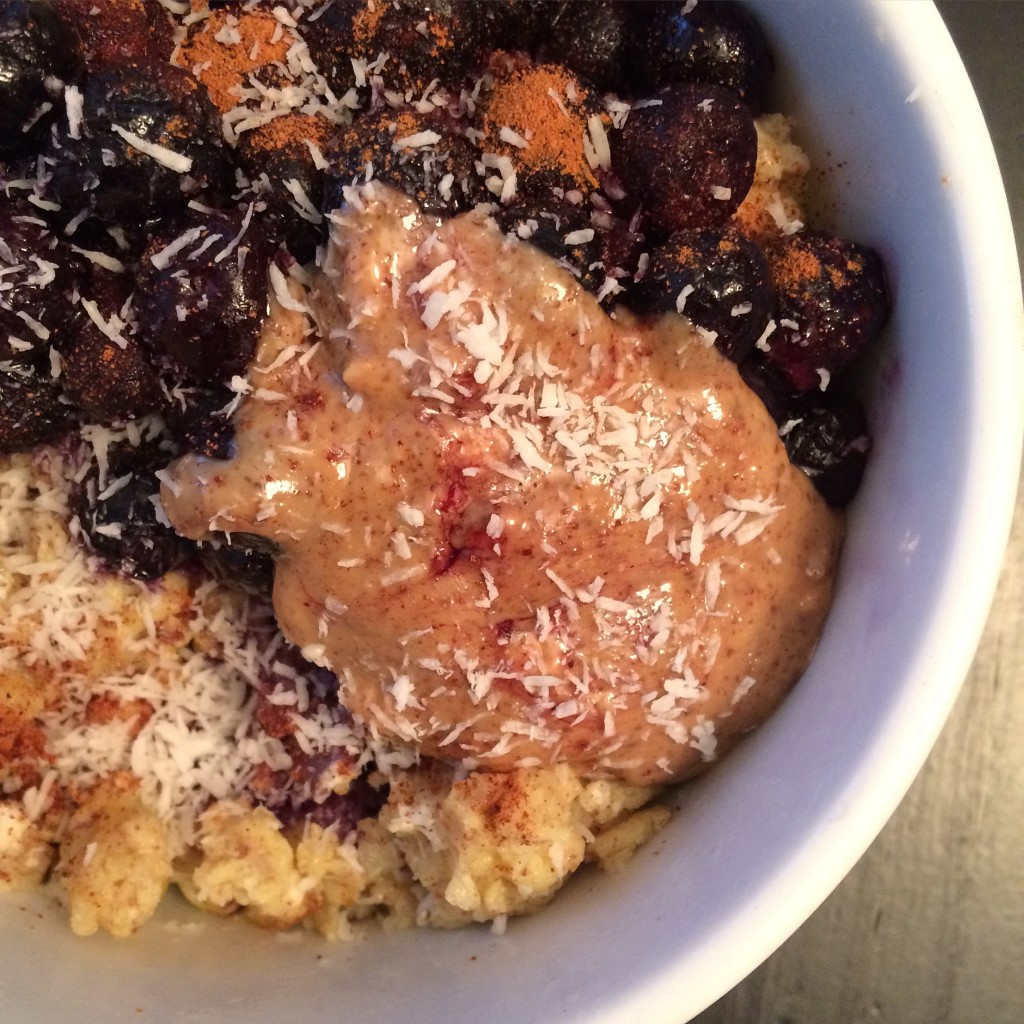 Lunch – 8 SP
My Big Fat Greek Salad? Mixed Greens, 4 oz grilled Chicken, Red Onion, Cucumbers, Tomatoes, 1 T. Olive Oil, 1 tsp Balsamic Vinegar, a sprinkle of Salt Free Cavendar's Greek Seasoning and 15 g of cooked White New Potatoes…because I think potatoes in salad are yummy.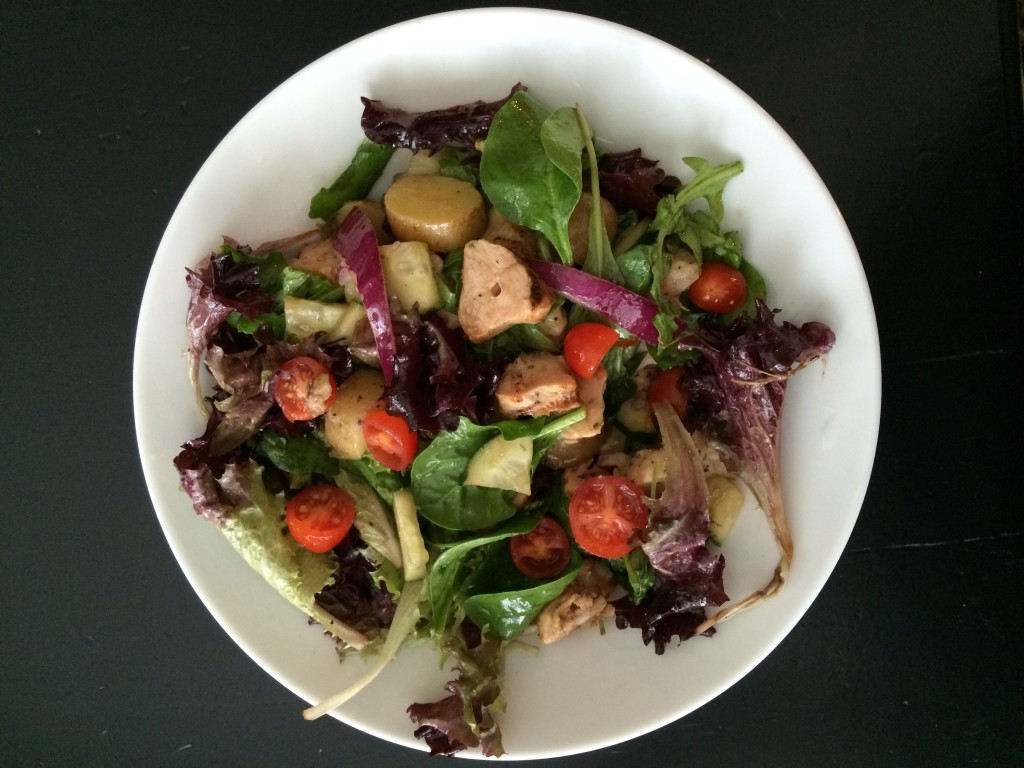 Snack – 3 SP
They smelled so good, I ate one of these. That one right there in the front.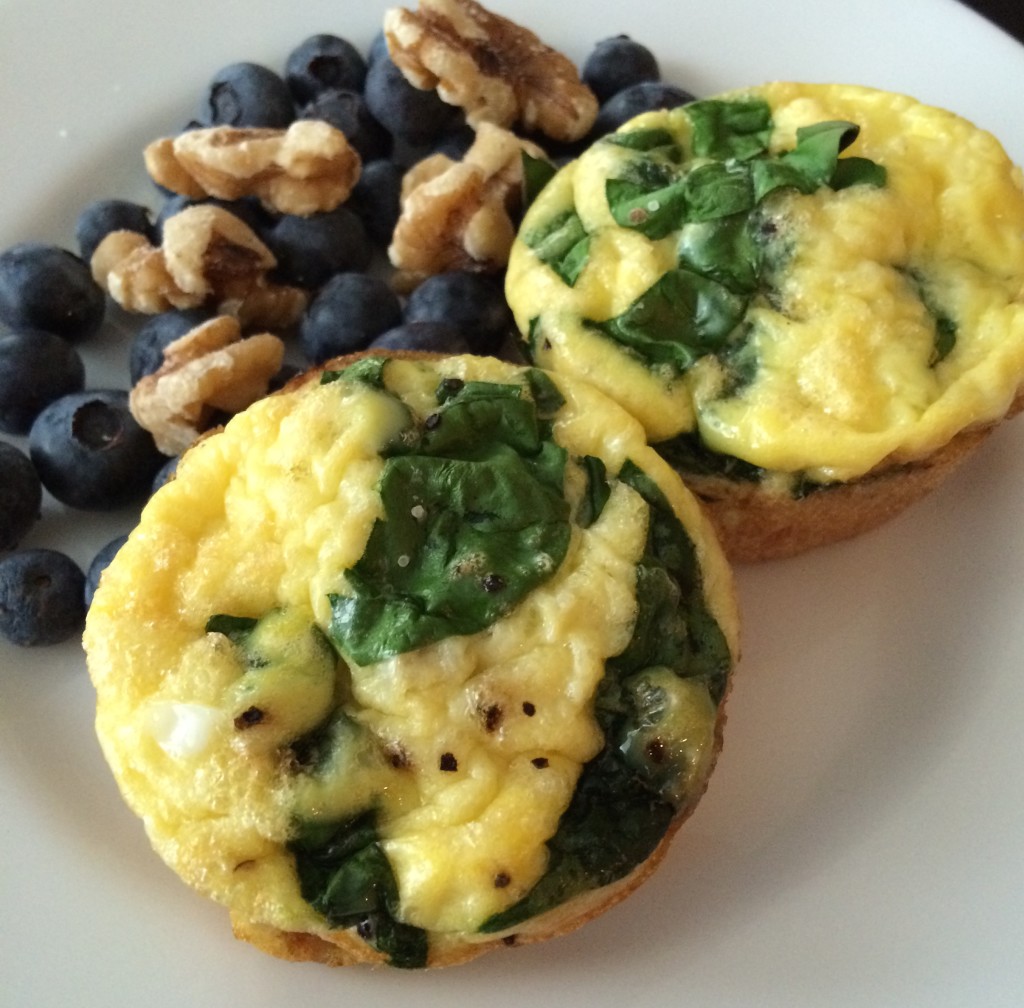 Dinner – 8 SP
Chicken and Broccoli Stir Fry over Cauliflower Rice. The sauce was so yummy. Click HERE for the recipe for the sauce that I used from a stir fry dish over at Paleo Newbie.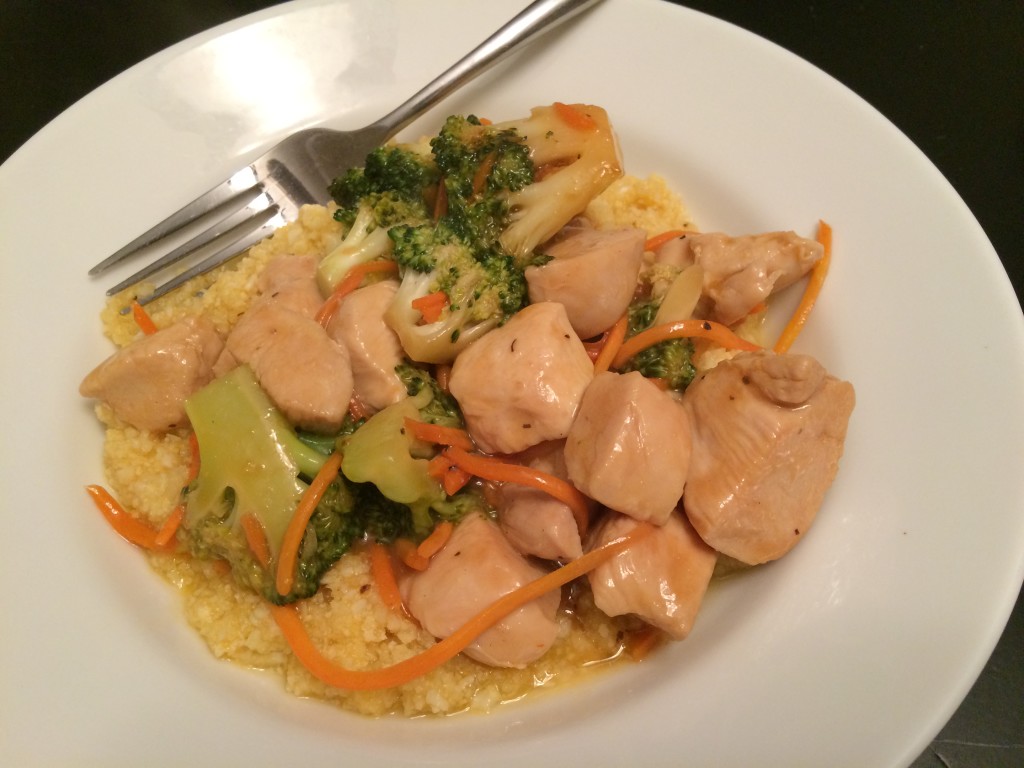 Snack – 5 SP
Dried Apricots with Hot Tea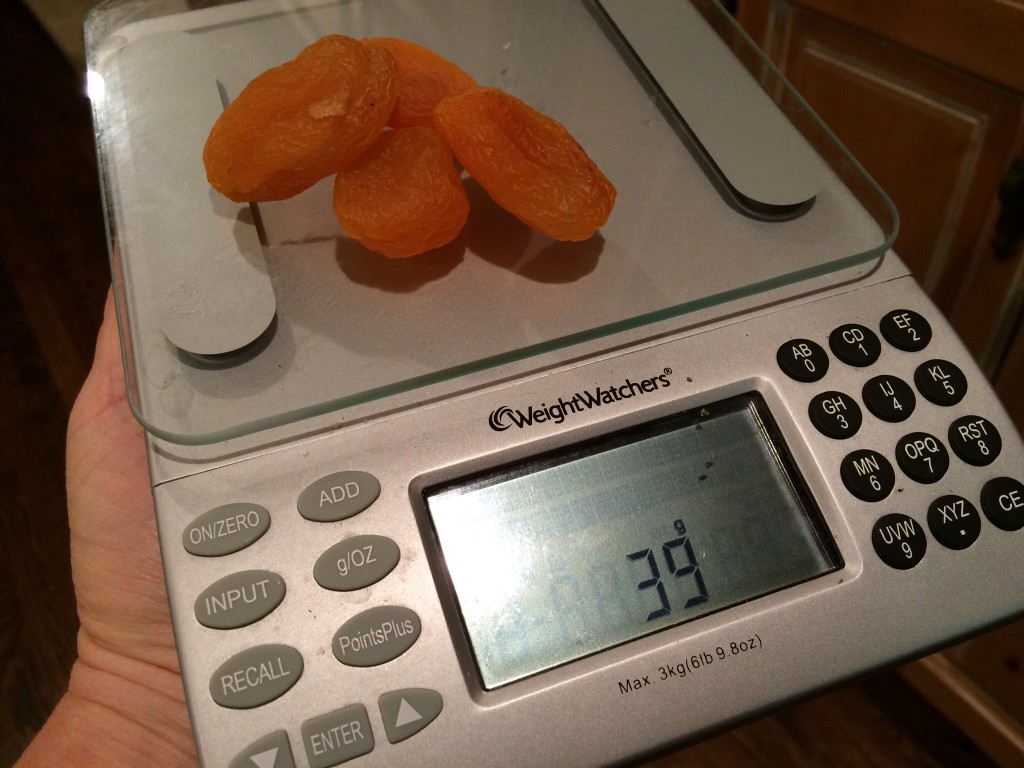 Here are my 2016 Goals
Make time each week to Meal Plan
Drink 100 ounces of water each day
Exercise 5 days a week
Three Meals and One Snack, Daily
I can eat 30 SmartPoints a day.
I have an allowance of 35 extra Weekly Points that I can dip into throughout the week if I choose.
My Weight Watcher Week Begins on Friday's
Breakfast = 7
Lunch = 8
Snack = 3
Dinner = 8
Snack = 5
Total = 31
Exercise = Jazzercise Class
How many ounces of water I drank for the day = 80
Remaining Weekly SmartPoints = 14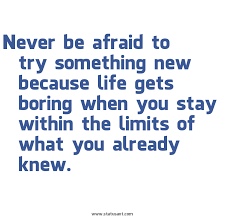 "love the life you live, live the life you love"