Blog Stuff
I had a few tech issues that needed to be resolved on the blog these last few days, which put a halt to my posting. Hate it when that happens. In other news, I've had some exciting things happen this week that involve my blog that I will fill you in on later, but they have occupied a little blog time as well. Except for a lack in posting these last few days, Blog life is pretty good right now, and that makes me happy.
Exercise
If you missed my last post, Latiffany won the FlipBelt, and she has already received it! I think she might be happy about it! She's a sweetie and so appreciative. That was fun. I just might need to do another Give Away?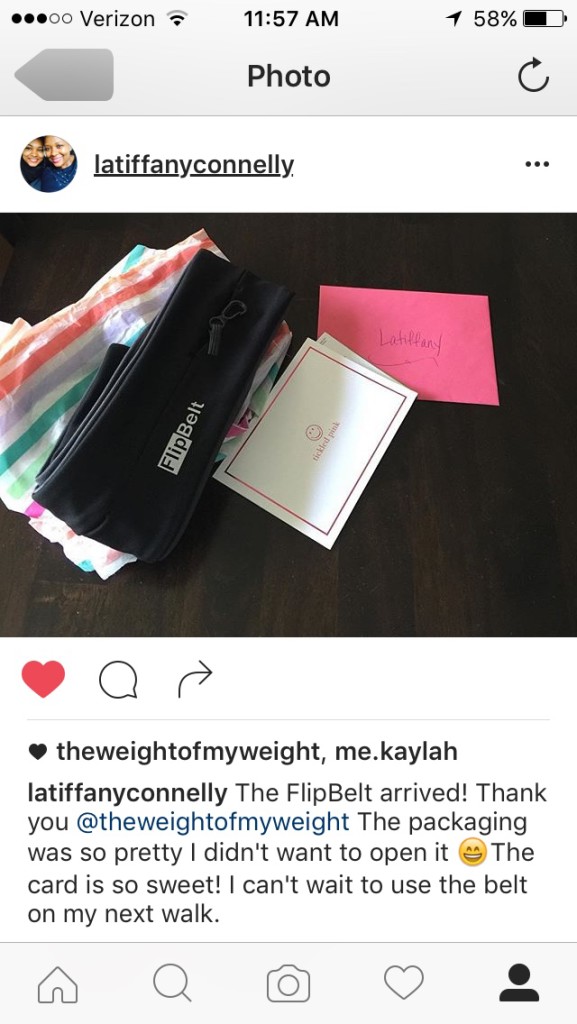 This month I am exercising 5 days a week for a minimum of one hour. I think it's a good plan. It's actually in my goals for 2016, but not the One Hour part.
What are your exercise goals?
Do you have a plan, or do you just try to get in some activity?
How many days a week do you like to exercise?
Wait, do you even like to exercise?
Food and Weight Watchers
I worked the Food Truck on Friday, so I didn't get to my meeting. I'm trying to work less Fridays so I don't miss a meeting, but sometimes it just doesn't happen.
Since I had wine on Thursday and beer (and a Greasy Rueben) on Friday, I only have a few weeklies left. I'll stick to 30 SmartPoints a day for the remainder of the week.
It's going to be a really busy month and I want to make sure I don't let a busy schedule get in the way of exercising, meal planning and prep, so I'll spend some time this afternoon at least planning meals and making a shopping list. I may shop as I go this week, but at least I'll know what I'm shopping for.
My goal is to exercise first thing in the morning for the remainder of the month, which I suck at, but I'm going to aim for that so that it won't be too easy for me to let excuses slip into my day.
Life
The last few days have been packed with some pretty good stuff, and some pretty weird stuff. That's my life really. Good, and weird. I like it.
Wednesday
Worked the Food Truck, got in an afternoon walk. Made a kick ass breakfast and a kick ass dinner.
See for yourself. You decide.
Avocado Toast (on Sweet Potato Buns) topped with Bacon and a side of Runny.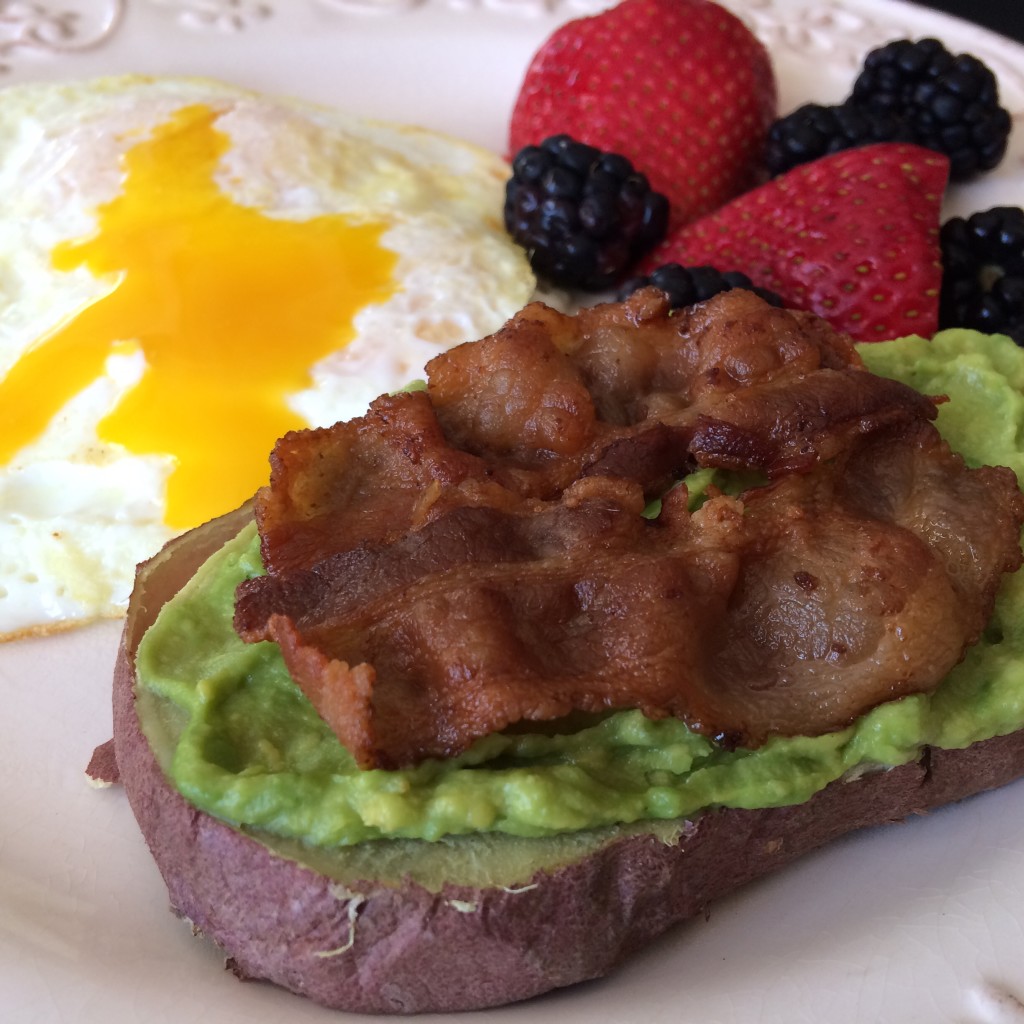 Bacon Wrapped Sirloin, Mushrooms, Grilled Asparagus and Taters.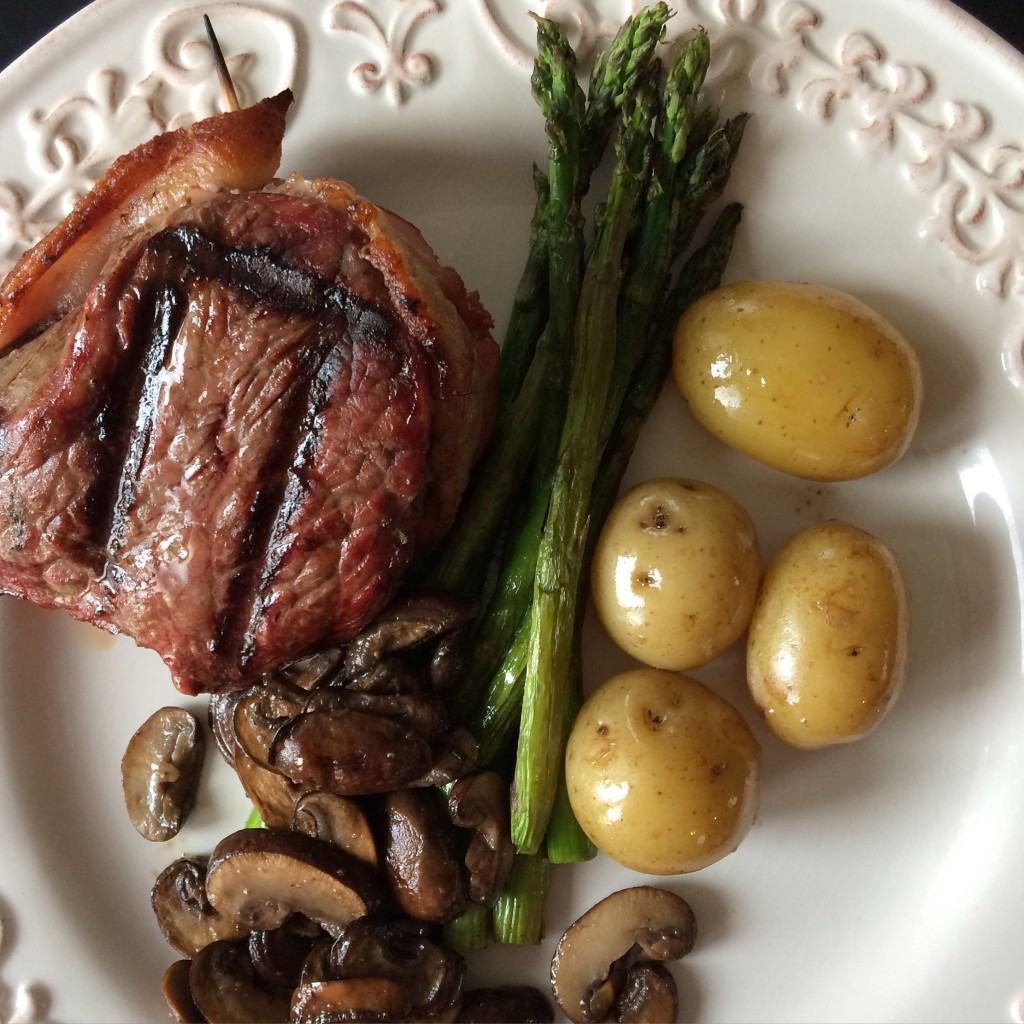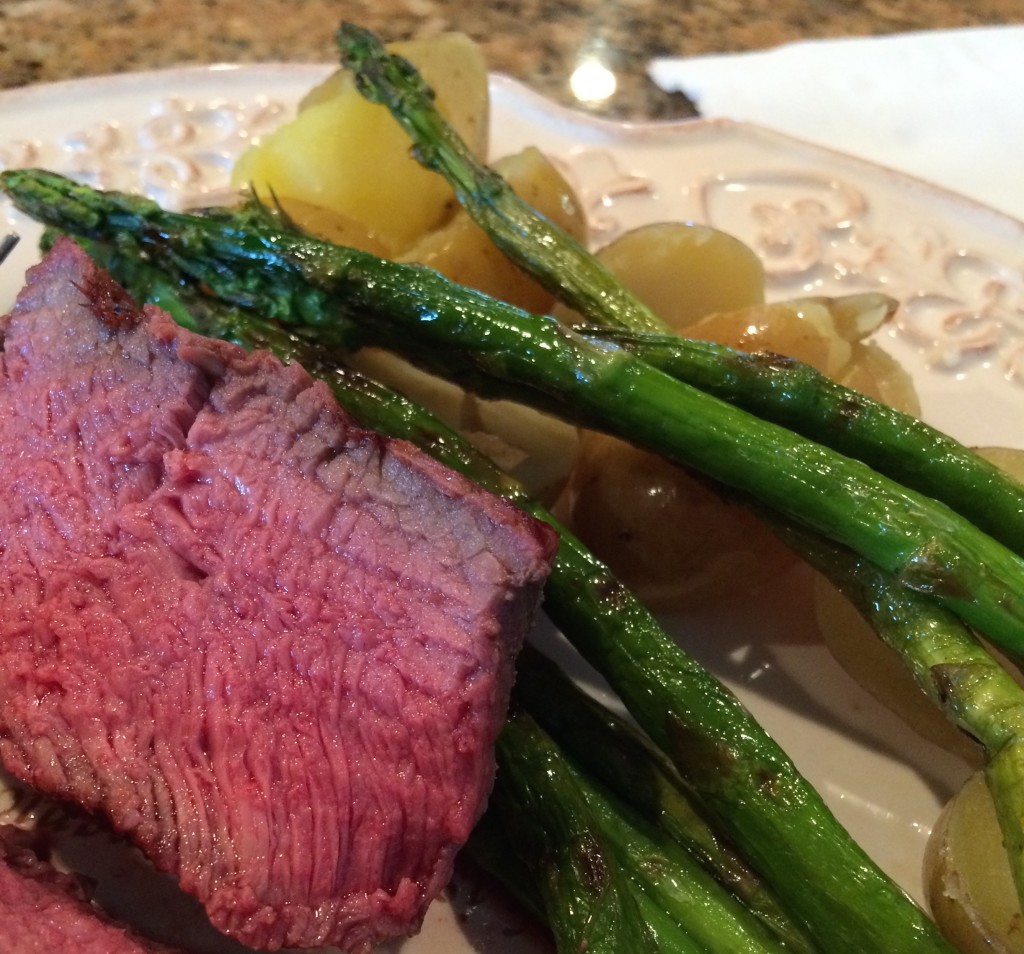 Thursday
I met a couple of friends for pedicures in the afternoon, then we shared a bottle of wine on a patio.
Pedicure, never a fan. Wine with friends, always a fan.
Guys. Seriously, I have super sensitive skin (like it's thin or something?) and it always feels like they are going to sand right through my skin and my nail bed. Sometimes they do! Like on Thursday! Now I have a big nasty crack on the inside of my heel. Yep, he sanded right through my skin! And…..after wine we all took a picture of our toes, and my friends pointed out that my nails looked messed up? They did! All 10 nails looked gritty? I went back in to ask for a new color. although I had no desire to sit down then and change colors.
Nice Lady: Can I help you?
Me: My color is weird. I think that polish I picked out might be expired? (I don't know…does it expire?) It's all gritty, like sand.
Nice Lady: Oh, yeah. You get Sand Paint.
Me: Oh, I don't want Sand Paint? (Said slowly, while shaking my head, wondering why anyone would want their nails to look gritty? Maybe I'm not up on all the latest trends. Yes, that's it.)
Nice Lady: We fix. No charge.
Me: Thank you so much. Can I come back tomorrow though?
Nice Lady: Sure. You come back. You no pay.
Now I think they'll have to work really hard to get the gritty off, and I'm certain that the polish remover with sting the crack on my heel.
I haven't gone back. I'm still gritty, with a crack.
For dinner, I grilled up some Flank Steak using this Marinade, and making this Steak Salad from Trina over at Paleo Newbie, with a few substitutions.
Friday
It was a fun and busy day working the Food Truck in Kansas City's West Bottoms. First Fridays are crazy down there! Lots of fun people loving our food! After serving who knows how many, my friend Renee and I thought it would be fun to sit on a street corner right smack in the middle of the West Bottoms and have a beer. We went to a gas station, bought a six pack, and sat on a street corner listening to live music, people watching and making new friends. Um, it was fun. Renee is fun and weird too, so it works.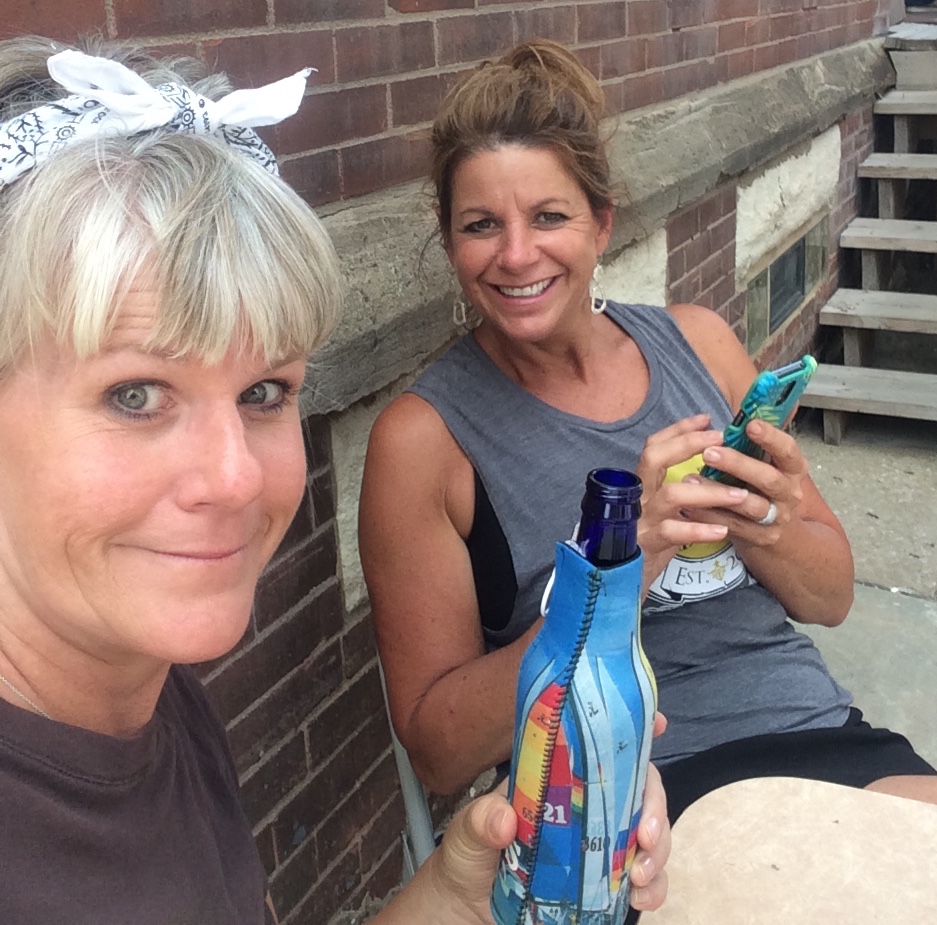 We later ended up at a Deli that we had heard about while drinking our beer on the street corner, and ate a Rueben. My stomach did NOT thank me later. I won't be doing that again for a long time.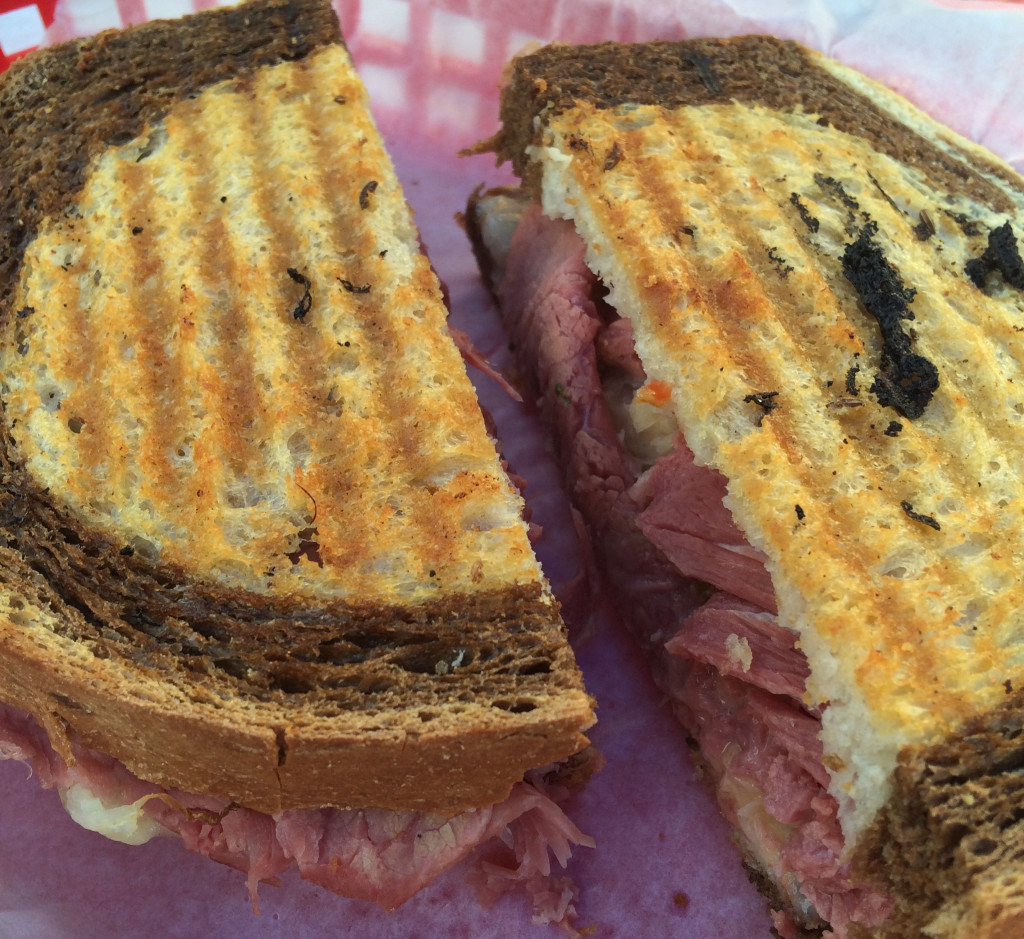 Saturday
Hot Yoga at 8:00 am. Breakfast of Steak and Eggs at home. So, I guess I'm into beef lately.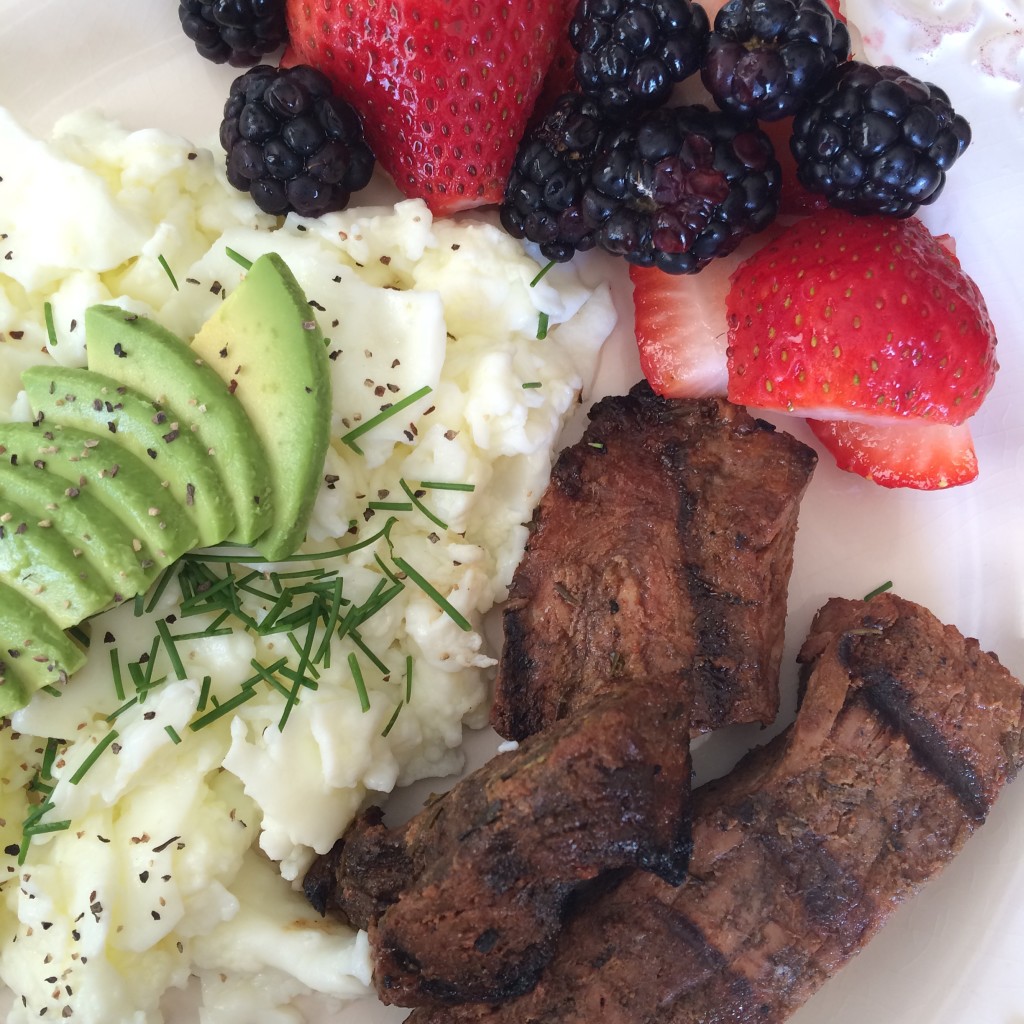 After breakfast, I decided that I was in the mood for outdoors and people. I headed to City Market in Downtown Overland Park. I grew up blocks from this little area, and I love being there.
These are some kids, making music and smiles. They sounded pretty darned good too!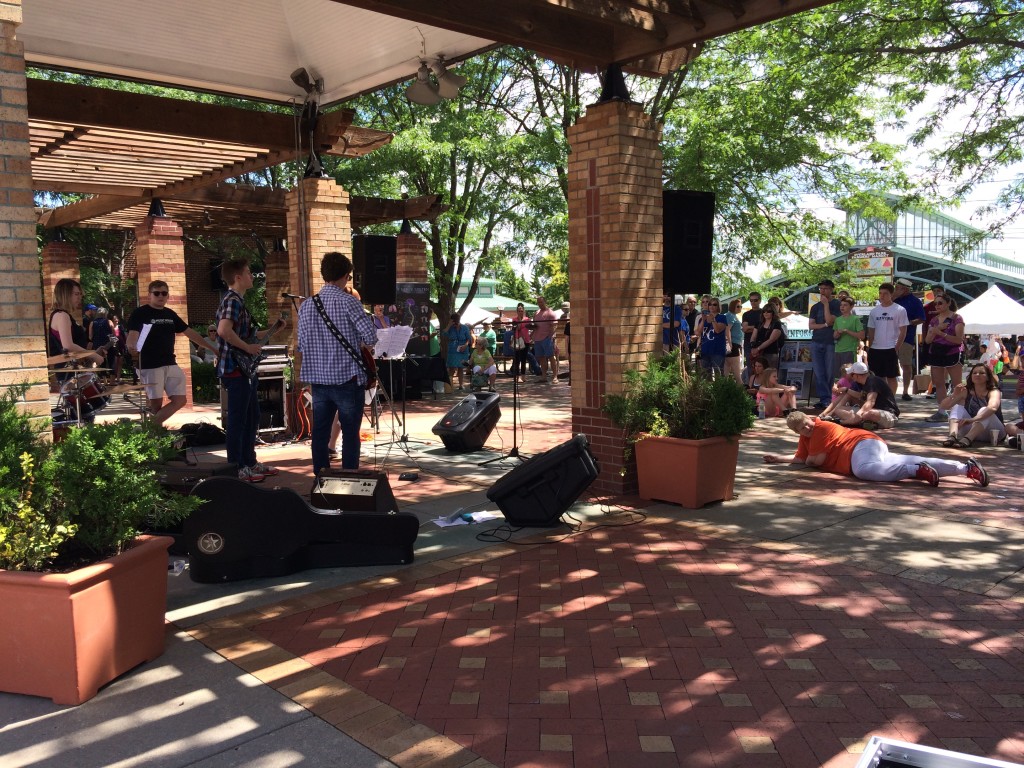 Happy place….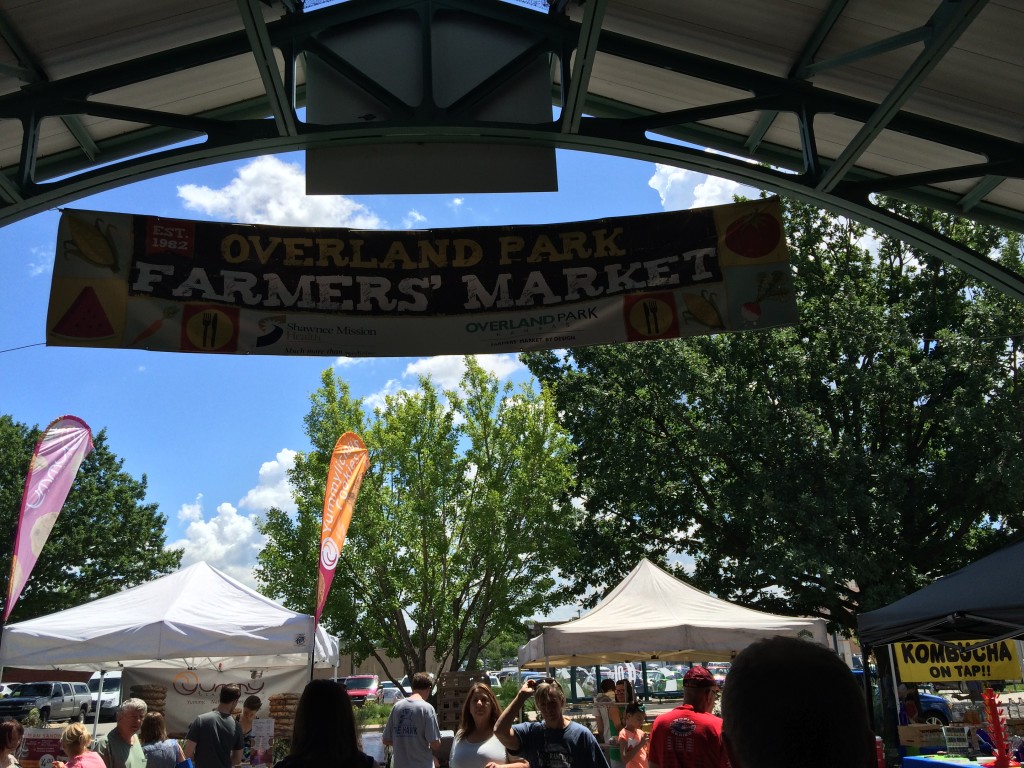 Sunny day….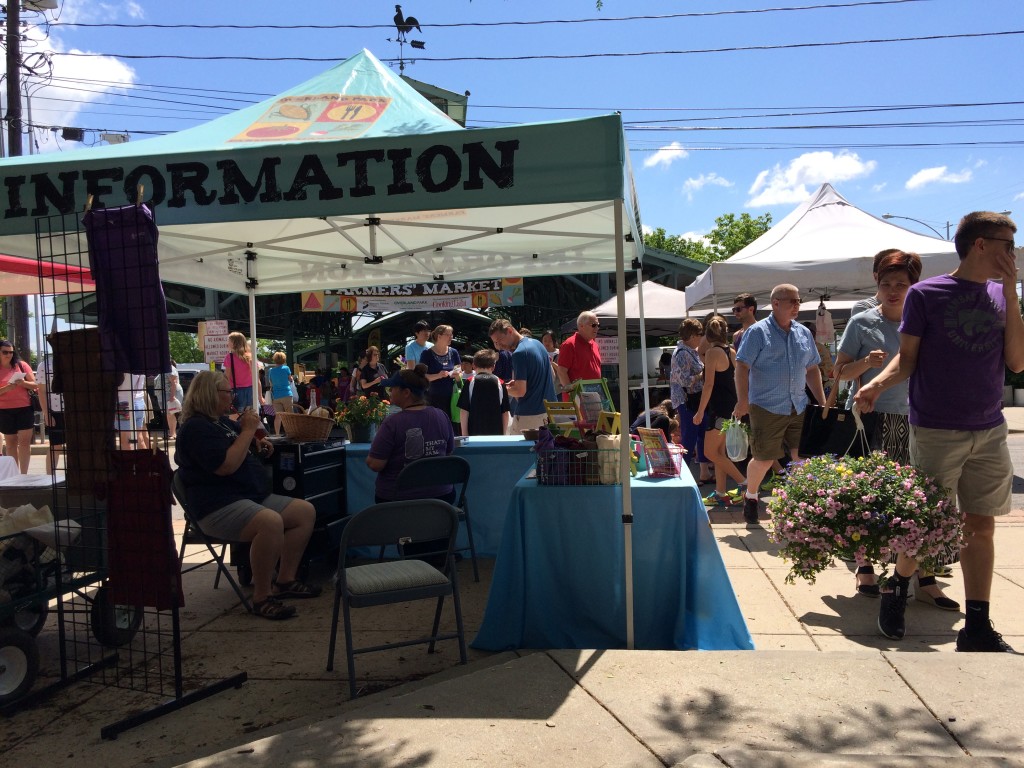 I stopped at a tent and met the sweetest little 30 something. We're friends now. She is in the middle of doing the Whole30, so we had lots to talk about She wants her mom to do it, but mom's not buying it. Maybe I should call her mom? I bought this bottle of juice because my new friend was just so nice. It was $9!!! Strong Cilantro flavor. I was curious. The Paleo Bites are awesome!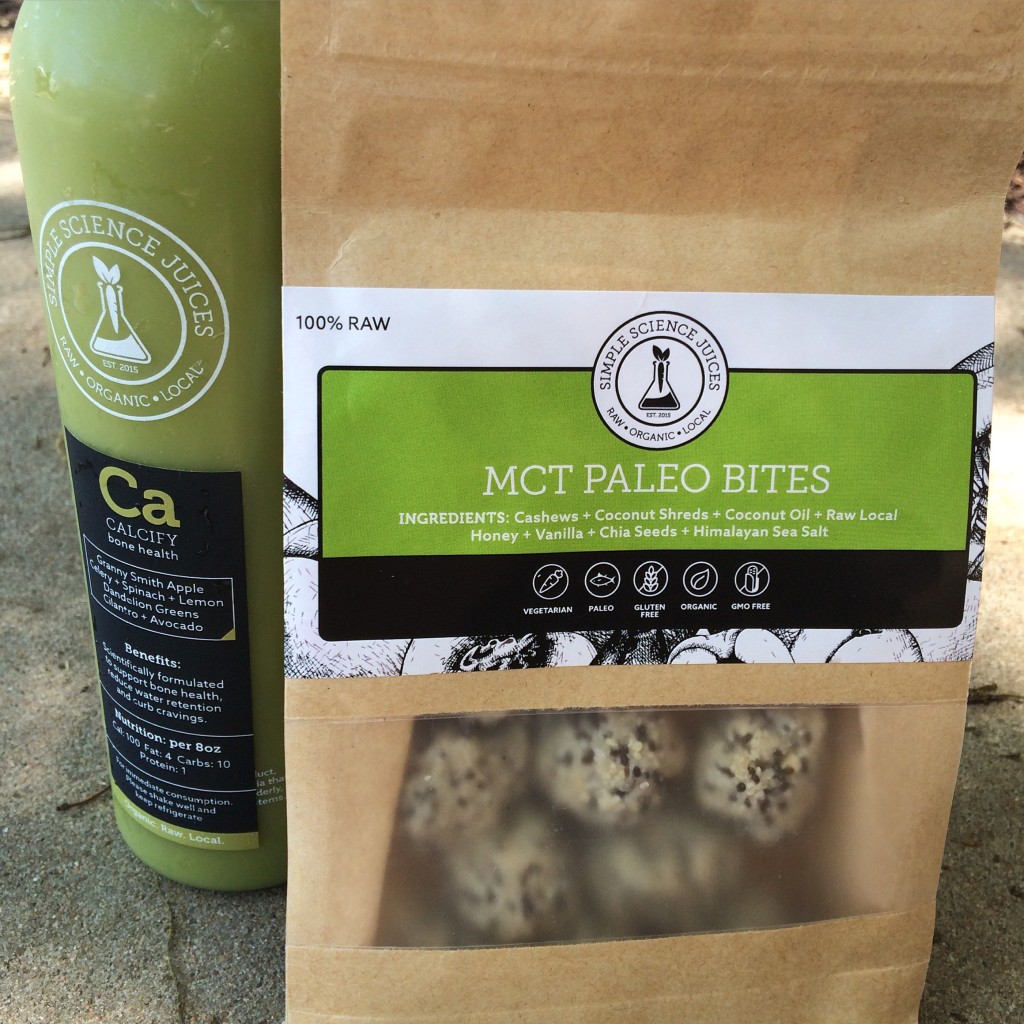 I bought some of those tomatoes and zucchini at the end of the table.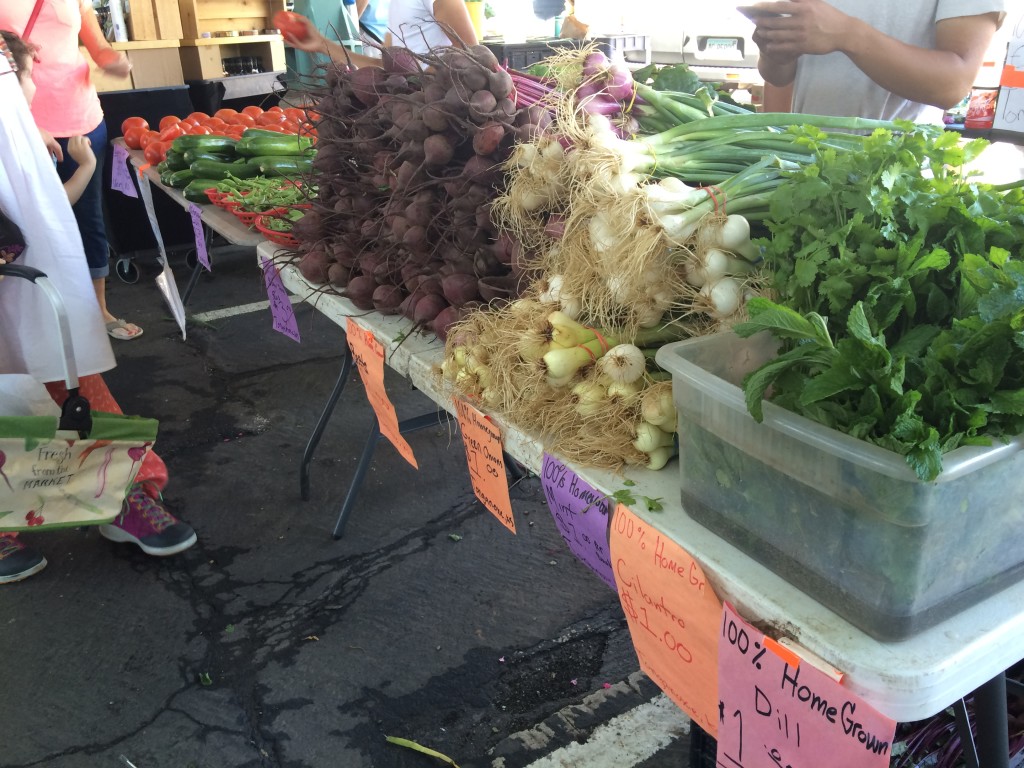 Can you see the little ones through all the legs? They are playing in a fountain. I think it's the cutest.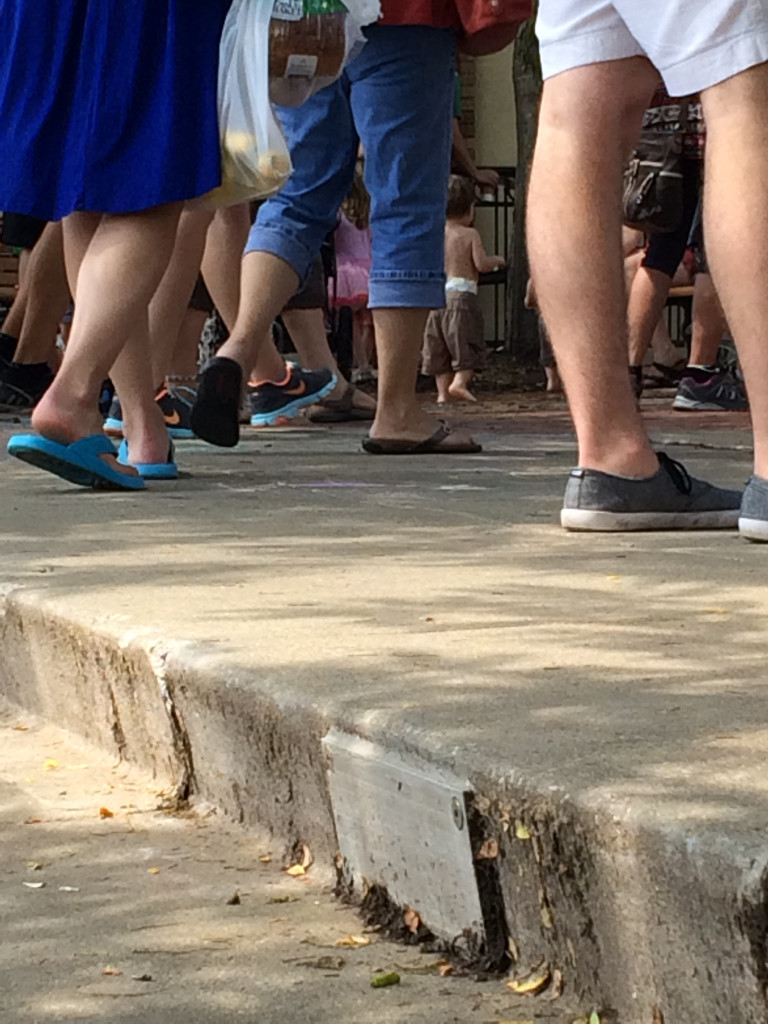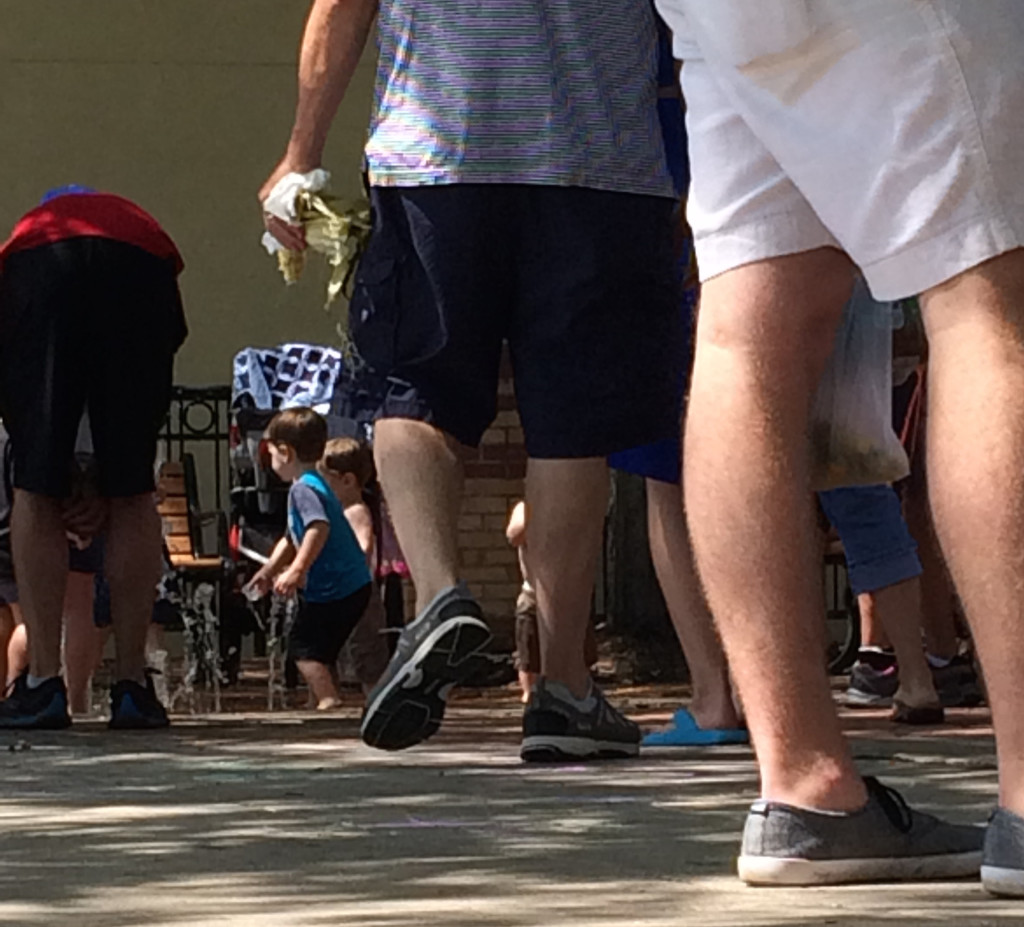 Everyone's out supporting the locals!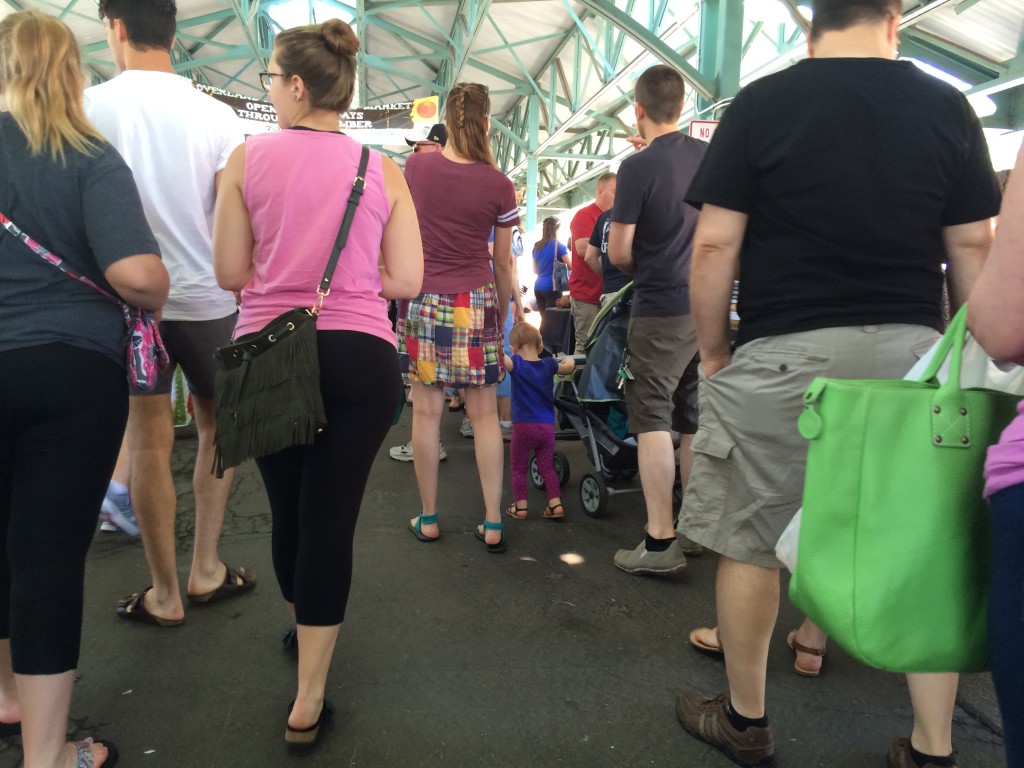 Then I found this lady! She makes crepes. My mom wasn't with me, but she lives a few blocks away and loves a crepe, so I had one made for her (Banana and Nutella, topped with Powdered Sugar and Cinnamon) and delivered it. Mom was happy and all was good with the world.
Dinner? I wanted to eat the tomatoes that I bought at the Market, so here's what I made.
BLT's with Smashed Avocado on Sweet Potato Buns! These were awesome!
I sliced a barely baked potato. I cooked those slices in just a bit of bacon drippings from my bacon.
Okay, this blog post took 75 hours to write, and if you read it all, I'm sorry, but also, THANK YOU! I always feel the need to get completely caught up! It's some sort of an OCD thing.
It's been a great Sunday so far, and I've got a Meal Plan to work on.
Have a wonderful week!
These are my 2016 Goals
Make time each week to Meal Plan
Drink 100 ounces of water each day
Exercise 5 days a week
Three Meals and One Snack, Daily
I can eat 30 SmartPoints a day.
I have an allowance of 35 extra Weekly Points that I can dip into throughout the week if I choose.
My Weight Watcher Week Begins on Friday's
Exercise = Saturday – Hot Yoga and lawn work
FitPoints Earned This Week = 11
Remaining Weekly SmartPoints = 0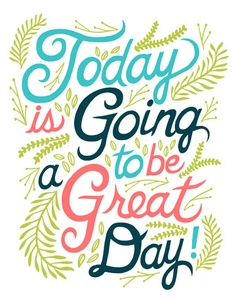 "love the life you live, live the life you love"