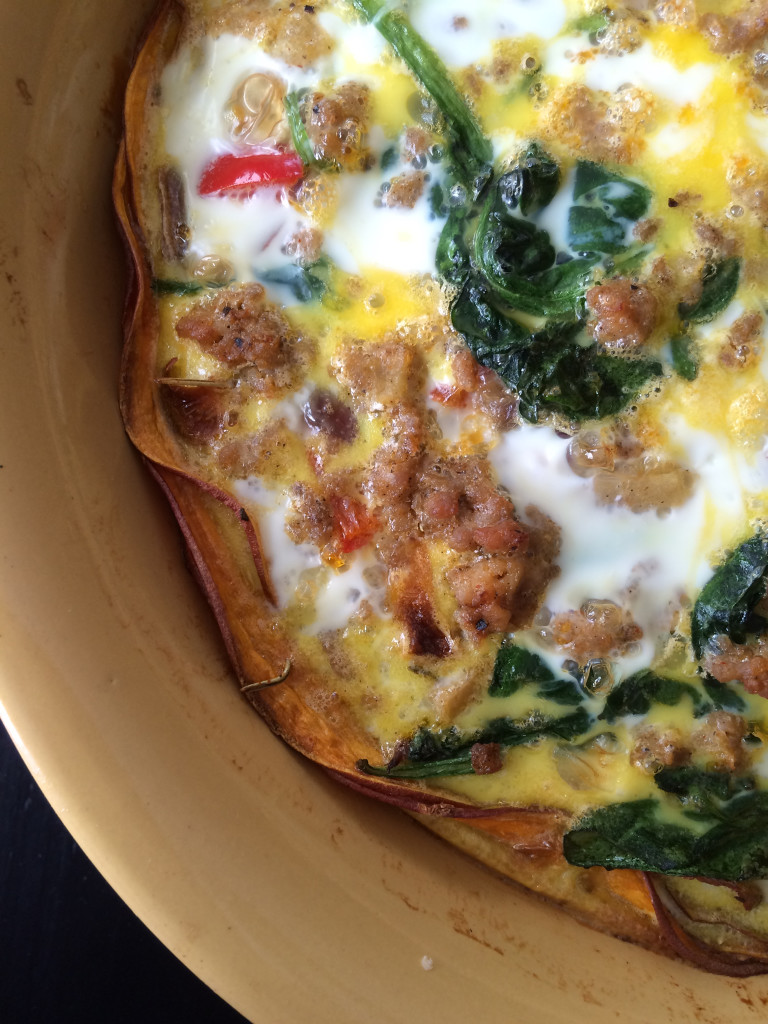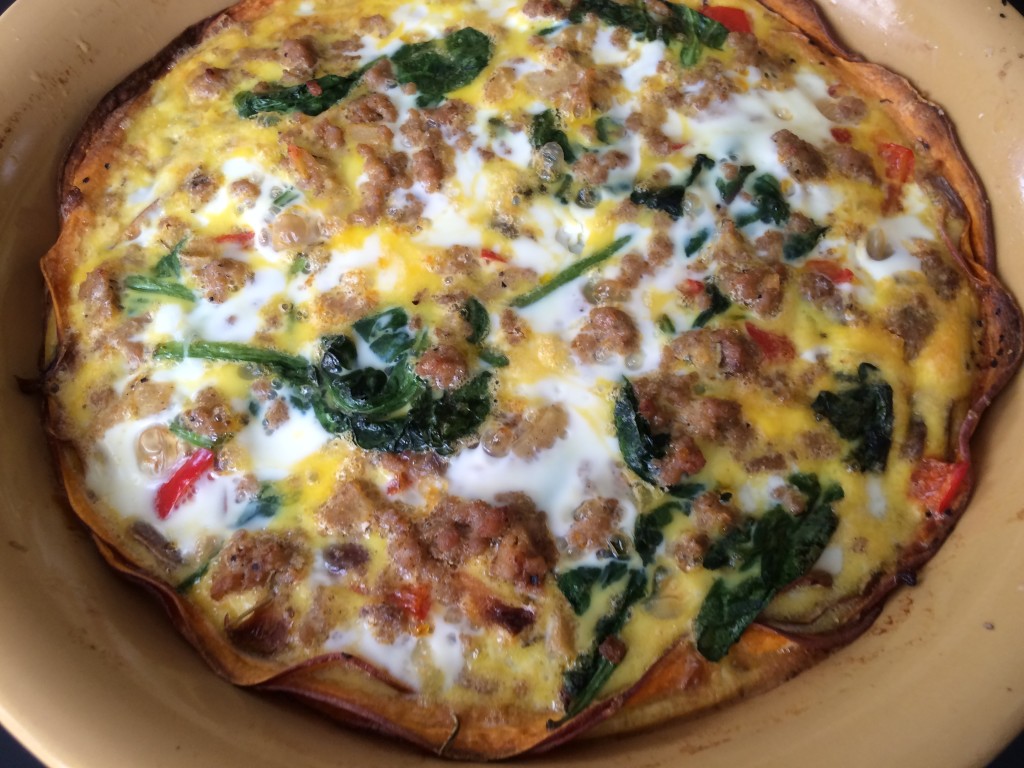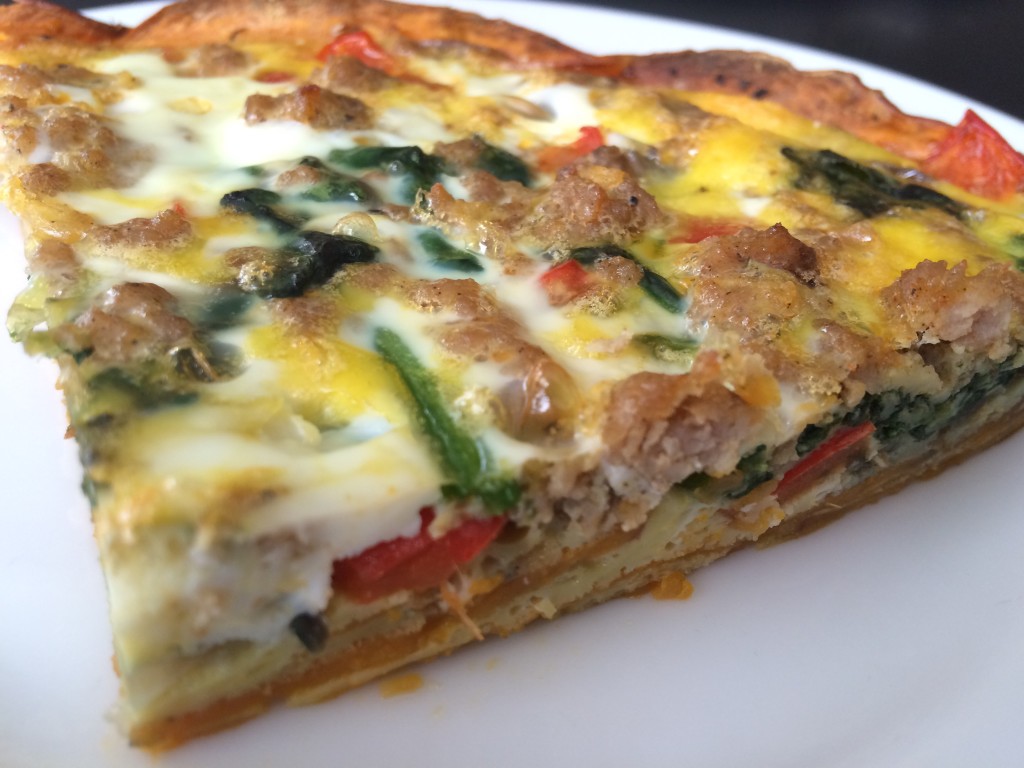 This past Spring, I picked up this free magazine at one of our local grocery stores. I knew that eventually I would be making both of these recipes.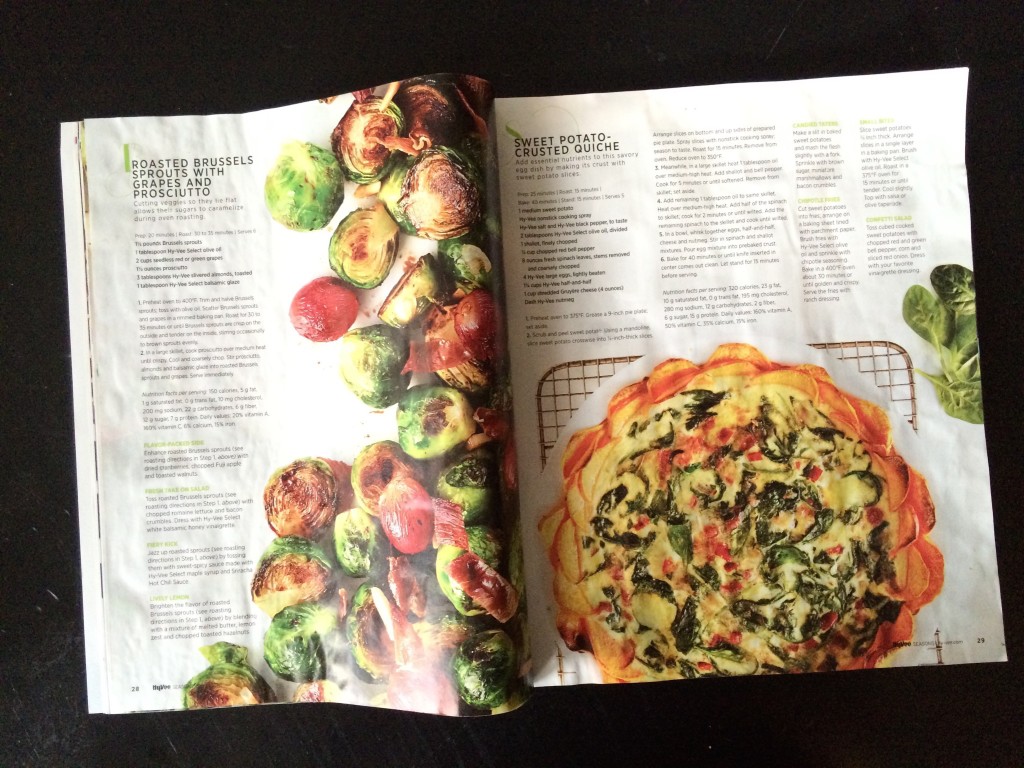 I made the Roasted Brussels Sprouts with Grapes and Prosciutto shortly after picking up the magazine, and we loved them.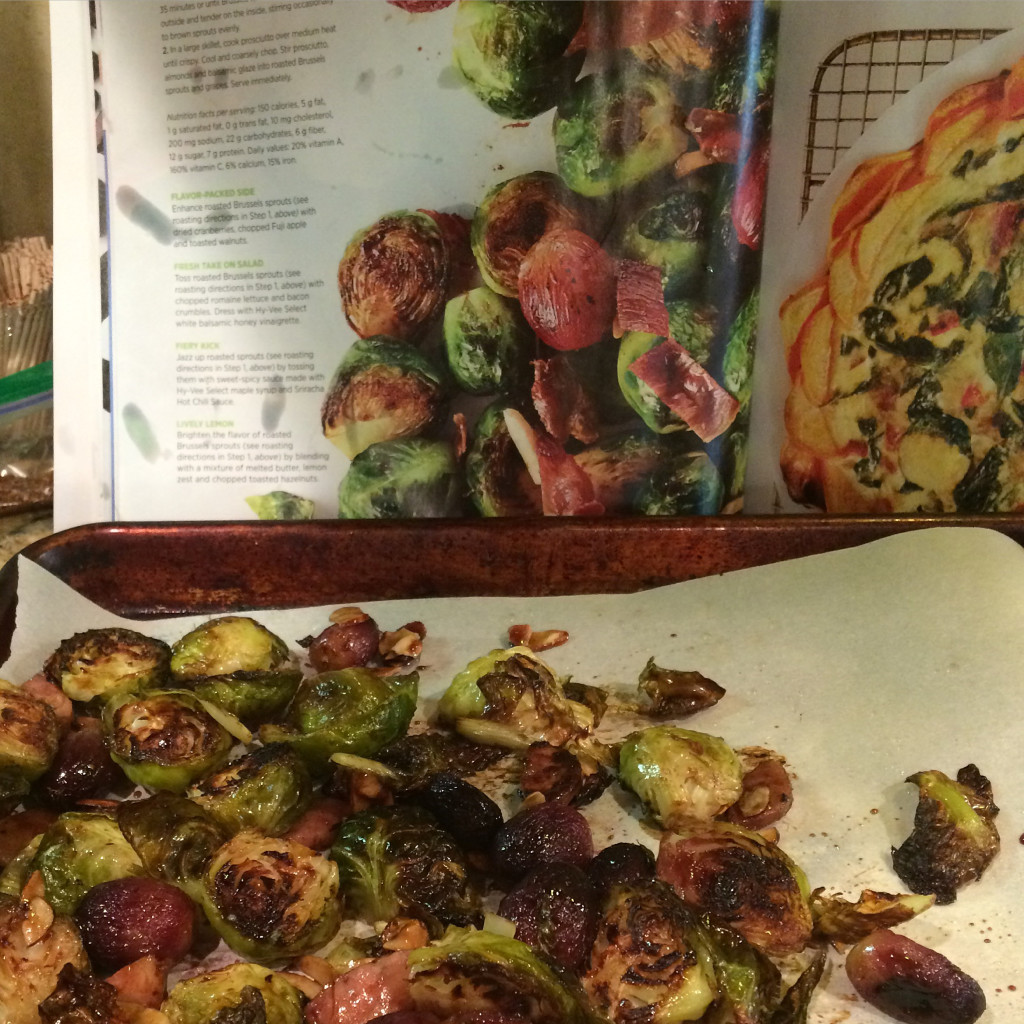 I've had the magazine on my kitchen counter top opened to this page for several weeks now. Yesterday was the day.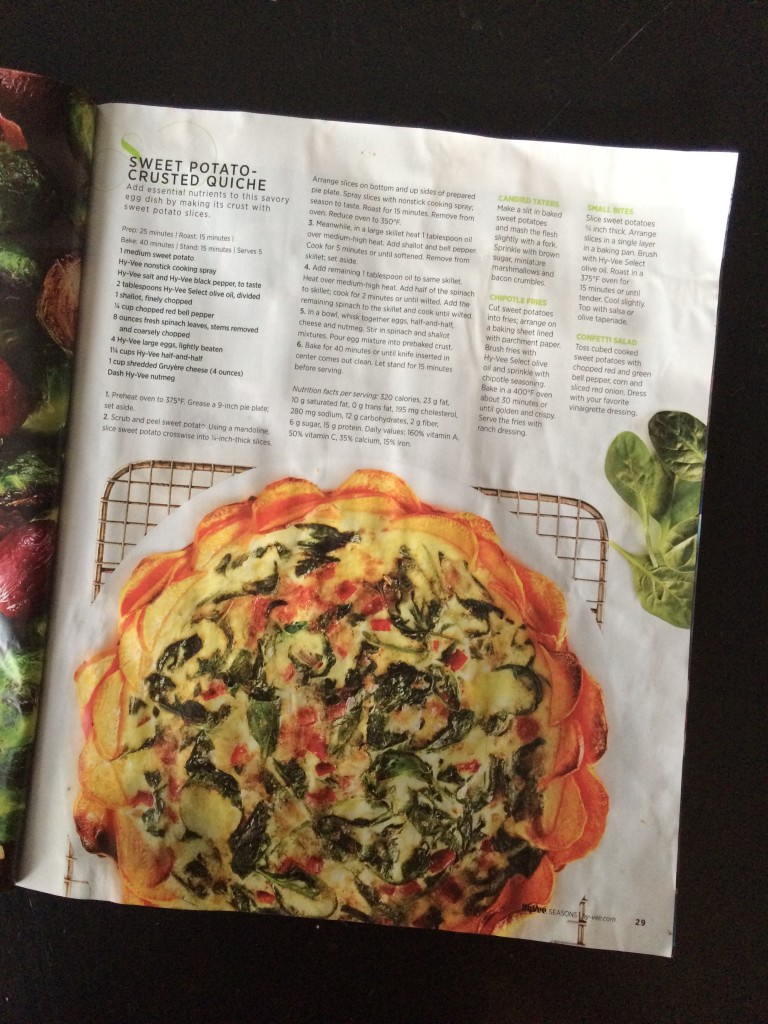 This was super easy to make and I have no idea why in the heck I waited so long to cook this up!
Bake the crust. Add cooked veggies. Add cooked meat. Add eggs. Bake.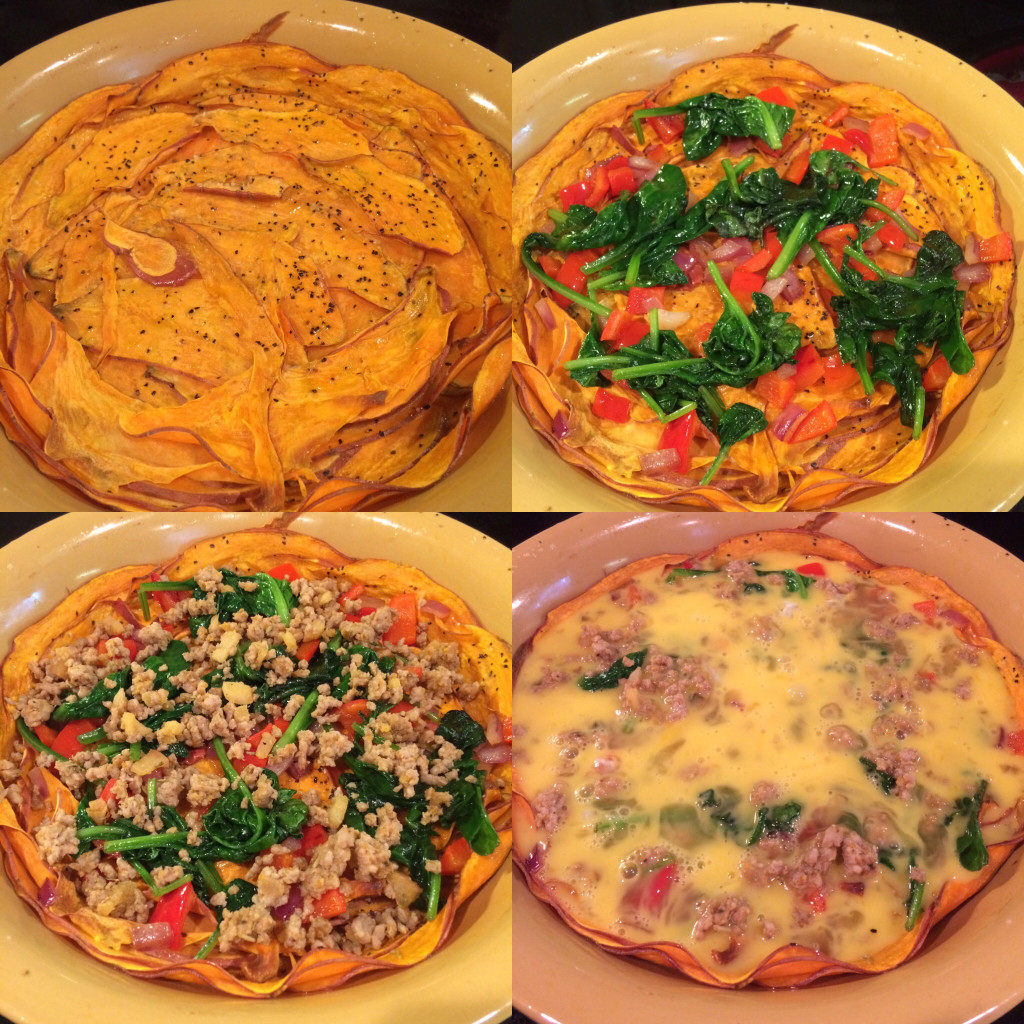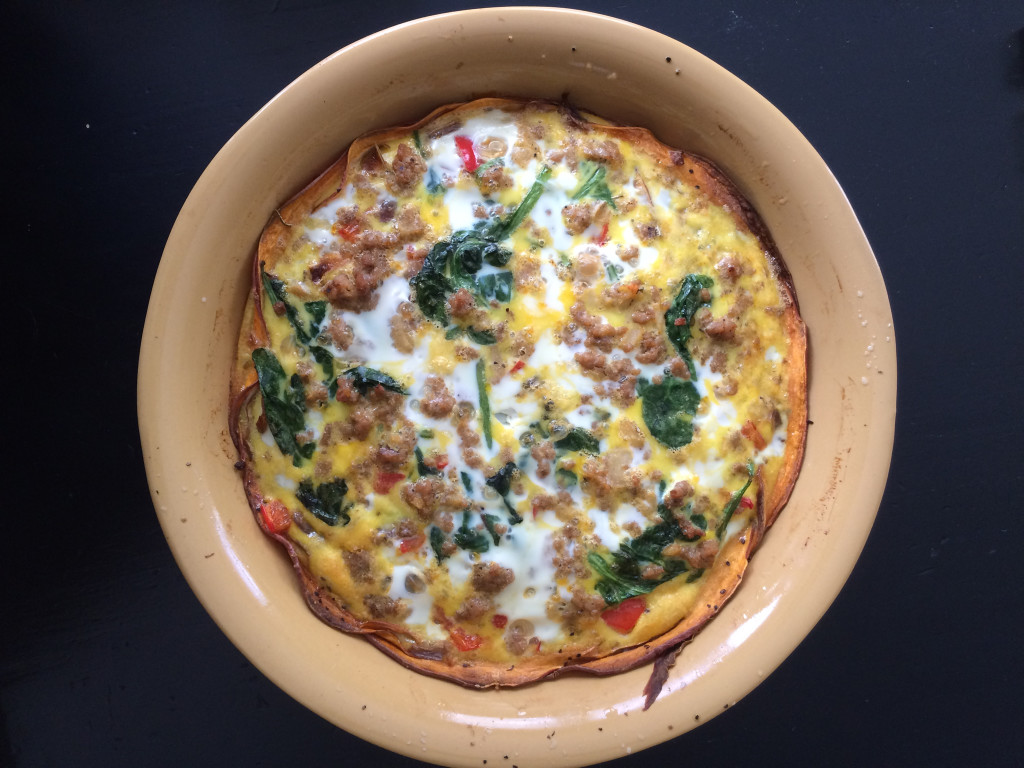 I tweaked things a bit. I removed the cream and the cheese from the original recipe. I used different veggies and I added in cooked pork sausage.
You could use a variety of veggies and a variety of meats to give this all sorts of different flavors. Mushrooms, zucchini, broccoli? How about topping this off with some sliced tomatoes or avocado?
I used Pork Sausage, but this would also be amazing with some crumbled bacon, or diced ham. Yummmmm.
Any kind of cheese would be delish in this too!
Okay, this is what I had on hand yesterday, and we thought that it tasted great!
Sweet Potato Crust Quiche
2016-09-26 20:49:52
Serves 4
Ingredients
8 oz Raw Sweet Potato, thinly sliced
Olive Oil Cooking Spray
Salt and Pepper
1/4 C diced Red Onion
1/4 C diced Red Bell Pepper
2-3 C of Fresh Spinach, chopped
1/4 C. Cooked Pork Sausage
6 large Eggs
Instructions
Preheat oven to 375. Spray pie plate with cooking spray.
Layer potato slices in pie plate, covering entire plate.
Spray potato slices with cooking spray.
Salt and Pepper potatoes.
Bake for 15 minutes.
Remove potatoes from oven.
Reduce oven temp to 350.
While potatoes are cooking, sauté peppers and onions in cooking spray.
Season to taste. Set aside.
Sauté spinach in skillet, adding additional cooking spray if necessary, and cook for about 2 minutes, or until wilted. Set aside.
Top cooked crust with veggies, then spinach, then cooked pork sausage.
Whisk eggs in a bowl, then pour over the top of the sausage.
Bake for 30-40 minutes at 350 or until a knife inserted comes out clean.
Let sit for about 15 minutes before serving.
Notes
7 SmartPoints
The Weight of My Weight http://theweightofmyweight.com/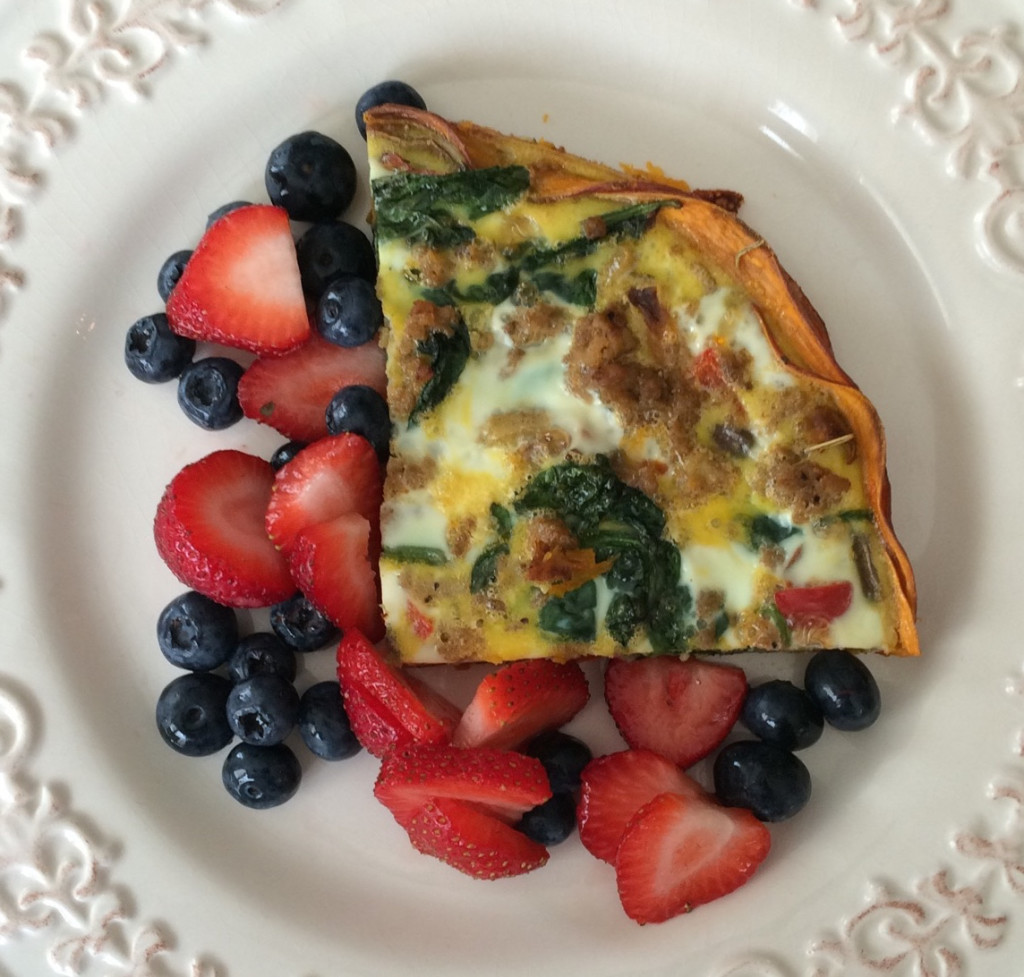 "love the life you live, live the life you love"