This week in the Weight Watcher meeting room we are talking about Stress. I ended up filling in as a sub for two meetings this week and each meeting was completely different, which is just one of the things that I love about being able to be in different meetings throughout the week.
These are the questions I asked that led to some great conversations.
What gives you stress?
How does your body feel when you are stressed?
What do you do when you are stressed?
Do you turn to food when you feel stressed?
What are some things that you can do when you feel stressed so that you do not turn to food (or punch someone in the face)?
I heard some great feed back from members in all three meetings on how they deal with stress. Many members already have a plan in action for when they face stress.
We talked in each meeting about breathing and how it can help you when you are feeling stressed. Deep breathing can help lower your blood pressure, calm your anxiety, relax your tense body and clear your head, just to name a few things. It obviously won't take the issue that has you stressed away, but it can help you to deal with it and avoid over eating (or punching someone in the face) to deal with your stress.
I've downloaded these two apps onto my phone that I really like.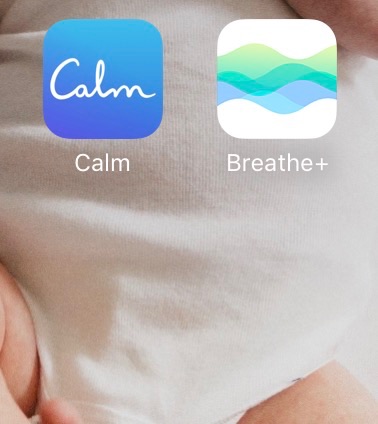 Calm. You can hear the rainfall on this page while also doing a breathing exercise that the app will lead you through.
You can also have Calm gently talk you to sleep.
Try it!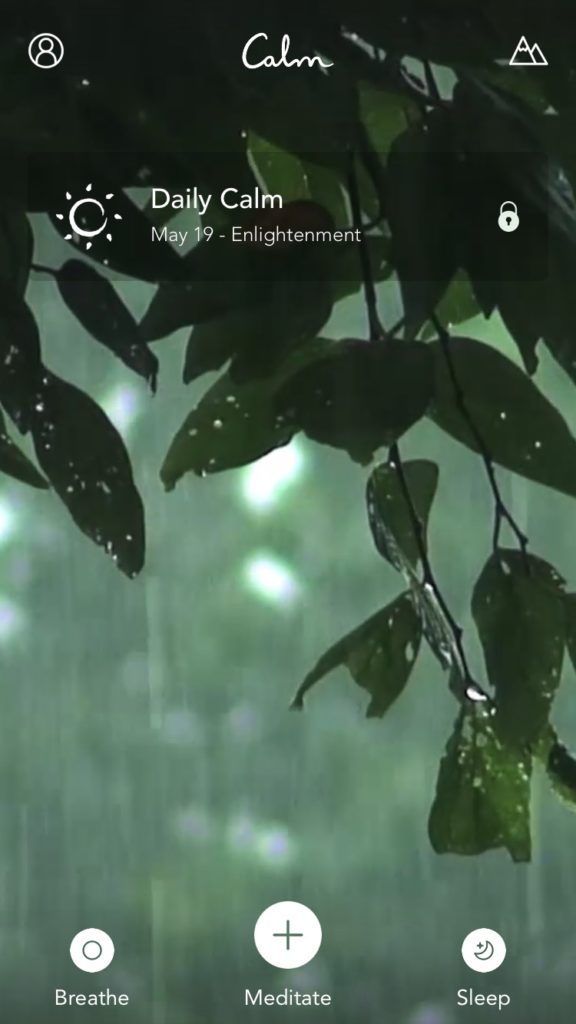 The Breathe app. You determine how many seconds you want your breath to be.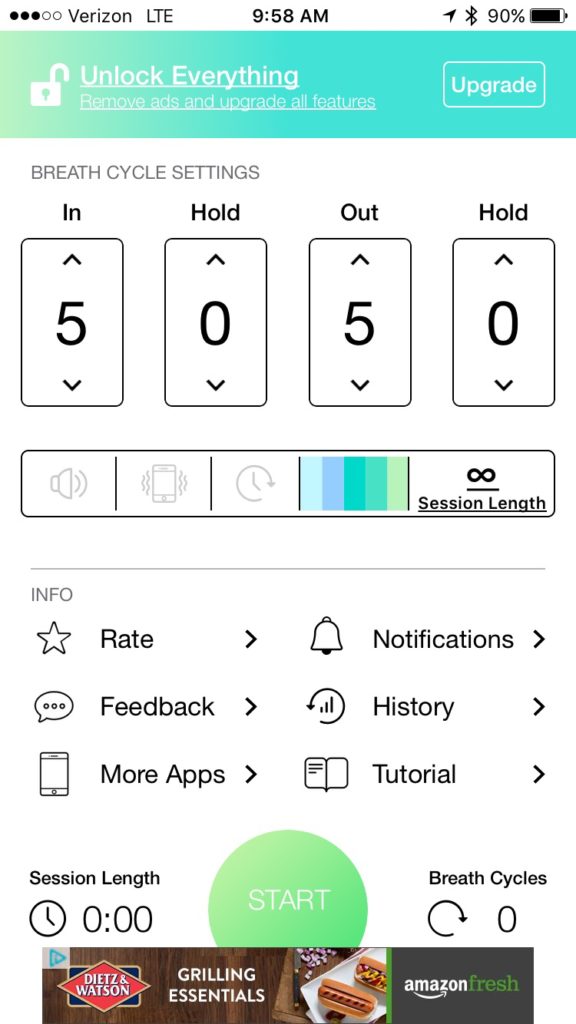 When you press Start, this calming blue screen comes on and the blue color fills the screen from the bottom to the top as you breath in, then back down to the bottom as you breathe out.
It is very calming.
Give this a try too!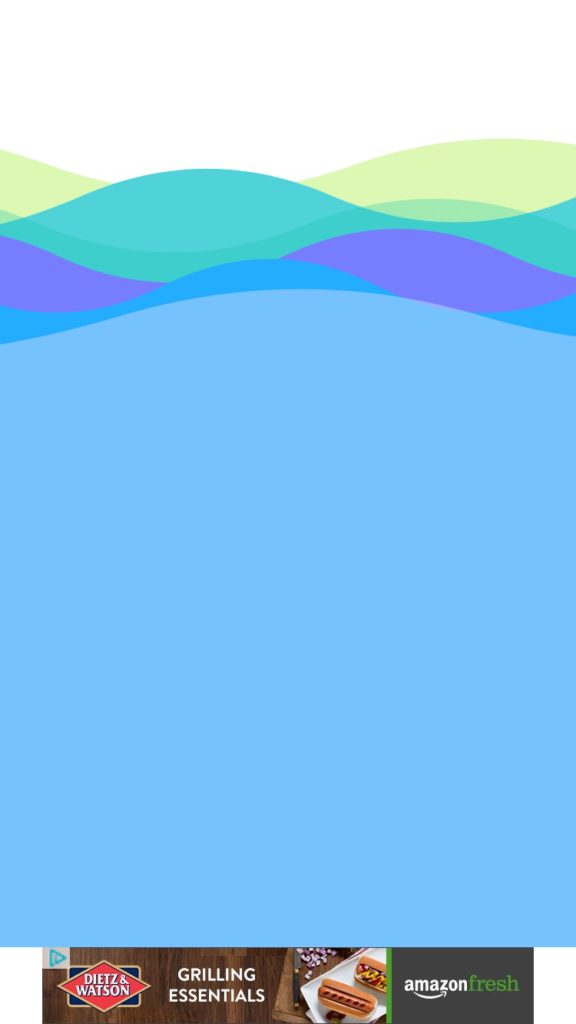 Really, even if you are not feeling stressed, both of these are great apps for simply relaxing/meditating. Do one of these before you climb into bed, I'm almost certain that you will fall asleep easier.
Each week, this very creative WW Leader writes a poem that is related to the weekly meeting room topic. Almost every week, I remember to share it in the meeting room.
This is her poem for the week. I think it is just the cutest and I read it just like I read Dr. Suess books to the kids.
"What am I doing with my head in this fridge?!
I'm not even hungry, not even a smidge!
My day was SO stressful and my cat HAS been sick
Will this big bowl of ice cream, perhaps do the trick?
I'm worried, overwhelmed, and almost out of money,
Over-worked, and congested, and my car's sounding funny!
Being sued by my neighbor!…and I only just met her….
Can this big hunk of chocolate, really make it all better?
Let me pause for a moment, and ask myself why,
when my life's kinda crazy…., why I'm holding this pie!
it won't manage my stress…won't fix what's hurtin'
it's just pie, not a cure-all, of THAT I am certain!"
Sheron Bender, WW Leader
All of that breathing talk yesterday reminded me of how much I miss my Yoga classes. My plantar fasciitis is much better, but the last time I did Yoga my foot gave me all sorts of pain. You would think that the stretching would just be a good thing for it, right? I haven't walked barefoot in forever (and I spent ALL of my time at home barefoot!) so I spend my time at home in the OOFOS flip flops that have the high arch in them and I wear the KT tape. I bought these flip flops at the store where I buy my walking shoes. I have Black and Grey. Pretty boring, huh? Note to self. Go buy prettier colors for summer.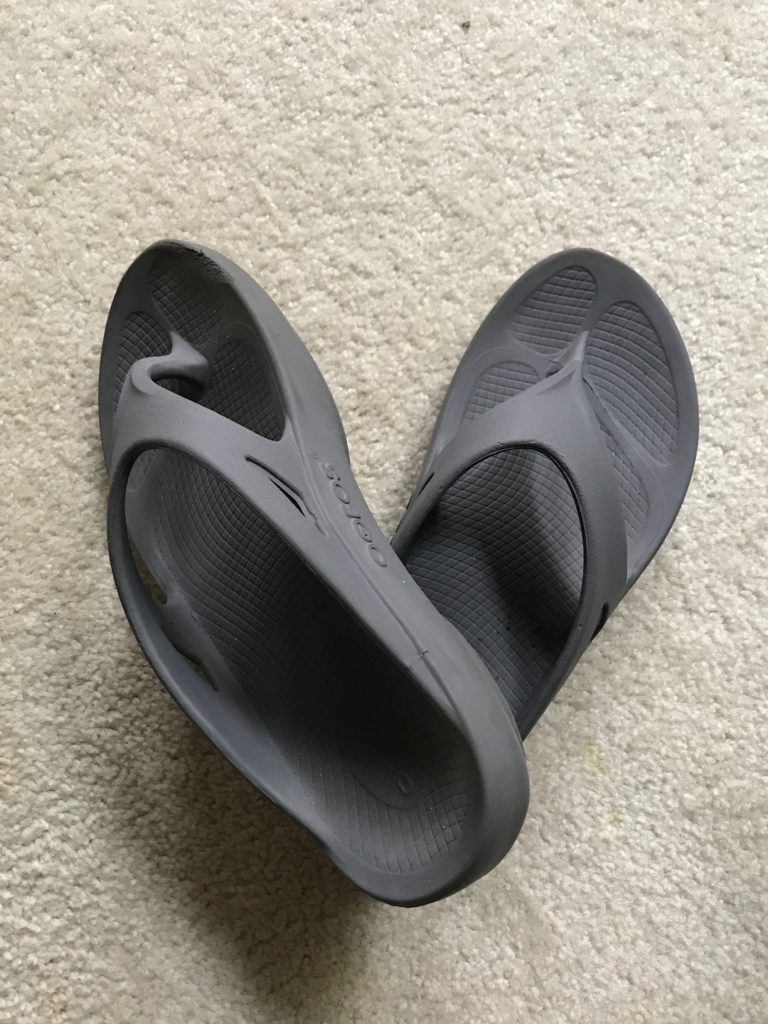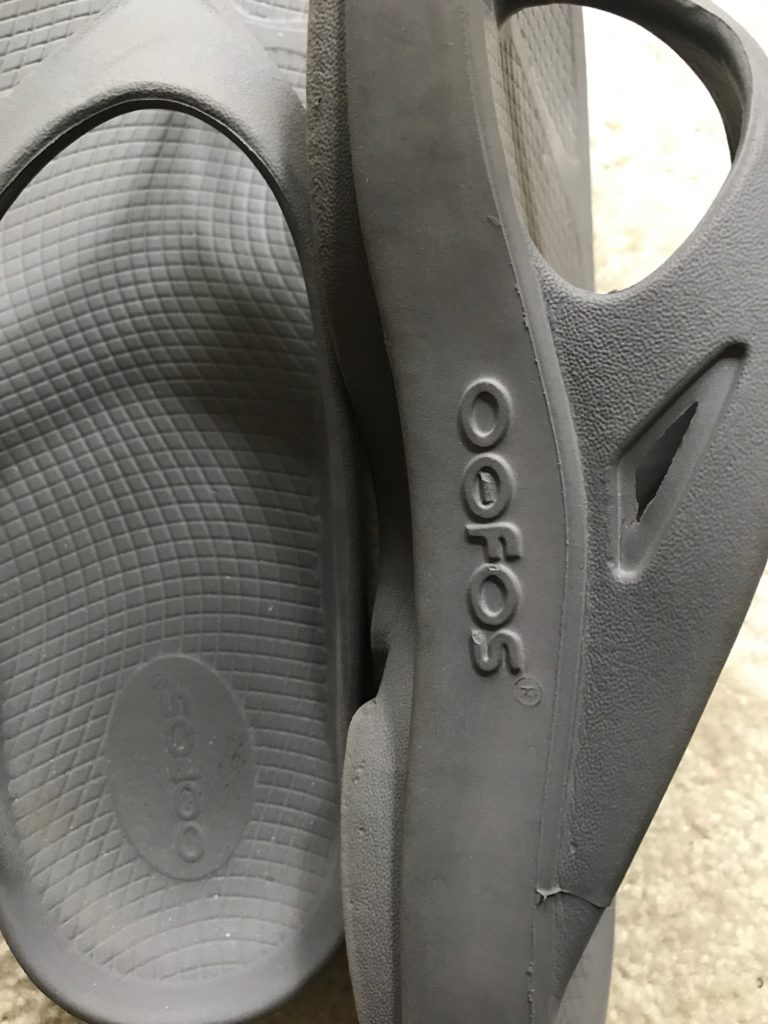 I wear these right up until I climb into bed and I put them on as soon as I step out of bed. If I'm not wearing these, then I have on my walking shoes. I wear these flip flops to work and change into nicer looking work type shoes just before the WW meeting gets started. Now you're all up to date on my feet! LOL
Anyhow, all of that aside, last night I did yoga beside my bed for about 20 minutes.
I will go to ONE yoga class this week and see how it feels. I do miss it.
I am getting in my steps these last few days, and that feels good! I knew I kept busy most days before I got the Fitbit, but I wasn't sure just how much I was moving.
After having the Fitbit now for several weeks, I have discovered that keeping busy throughout the day and a 3 mile walk each day gets me my 12,000 steps.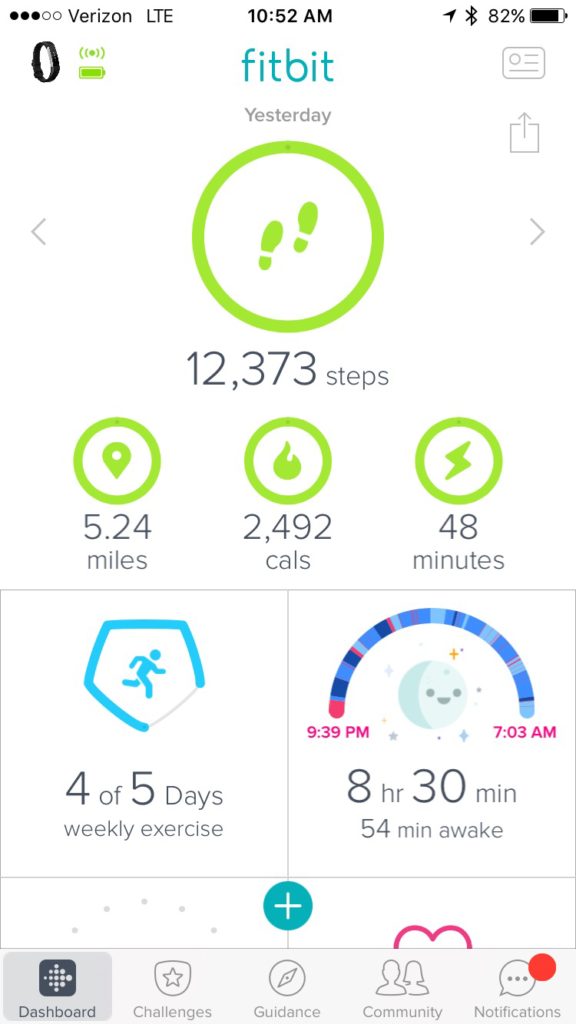 Have a great weekend! Make good choices. Breathe.
Breakfast – 3 SP
Early morning out the door, so it was nice to have this Egg Cup ready to pop in the microwave.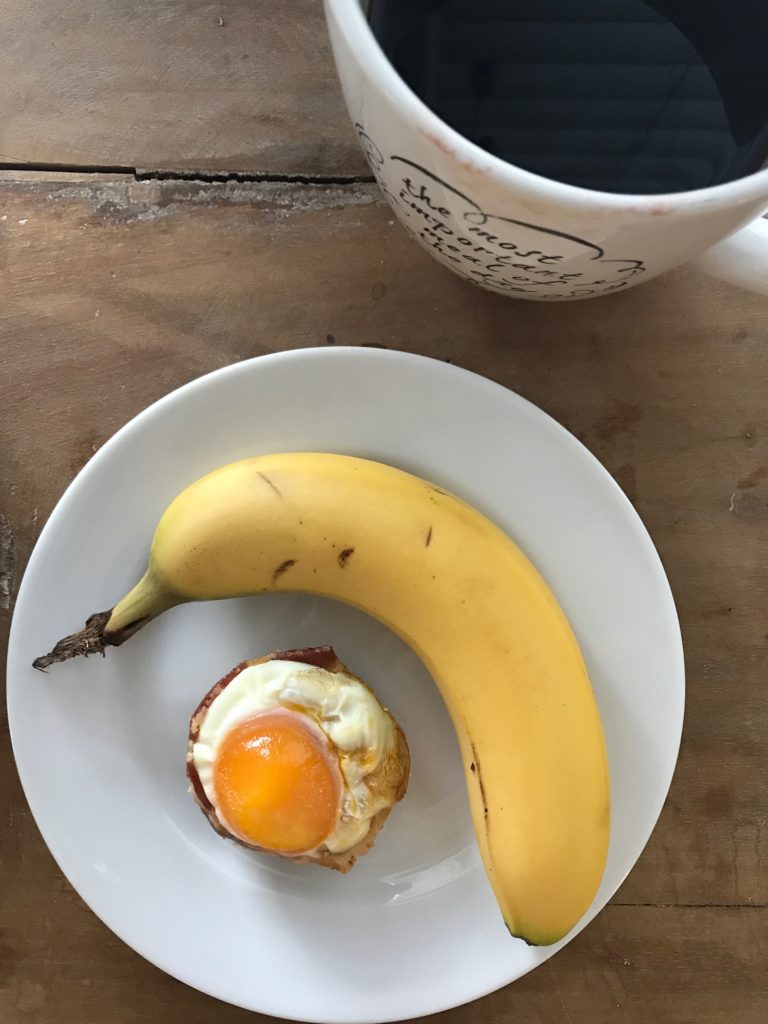 Lunch – 11 SP
I have to guess on this toast at First Watch. It's super thick and oh so delicious. I forgot to say "no butter". I ordered toast, poached eggs and fruit.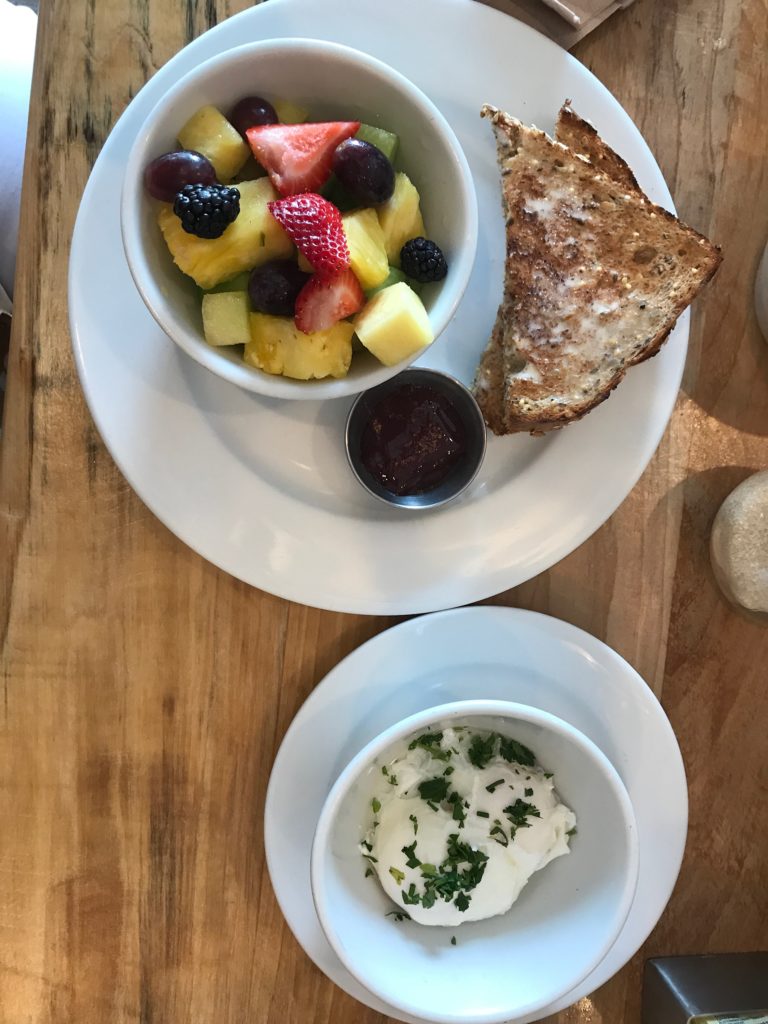 I ate one bite of the second half of the toast, then pushed it aside. It is ridiculously delicious. Did I say that already?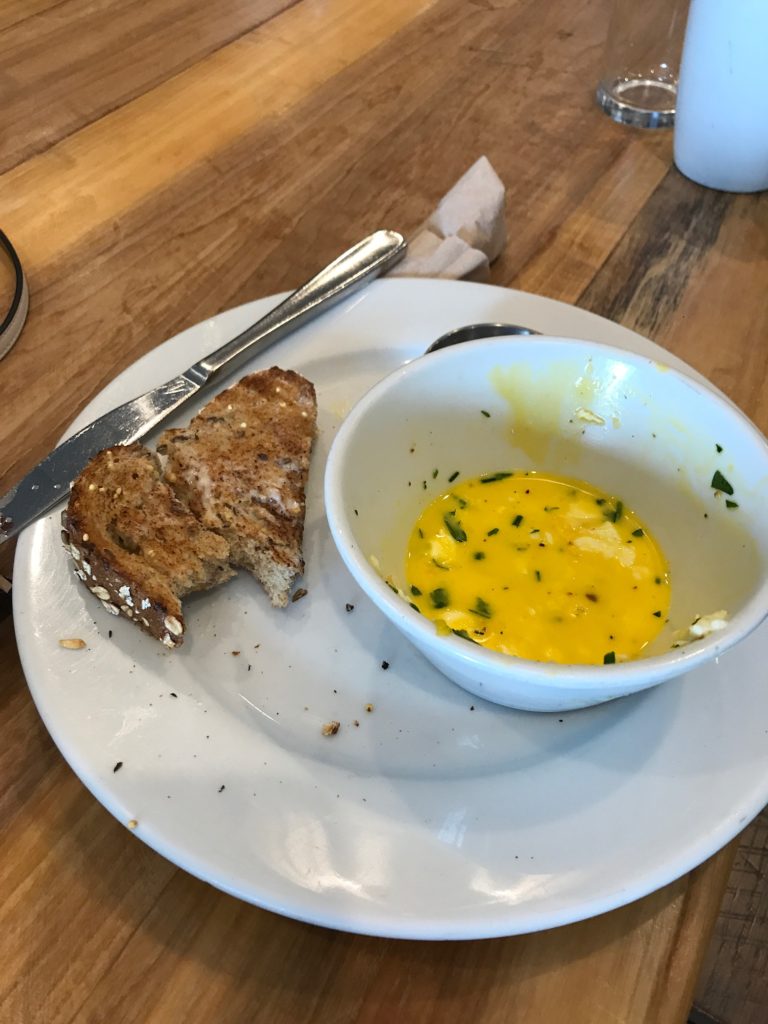 Snack – 4 SP
Chicken Salad in little Bell Pepper Boats and fresh Berries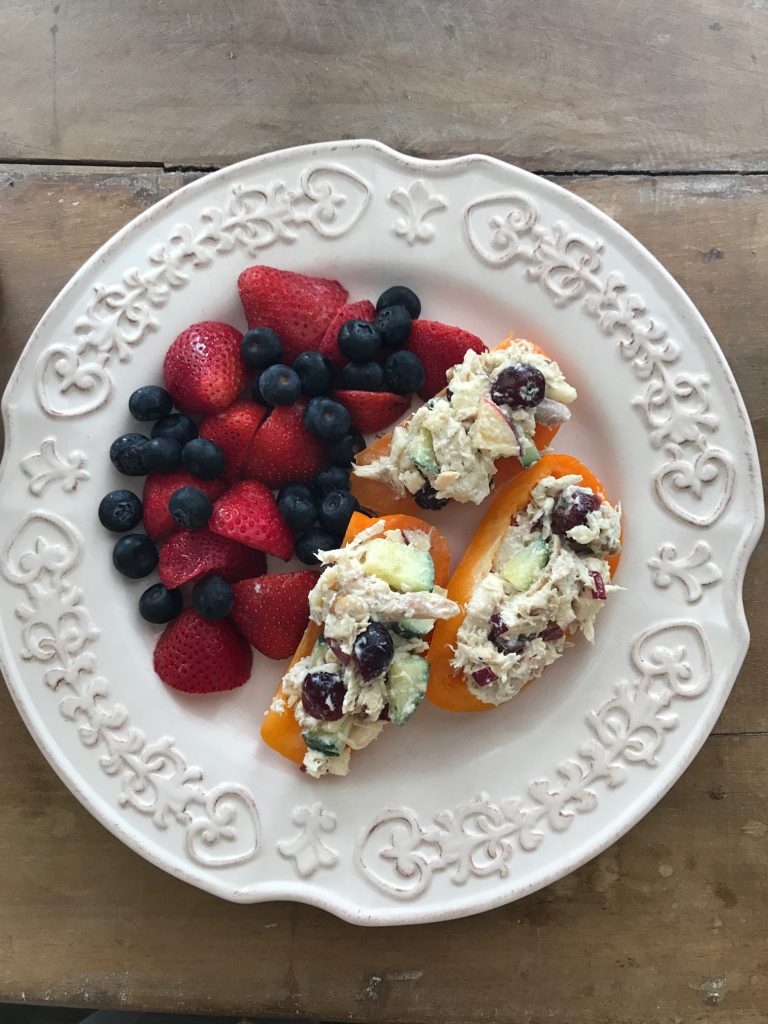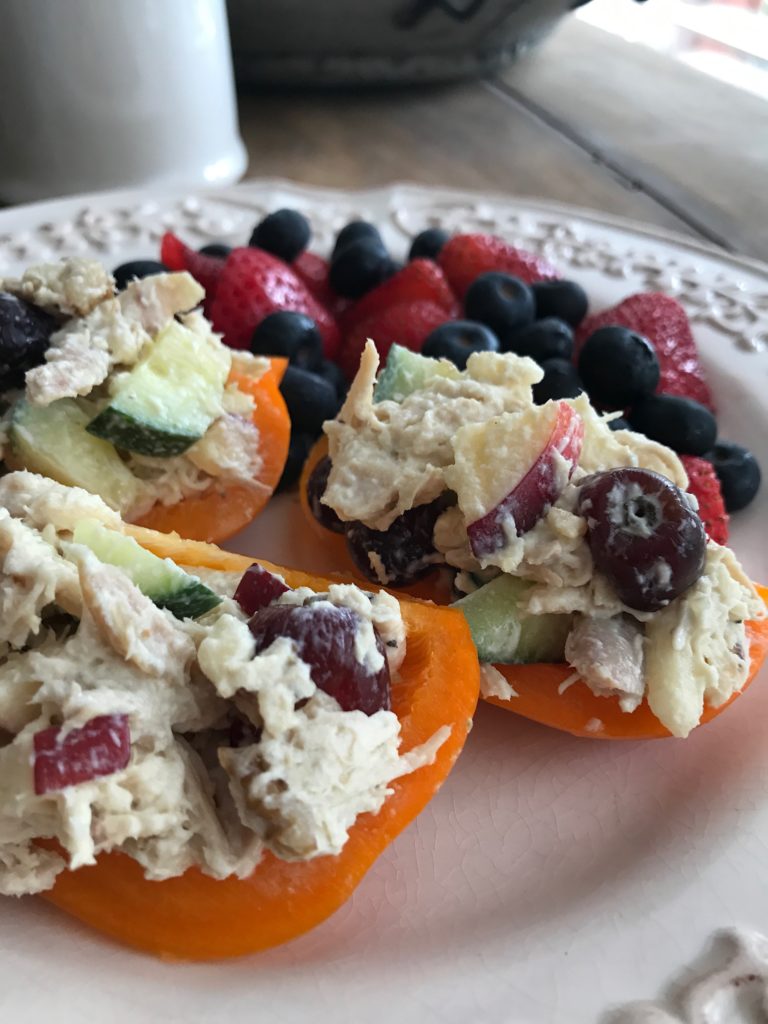 Here is my WW tracker showing what I used to make the Chicken Salad. I was trying something new and liked it. Getting my fruits and veggies in. 🙂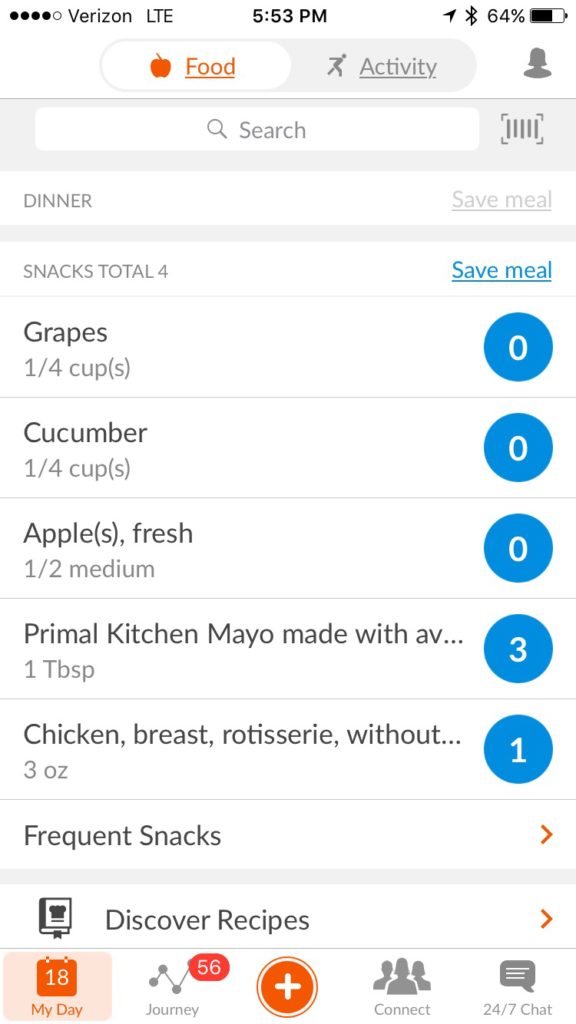 Dinner – 9 SP
Two Taco Meat/Laughing Cow Cheese filled Tortillas, Salsa and a Pear with Cinnamon.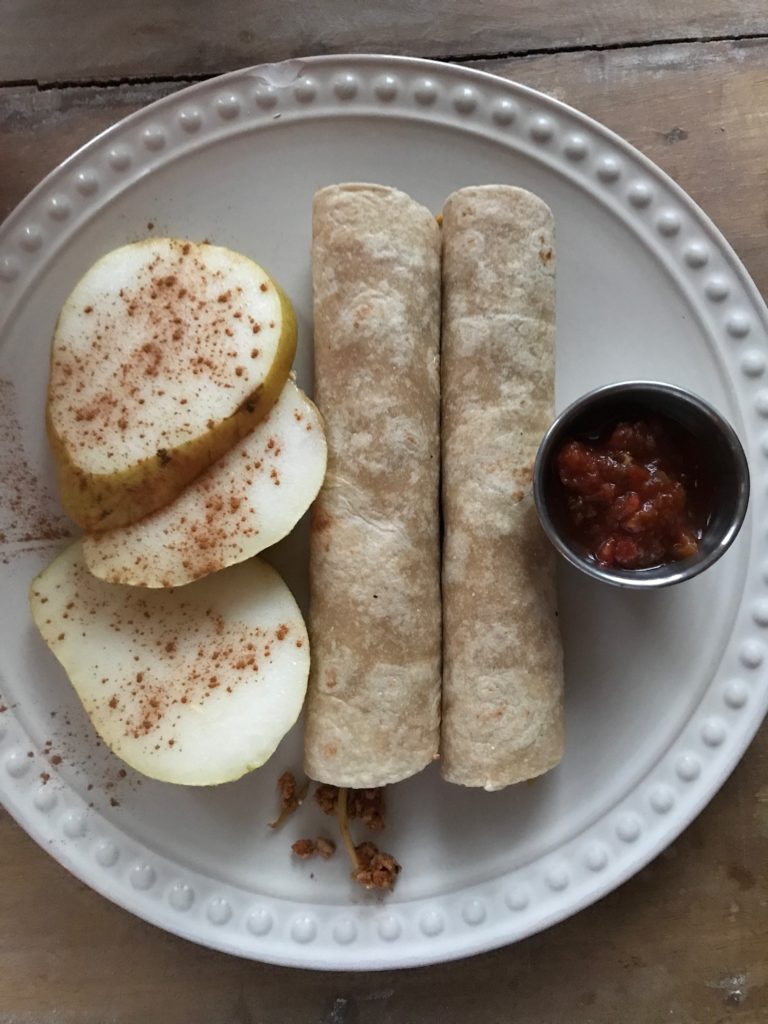 I spread 1/2 Wedge of Cheese in each tortilla then set it on the scale.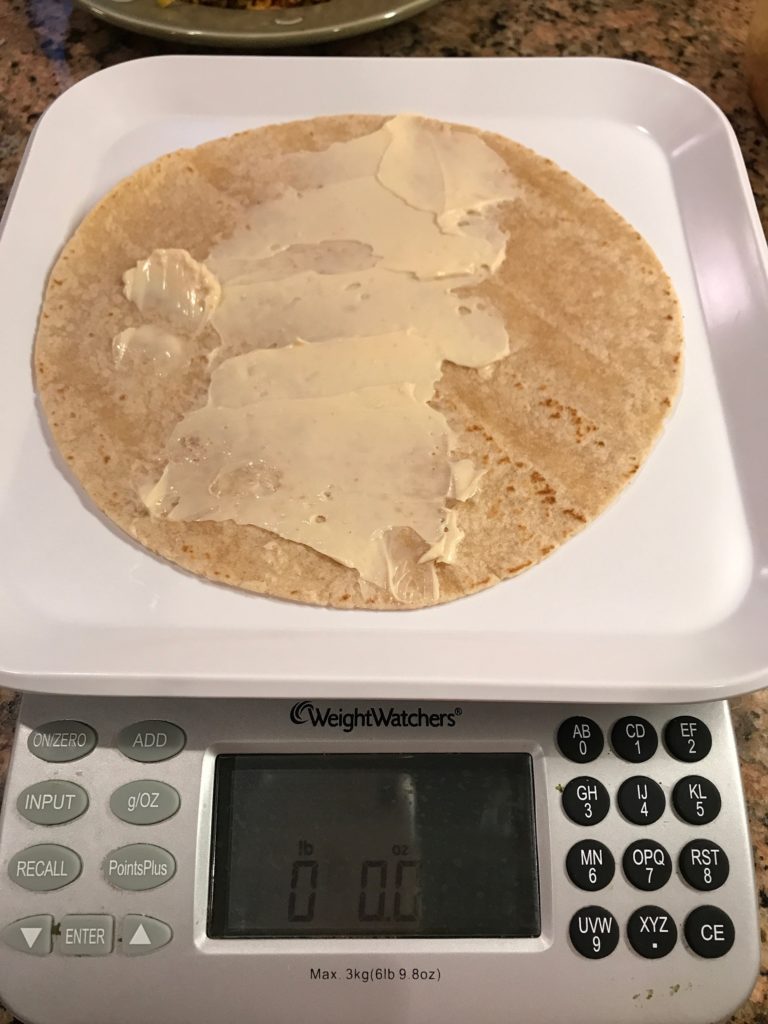 Then I added the Taco Meat. This is about the easiest way to weigh cooked meat when you are adding it to other ingredients.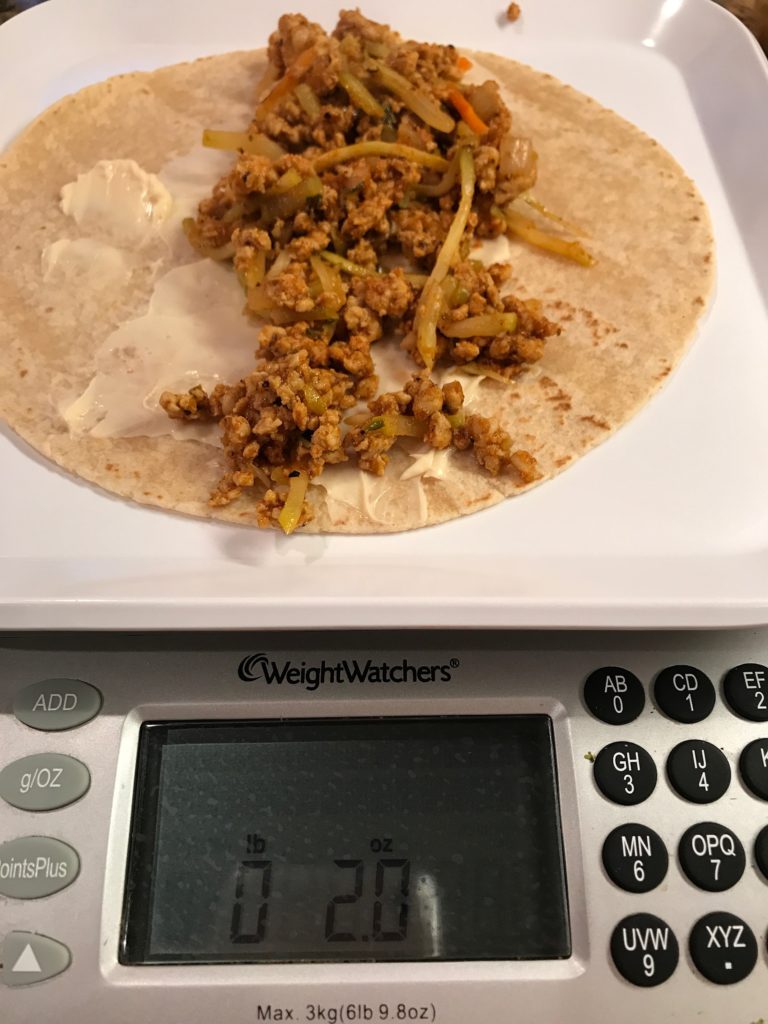 Daily SmartPoints Total = 27
2017 Goals
Make time each week to Meal Plan
Drink 100 ounces of water each day
Exercise 5 days a week
Eat three meals and one snack daily
FOUR 100 Mile Walking Challenges this year! (This goal has changed a little now that I have this fabulous Fitbit.)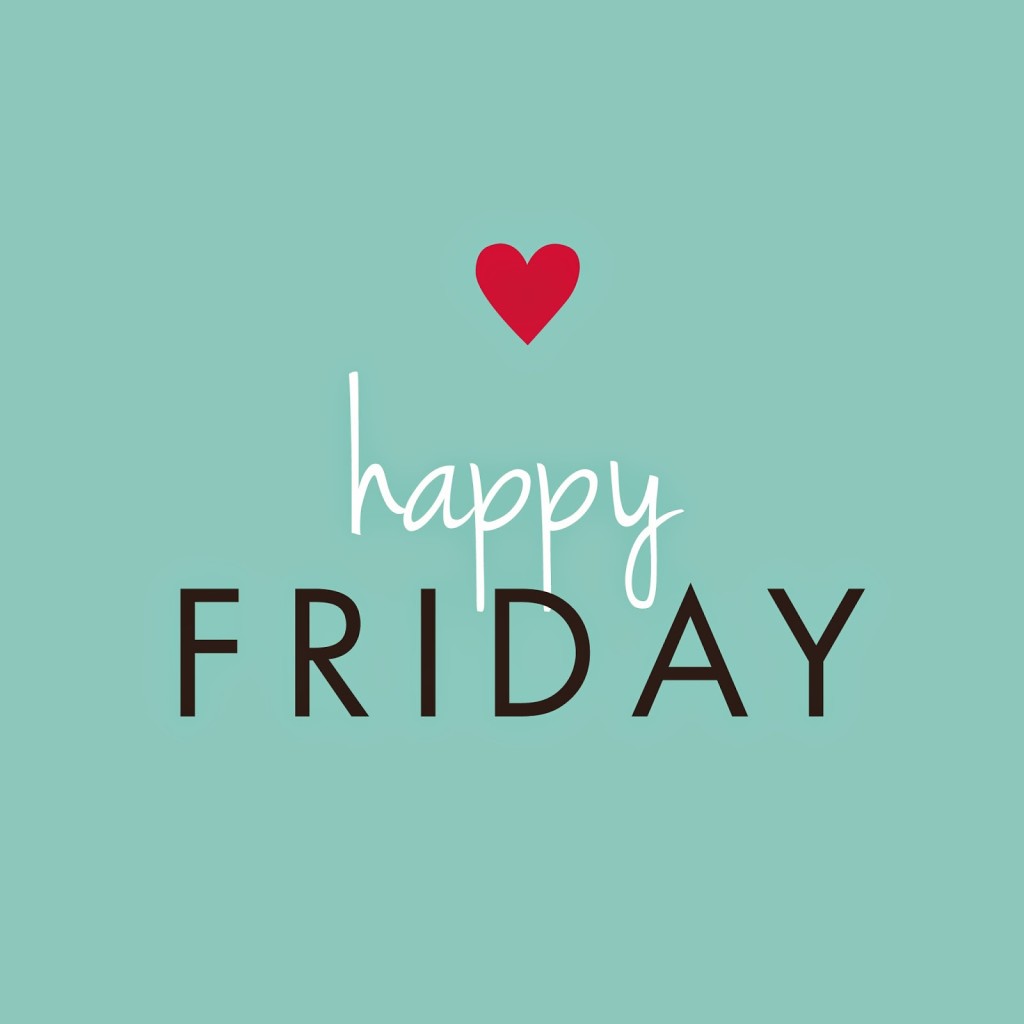 "love the life you live, live the life you love"